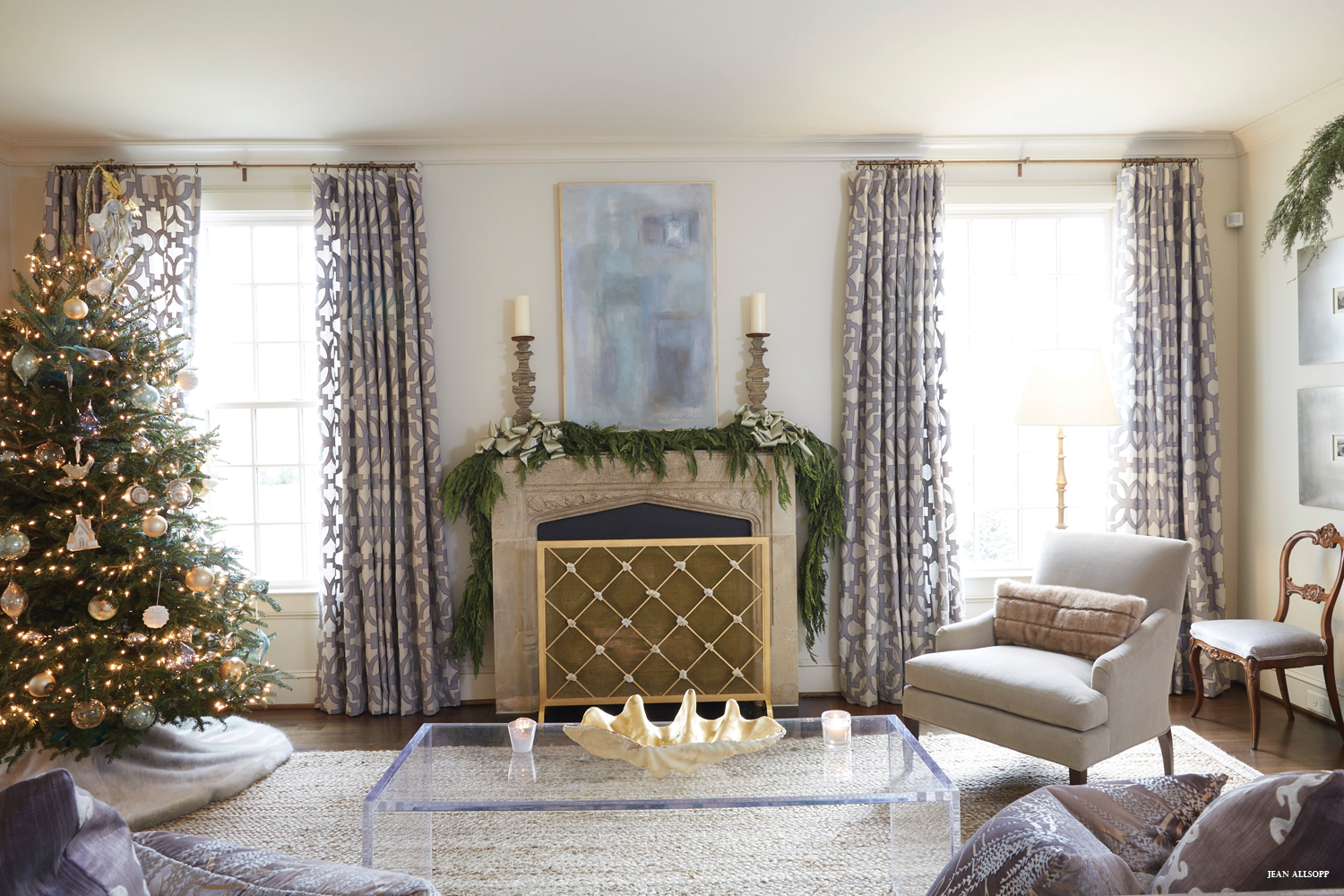 While most of us look back fondly on our first house or two and can recall many anecdotes about early attempts to renovate and personalize it ourselves, we are seriously excited when we transition to a "grown-up" house. This is the one that you want to reflect who you are stylistically and how you like to live. When one Mountain Brook homeowner found her particular house, she was ready for some grown-up decorating to go with it. All she had to do was engage one of her dear friends, Lisa Flake of Caldwell Flake Interiors, for a design partnership made in heaven. "Lisa totally knows my style and the colors I gravitate towards, " says the homeowner. "It was so easy and fun working with her. She really listens to what you want, and she doesn't try to turn you in a direction that doesn't suit you." Adds Lisa, "My friend loves blues, grays, and greens—very cool colors—and they flow throughout, uniting the rooms. She also is extremely decisive when it comes to her interiors, so we could make selections quickly and move on to the next thing."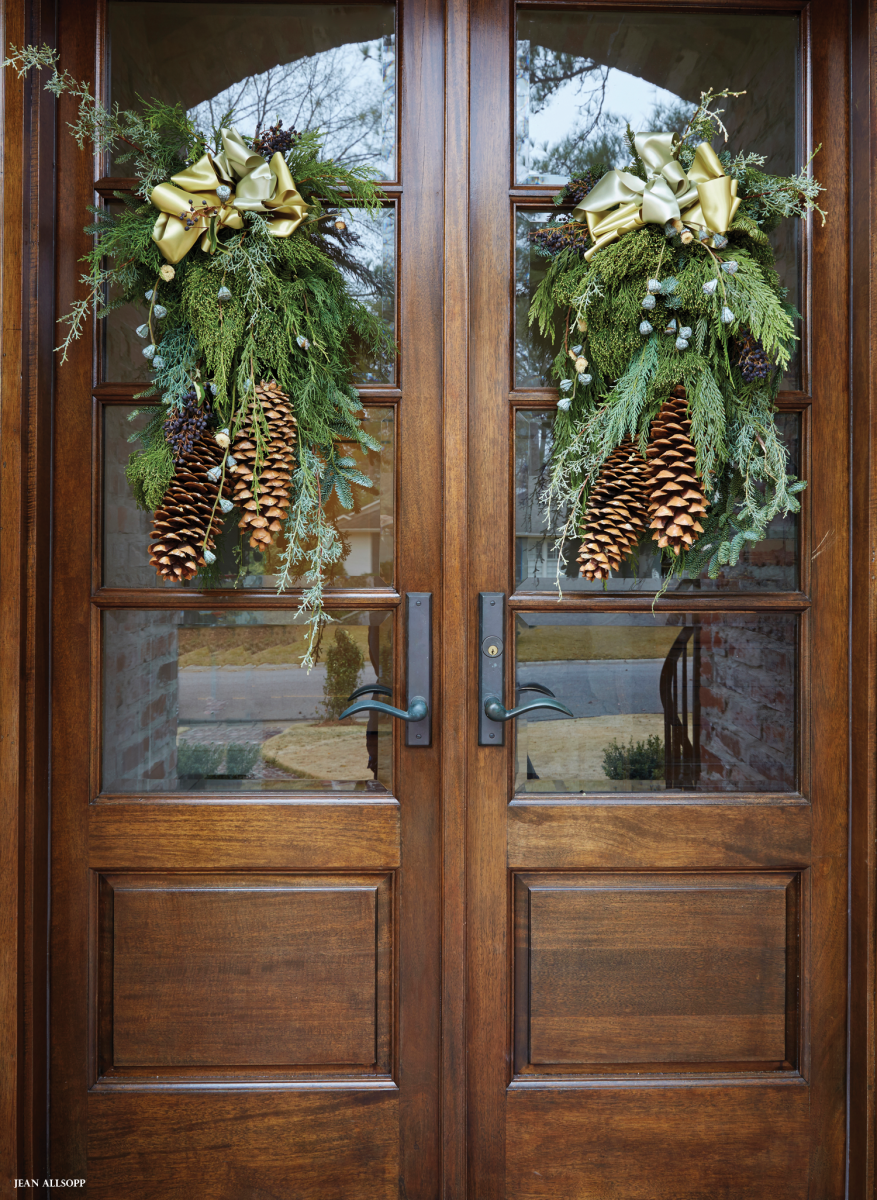 While there's decidedly French leaning inside, a favorite style of the homeowner, modern touches do appear, as seen in the Lucite coffee table and bold gold fireplace screen in the living room, the white beaded chandelier in the dining room, and accents of fur here and there. Beautiful jewel-like lamps and well-edited accessories provide engaging punctuation marks in the soothing color scheme. Lisa paid special attention to the selection of rugs—all from local sources—to bring texture and softness to the rooms. "I first fell in love with the Oushak rug from King's House when I was working on the Kappa Delta house at The University of Alabama, but it was too small to use there, " Lisa says. "But when I saw my friend's foyer, I knew that the rug had found a home—it was in her color palette!"
Another highlight of the interiors is the art, which is varied and brings out the best in the interior design. "The art choices were very important to us, and I knew I wanted to include pieces by Carrie Mullins, who is one of my sorority sisters, " says the homeowner. "We bought two of her pieces at Argent, and Carrie actually came over and customized them to be perfect for the setting." Lisa also arranged for an art approval period where other pieces were brought in so the homeowner could live with them for a few days and decide what worked. The resulting mélange includes paintings by Arthur Price and two commissions by Emily Farish, both represented by Gallery 1930 in English Village, a go-to source for Lisa. In addition, the designer requested approval days for certain pieces of furniture, rugs, and accessories. "I buy a lot of things locally, so I am often able to do this for my clients, " she says. "It especially helps to give the husband—who is sometimes left out of the process—a chance to weigh in."
When it was time for the house to make its Christmas debut for a neighborhood party, the homeowner enlisted the talents of Leah Hazzard of 3 Graces Design to work her floral magic. "We wanted the decorations to complement the perfectly curated interiors, so we were mindful to create calm, elegant designs, " says Leah. To accomplish this, she used a lot of unadorned cedar garlands, eucalyptus pods, and amaryllis with pretty ribbons in shades of silver, sage, taupe, and blue. With these holiday touches layered in, the house looks appropriately festive and, well, very grown-up.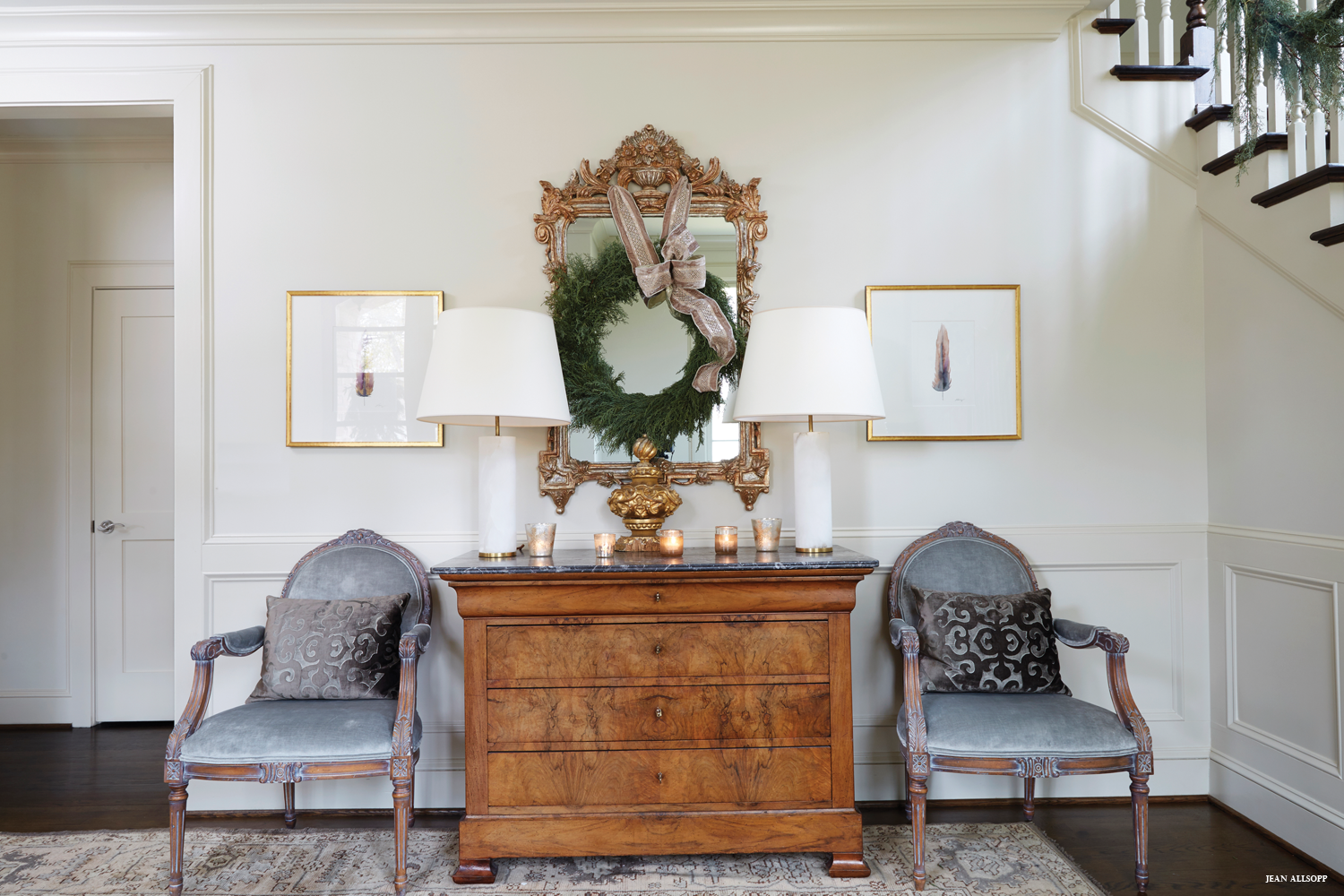 ABOVE "The look we wanted was fresh, traditional, and not too trendy. The rooms have fun touches here and there, but they can stand the test of time." — Lisa Flake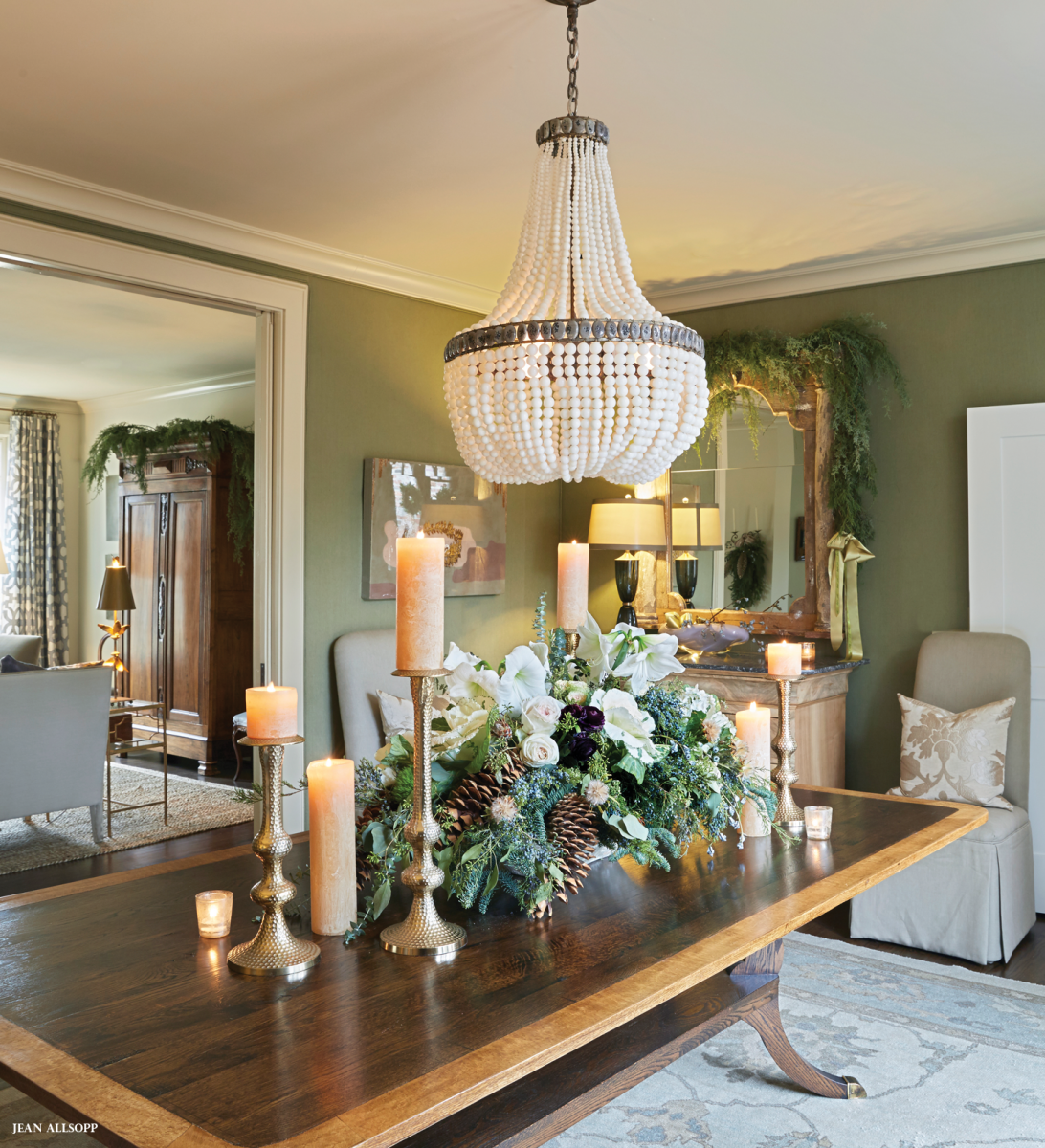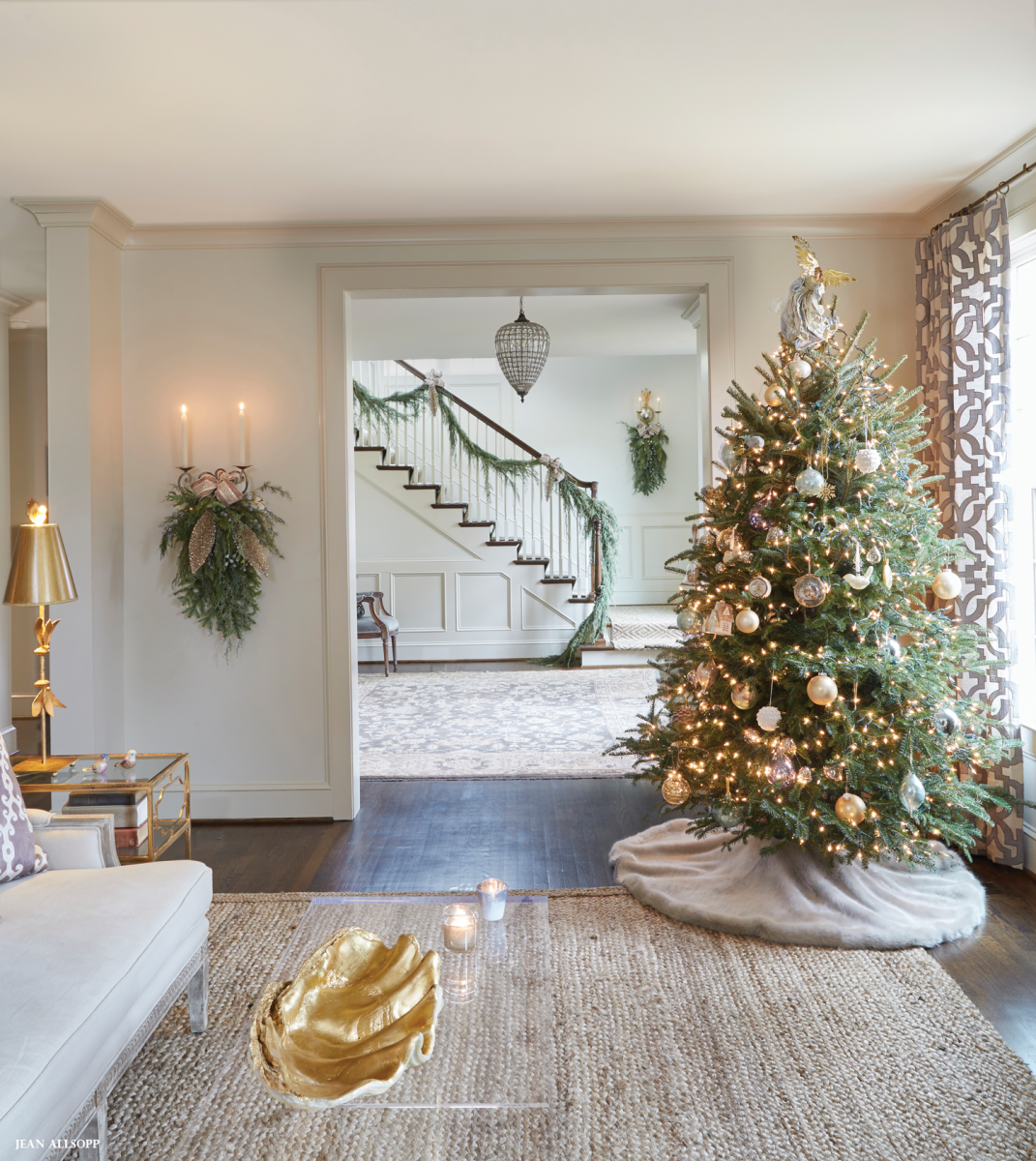 ABOVE LEFT When decorating the house for a neighborhood Christmas party, Leah Hazzard of 3 Graces Design used a light touch with lots of greenery adorned with bows. The white-and-green palette for the floral arrangements in the dining room and kitchen includes amaryllis, paperwhites, and roses.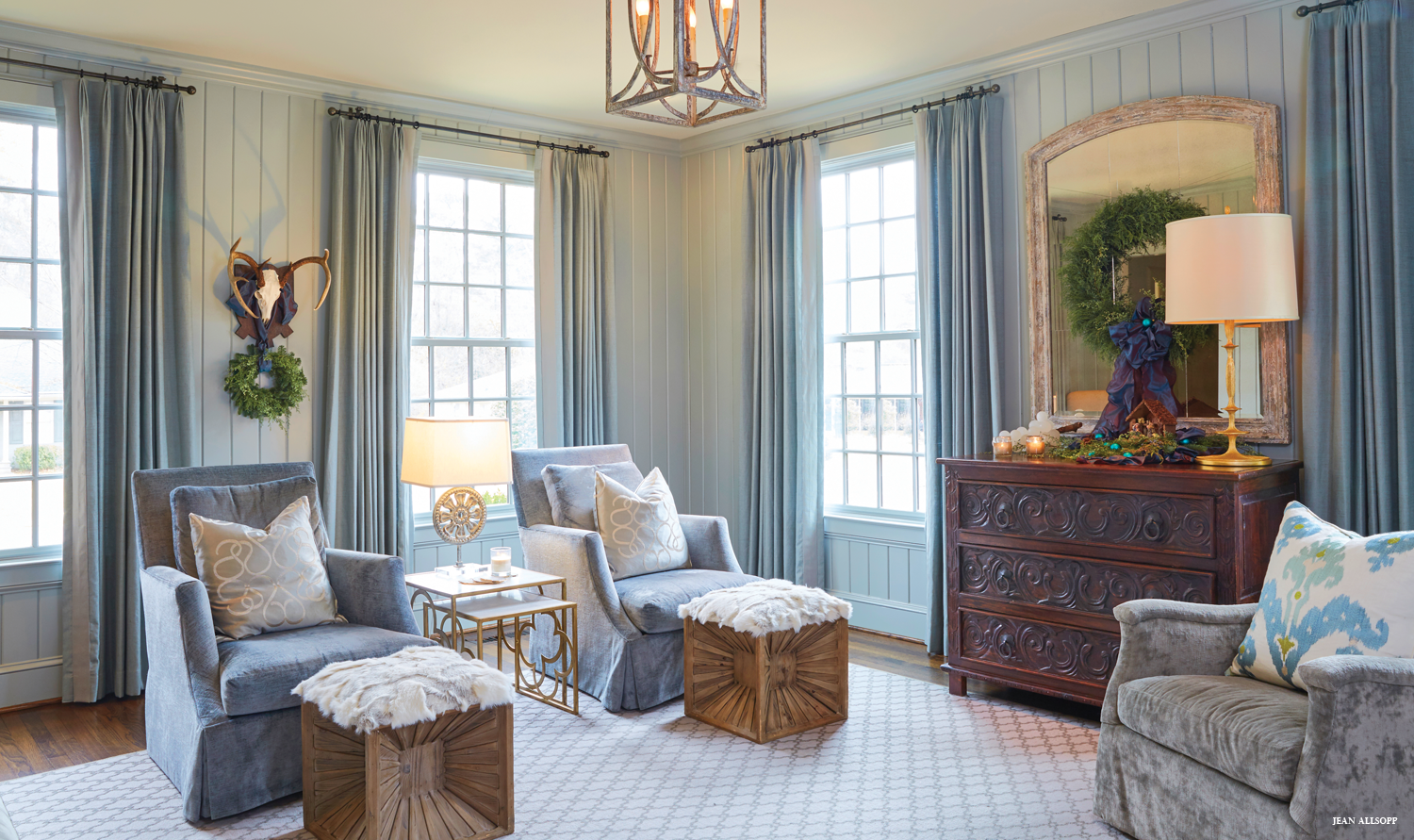 ABOVE "We decided to go all in with the blues in the family room, " says Lisa. "We painted the paneling and chose blue window treatments as well." A wood chest and fur-topped ottomans stand out against the soft color palette.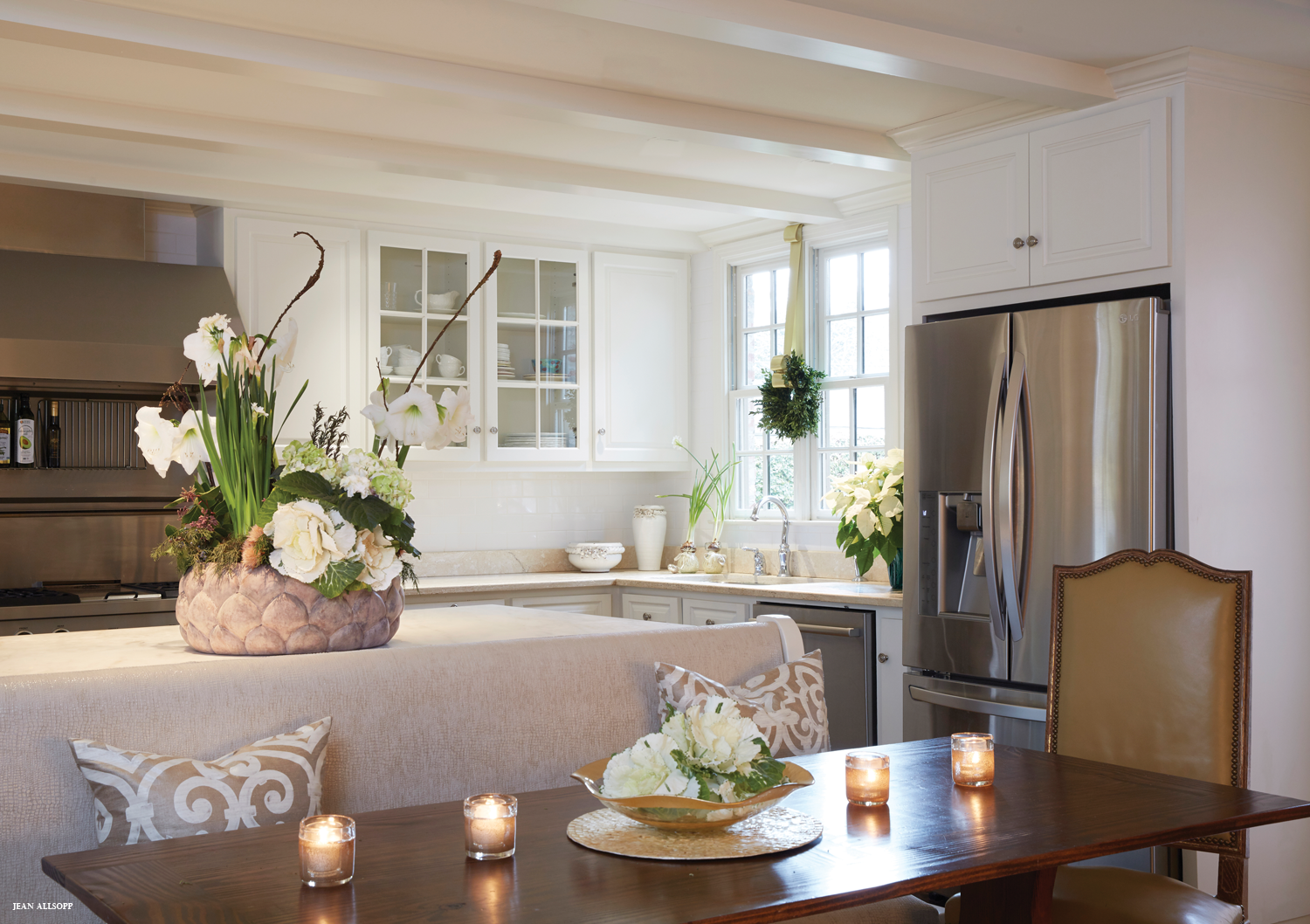 ABOVE In the kitchen, Leah created an arrangement with live and cut florals including decorative cabbage, paper white narsisius, amarylis, and hydrangea.
 
RESOURCES
Interior design: Lisa Flake of Caldwell Flake Interiors • 205.222.9139 caldwellflake.com Floral design: Leah Hazzard of 3 Graces Design • 205.902.3635 [email protected] Foyer lamps: Hiltz Lauber • 205.879.0039 hiltzlauber.com Foyer chest: Antiquities • 205.870.1030 Foyer rug: King's House Orientals • 205.244.1933 kingshouseorientalrugs.com Chair pillows in foyer: TOO, Unique Pillow Accents • 205.862.8060 Feather paintings in foyer: Lacey Russell bylacey.com Custom dining room table: Ed Greer of the Nest • 205.870.1264 Rug in family room: Hiltz Lauber Furniture in family room: Richard Tubb Interiors • 205.324.7613 richardtubbinteriors.com Mirror in family room: Three Sheets • 205.871.2337 threesheetslinen.com
---
Text by alice welsh doyle // Photography by jean allsopp // Floral Design by Leah Hazzard