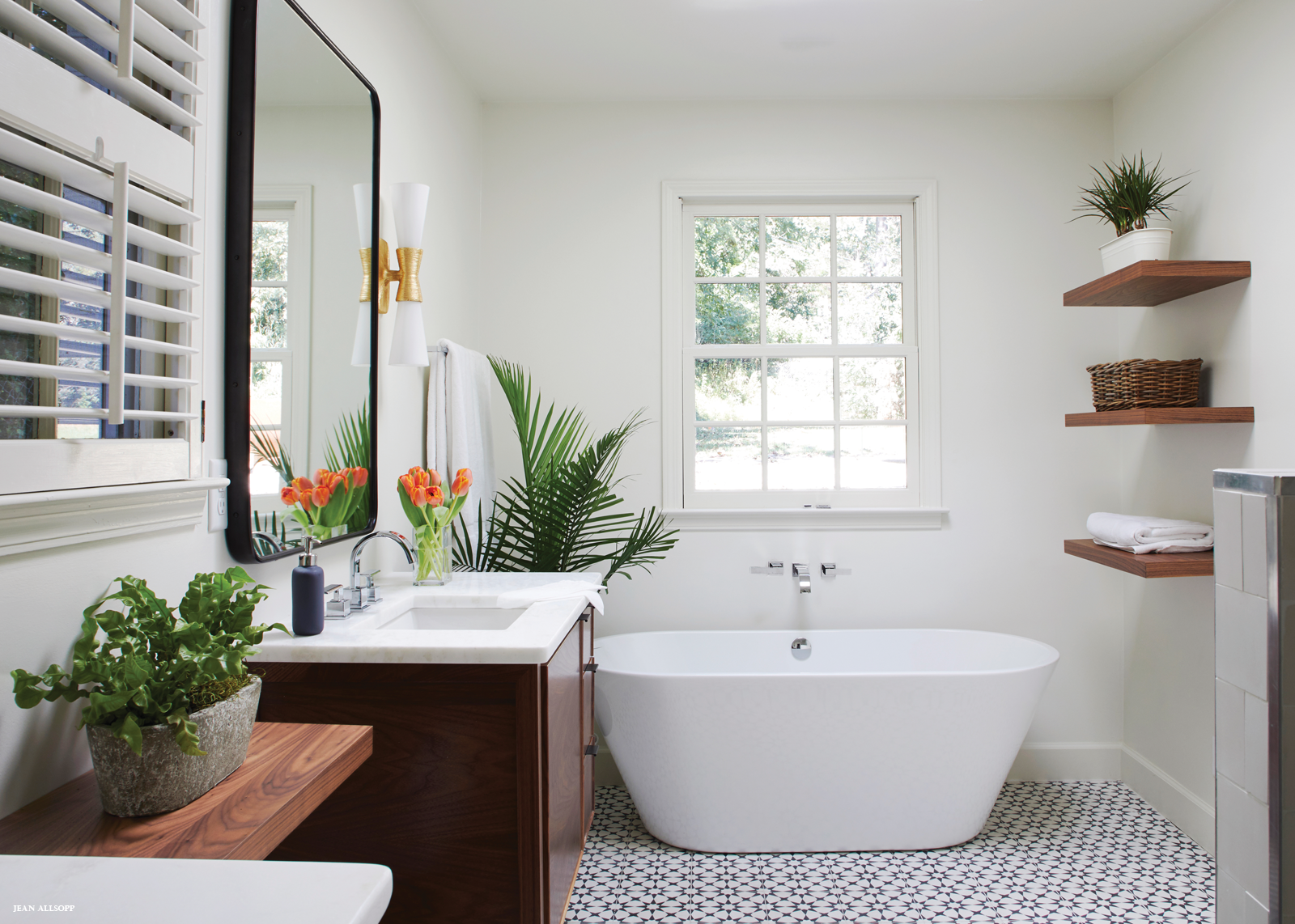 Sometimes Mother Nature has a way of "forcing" a home-improvement project. Such was the case for this homeowner when his original master bath was flooded. "The water damage affected surrounding rooms as well, " says designer Shea Bryars. "So we took advantage of the opportunity to shift some space." By relocating the existing laundry room that backed up to the original bath, builder Joe Smaha was able to bring in additional square footage for the new bath. Shea then created a design full of sleek, contemporary details that works perfectly for this single homeowner but can easily transition into a shared bath for a couple. Says Shea, "We wanted the right balance that would bring in that dual appeal."
Why we Love It
STAINED WOOD CABINETS Because this bath is for a bachelor,   Shea wanted to include some details that were more masculine. The wood cabinets also offer a nice change from the all-white palette used in many bath renovations.
FLOATING DUAL VANITIES In keeping with the more contemporary theme of the space, Shea chose floating vanities. The lack of legs maintains a clean aesthetic.
PATTERNED CEMENT TILE ON THE FLOOR The colorful pattern on the floor creates a pleasing balance to the otherwise sleek space. "It offers just the right amount of interest, " says Shea.
MIX OF METALS Shea didn't limit the room to one choice between silver and gold. "Sometimes people shy away from mixing the two finishes, but they can work so well together, " she says. Here, gold-accented sconces complement chrome plumbing fixtures.
Resources
Designer: Shea Bryars Design sheabryarsdesign.com Builder: Joe Smaha/Smaha Building, LLC smahabuilding.com Light fixtures: Circa Lighting through Shea Bryars Design Cabinets: Parsons Cabinetry mattparsonscabinetry.com Tile: Cement Tile Shop cementtileshop.com Hardware: Brandino Brass brandinobrass.com Countertops: Cutstone Company, 205.624.3538
---
Photography by Jean Allsopp