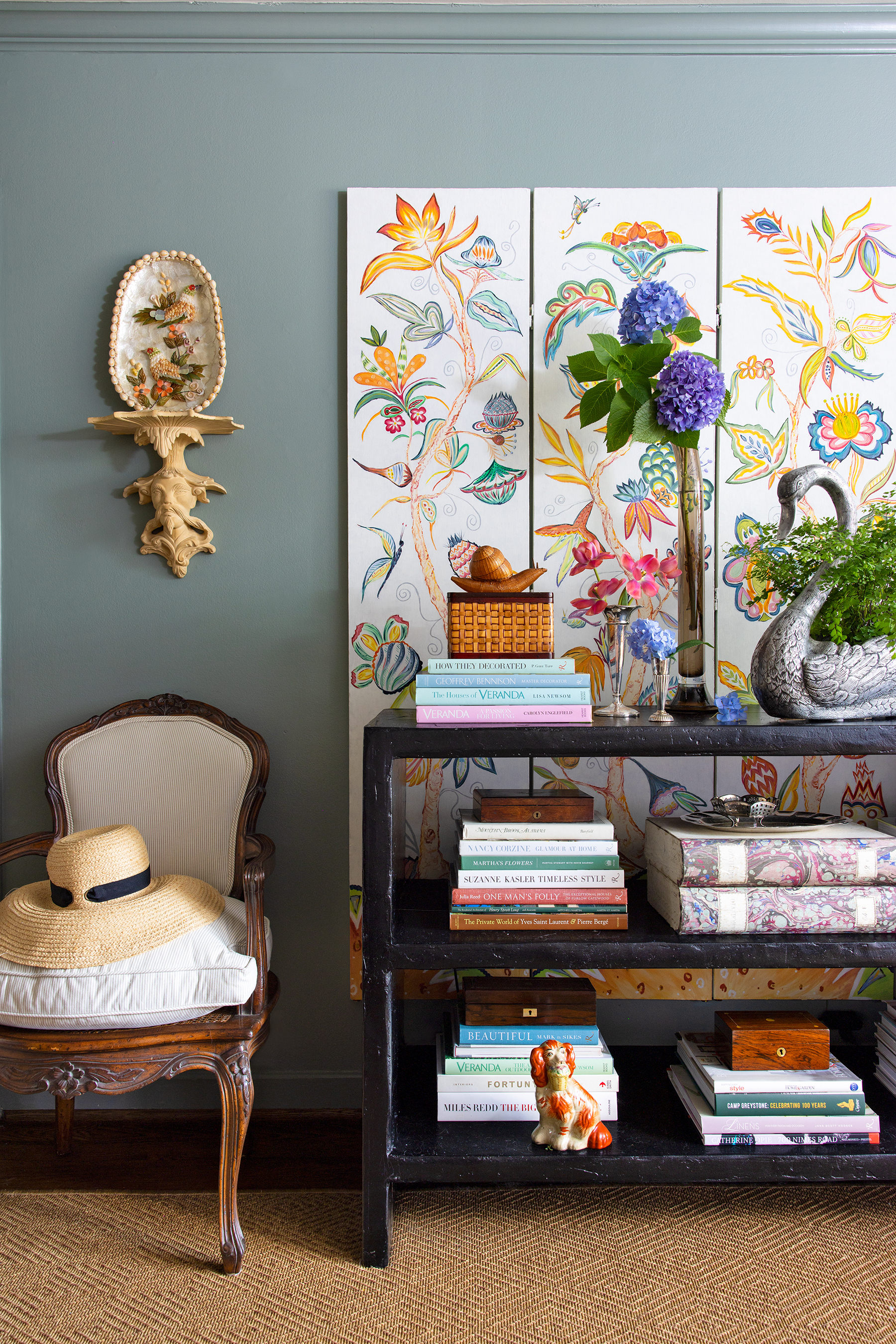 "When friends or clients say antiques are too hard to live with, I invite them over for cocktails just to prove otherwise."

Ellie Christopher
The vibrant interior designer Ellie Christopher calls herself an old soul, which is certainly reflected in her love of antiques and vintage pieces and in her nods to traditional decorating. However, that description doesn't tell the whole story. Ellie is also drawn to the unusual and unexpected in her craft. Items that others may see as a little too patinaed or too quirky seem to fascinate her, as evidenced in her 1960s condo that she has completely reworked. The interiors can best be described as having a charming "cabinet of curiosities" vibe injected with lively color. But it certainly didn't start out that way.
"When I purchased my condo in 2017, it had builder beige and gray everywhere," says Ellie. "It was so depressingly bland. I wanted a home that would invigorate and excite me every time I walked in the door." However, she did like that the original black-and-white tile bathroom was still intact. "I'd seen others that had ugly brown home improvement store tiles installed to 'modernize' the space," the designer says.
Before she moved in, Ellie wallpapered the bathroom in a chic snakeskin pattern and painted the living room green. Updates to the kitchen fell firmly in the cosmetic category. "The kitchen had black appliances, which I wasn't prepared to replace yet," she says. "I decided to paint the cabinets black in order to disguise the appliances." Ellie then hung the black and silver Hunt Slonem wallpaper.
With an engaging canvas in place, the designer started adding in beautiful things that spoke to her heart. "Each space has evolved over time as a compilation of memories from trips and gatherings with family and friends," she says.
Ellie used her first tax return to purchase the cool carved lamps with pagoda-style shades for her living room, channeling a memory from her childhood. "I'll never forget one day when an antique clock was delivered to my mother's home with a note saying it was from a secret admirer," says Ellie. "A few years ago, I learned that my mom sent it to herself. I love that story, and it's given me permission to buy myself the things I love and want." The designer also has a penchant for collecting animal-inspired pieces of all types, and although she doesn't discriminate, she has a particular fondness for snails.
Other favorite finds include a leather lion footstool scored on First Dibs in the living room, along with a zebra hide rug. A large tortoise shell is mounted in the hallway, while a Staffordshire china dog perches on a console table. And, of course, a stately wooden snail peeks out from under a side table in the guest room.
More recently, Ellie purchased two chairs at auction that she plans to cover in a unique marbleized velvet. "The fabric combines the best of both traditional and modern—a classic pattern rendered in a more edgy interpretation," she says.
Even with all of her design changes, Ellie is still looking ahead at what's next for her condo. "I don't know if I'll ever be finished decorating, but it does finally feel like the sanctuary I've been wanting!"
"It's important to be patient and steadfast while hunting for treasures. It takes time to find art and accessories that make a home feel like it's lived in and loved. Design shouldn't feel rushed and disposable. I'll always be looking for pretty things to layer in."

Ellie Christopher
TOP Left: A lifelong artist, Ellie created the series of black-and-white abstracts to anchor the wall in the living space.
TOP MIDDLE: A sofa from Ellie's family was re-covered in a shell pink velvet and topped with a lively mix of pillows. Side tables are from Henhouse Antiques.
TOP RIGHT: The pretty tablescape includes a mix of plates from Table Matters and Bromberg's, along with napkins from Alkmy. The cool purple glasses bring in a contemporary note to the weathered drop-leaf table.
BOTTOM LEFT: In the main bedroom, chintz curtains and a pretty blue bed are set off by peach-hued walls.
BOTTOM MIDDLE: A bold contemporary painting from artist Amee Calloway finds company with an antique chest.
BOTTOM RIGHT: A charming beside vignette includes an antique lamp, floral-filled vase from Amano and a petite green tureen from Design Supply.
---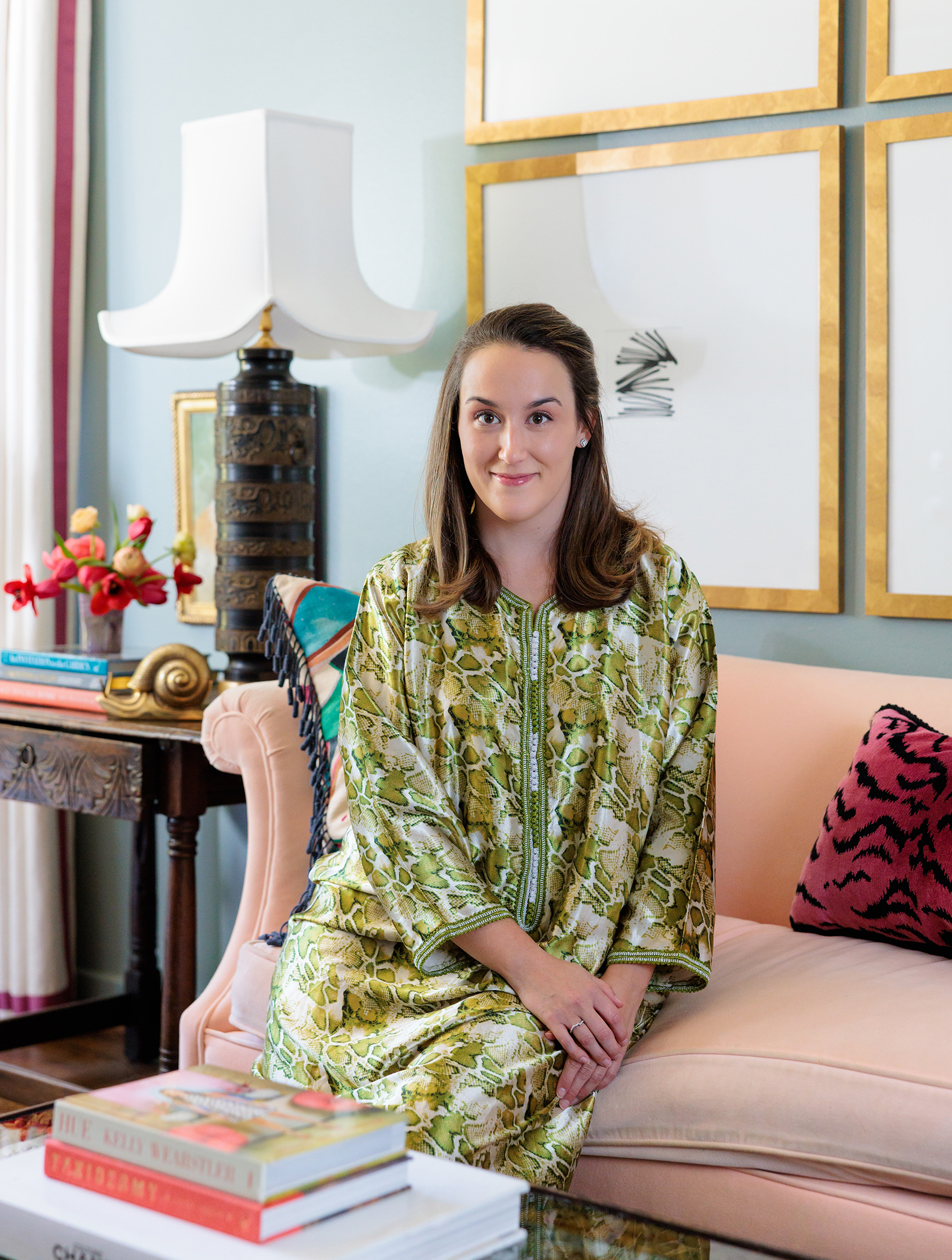 Meet Ellie Christopher
Raised in Columbus, Georgia, Ellie Christopher graduated with an interior design degree from the University of Georgia. After college, she worked in the Jerry Pair showroom at ADAC, which led to a position at Robert Brown Interior Design and then with Beth Webb. Ellie then moved to Birmingham to work with Tammy Connor before opening her own firm. "I have worked for so many designers with different styles so I enjoy doing all types of looks," she says. "I see my job as trying to elevate each client's individual style and tailor it to them. But I do try to add an element of surprise here and there to keep it fresh."
Ellie Christopher Interior Design – elliechristopher.com, IG: ellie_christopher