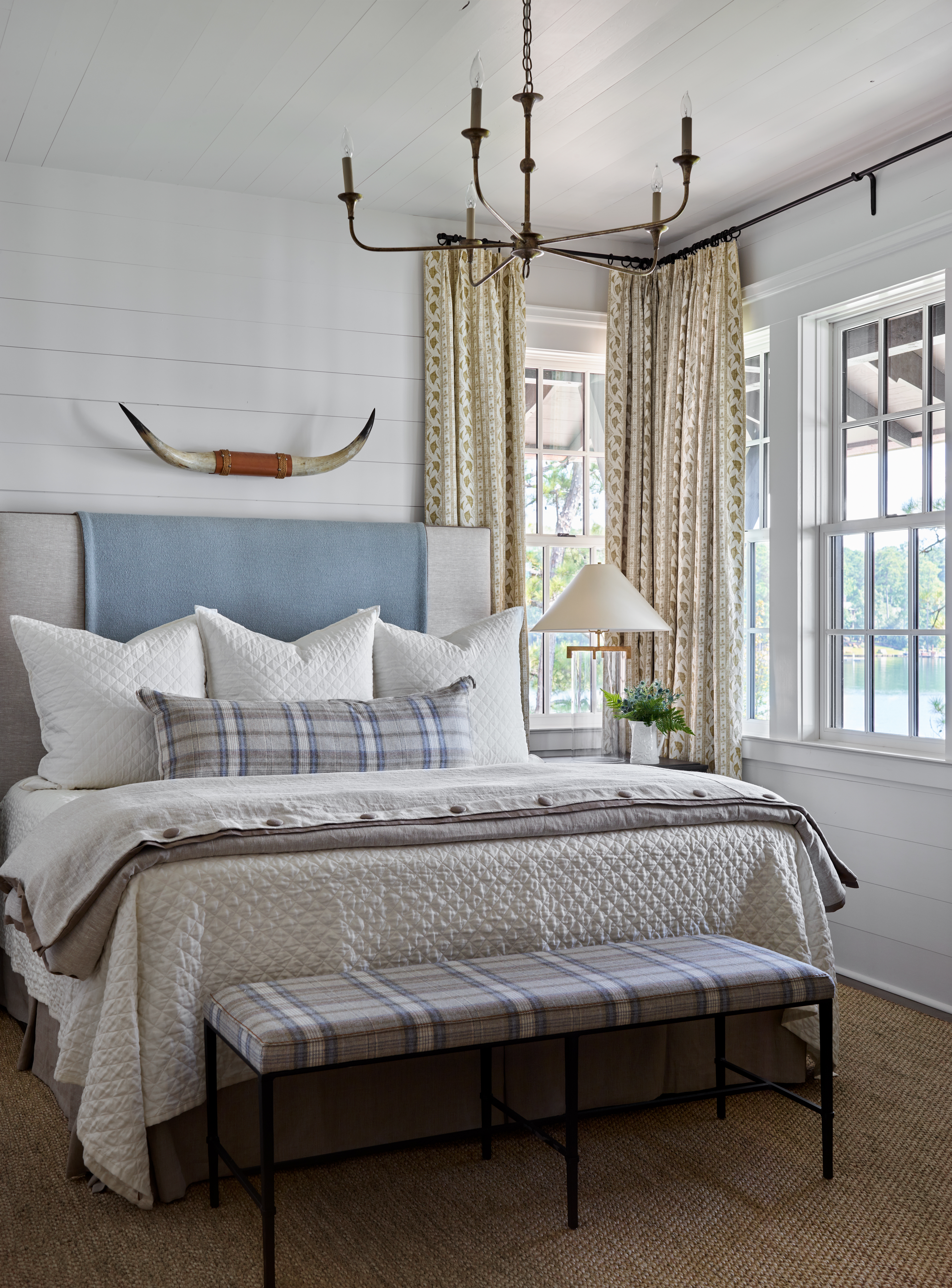 "Rustic refinement was our focus, using quiet, reflective colors to enhance the spectacular views of the window-filled rooms. The interior design needed only to enhance, not detract, starting its reveal slowly after the initial, serene feeling of taking in the views."

Ashley Gilbreath
Location is always a consideration when starting a project, but it's especially critical when the surroundings are the ultimate reason for the home's existence. Some people call them second homes and some vacation homes. To me, the homes where we go to get away could be described as "journey homes." Life is a journey, not a destination.
My father-in-law always says it's important to enjoy the journey, and if we are to enjoy the journey of life, we must set aside the time it takes to reflect and appreciate. My childhood family never owned a journey home, but I remember trips to the Grand Hotel on Mobile Bay in Point Clear, Alabama, and the rustic feeling of the lobby. There was a grand, three-sided fireplace where we used to wait eagerly for another log to be thrown on the crackling fire. No matter the reason for the visit, I always felt like our family left there happier with each other and generally happier to return home to everyday life.
To me, lake living is peaceful and still, enlivened by the humming chorus of crickets and grasshoppers. Owned by the family for decades, this lake property was transformed by architect Chris Tippett of Tippett Sease Baker into a welcoming retreat and a cradle of priceless memories. The house slips seamlessly and respectfully into the landscape and incorporates the surroundings into the living space.
The home is understated and comfortable, yet sophisticated. We used a varied mix of new and vintage furnishings to create a sense of place without being cliché on the lake theme.
Harmonious neutrals—browns, grays, and olives—along with textures of linen, leather, and wood are all at home here. Additional inspiration was drawn from the use of stone and white oak in several noteworthy architectural details. Both the architecture and design refrain from complexity, allowing Nature's beauty to carry the day.
While we wanted this design to feel relaxing and casual, we didn't shy away from using a few understated antiques and vintage pieces to create a sense of history, personality, and sentiment. An antique armoire in the master bedroom, perfectly worn leather chairs in the family room, and an outstanding old bench in the side entry all serve as key characters in the story we created. While we always love incorporating antiques, mixing in new upholstery and some of the owners' existing sentimental pieces creates balance.
I was deliberate when choosing the art so as not to compete with God's natural palette. Not wanting any pieces to overpower a space, I eschewed boldly colored works in favor of botanical prints and nature-inspired designs in partnership with the exterior. Restrained choices blend in while still adding interest and texture— Italian olive oil vessels, woven baskets and trays, and antler sheds are sparingly used decorative touches.
Practicality informed our choices as well. Treated fabrics allow for wet swimsuits, and family-friendly sisal and striped wool rugs can withstand lake life. Yet, for the inevitable entertaining of family and friends, an unobtrusive elegance shines through in graciously lined furnishings, iron chandeliers, and lamps with noteworthy gravitas. Everything is in harmony with nature and living in rustic refinement, ready to capture a host of new memories while enjoying the journey.
---
For Ashley Gilbreath, re-creating the positive emotions of your favorite places is crucially important in her design. In her debut book, The Joy of Home, Ashley welcomes readers home with casually elegant decor and an eye for tradition and warmheartedness.
Whether it's in town, at the beach, or in the mountains, each featured home exhibits thoughtful planning and attention to detail in harmony with the client's vision. Ashley's signature design strategies include mixing old and new pieces and incorporating custom treatments, such as banquettes and dressmaker details on chairs. Every space is influenced by her passion for gracious, everyday living.
Ashley is a Southern-based interior designer who studied at Auburn University and the New York School of Interior Design. She is known for creating casual, elegant spaces where family can gather to celebrate everyday living. She lives in Rosemary Beach, Florida.
---
RESOURCES:
Interior Design: Ashley Gilbreath Interior Design + see more of Ashley's work here
Architect: Chris Tippett, Tippett Sease Baker
Builder: TCC Contractors
Location: The Ridge, Russell Lands on Lake Martin
Project Consultant: Sarah Stewart Consulting