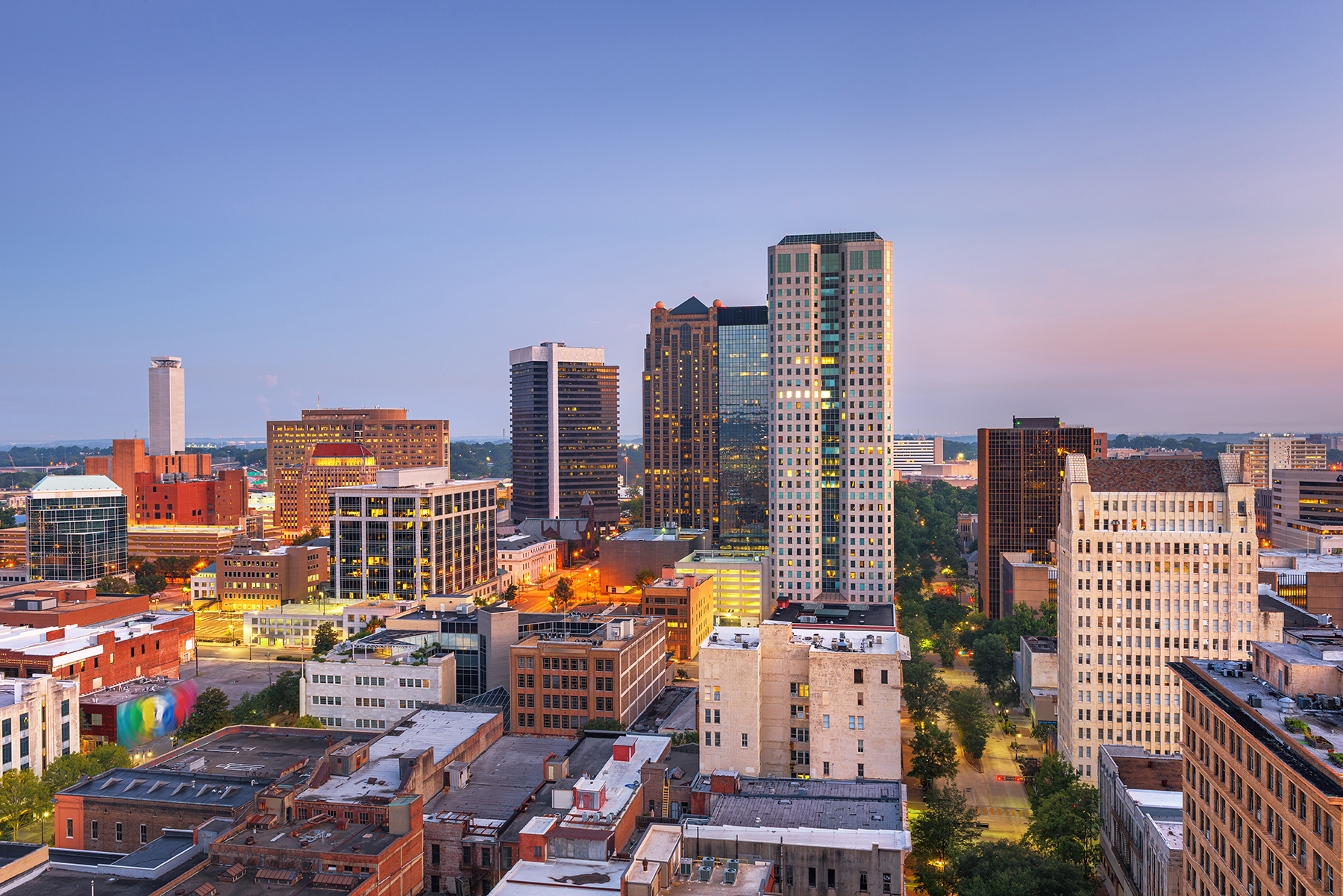 Downtown Birmingham
A city founded on iron and steel in the late 1800s, Birmingham offers a historic downtown community that is entering a new era of economic and residential growth. An industry shift from steel mills and furnaces to healthcare and finance has sparked a renaissance for the Magic City with revitalization and restoration projects breathing new life into historic buildings and surrounding streets. This hidden gem of the South has become a destination for foodies, lovers of the arts, sports fans, and more.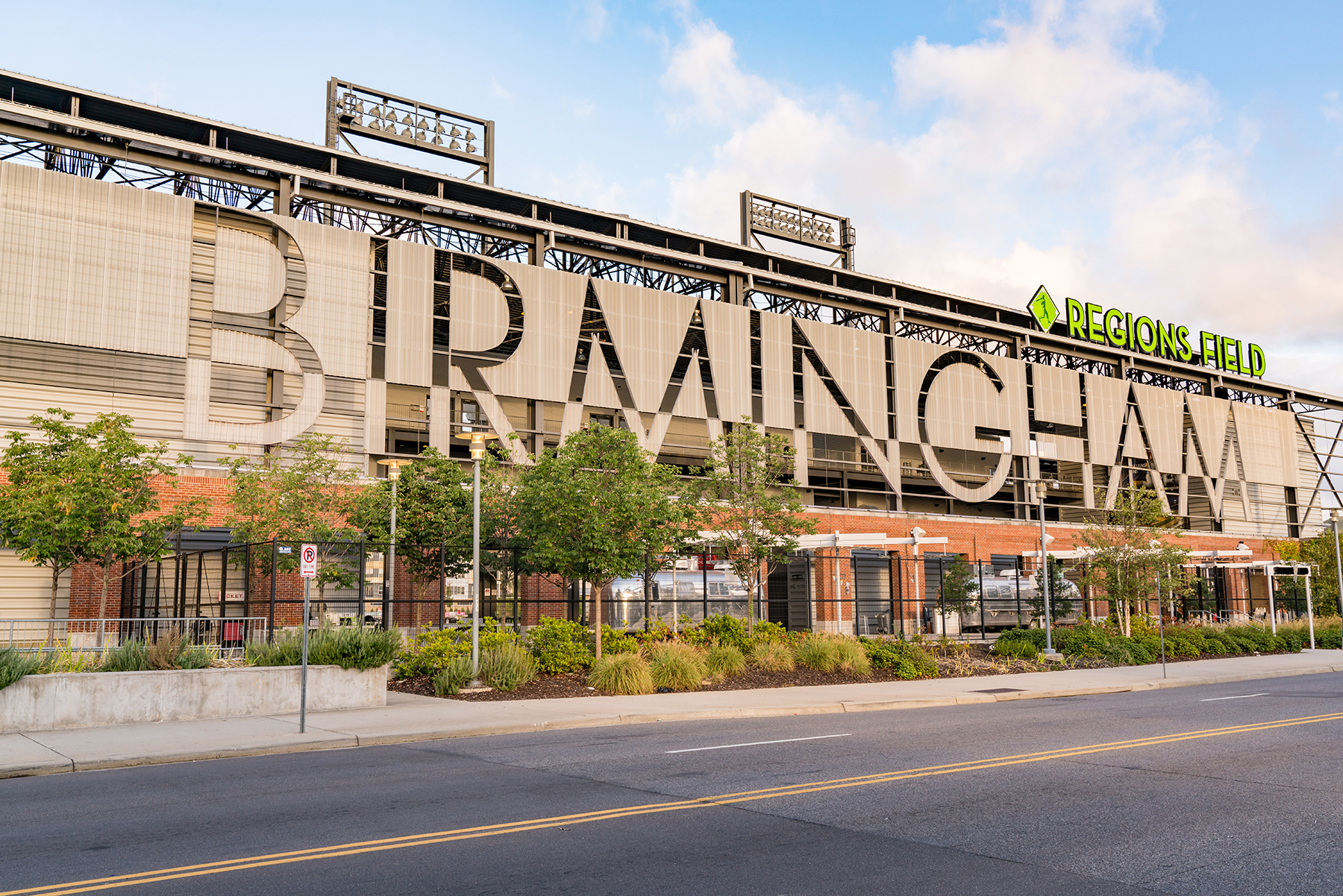 Arts & Culture
The iconic Alabama Theatre, built in 1927, is one of the country's last operating movie palaces, offering classic movie series that begin with sing-alongs to the theater's "Mighty Wurlitzer" organ. The neighboring Lyric Theatre (1914) was recently restored and offers a more intimate concert experience. And in the historic Carver Theatre, the Alabama Jazz Hall of Fame immortalizes legendary jazz greats who hail from the state, including Duke Ellington and Nat King Cole.
For bigger events, the Birmingham- Jefferson Convention Complex (BJCC) features exhibition halls and ballrooms, along with the Legacy Arena, the Concert Hall, and the Birmingham Children's Theatre. Looking to satisfy your creative side? The Birmingham Museum of Art has more than 24,000 objects in its collection that represent Asia, Europe, America Indigenous cultures, Africa, Pre-Columbian culture, and more. And if you're more of a sports nut, the Alabama Sports Hall of Fame allows visitors to take a walk through the state's sports history. From Jesse Owens and Willie Mays to Hank Aaron and the late Paul "Bear" Bryant, this venue covers them all.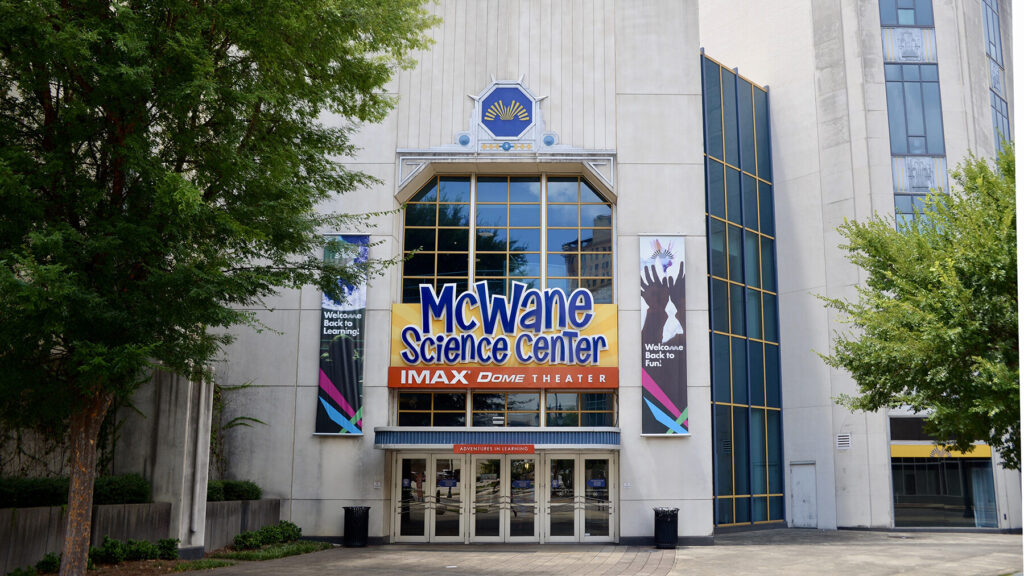 The Birmingham Civil Rights Institute is a Smithsonian Institution-affiliated cultural and educational research center that promotes the understanding and significance of civil rights developments in the city. In addition, the Birmingham Civil Rights Heritage Trail winds through the city, including stops at Kelly Ingram Park and 16th Street Baptist Church.
Parks & Entertainment
The Uptown entertainment district features a variety of restaurants, as well as Top Golf. From the district, visitors can easily walk to the BJCC, Protective Stadium, and Birmingham's new CityWalk, a system of recreational parks underneath the I-59/20 corridor. While portions of the CityWalk are still under construction, it will ultimately offer pickle ball courts, a skate park, green spaces, and more. Railroad Park, adjacent to Regions Field, connects Birmingham's downtown area with Southside and UAB's campus and offers a 19-acre green space and venue for local recreation, concerts, and cultural events.
The entrance to the Rotary Trail features a 46-foot-tall sign which reads "Rotary Trail in the Magic City." It's modeled after the historical "Birmingham the Magic City" sign. Although only a half mile, the trail stretches from 20th Street to 24th Street and links city attractions. Just outside of downtown, Red Mountain Park offers 1,500 forested acres that include 16 miles of multiuse trails.
Dining & Nightlife
Second Avenue and Morris Avenue offer some of the city's most popular restaurants and bars, including nationally-acclaimed Helen. Nearby Pepper Place features an eclectic mix of interior design shops and restaurants housed in an old Dr. Pepper syrup plant. During the spring and summer, the Pepper Place Market hosts an outdoor farmers market every Saturday. And for a bird's-eye view of the city, The Elyton's hotel rooftop restaurant, Moon Shine, is the place to be.
Housing
Many of the residential buildings that make up the downtown area are mixed-use facilities that house offices, coworking spaces, hotels, and restaurants, along with condos or apartments. The two main players when it comes to Northside living are the Second Avenue arts district and the historic Morris Avenue district. A prime location on Second Avenue North is the City Federal Building, a fixture in the city's skyline with its neon, red signage. Now home to 27 stories of condominiums, the neoclassical building was constructed in 1913 and was, at the time, the tallest building in the Southeast.
At the corner of 20th Street and 1st Avenue North, the John Hand Building is one of the city's four early skyscrapers that make up the "Heaviest Corner on Earth." Completed in 1912, the structure is now a mixed-use high rise with upper floors that house highly- sought-after condos. A new combination of condos, restaurants, and retail spaces makes up the Mercantile on Morris, a 14,000-square-foot, upscale, mixed- use project in the heart of one of the city's most walkable and iconic avenues. Nearby at 1st Avenue and Morris is Founders Station, a newly renovated mixed-use condominium building by Orchestra Partners.
Note from the Mayor
"Birmingham is a city brimming with history, opportunity, and progress. As the nucleus of our state's economic center, were main especially committed to revitalization and supporting our thriving, small- business community. Our medical community is world-renowned for its innovations, and our food scene has repeatedly received worldwide acclaim. Birmingham's legacy is the city that changed our world, and that spirit continues to guide us as we embrace public- private partnerships and regional cooperation to make the Magic City shine even brighter."
—Mayor Randall Woodfin Birmingham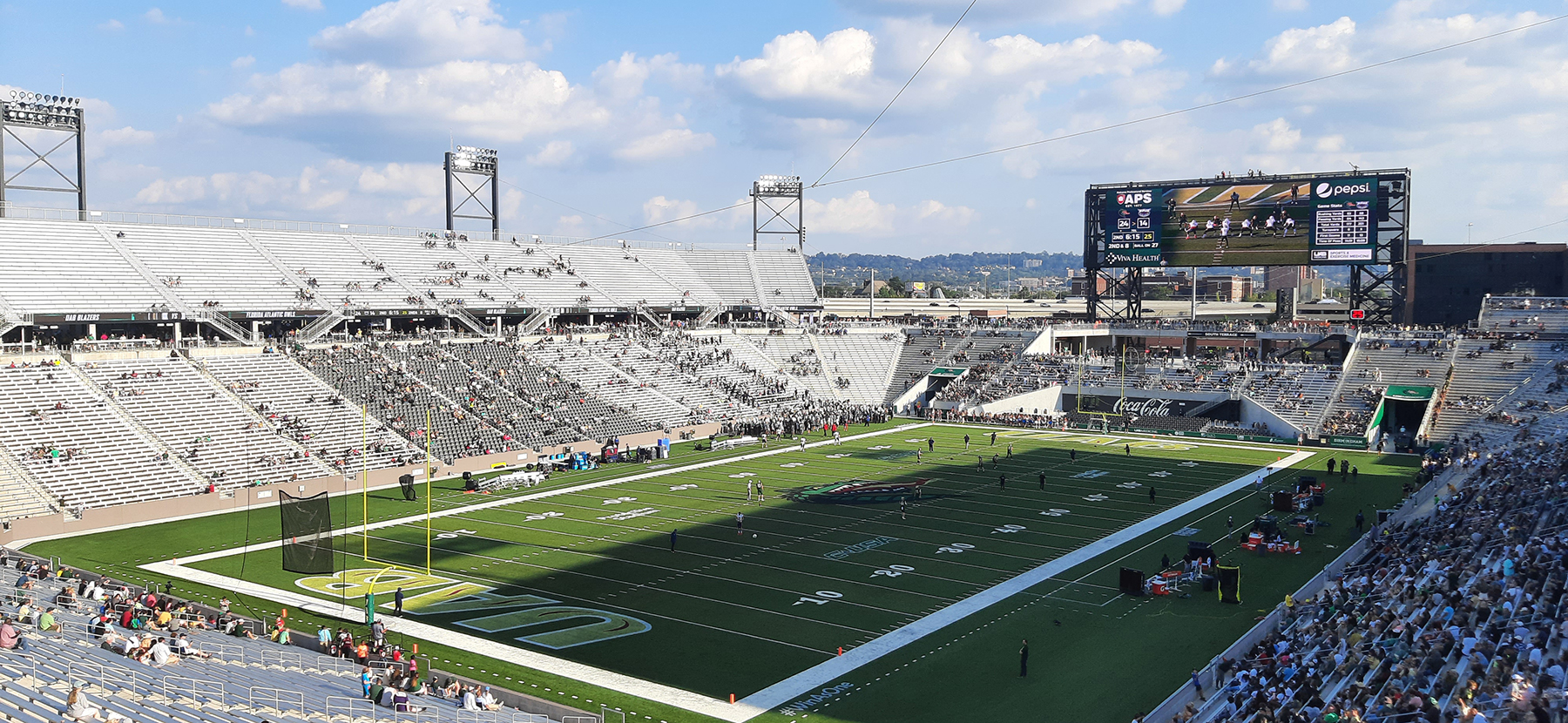 What's New
The city's new arena, Protective Stadium, debuted in the fall of 2021 and is home to The University of Alabama at Birmingham's Blazers football team, the Birmingham Legion FC soccer team, and a variety of events throughout the year, including a recently sold-out Garth Brooks concert.
RESIDENTIAL SNAPSHOT (Q2)
Total Sales: 1,199
Active Listings: 1,549
Median Selling Price: $231,500
Days on the Market: 20
Data courtesy Greater Alabama MLS
Find a list of current listings in print or at Liveinalabama.com
---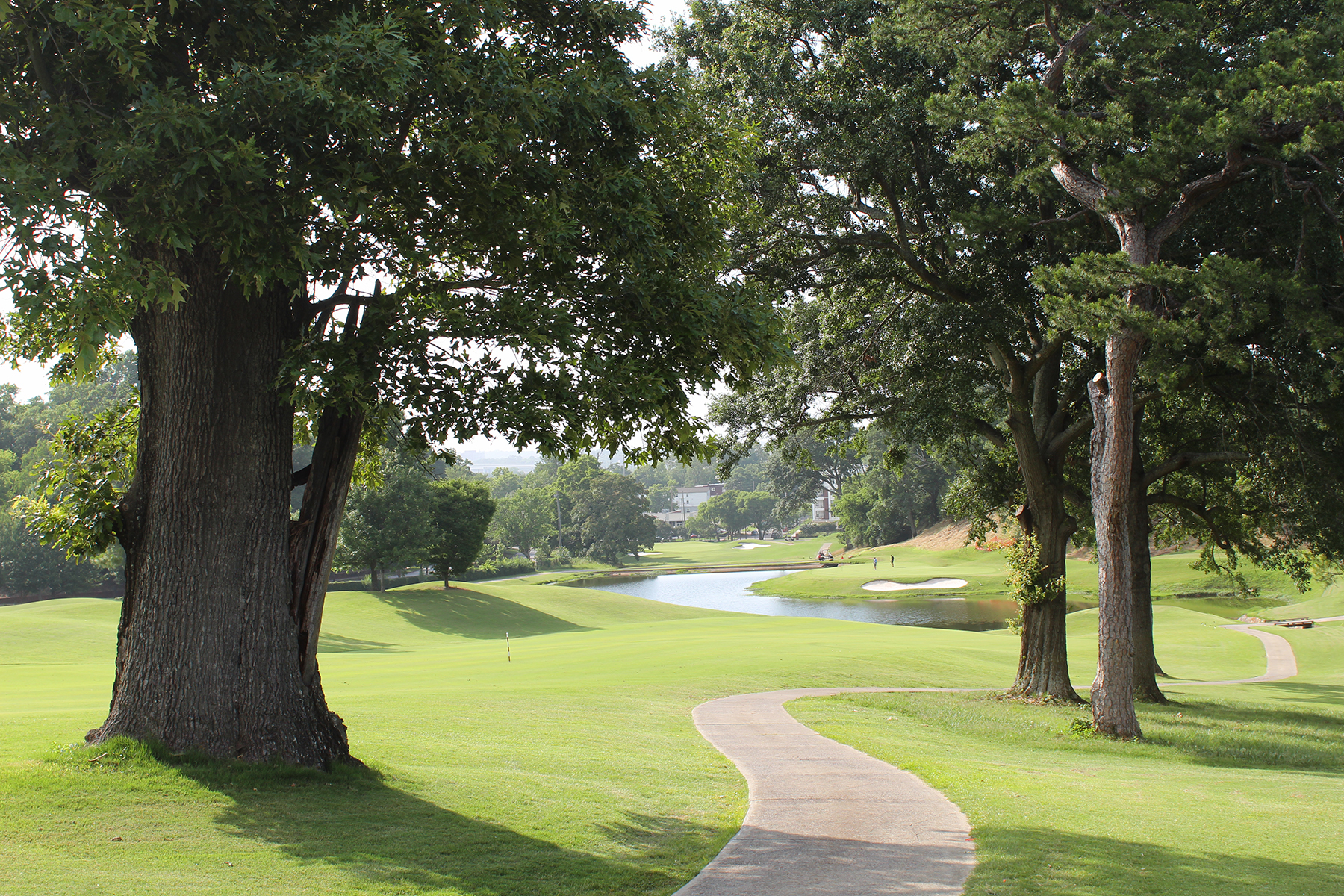 Red Mountain Community
Dotted with historic buildings overlooking the city, the Red Mountain Community was constructed to offer the convenience of urban living with a suburban feel. The neighborhoods of Redmont Park, Highland Park, Forest Park, and the Lakeview District are each known for their quaint culture, local shops, and ample green space.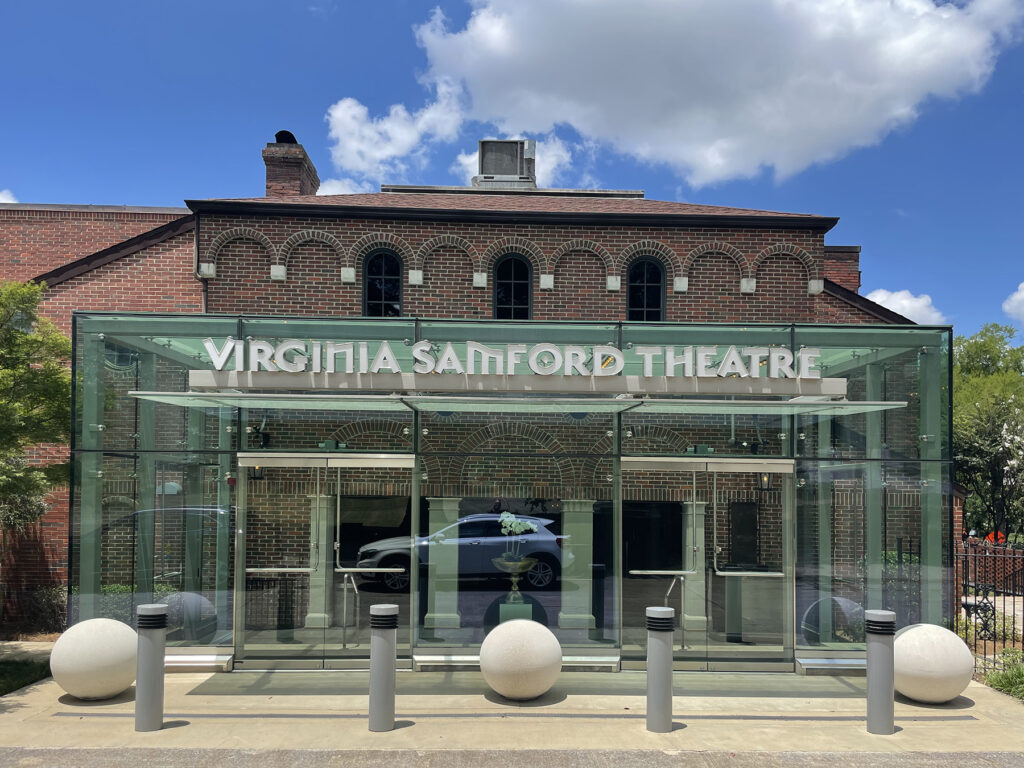 Neighborhoods:
Just south of Altamont Way and north of Mountain Brook, Redmont Park stretches along the ridge of Red Mountain from Vulcan Park on the southwest to Crestwood South. It also includes Key Circle and the Altamont School, a college preparatory day school with coeducational enrollment of grades 5–12. Homes styles include Tudor, Spanish Revival, Classical Revival, English Cottage, and Dutch Revival. Smaller, cottage-style homes are found along 21st Avenue.
Forest Park, closer to the city center, features tree-studded and sidewalk-filled neighborhoods with more of the historic grand home styles, along with many Craftsman cottages.
Highland Park winds along Highland Avenue, connected by a series of pocket parks including Hanover, Caldwell, Rhodes, and Rushton parks. A mix of historic homes, apartments, and condominums provides residences in the eclectic neighborhood. Homes in these three neighborhoods are zoned for Woodlawn High School and also have nearby private school options.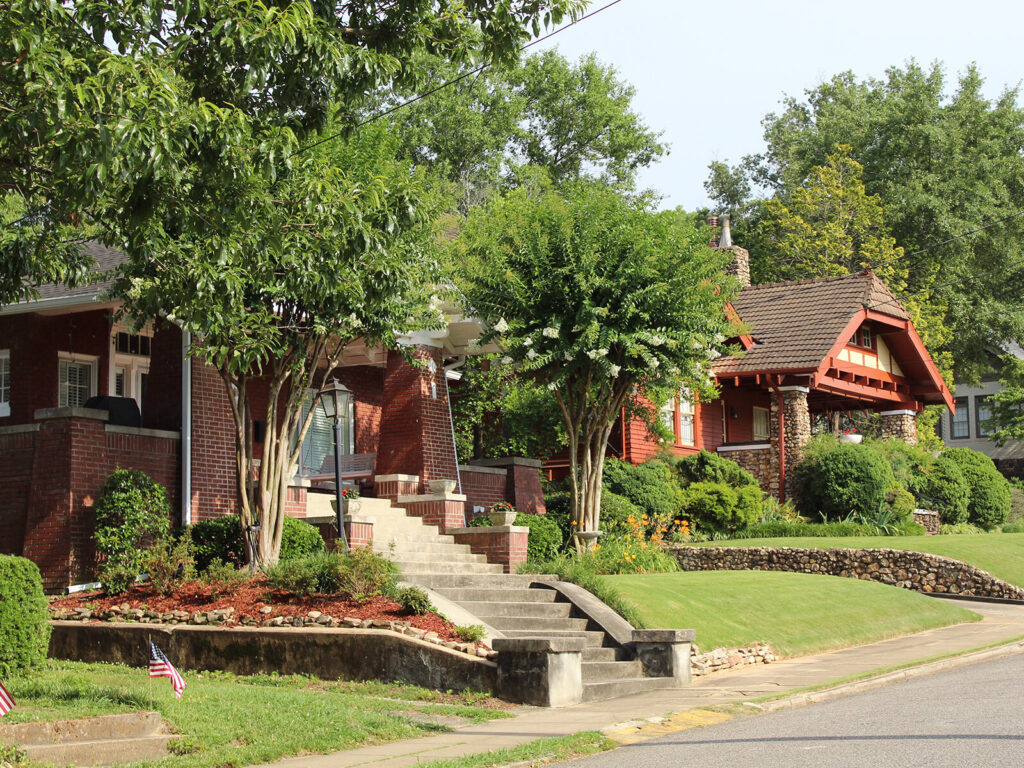 When looking for a property in the area, expect to find a number of homes with backstories. This area is filled with historic properties, many of which are on the National Register of Historic Places.
A few buildings on the register can be found in the Highland area, including Avalon Condominiums, a three-story, gabled residential structure built in 1926 overlooking Rushton Park. Near Hanover Circle is the original Claridge Manor apartments, built in 1924 in the Colonial Revival style.
Rojo, a long time favorite lunch, dinner, and cocktail spot featuring a festive atmosphere with both Latin and American cuisine, offers indoor and sidewalk seating.
Known for its nightlife and dining, the Lakeview District includes hotspots such as Carlile's BBQ. A number of other local culinary favorites can be found here, from casual dining at Slice Pizza to James Beard Award-winning Automatic Seafood and Oyster House to the trendy Trim Tab Brewing Company.
---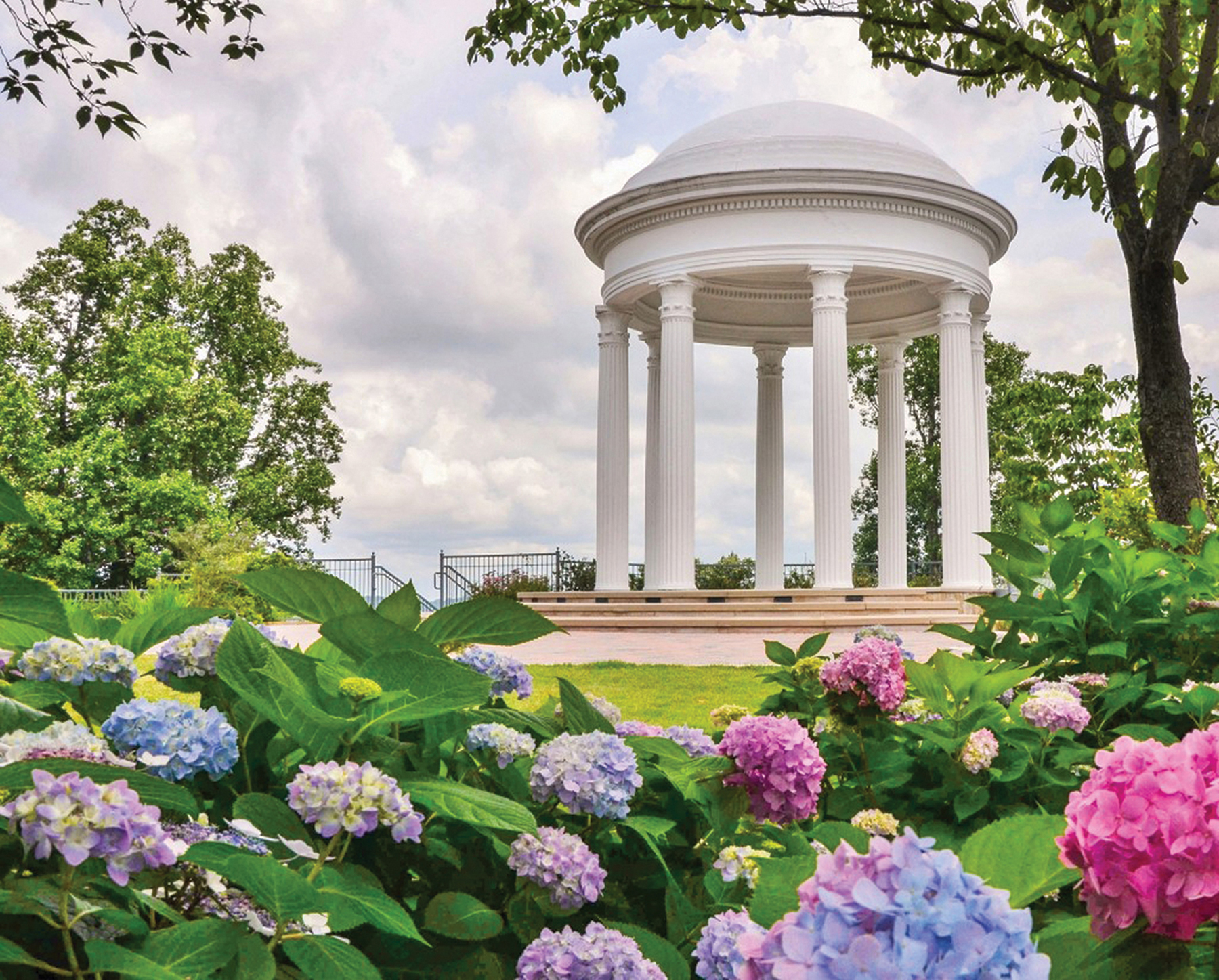 Vestavia Hills
Operating under the motto "A Life Above," the City of Vestavia Hills sprawls along the top of Shades Mountain and beyond. Neighborhoods stretch across Highway 280 to Liberty Park, providing ample space to shop, dine, and play.
Vestavia Hills Neighborhoods
Roughly 35,000 people call Vestavia Hills home, but that number seems to be growing every day. The city spreads across corridors, connecting Liberty Park, Cahaba Heights, The Summit shopping center, the Rocky Ridge neighborhood, and Highway 31. Each area offers unique dining, eating, and shopping experiences.
Established in 1991, the Liberty Park side of town features 4,000 acres of rolling hills and access to the Cahaba River. The Cahaba Heights area was annexed by Vestavia Hills in 2002 and has been a huge economic boon to the city with its shops, business offices, local conveniences, and dining experiences. The city recently announced plans to develop a master vision for the area which will give it a more cohesive and well-considered feel.
Vestavia's newest business district has grown around Lifetime Fitness and features local and chain restaurants with plans for new apartment and condominium complexes and neighborhoods currently being built.
Between Highway 280 and I-459, the Rocky Ridge entertainment district sits among single-family homes and developed communities, such as Tanglewood. The area features boutiques, restaurants, a grocery store, and more.
Homes along Shades Crest and surrounding streets offer coveted views and healthy lot sizes.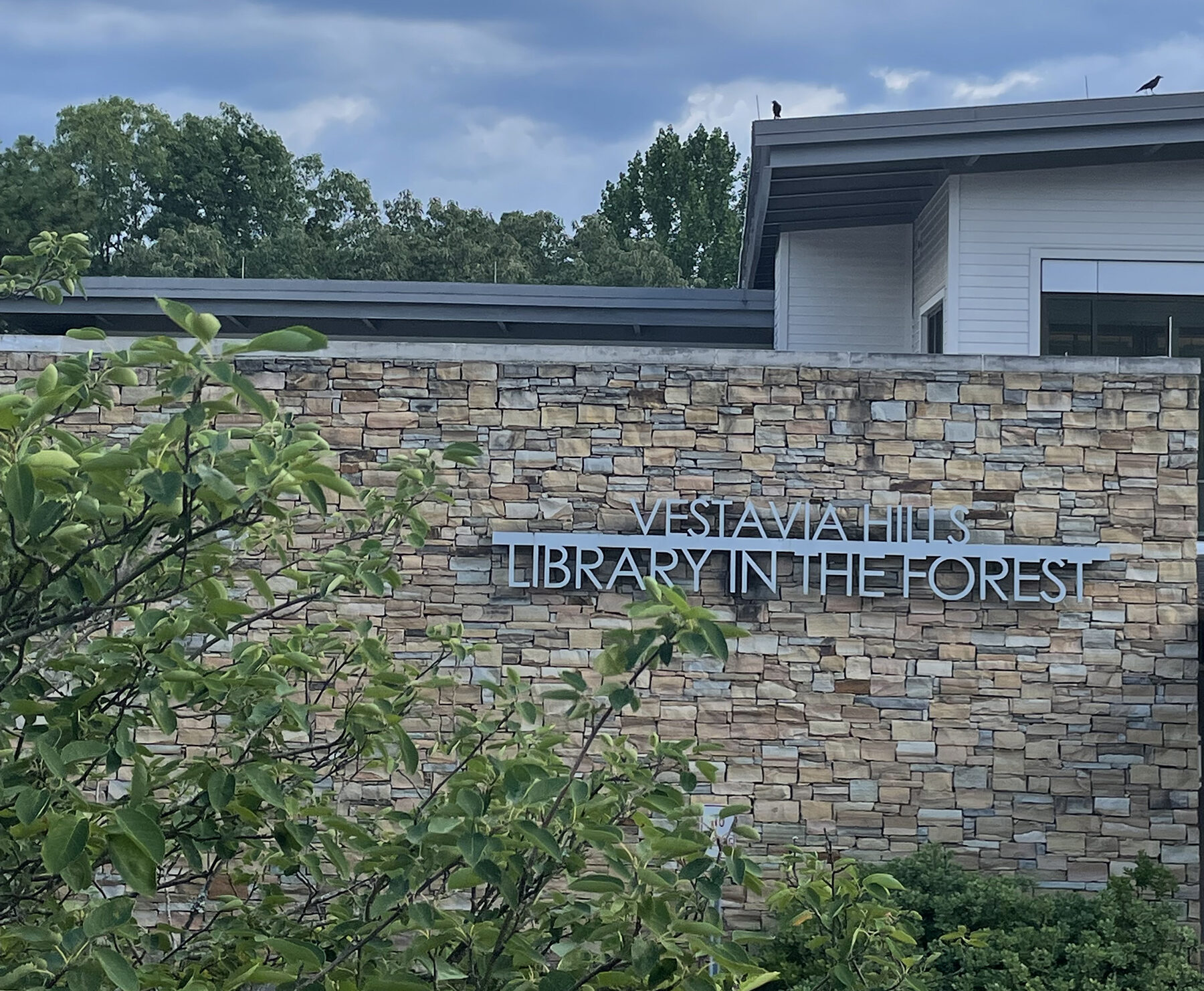 What's New
For nearly a decade, Vestavia Hills has been fine-tuning and implementing a Community Spaces Plan that continues to enhance the city's sense of community and its green spaces. Recently completed projects include:
• Cahaba Heights Park, a 10-acre park located behind Vestavia Hills Elementary School Cahaba Heights that features four turfed ballfields, a field house, batting cages, and an inclusive playground.
• The "new" New Merkel House, is a one- story facility for the city's seniors located next to Cahaba Heights Park. It is more accessible than the previous building and includes larger gathering spaces.
• In Liberty Park, the Sicard Hollow Athletic Complex offers a splash pad and playground, as well as new courts for pickleball and futsal.
• With the first few phases under its belt, Wald Park is now restructured with a state-of-the-art baseball complex, two playgrounds, an event lawn, and an amphitheater. In addition, a Miracle League Field was installed in the baseball complex, fully accessible to accommodate children, teens, and adults with disabilities. Newly reopened in 2020, the Wald Park aquatic complex now features a leisure pool and competition pool with sun decks, covered concessions, and locker rooms. The final phase for the park is on the horizon and will include the addition of a multi-court, tennis-and-pickleball complex with a pavilion, a dog park, and a walking trail.
• Nearing the end of its construction is the new Vestavia Hills Civic Center, a fully-renovated facility adjacent to Vestavia Hills City Hall and walkable to Wald Park. The 100,000-square- foot, multipurpose building includes recreation courts, an indoor walking trail, meeting and event space, a 10,000-square-foot banquet hall with warming kitchen, and office spaces. It will also house the Vestavia Hills Sports Hall of Fame.
Schools
Established in 1970, the award-winning Vestavia City Schools system features nine facilities—five elementary schools, two middle schools, a new freshman campus for ninth graders, and a high school. It is one of the top five school systems in the state (Niche.com).
Housing opportunities
The hills of Vestavia are filled with single- family homes, along with multi-family complexes and townhomes that are concentrated around Highway 280 near Rocky Ridge and Cahaba Heights and along Highway 31.
Located off I-459 and Liberty Parkway, Liberty Park is a planned community that features neighborhoods in a natural setting with single-family and apartment homes, recreational fields, parks, office buildings, and more. On March 14, the Vestavia Hills City Council approved Liberty Park developers' plans for The Bray, which will include 600 single-family homes and a 102,000-square-foot commercial development with restaurants, retail and office spaces, and a hotel.
RESIDENTIAL SNAPSHOT (Q2)
Total Sales: 237
Active Listings: 278
Median Selling Price: $495,000
Days on the Market: 7
Data courtesy Greater Alabama MLS
Find a list of current listings in print or at Liveinalabama.com
---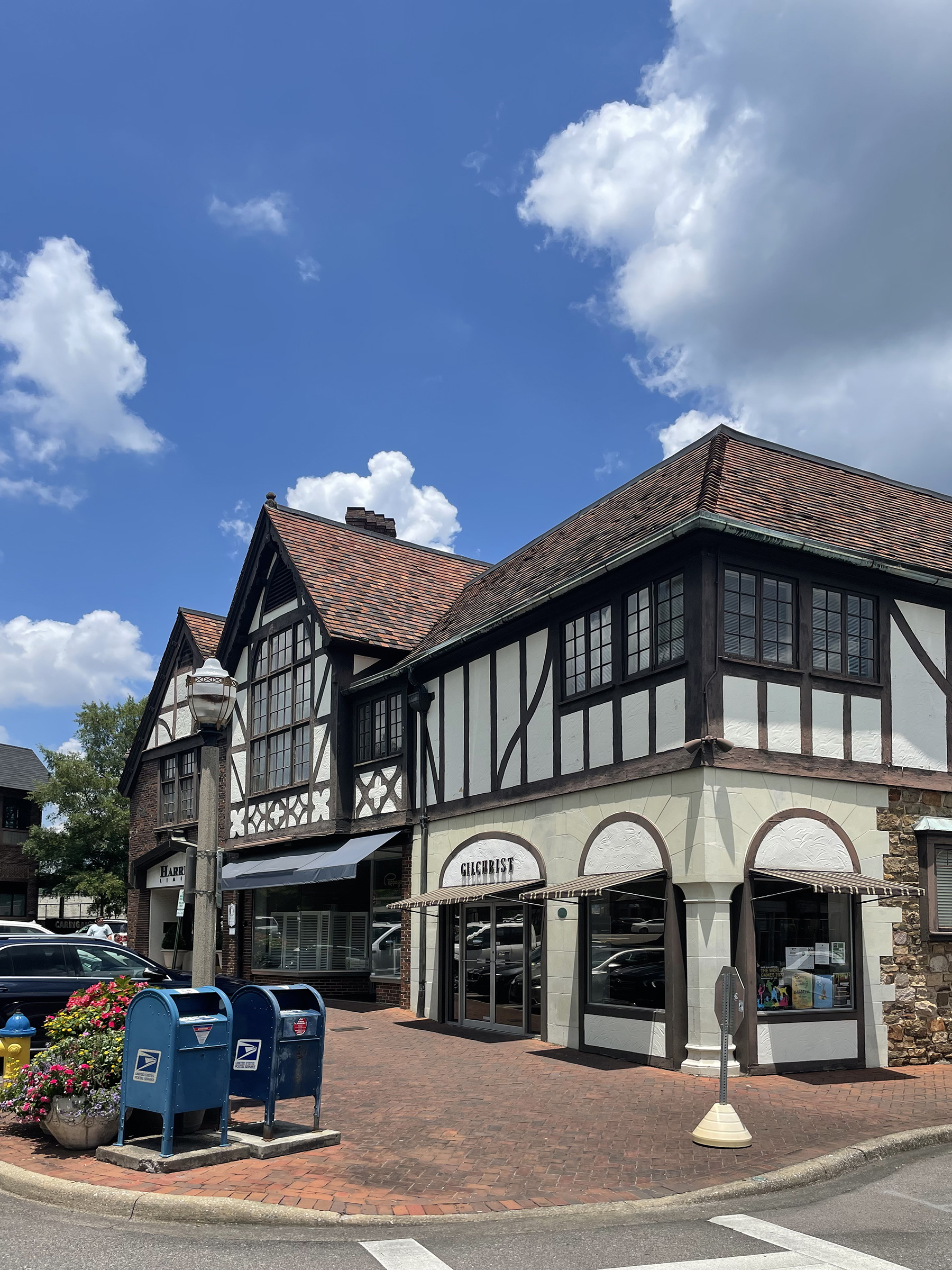 Mountain Brook
Nestled among its many trees, the City of Mountain Brook was incorporated in 1942 with a mission to carry on the vision of the area's first developer, Robert Jemison, Jr. With architecture that harkens back to the old-world charm of the 1920s, this upscale city, dotted with sprawling country club golf courses, offers first-class dining and boutique shopping experiences in a family-friendly atmosphere.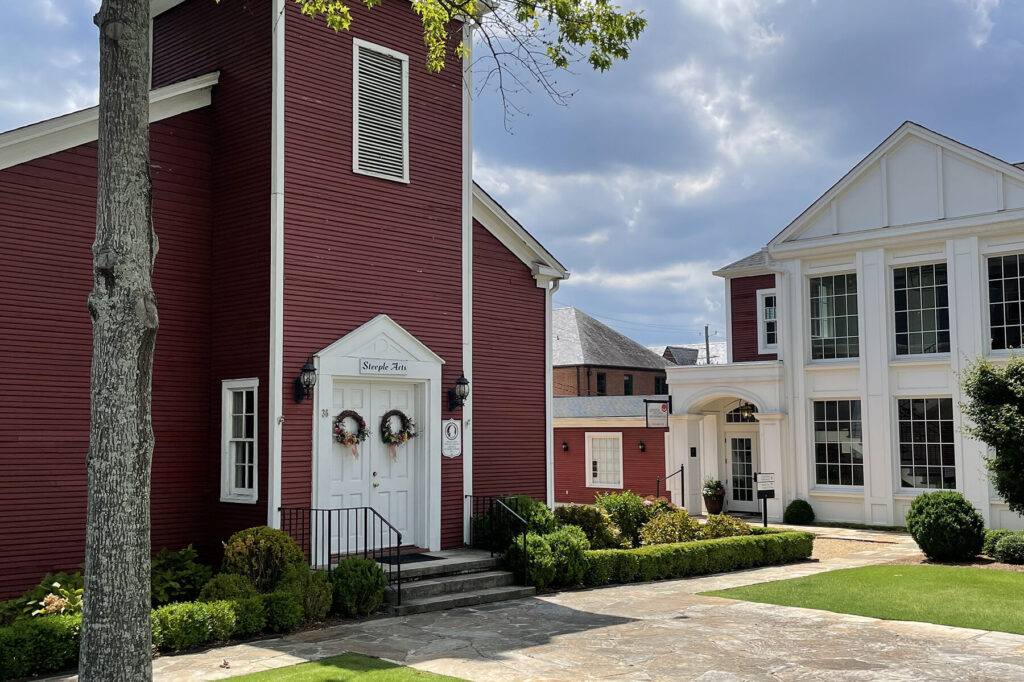 The Mountain Brook Villages
The City of Mountain Brook is defined by its quaint villages spread throughout the area, each with its own unique identity. Mountain Brook Village served as the heart of the community before the city was incorporated in 1942. Much of the architecture celebrates the old-world, European look of Robert Jemison, Jr.'s Mountain Brook Estates, established in the 1920s. These beautiful buildings house an eclectic mix of boutique shopping and dining experiences. Lane Parke, the newest extension of Mountain Brook Village, brings more shops and restaurants to the walkable neighborhood. And nearby, The Grand Bohemian Hotel plays to the city's architecture and culture offering its own unique vibe.
Crestline Village is home to Mountain Brook City Hall, the Board of Education, the O'Neal Library, and more. With its iconic clock tower and historic Red Church Building that now houses the Steeple Arts Dance Academy, the village hosts numerous restaurants and shops, along with the Tot Lot playground.
Located where the City of Birmingham connects with Mountain Brook at the top of Red Mountain, English Village offers an eclectic mix of shops and restaurants. Enjoy the atmosphere of a French bistro at Chez Lulu, or sip an early evening cocktail in Vino's gallery bar. Residents will also find shops, dining spots, and professional services near Cahaba Heights at two other villages—Overton Village and Cahaba Village.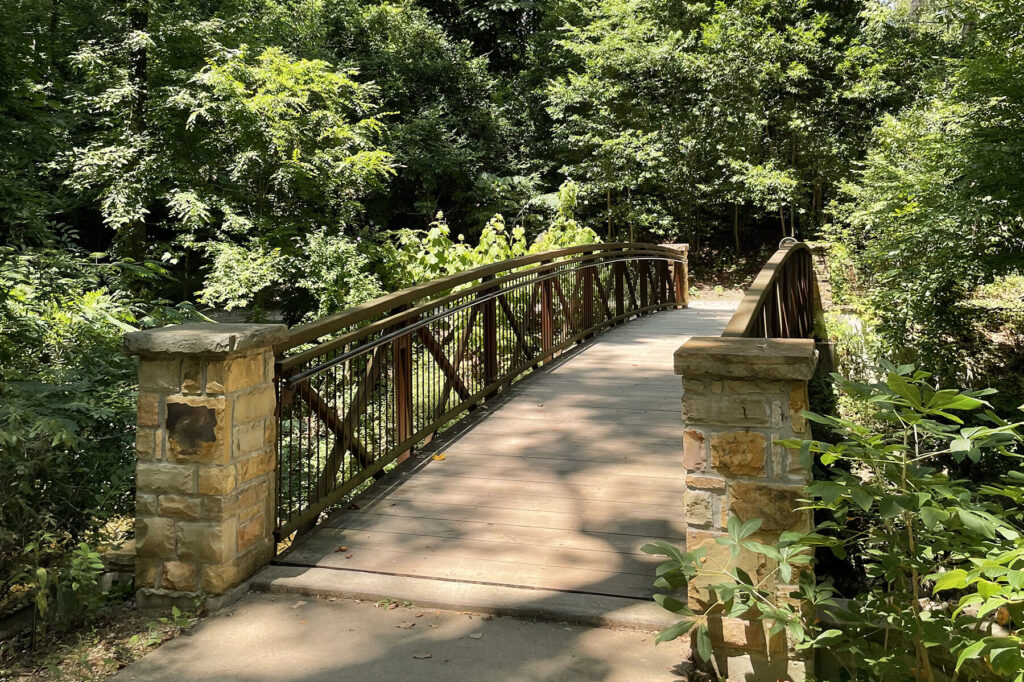 Quality of Life
Mountain Brook City Schools is a K-12 public school system that includes four elementary schools, one junior high, and one high school. Typical enrollment is around 4,400 students, according to school officials. Beginning in October 2020, the school system's Board of Education broke ground on a multi- phase construction project that includes upgrades to all of its six facilities.
The city's walkability has increased with the introduction of more sidewalks that connect residents to green spaces, schools, and more, part of a capital project that began in 2017. Sidewalks along Overton Road connect the city's all-inclusive playground at Overton Park to the Cahaba River Walk, which offers the city's first dog park, as well as access to fishing, swimming, and kayaking.
Along Mountain Brook Parkway and tied in with the city sidewalk system, Jemison Trail is a 54-acre linear park that includes a three-mile walking trail that follows Shades Creek and connects with Watkin's Trace Trail. Along the trail, visitors will find the historic Old Mill used in the city's official logo.
Located off of I-459 behind Mountain Brook High School, Alabama Veterans Memorial Park is a 22-acre park that serves to honor the state's veterans of the armed forces. A memorial trail feature sculptures, memorial installations,
and information plaques recognizing Alabamians lost to war, including a regiment of columns that honors the state's Medal of Honor recipients.
Botanical Gardens and Zoo
The Birmingham Botanical Gardens features a collection of more than 10,000 plants spread throughout its 67.5-acre campus, which features more than 30 gardens. Year-round programming is available to plant lovers of all ages with summers offering camps for children.
The Birmingham Zoo is a 122-acre facility adjacent to Mountain Brook in the City of Birmingham and is home to approximately 550 animals. In recent years, the zoo has added the Henley Park Event Lawn and a state-of-the-art entrance experience, with plans for a new Asian Passage exhibit on the horizon.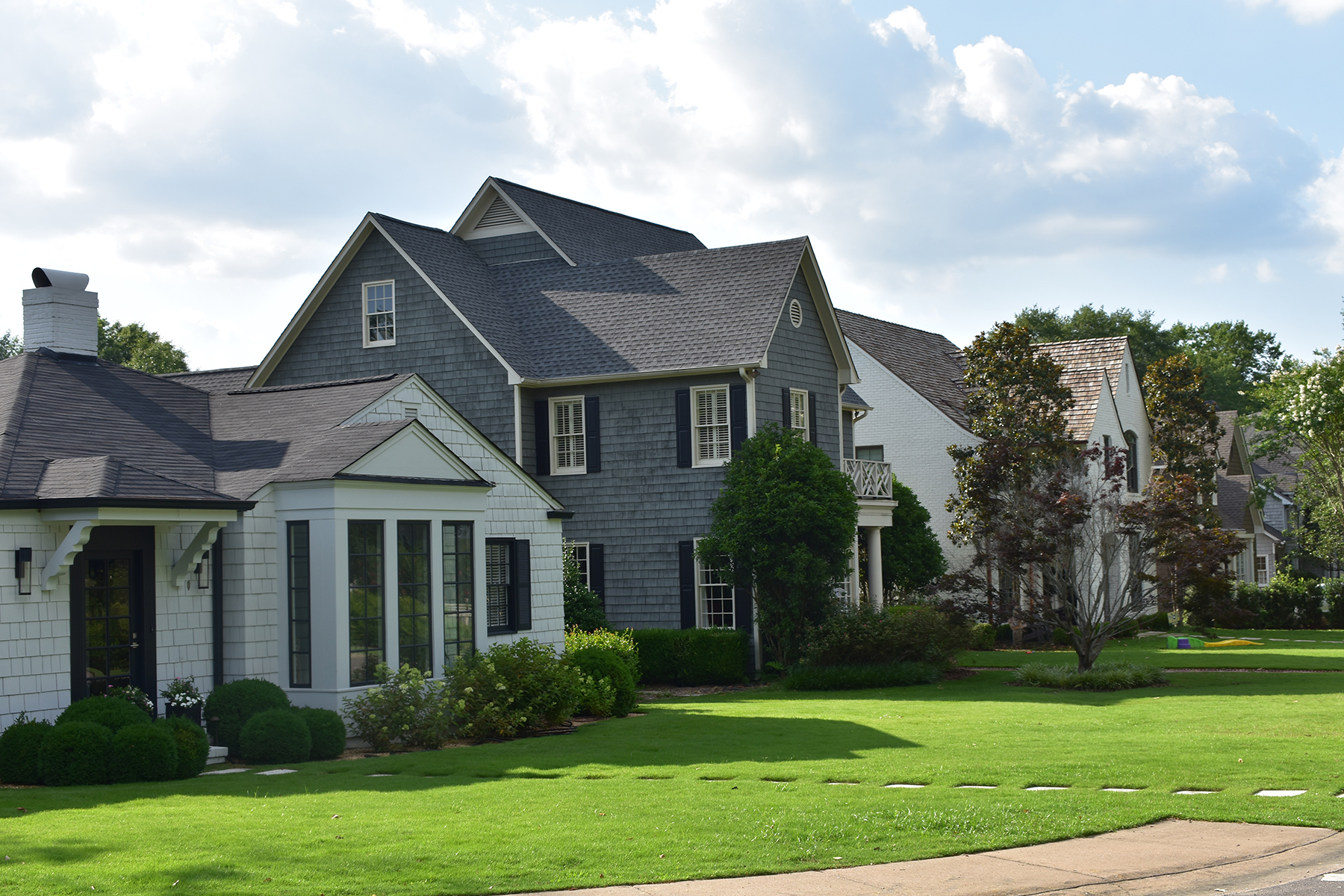 Housing Options
While neighborhoods closest to the villages are more densely populated, the majority of the city is occupied by single-family homes on wooded lots. Condominiums, garden homes, and townhouses can be found in certain areas, especially near Mountain Brook and English villages.
Note from the Mayor
"Mountain Brook is a beautiful city of rolling hills, diverse landscapes, and magnificent homes. But that is not the best part. Our over 40 miles of sidewalks and trails make for a walkable city where you can easily stroll between our picturesque villages: Mountain Brook Village, Crestline Village, and English Village. There you will find a wide range of boutique shops, restaurants, and services. It certainly does not hurt that Mountain Brook is rated one of the safest cities in Alabama and is home to one of the top-rated school systems in the country."
—Mayor Stewart Welch, III Mountain Brook
RESIDENTIAL SNAPSHOT (Q2)
Total Sales: 114
Active Listings: 149
Median Selling Price: $850,000
Days on the Market: 7
Data courtesy Greater Alabama MLS
Find a list of current listings in print or at Liveinalabama.com
---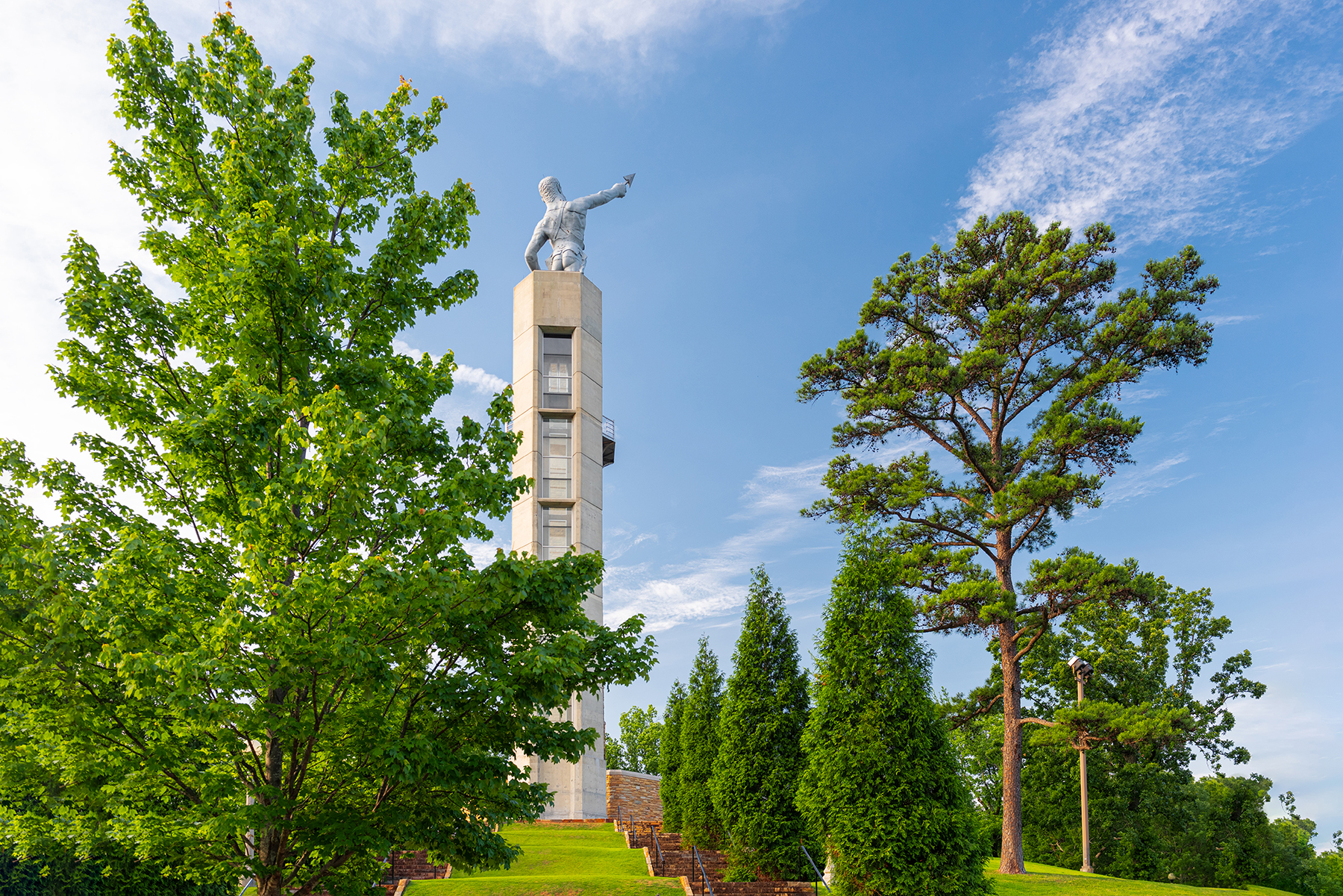 Homewood
Under the shadow of Vulcan, Homewood is where small town meets big city with walkable neighborhoods and a top-ranking school system alongside boutique hotels, nationally-acclaimed antique galleries, and fine-dining experiences. From its historical Hollywood and Rosedale sections to the burgeoning West Homewood area, this diverse community mixes the best of both worlds.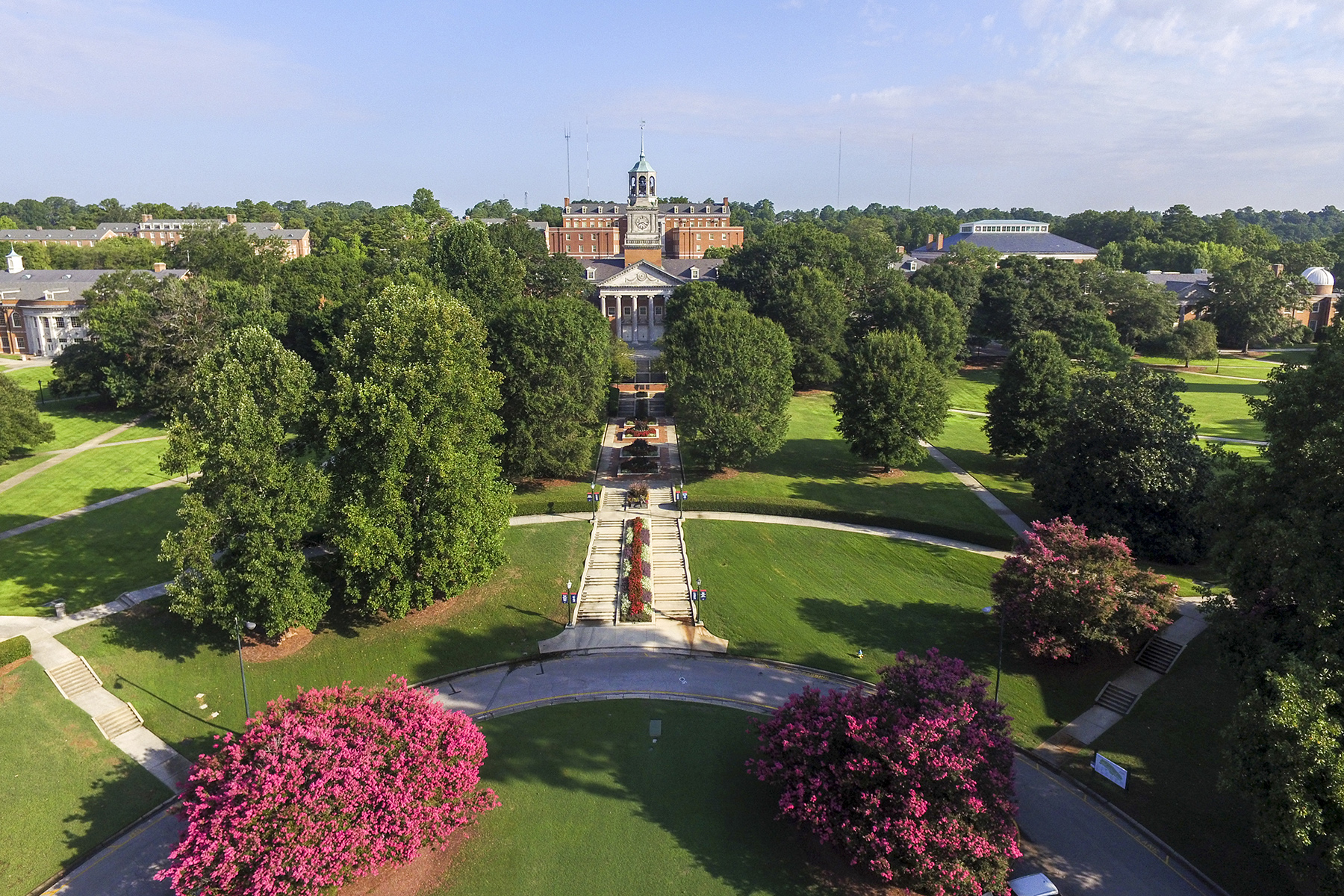 Community First
The picturesque center of Homewood is its downtown shopping district, with boutiques, services, and renowned restaurants surrounding 18th Street. Locals and visitors can catch parades, community events such as "We Love Homewood Day," and special celebrations such as the historical "Lighting of the Homewood Star"during the holidays. Favorite shops and eateries include Birmingham's oldest independent bookstore Little Professor Bookshop, Savage's Bakery, and the legendary Johnny's Restaurant, helmed by Timothy Hontzas, a five-time James Beard Award nominee for Best Chef, South.
A step back in time, The Club, established in 1951, is a historic private club and venue atop Red Mountain that boasts one of the best views in the city. Formerly located in Brookwood Village, the Homewood Theatre recently relocated to the city center. Located at 1831 28th Avenue South, the theater is nestled into the SoHo Square development among a variety of boutiques and restaurants.
Sims Garden is a pocket garden that offers programming as well as daily self- guided tours. Located in the Edgewood neighborhood, the park honors its former owner Catherine Anville Sims, also known as the plant lady, who deeded her property in her will to the City of Homewood to be maintained as a botanical park.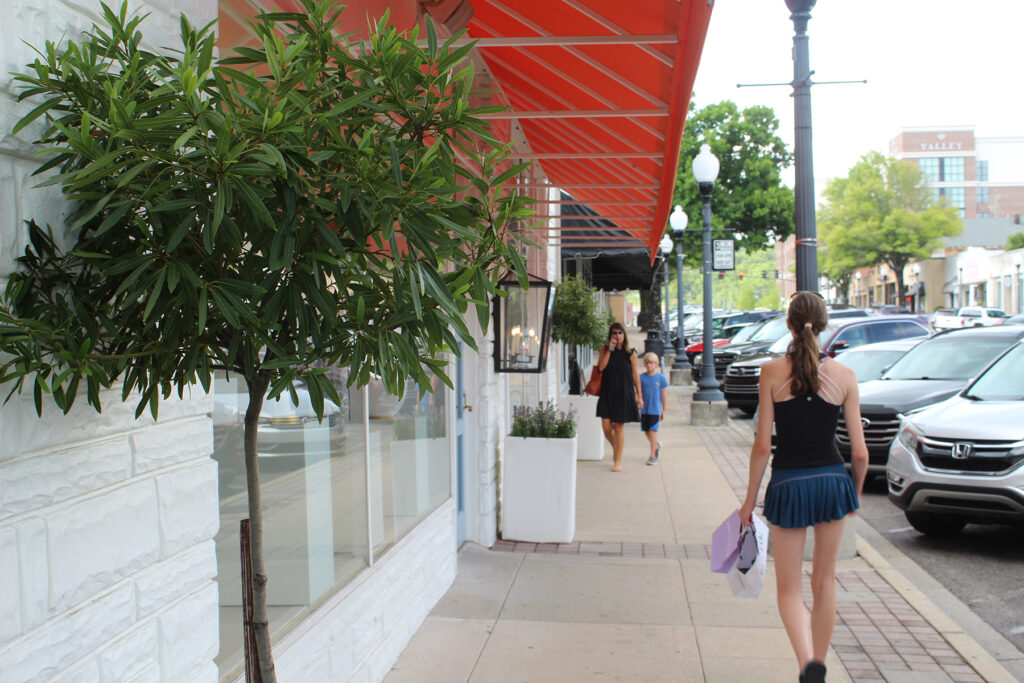 Quality of Life
Homewood City Schools was ranked the number one school system in the state in 2021, according to Niche.com. Facilities include three elementary schools, one middle school, and one high school which work together to "educate and empower all students to maximize their unique potential."
In its 81st year, the Homewood Public Library offers one of the most comprehensive programming schedules in the area. Community neighbors frequent the city's parks, not only for recreational opportunities but also for the many events hosted on their grounds throughout the year. Central Park, located by the Exceptional Foundation near Homewood's downtown shopping district, features a playground and pavilion area, as well as an aquatic center. And across Green Springs Highway in the West Homewood neighborhood, Patriot Park features playgrounds, fields, an athletic complex, and an aquatic center.
Homewood Shades Creek Greenway, also known as the Lakeshore Trail, has plans to expand. It currently consists of three miles that run parallel to Lakeshore Drive along the floodplain of Shades Creek. Sights along the way include Homewood High School, Samford University, numerous office buildings, Target, and Fresh Market.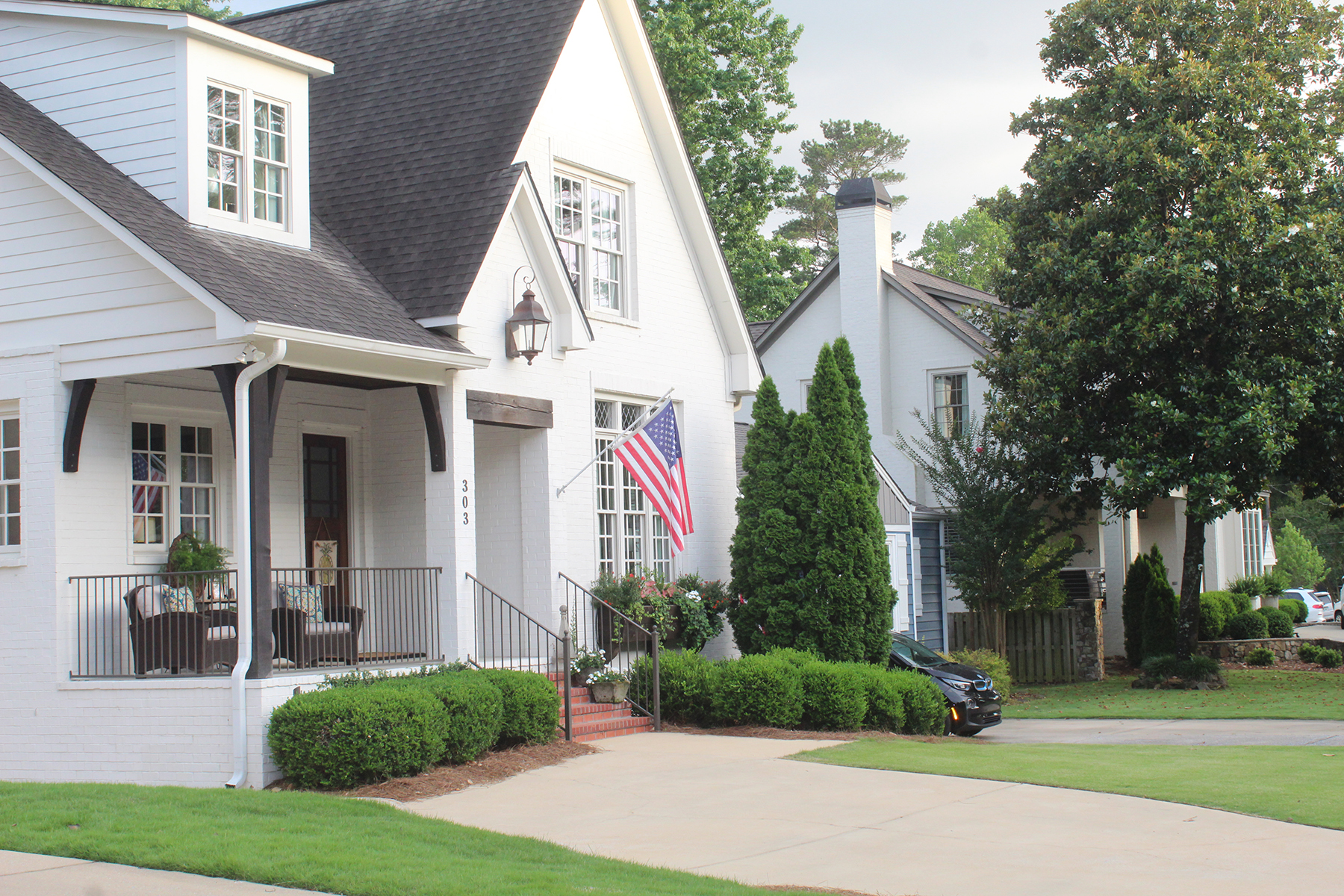 Housing Opportunities
Single-family homes in Homewood can be found throughout the area, while apartment and condo complexes are concentrated in downtown Homewood, on Valley Avenue, and along Green Springs Highways and Lakeshore Parkway.
The West Homewood area near Patriot Park is the up-and-coming neighborhood for young families. The West Homewood Neighborhood Association hosts gatherings throughout the year, most notably the popular West Homewood Farmer's Market.
Edgewood is centrally located within the city, with walkable streets as well as shops and restaurants at the Edgewood Station development. Family and friends flock to the area evenings and weekends for outdoor dining and leisurely strolls.
Note from the Mayor
"What makes Homewood a great place to live? Community. Plain and simple. The fact that our great city has a top ranked school system, a major university, a hospital, and a wide variety of businesses makes this a one-stop shop for anyone who lives in or visits Homewood. Our sidewalk system allows residents to walk anywhere, and our parks and greenway trails are perfect for those looking to get outdoors.We have it all in Homewood, and we want people to have a wonderful experience while they are here!"
—Mayor Patrick A. McClusky City of Homewood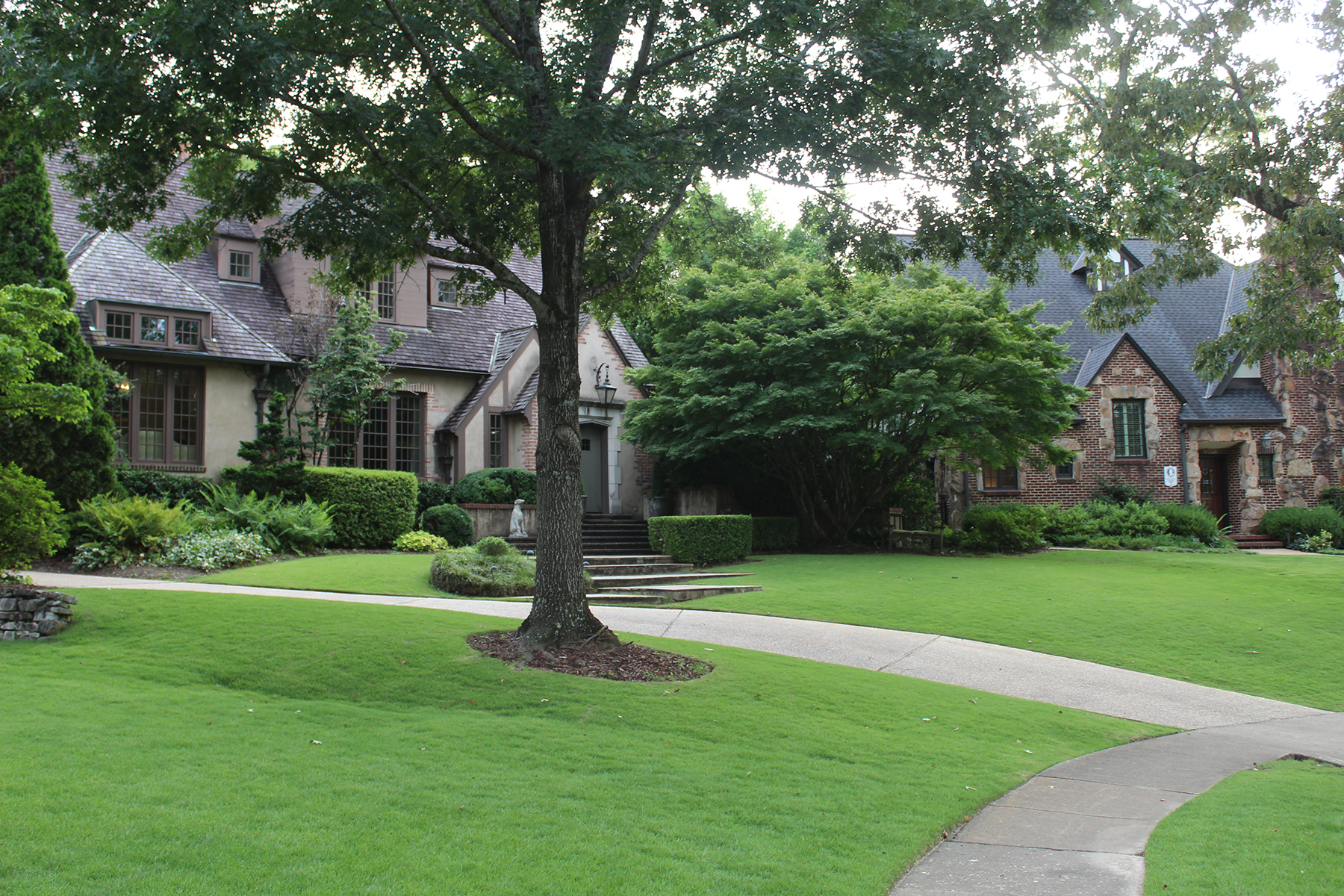 RESIDENTIAL SNAPSHOT (Q2)
Total Sales: 139
Active Listings: 155
Median Selling Price: $510,000
Days on the Market: 8
Data courtesy Greater Alabama MLS
Find a list of current listings in print or at Liveinalabama.com
---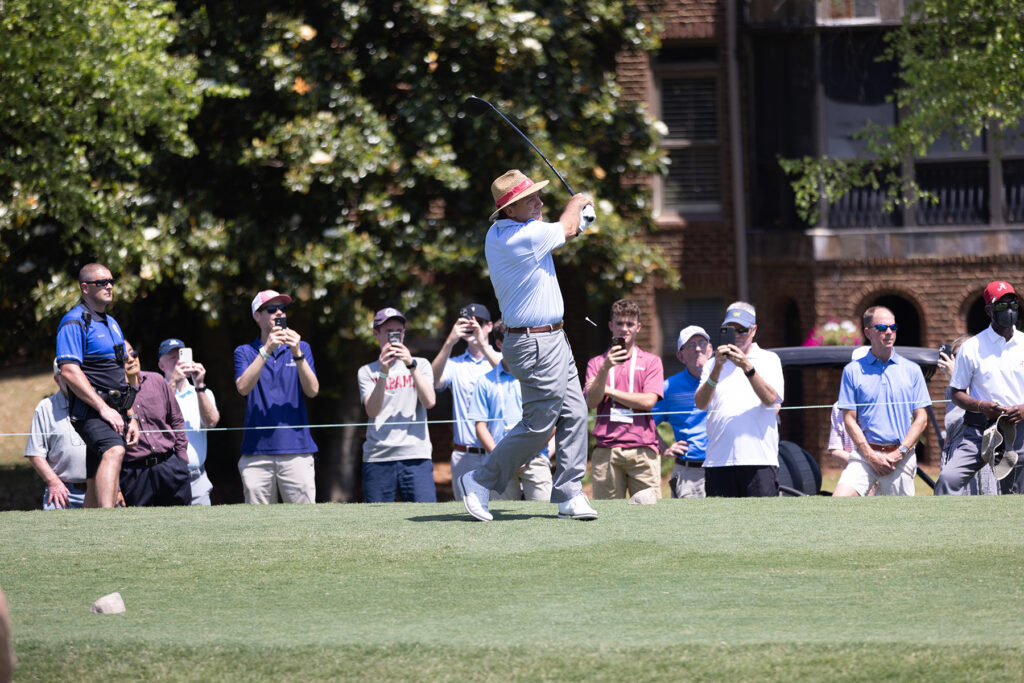 Hoover
A young city with deep roots, Hoover is situated on the southern slope of Shades Mountain in Shelby County. Founded in 1967 across core neighborhoods of Bluff Park, Patton Chapel, and Rocky Ridge, the city offers glimpses of its past as a haven for indigenous tribes as well as for early settlers who flocked to the area for its coal deposits. The Hoover of today is vast, expanding across Highway 280 and growing a reputation for its picturesque, luxury communities and its world-class sports facility, the Hoover Met.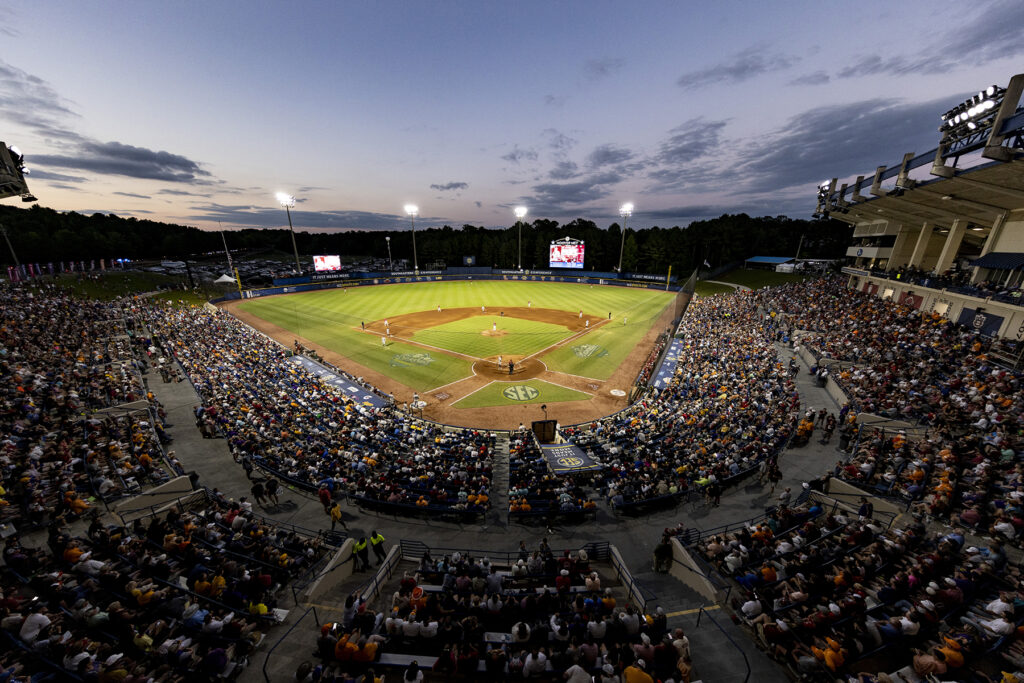 Quality of Life
One of the top school systems in the state, Hoover City Schools was founded in 1987 and now includes 18 facilities serving K-12, with elementary schools, middle schools, two high schools, and the Riverchase Connection Center, a vocational training center for students to enter the workforce after graduation.
The City of Hoover is home to 25 parks and green spaces. This includes Moss Rock Preserve, a 349-acre nature preserve with hiking trails, rock climbing, waterfalls, and even a boulder field once used by native tribes as shelter during hunts. Veterans Park is one of the community's gathering spaces for events, with 5K and 8K cross country courses, beach volleyball courts, pavilions, playgrounds, and recently announced plans for pickleball and fitness courts.
Historic districts that predate the city can be found throughout the community, including Shades Crest Road, once known as the Indian Wagon Trail, and Bluff Park. The Park Avenue Historical District includes 51 structures built between the early 21st Century to the post-World War II period.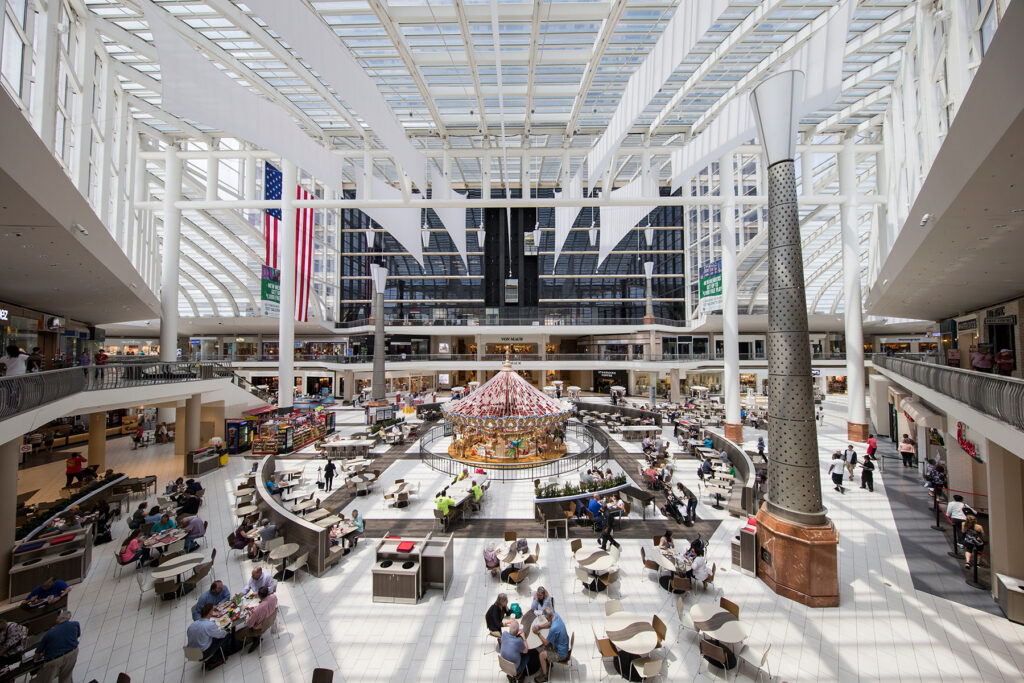 In addition to the Hoover Met, the Hoover Rec Center features 75,000 square feet of services available for annual membership fees, including a fitness center, cardiovascular room, indoor track, indoor swimming pool, gymnasium, locker rooms, nursery for ages six weeks to six years of age, game room, racquetball court, and more. For the community's senior citizens, the Hoover Senior Center is an 8,000-square-foot building that offers art rooms, multipurpose rooms, a kitchen, a lounge, a sunroom, and an auditorium.
The Hoover Public Library has one of the highest circulations in the state and offers more than just programming and study services. The Library Theatre has hosted internationally acclaimed acts from around the world, including Grammy award-winning artists and national-touring performances.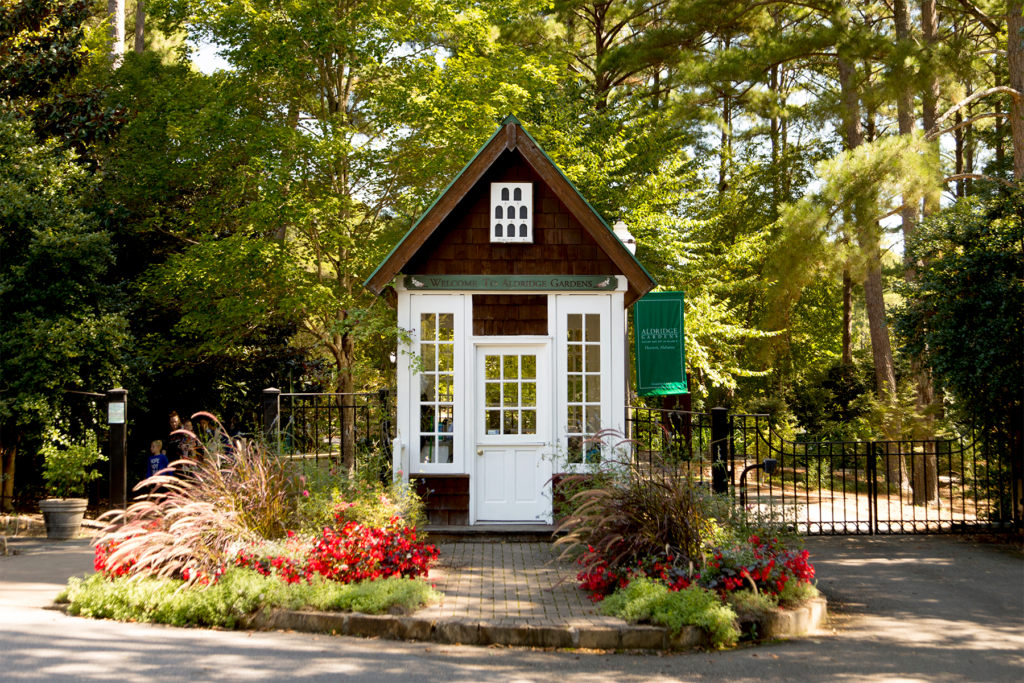 What's New
Following the recent renovation of the Hoover Met, the Stadium Trace Village at Brock's Gap broke ground in 2017 and quickly filled with a variety of restaurants and retail stores. Currently under construction next door to Stadium Trace is the Village Green, an outdoor amphitheater complex that will include a stage, artisan market, playground, recreation area, wine and beer garden, and more.
At the beginning of 2022, the city announced that local land developer Signature Homes will be donating 43 acres of land in the Trace Crossings area. This is the first acreage of a planned 130- acre donation to be named Flemming Park and will initially consist of five miles of hiking and biking trails, a pavilion, and other amenities.
In March, the city council announced that a six-mile area from Highway 280 stretching close to Highway 119 has been designated for economic redevelopment. This will include three buildings to be built by Terra Equities for commercial use, as well as an area of land zoned for the construction of 120 townhomes to be built by Signature Homes.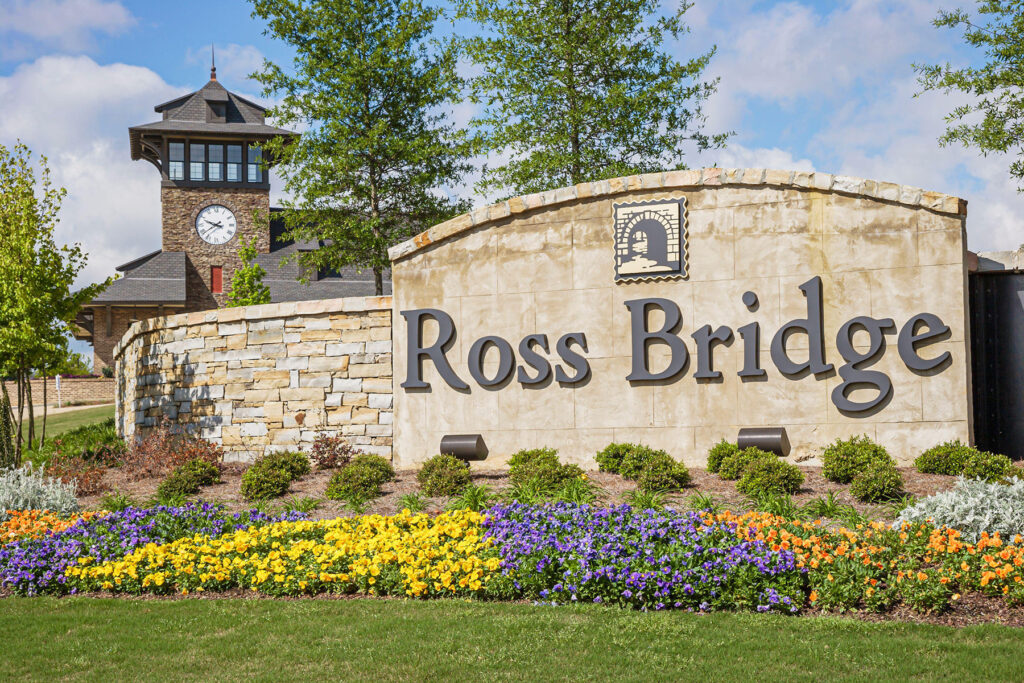 Housing Options
The expansive Hoover community is home to a variety of housing. You'll find numerous apartment buildings and townhomes, as well as many single- family homes in neighborhoods ranging from the historic and wooded Bluff Park and Patton Creek communities to newer, upscale private housing communities such as Lake Wilborn and Greystone.
Ross Bridge is a planned community that is also home to the Renaissance Birmingham Ross Bridge Golf Resort and Spa, a part of the Robert Trent Jones Golf Trail. It offers one of the longest courses in the world. But this community is more than just a place to practice your swing, with amenities such as miles of walking trails, swimming pools, a clubhouse, and the Ross Bridge Village Center with shopping, restaurants, and services. Homes throughout the neighborhood range in price from the upper $300s to more than $1 million dollar estates.
The Preserve features upscale homes and classic American architecture. The neighborhood offers picturesque views at the 8-acre Village Green with conveniences, restaurants, and shops available at the Town Center. And with its location adjacent to Moss Rock Preserve, The Preserve enjoys community and nature living.
Note from the Mayor
"Hoover is a great place to live for a number of reasons. And it's no secret. In 2021, 24/7 Wall St., a financial news and commentary website, ranked Hoover as the "Best Place to Live in Alabama." That ranking was based on several factors, including housing affordability, access to public spaces and services, the presence of entertainment and cultural amenities, low crime rates, and other socioeconomic conditions. While I agree with all of those factors, there are many more reasons that make Hoover a great place to live. For example, the quality of life in our city is top rate. Our school system is ranked as one of the highest in the state. Our library has received numerous national recognitions and awards. We are home to one of the largest shopping malls in the region. Our STEM-based business industry is growing at a steady pace. We have one of the most diverse populations in the state. And we are centrally located near multiple larger cities in the state and south east region.All of that, and still more ,make Hoover a great place to call home."
—Mayor Frank Vincent Brocato Hoover
RESIDENTIAL SNAPSHOT (Q2)
Total Sales: 619
Active Listings: 690
Median Selling Price: $438,000
Days on the Market: 6
Data courtesy Greater Alabama MLS
Find a list of current listings in print or at Liveinalabama.com
---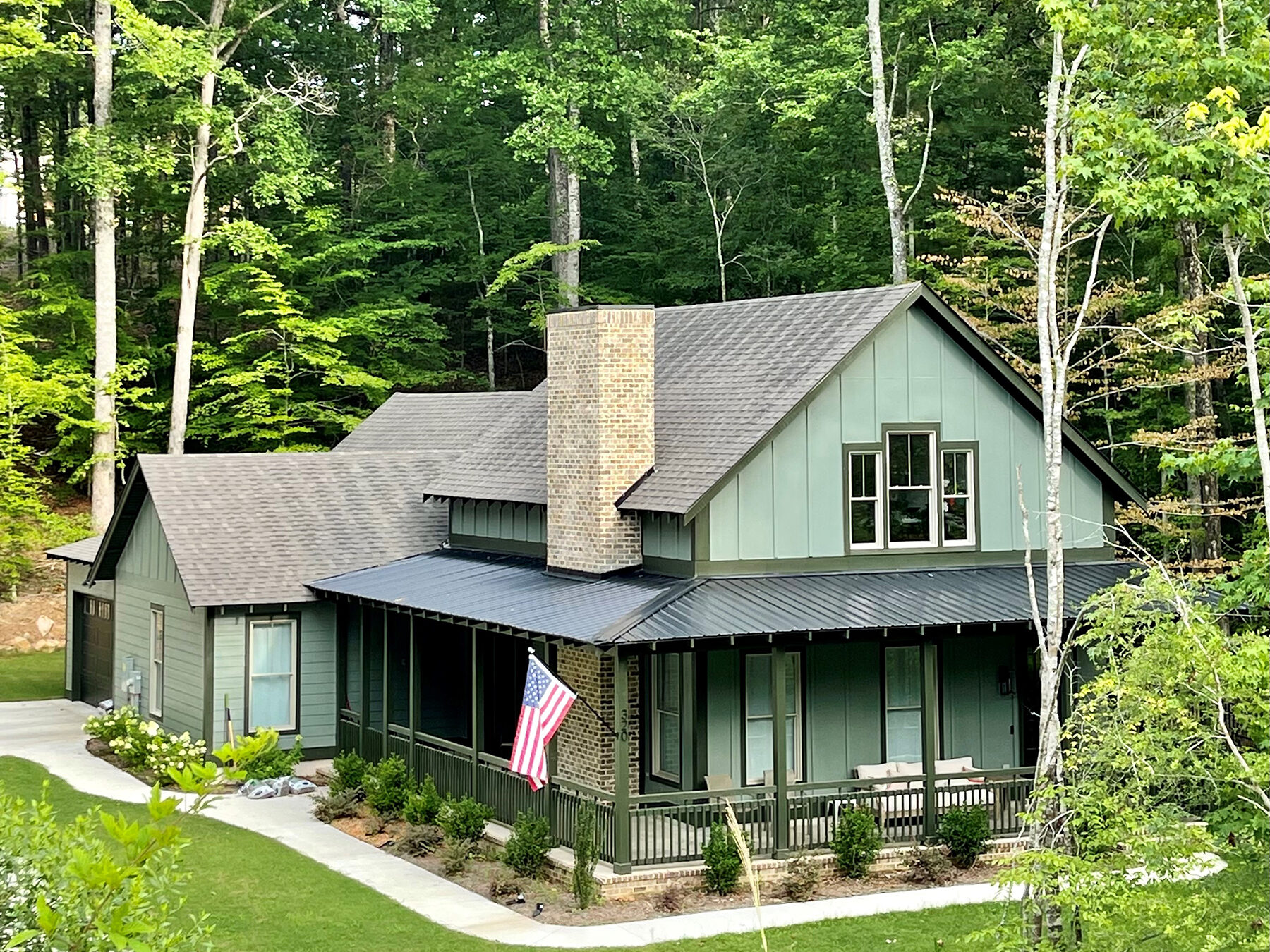 Highway 280 Corridor
Birmingham's Highway 280 corridor may not have a core identity just yet, but thanks to the city's relentless expansion across North Shelby County, formerly undeveloped land in the area has become host to some of the city's elite planned communities. From Dunnavant Valley to Oak Mountain, there are plenty of pockets to escape the bustle of inner-city life and enjoy community at a slower pace.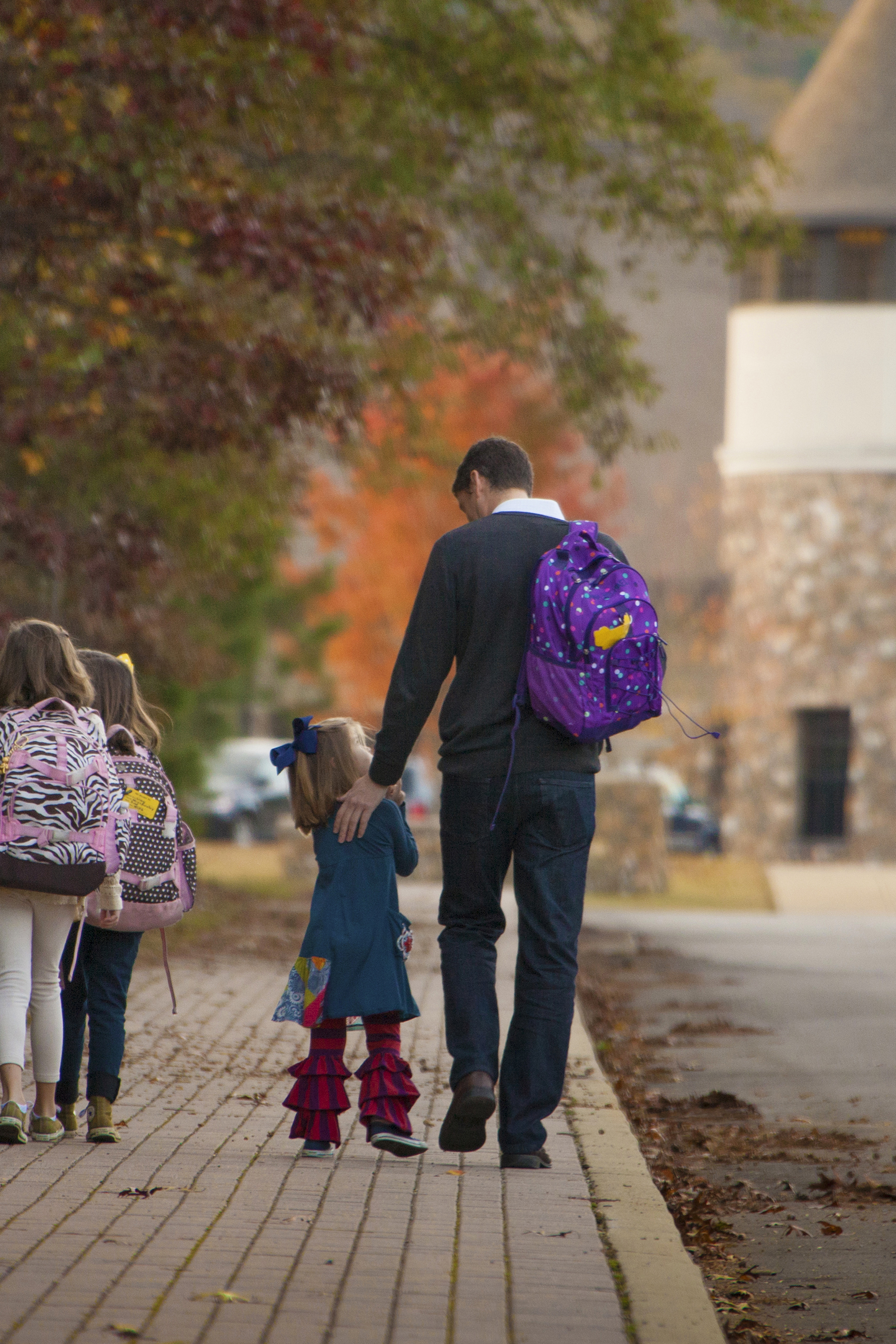 Your Neighbors Are…
When it comes to natural experiences, Oak Mountain State Park is hard to beat. As the largest park in the state with more than 11,000 acres of forest, it includes a golf course, a man-made lakeside beach with aquatic sports opportunities, campsites, and miles of trails to explore on foot, bike, or even horseback.
Formerly known as the Verizon Wireless Music Center, Oak Mountain Amphitheater identifies as the largest outdoor music venue in the state. For a family-friendly outing, head to the Heart of Dixie Railroad Museum to discover the history of Alabama's locomotive industry. The museum hosts a popular series of holiday-themed train experiences throughout the year, but the most popular is its Polar Express event, complete with Santa and Mrs. Claus, offered during the holidays.
The Summit shopping center opened in October 1997 and continues to serve as a shopping destination for the Greater Birmingham area, as well as surrounding counties. The one-million-square-foot, upscale lifestyle center is located at the intersection of Highway 280 and Interstate 459 and features multiple local and chain restaurants, a movie theater, and a mix of local, regional, and national retailers.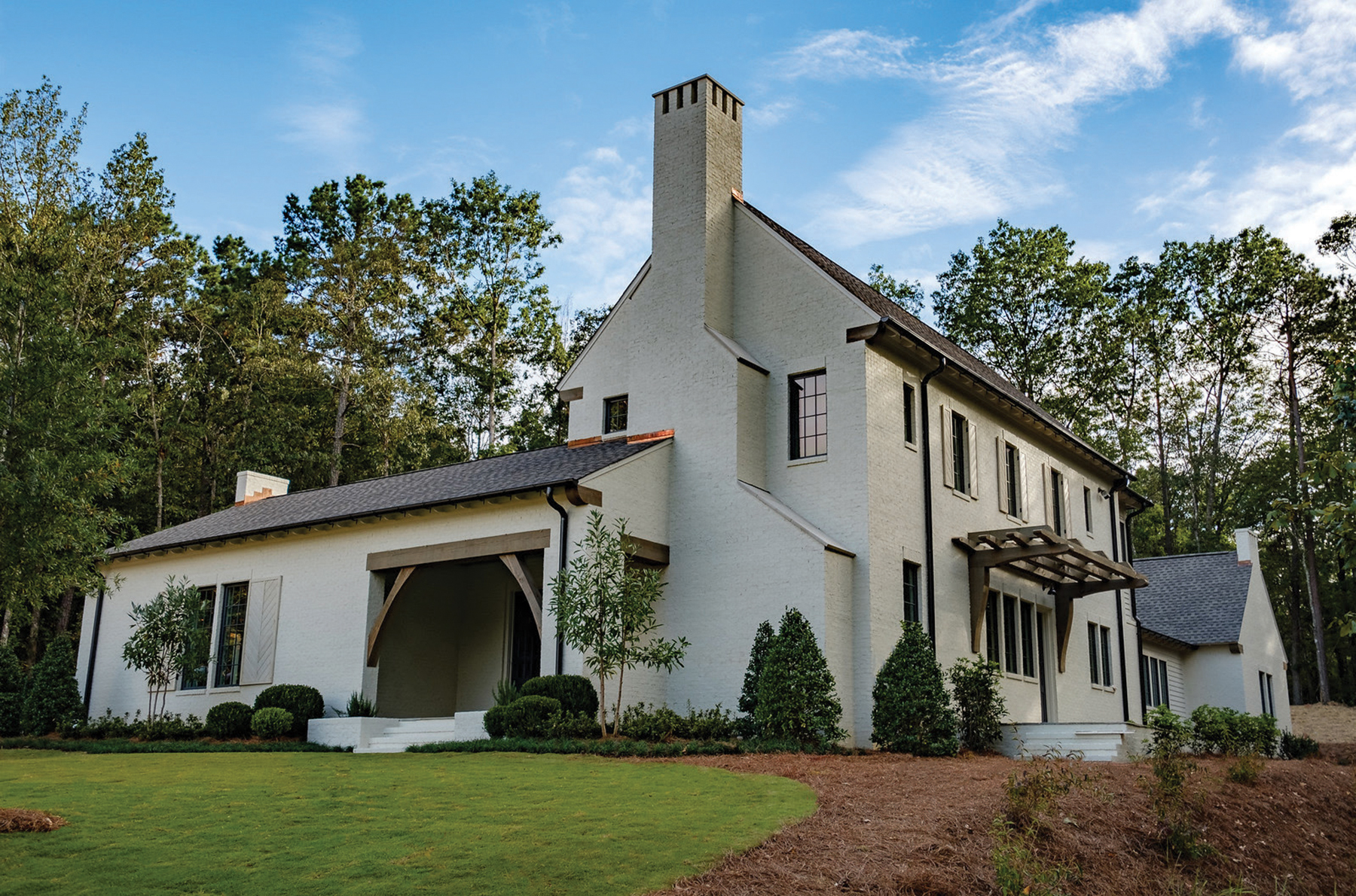 Quality of Life
Portions of the Highway 280 corridor are within Hoover City Limits, while the majority is zoned for the North Shelby County Schools in Chelsea and Oak Mountain. The area also hosts a variety of private school options, as well as the prestigious Indian Springs School, a co-ed boarding and day school that offers a rigorous curriculum for grades 8-12.
Created in 1988, the North Shelby Library was the first to provide library services to the area and currently serves a population of about 50,0000 people.
What's New
A step forward in connecting the multi- faceted area, the Dunnavant Valley area on the Highway 280 corridor cut the ribbon on its first park. The 11-acre Dunnavant Valley Park officially opened in April and is located on the site of the former Mt Laurel Organic Garden. The park will connect to a nearby trailhead that provides access to 750 acres of hiking and mountain bike trails currently under development.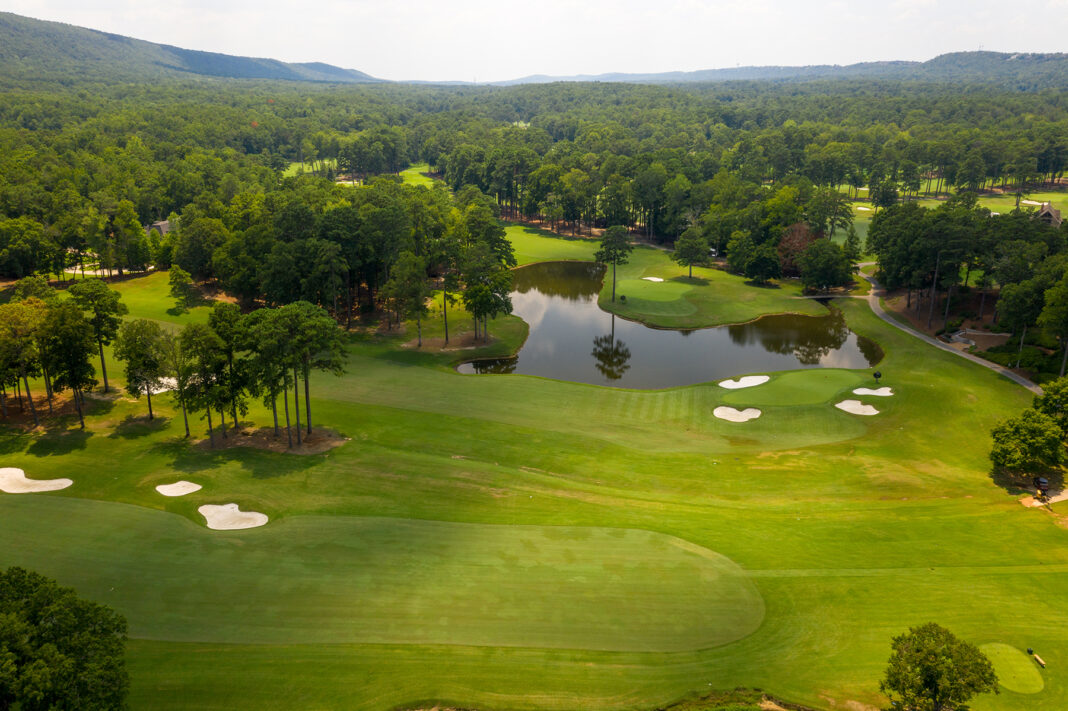 HIGHWAY 280 CORRIDOR COMMUNITIES
CHELSEA HIGHLANDS
Spread across 725 acres, Chelsea Highlands opened its second gated entrance off Highway 11 in 2018. The community currently has over 50 custom homes with plans for expansion. Residents love traveling the miles of paved roads on their golf carts with easy access to resort-like amenities: two fishing and canoe lakes with waterfalls, a timber-framed pavilion with stone fireplace, and a clubhouse and pool. The Highway 11 entrance will offer commercial lots for a future café, a service station, and possibly a grocery store.
GREYSTONE
This prestigious golf community, developed by Daniel Corporation in 1989 and completed in 2006, rests along Highway 280 in Hoover and boasts a 4,000-acre master plan that accommodates 3,000 homes and a country club with two championship golf courses. Beginning in May of 2022, Greystone will welcome the addition of The Cottages, located between St. Vincent's One Nineteen and Church of the Highlands. The Cottages will be the community's first build-for-rent development and will feature 189 units with sidewalks, parks, and open green spaces.
HIGHLAND LAKES
Featuring shady sidewalks, streets, and parks, Highland Lakes is a gated community that offers a variety of home designs that spread across more than 1,700 acres near Oak Mountain and includes four lakes stocked for fishing. In the community's The Village subdivision, Harris Doyle Homes feature 28 custom-build designs to choose from.
INDIAN SPRINGS VILLAGE
Incorporated in 1990, Indian Springs Village is situated about 12 miles south of the Greater Birmingham metro area. The epicenter of the community is its Town Hall housed in a renovated farmhouse originally built in 1906.
MT LAUREL
A planned community in concert with nature, Mt. Laurel is a sustainable neighborhood that offers residents tree-lined streets, broad sidewalks, and unique quality of life offerings, including Mt. Laurel Elementary School, the Mt Laurel Library, green spaces, and a town center with shopping, restaurants, and services.
SHOAL CREEK
Located at the base of Double Oak Mountain in the Dunnavant Valley, Shoal Creek is a luxury gated community named for the creek that runs through its 1,500 acres. Opened in July of 1977, Shoal Creek's picturesque clubhouse is a replica of the Governor's Palace in Williamsburg. In addition, the Shoal Creek Club's golf course has hosted numerous national competitions, as well as the PGA Championship.
FARMS & LAND
While the 280 corridor is home to many established housing communities, there is also opportunity to purchase undeveloped acreage, as well as farmland.
Find a list of current listings in print or at Liveinalabama.com
---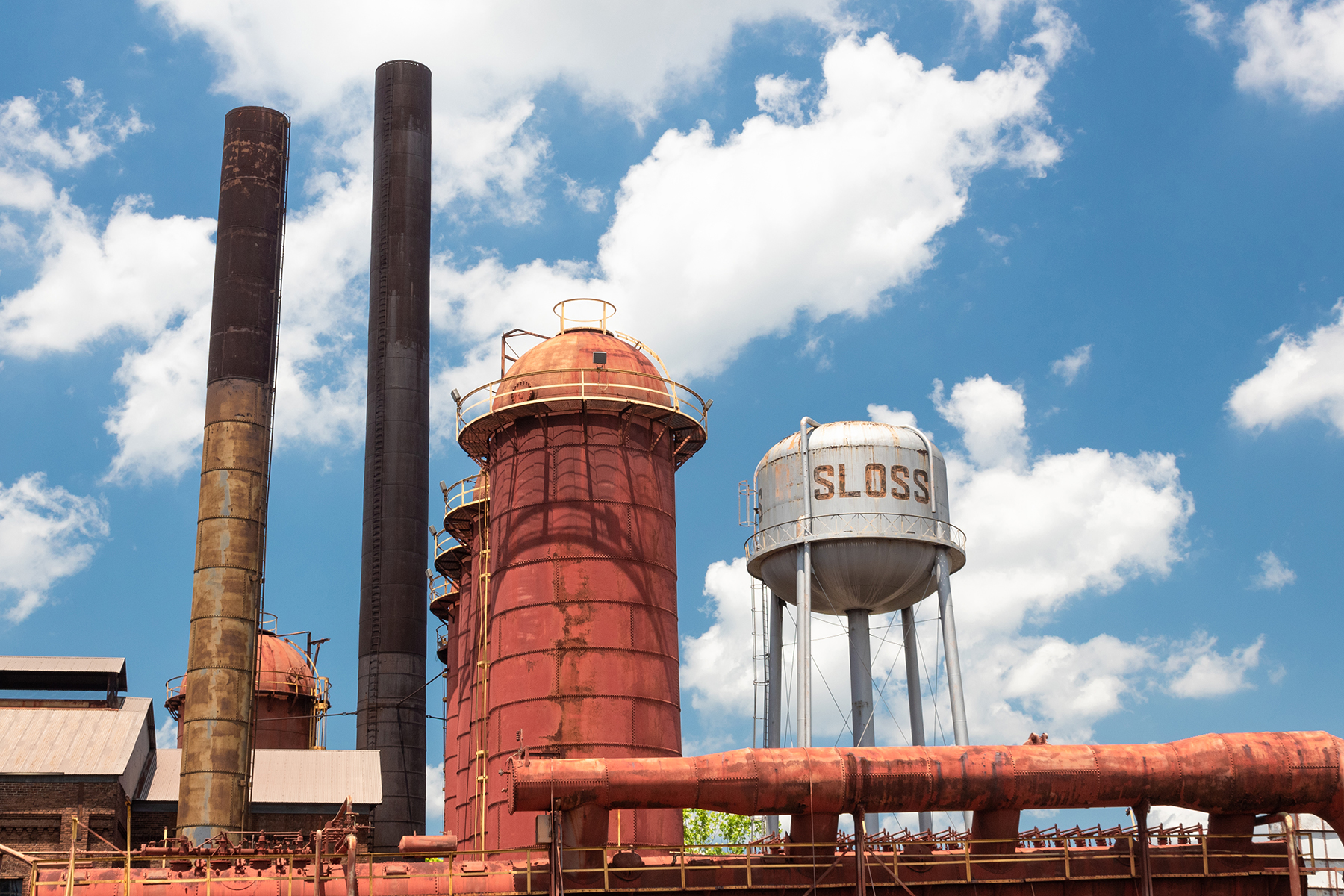 Avondale/ Crestwood/ Irondale
Over the past decade, the east side of the Birmingham metro area has taken on an entirely new culture, with Avondale becoming a hotbed of music, cuisine, and nightlife. Around the corner, the Crestwood neighborhood has felt an influx of young families renovating aging homes to breathe new life into the community, while nearby Irondale prepares to take on the overflow with plans to enhance its quality of life offerings.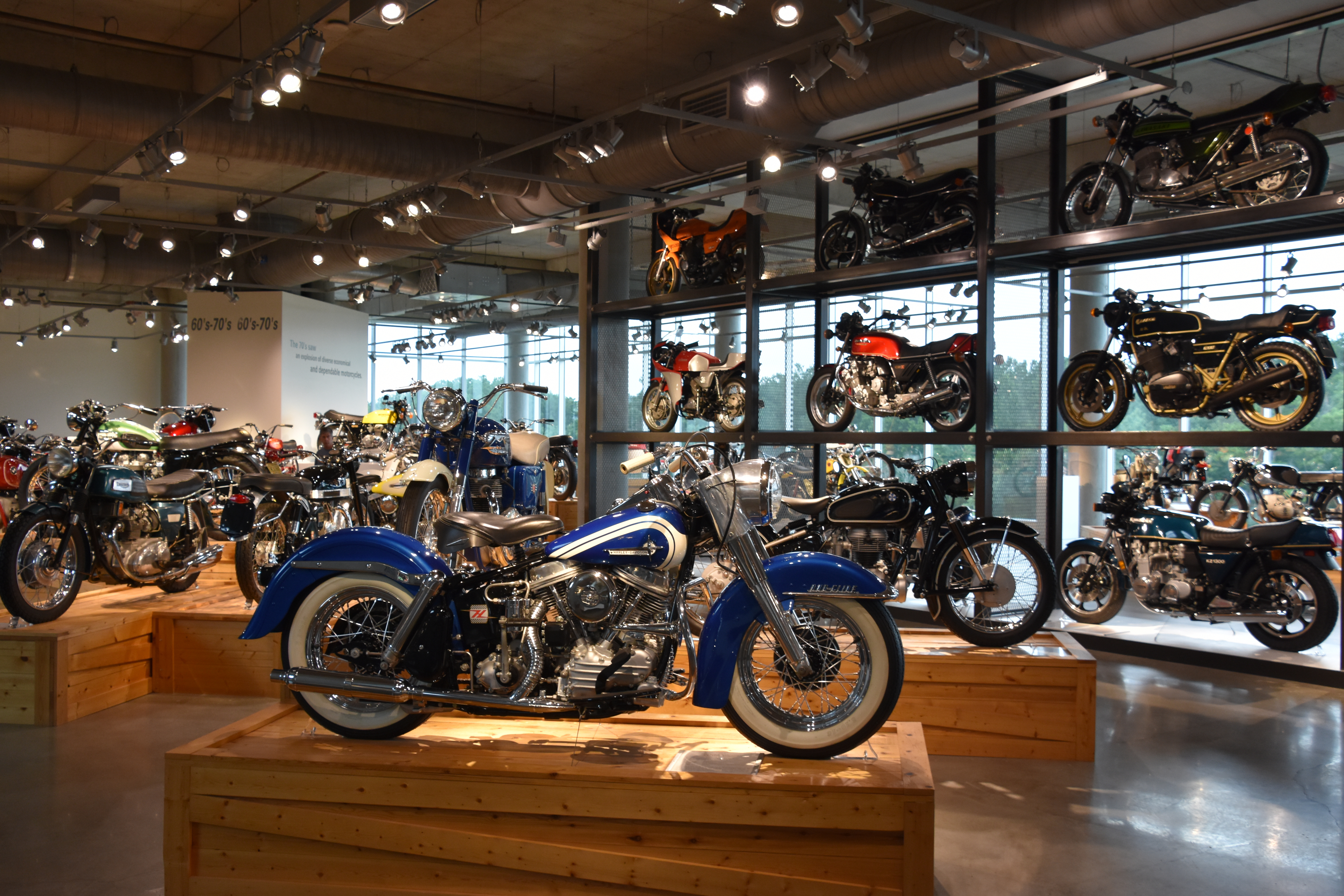 Out & About
A central area of nightlife, 41st Street South is Avondale's main thoroughfare, lined with shops and restaurants. This part of town also features two of the city's most popular music venues, Saturn Birmingham and Avondale Brewing Company.
The Alabama Beer Trail also begins in the Avondale neighborhood before creeping through the city's suburban communities, ranging from Cahaba Brewing, located in the historical Continental Gin factory, down to Good People Brewing Co. by Regions Field. And nearby, the Shoppes of Crestwood is a community gathering space that represents the area's culture, with an antique shop, Seasick Records, Crestwood Coffee Co., and more.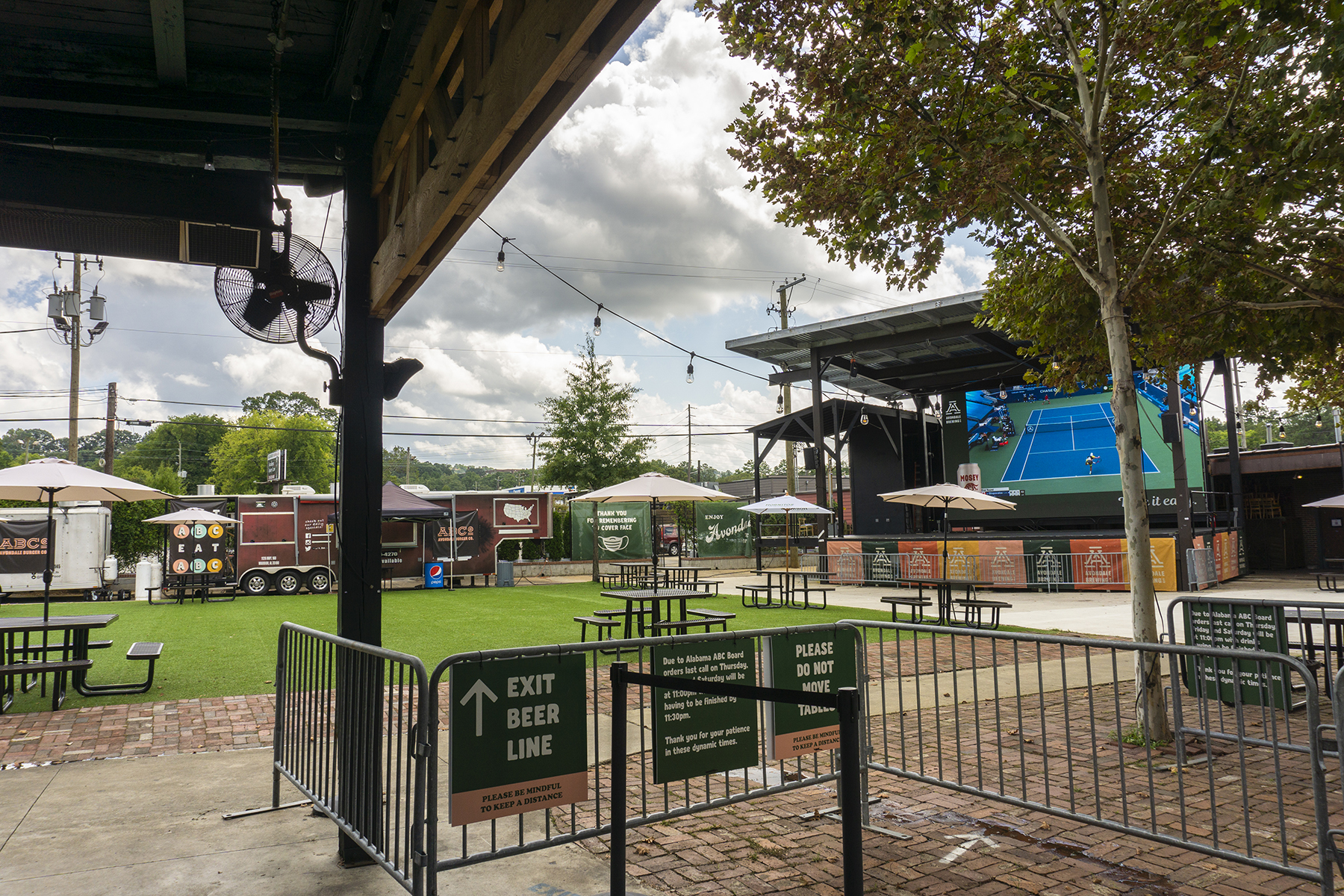 Active Living
The east side of the city is filled with more outdoor experiences, from the Clairmont Walking Trail atop Red Mountain to nearby Ruffner Mountain. At the southern end of Avondale's main thoroughfare is Avondale Park, a 37-acre green space originally home to the city's first zoo. It is located next to the Avondale Library that includes an amphitheater, duck pond, and tennis courts. With just over 12 acres, Crestwood Park features a football-sized playing field, jogging track, swimming pool, tennis courts, and a playground. And for those looking for a family- oriented recreational and educational facility, The Levite Jewish Community Center is open to the entire community. It offers an 8,000-square-foot fitness center, a hiking and biking trail, and an outdoor pool.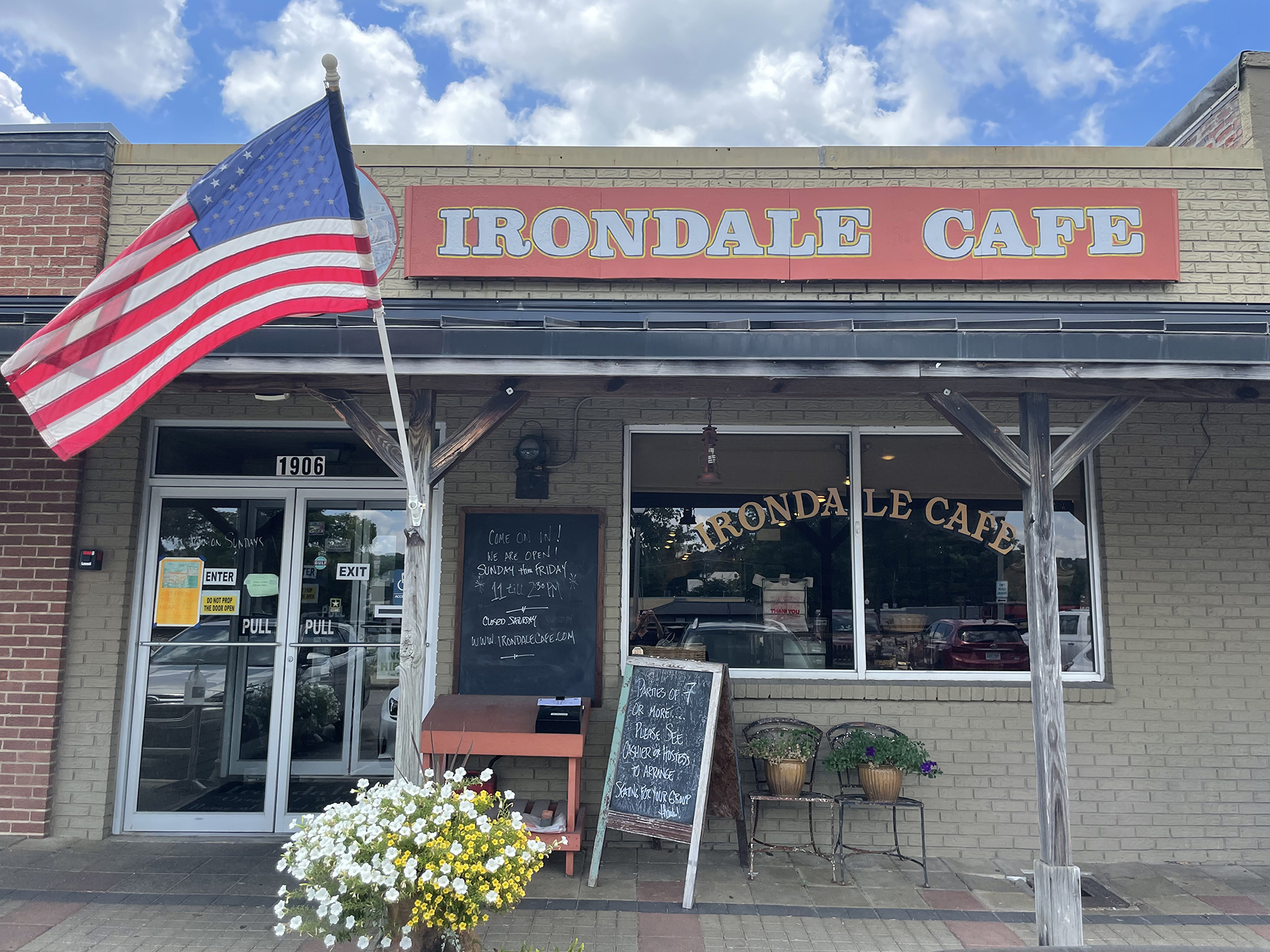 Housing Options
This area of the city is filled with bungalow-style homes, perfect for young or small families. Look for post-war, bungalow-style homes and midcentury ranchers. Wanting something newer? The Heights is a built-to-rent community that will be coming to Irondale near the Grants Mill Corridor.
Find a list of current listings in print or at Liveinalabama.com
---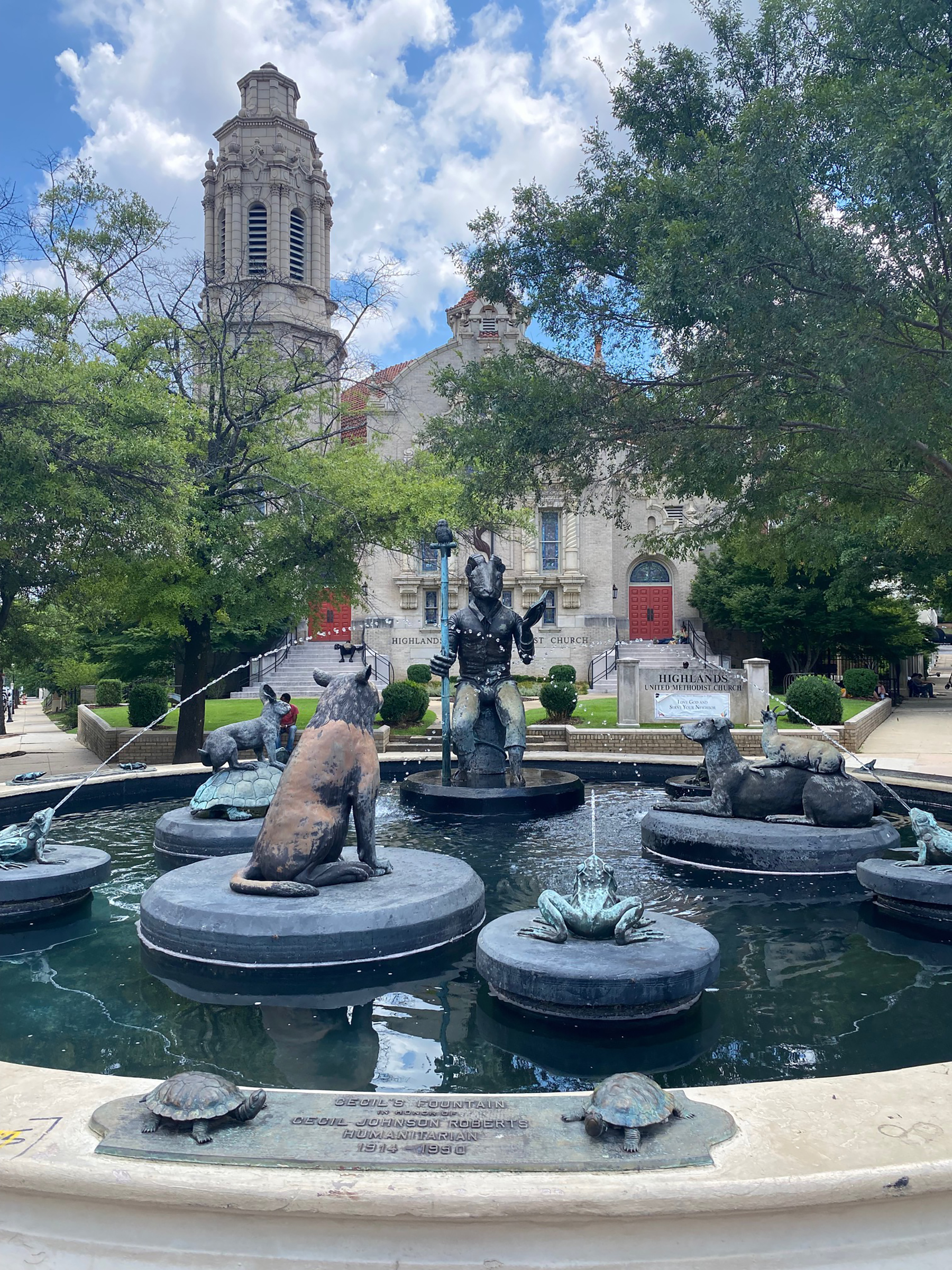 Southside / Parkside
The Southside of the City of Birmingham is home to the well-established, eclectic Five Points neighborhood, as well as the burgeoning Parkside District. While conveniently located to everything in the downtown's Northside, each district takes its own spin on the city's history to forge a unique identity.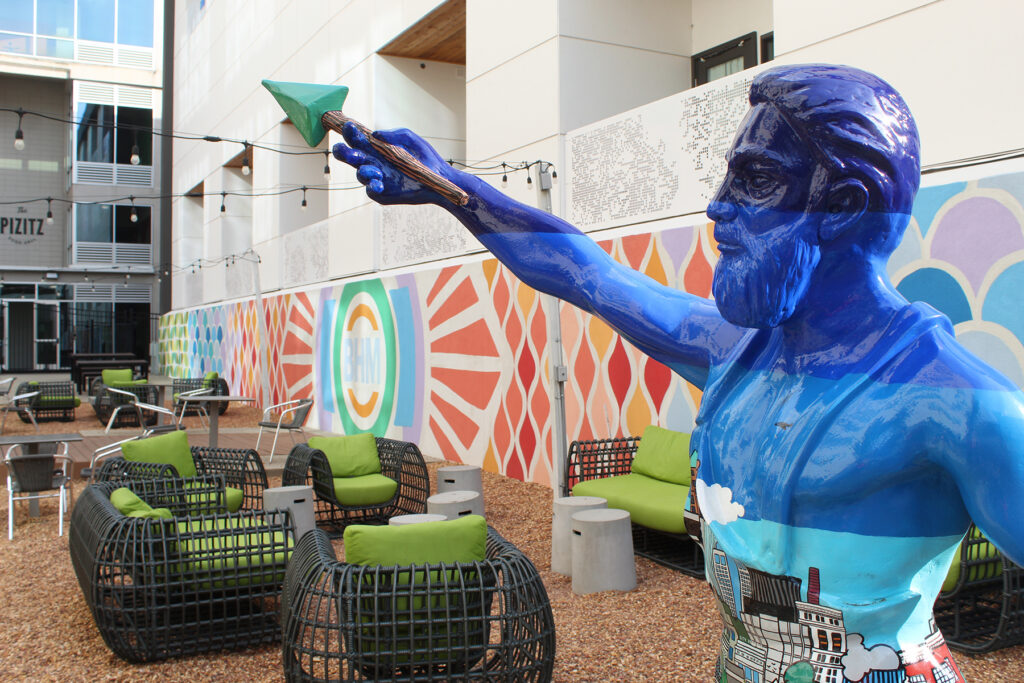 Located in the city's Parkside district, The Pizitz is a historic structure that has become a popular residential building. On the city's ground level is a food hall featuring 10 food stalls, as well as restaurants, a bar, and shops. Take the stairs down to the basement and you'll find the city's premiere independent cinema, Sidewalk Cinema, owned and operated by the organization that annually hosts the Sidewalk Film Festival.
History & Character
The Five Points South neighborhood was founded in 1893 and is one of Birmingham's longest-standing successes. There is something for everyone at the neighborhood's intersection, which bustles under the shadow of Highlands United Methodist Church, a Spanish- revival style sanctuary circa 1909. In front of the church is the iconic Storyteller fountain, created by the late Frank Fleming, a nationally-recognized Birmingham artist. Popular for its culinary prowess, Five Points is home to favorites such as Highlands Bar and Grill, Chez Fonfon, Ocean, Hot & Hot, and Dreamland BBQ.
Between Northside and Southside is Regions Field, home to the Birmingham Barons baseball team. And adjacent to the field is Railroad Park, the city's 19-acre green space.
A nod to the area's proximity to the historic theatre district, Red Mountain Theatre has constructed its first campus next door to Regions Field. Here, the Tony Award-winning company of actors and students study and produce theatrical performances.
The University of Alabama at Birmingham is sprawled across Southside and includes a world-renowned teaching and research hospital. Affiliated with the university is the Alys Stephens Center, home to the Alabama Symphony.
What's New
The growing Parkside area is welcoming two new offerings carved out of historic warehouses. The Powell Avenue Steam Plant, originally constructed in 1895 to provide steam heat to downtown buildings and trolley cars, will be renovated into a large entertainment venue. With a mission to improve area walkability, a redeveloped warehouse will be home to Urban Supply, a mixed-use facility that will hold culinary offerings, shops, and office space.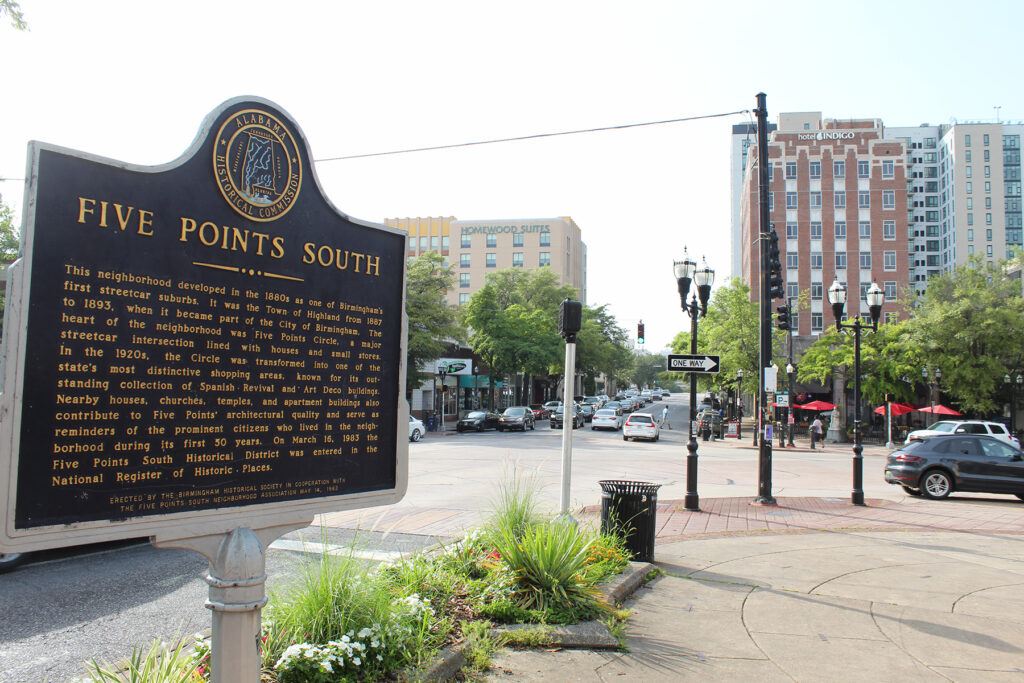 Housing Options
Historical buildings and single-family homes are in high supply where the Southside reaches the Red Mountain communities. Near the Highland Park Overpass, next door to Frank Stitt's Bottega Restaurant, is the historic Highland Plaza Condominium building, built in 1924. Across the street, Highland Towers condo complex, the former location of the Birmingham Weekly offices, rises high above Freddy's Wine Bar. And The Capri is an eight-level luxury condo tower overlooking the city near Redmont and Highland Park.
Built in 1910, Printer's Corner is a former industrial printing warehouse that is currently being renovated into custom lofts. The New Ideal Lofts is an adaptive re-use development that offers upscale housing. The 1908 building was originally home to the Ideal Department Store and later Sears.