Historically a trading crossroads in the mountains, the expanse that later became Asheville was once a place where people simply passed through—it was not a destination itself. But all that has changed in this quaint mountain city.
A gateway to the great outdoors with backdoor access to the Mountains-to-Sea Trail and the Blue Ridge Parkway, Asheville has become a mecca of artisanal, locally-grown food showcased in world-famous restaurants. The city also contains more breweries per capita than any other U.S. city and is home to one of the finest assembly of artists and working studios anywhere in the country. Plus, it boasts an incredible range of architectural masterpieces. And, of course, there is the beautiful fall foliage that renders visitors speechless. So pack your bags for a weekend escape and experience the unique culture that is Asheville.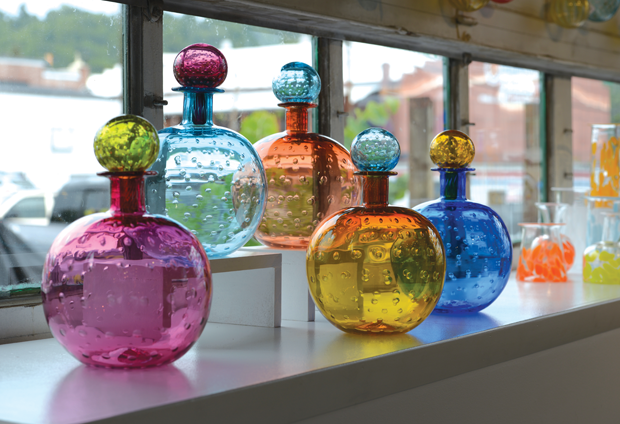 Friday
AFTERNOON 
All approach routes to Asheville from Birmingham offer spectacular views of the Blue Ridge Mountains. Experience the city's artistic vibe with a stop at Lexington Glassworks (81 S. Lexington Avenue; 828.348.8427) to watch live glass-blowing demonstrations. There's even a taproom in the studio.
Walk down the south slope to Twin Leaf Brewery (144 Coxe Avenue; 828.774.5000), a standout among dozens of breweries in Asheville for its cutting edge sustainability best practices and fabulous brews. Try the Dark Matter oatmeal stout, Luminosity Belgian-style tripel, or any seasonal "rotator."
DINNER
John Fleer—a multiple James Beard finalist and former executive chef at Blackberry Farm—brings you the experience of exquisite food at Rhubarb (7 SW Pack Square; 828.785.1503). Sample the chili-lime hominy, heritage pork meatballs, and mouthwatering juneberry duck confit.  
EVENING
Dance to the beat with a dozen or so drummers that gather every Friday night for the Drum Circle (Pritchard Park on Patton Avenue at College Street; moves to New Mountain music venue at 38 North French Broad Avenue in November; 5 or 6 pm until 10 pm). 
NIGHTCAP
Complete your evening at Nightbell (32 S. Lexington Avenue; 828.575.0375). Chef Katie Button's newest addition to the Asheville scene elevates the national standard for what a craft cocktail should be.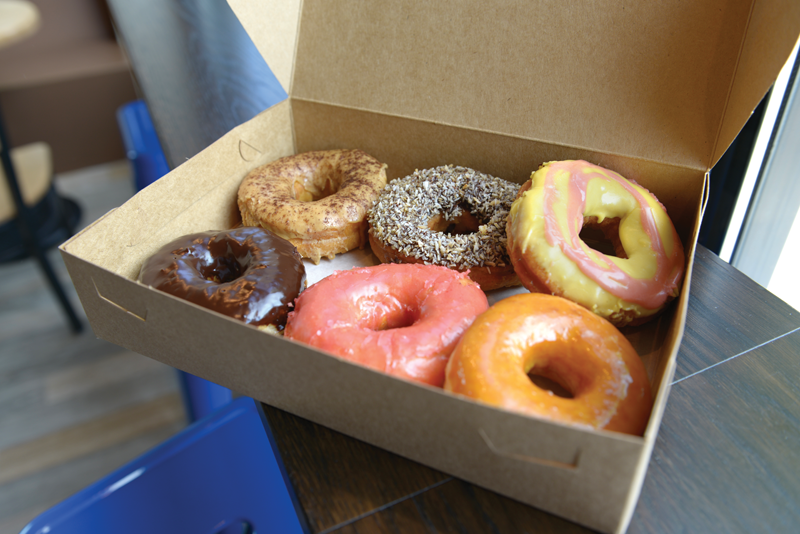 Saturday
BREAKFAST 
Vortex Doughnuts (32 Banks Avenue, Suite 106; 828.552.3010) reflects Asheville's new-age reputation in its "Tasty, Local, Twisted" refrain. Favorites include the blood orange pomegranate, the Moonswine (whiskey glaze and candied Hickory Nut Gap bacon), and the signature Vortex made with cinnamon, sugar, and a swirl of local French Broad Chocolate.
MORNING
Discover the North Asheville Tailgate Market (3300 University Heights; lower level of parking lot C; 828.333.0960; outdoor location through November 19), showcasing the local food movement with more than 40 farmers, bakers, growers, chefs, and artists. Grab a treat for your Mountains-to-Sea trail hike.
Hike a section of the 1, 150 mile Mountains-to-Sea Trail (visit ncmst.org for guides,  maps, route information, and trail updates) that runs from the western North Carolina Great Smoky Mountains to the seashore in the Outer Banks. Segment 3 (67.7 miles, elevation 2, 000 to 6, 000 feet) is easily accessible via several places along the Blue Ridge Parkway just outside of downtown. Or for an easy to moderate hike, try Craggy Gardens just off the Blue Ridge Parkway, Mile Post 364.
LUNCH
Take your tired feet to White Duck Taco Shop (1 Roberts Street, River Arts; 828.258.1660) and sample the duck tacos, Thai peanut chicken tacos, or lamb gyro tacos.
AFTERNOON OPTIONS 
If music is your art, do not miss a tour of The Moog Factory and Showroom (160 Broadway Street; 828.239.0123). Check with manager Paul Gaeta to arrange a tour time in advance. 
Enjoy the beautiful architecture downtown on the Urban Trail Walking Tour (printable map online at ashevillenc.gov). Asheville boasts one of the nation's finest collections of Art Deco, Romanesque Revival, Neo-Gothic, Classical Revival, and Neo-Georgian styles. 
Stroll through artists' studios in numerous buildings along Roberts Street, Depot Street, Riverside Drive, or Lyman Street in the River Arts District (also known as RAD; 828.552.4723). 
Unwind and relax at the Wedge Brewing Co. (37 Paynes Way #001; 828.505.2792; located on the lower level of the Wedge Studios). Be sure to try the Iron Rail. 
Hungry? Walk down to The Bull and Beggar (same building as the Wedge, opposite end; 37 Paynes Way #007; 828.575.9443) and order the salt-and-vinegar pork rinds to go.
DINNER
West Asheville is home to one of the finest restaurants east of the Mississippi—The Admiral (400 Haywood Road; 828.252.2541; theadmiralnc.com), located in a cinderblock building. The chef prepares inspired food that leaves little doubt you have arrived at a culinary summit.  
EVENING 
Asheville is home to incredible live music venues. Pick one and settle in. The Orange Peel (101 Biltmore Avenue; 828.398.1837), The Grey Eagle (185 Clingman Avenue; 828.232.5800), or Isis Music Hall (743 Haywood Road; 828.575.2737) are among the many choices.
Salvage Station (468 Riverside Drive) is a new indoor/outdoor venue on the French Broad River. Check out the schedule for local acts before you plan your trip.
NIGHTCAP
Wicked Weed Brewing (91 Biltmore Avenue; 828.575.9599) is always a favorite.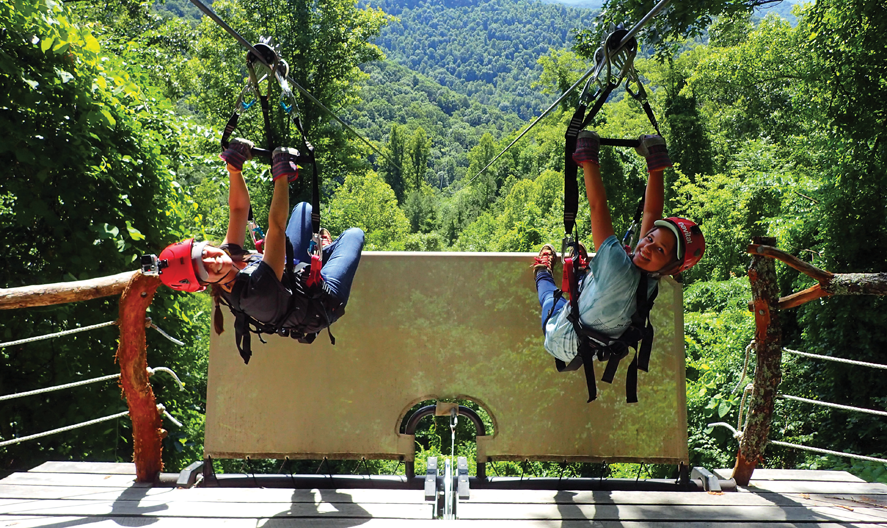 Sunday
BREAKFAST
Continue your foray into Asheville's culinary world at Biscuit Head (West Asheville: 733 Haywood Road; 828.333.5145; Downtown: 417 Biltmore Avenue #4F; 828.505.3449)
MORNING OPTIONS 
Make sure to visit the Biltmore Estate (1 Lodge Street; 800.411.3812), featuring the home of George and Edith Vanderbilt designed by architect Richard Morris Hunt. The 10, 000-volume library is jaw-dropping, and the gardens, designed by Frederick Law Olmstead, are stunning.
For adventure, try the longest, highest, and fastest zipline in the southeast, Navitat (242 Poverty Branch Road, Barnardsville; 828.626.3700), about a 20-minute drive north of town.
LUNCH
End your trip with a meal at Cúrate/bar des tapas (11 Biltmore Avenue, 828.239, 2946). If the jamón ibérico de bellota (acorn fattened and free range pigs) alone does not transport your stomach to Spain, the setas al jerez (mushrooms sautéed in olive oil) will. Katie Button's first Asheville outpost will fill you up for the ride home.