Imagine living in a city where you awaken in a sun-filled loft, grab a quick shower, take the stairs down to your bike, and pedal a few blocks to the office. At lunchtime, you pop into the grocery store less than a block away for some dinner essentials. Your commute home is stress-free and takes less than 10 minutes. After dinner, you take a stroll to meet some friends at some of the coolest bars in the Southeast. During the upcoming weekend, you and some old friends plan to take in a baseball game and a few local craft brews. And it's all within walking distance of that loft.
Right now is one of the hottest times to put down roots in downtown Birmingham. If you think this change of address is just for the young and single, think again. Everyone from empty-nesters to families with young kids are finding out why living in zip code 35203 might be the best place in town.
1. Location, location, location
The number one reason people are moving downtown right now is that they can have it all in one truly walkable radius. Walking to work, dinner, and a concert never gets old the way feeding a parking meter does. 
David Murdock, a 58-year-old group insurance broker, says he initially moved downtown for the ease of commute but fell in love with so much more: "I walk everywhere. I never have to carry a lot of keys or a wallet. I usually leave with just an electronic fob and cash. I have walked to Barons' games, every live music venue, SlossFest, restaurants, the museum. And I have a bike for longer journeys to Avondale, Pepper Place, or Forest Park."
David Miller, 29, a financial analyst and newlywed who lives in Lakeview, says avoiding Highway 280 was a bonus in moving downtown. "Plus, there's a nearby food and drink special every night of the week, " he says. "I love Taco Tuesday at Moes BBQ and Bingo & Karaoke Wednesdays at Tin Roof."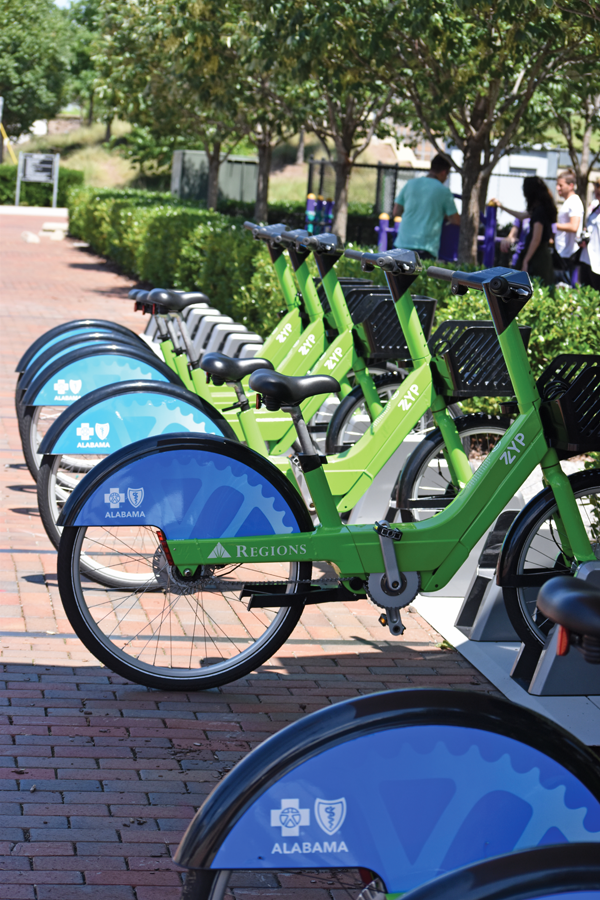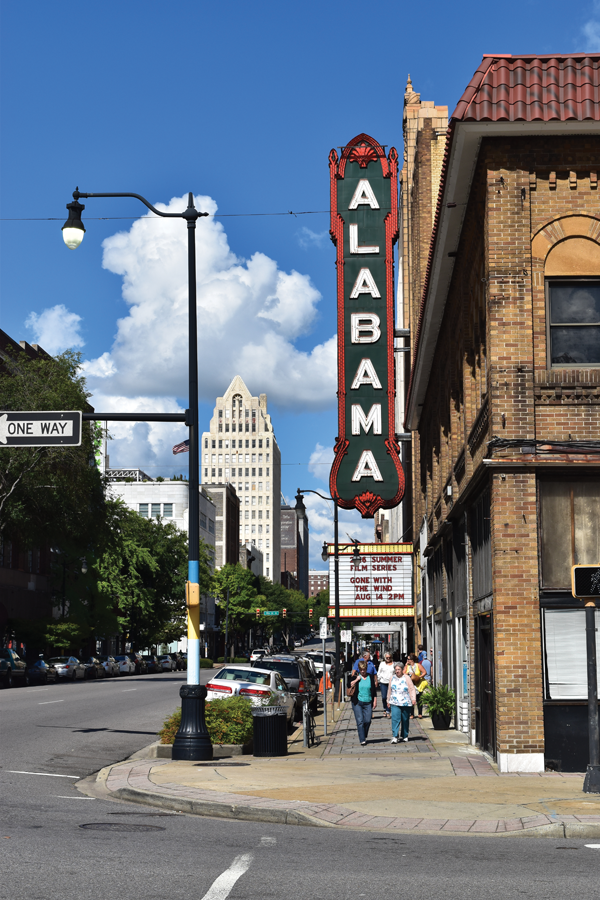 2. 

Zyp BikeShare
The investment that REV Birmingham (and sponsors like Regions Bank, Blue Cross Blue Shield, and Alabama Power) made in this on-demand bicycle rental system is paying off in spades. More than 12, 000 people have already picked up a bike in Pepper Place. With dozens of permanent and pop-up rental sites, it's easy to see why Zyp Bikes have logged more than 65, 000 miles around town.
3. 

More Green
When Railroad Park is your front yard and you're not in charge of the mowing, that's a sweet deal. People come from all over to walk the 3/4-mile loop or perfect their ollie at the skateboarders' 15th street plaza hangout.
Empty-nester Chervis Isom and his wife Martha moved nearby three years ago, noting that "a move downtown would eliminate home maintenance as well as give us a new adventure." He especially does not miss cleaning those gutters.
But Chervis does more than talk the talk. As a board member of Move 20/59 Incorporated, a non-profit supporting the relocation of the elevated highway through downtown, he is working to add green space to the downtown vista. He says by removing the highway, vast new opportunities can be created and a connection from one side of town to the other will be developed.
4. 

Community
Discovering that there is a real sense of belonging and community amongst downtown residents is one of the most surprising things new residents find. David Murdock says, "You become aware of the many people who do live downtown and how incredibly different their lives are, like the guys who keep bees on their three-story building on the north side, or the couple that have a second-story porch and sit out there with their dog and drink wine." 
The Parham family has lived in a loft around the corner from El Barrio since before their 12-year-old son, Greyson, was born. Mom Marci says, "We've loved raising Greyson downtown, and he's never known anything different, so he loves it too. I think it has a bit of 'mystique' amongst his friends, and he enjoys that."
5. 

The Pizitz Building
Poised in the middle of it all is the famed Pizitz building where Bayer Properties is developing something remarkable. Located at the corner of 2nd Avenue and 19th Street, this spot will incorporate a little bit of everything a downtown could want—six full floors of residential space, a mezzanine with office space, and soft retail offerings. But it is the food hall which has most people abuzz.
With 15 proposed vendors, diners will be able to enjoy some of the best this city, as well as the world, has to offer culinary-wise. Rumor has it that the site may also include an art-house-style theater, featuring first-run blockbusters alongside indie sleepers, all accompanied by a full bar. Feasibility studies are in the works on this project, but David Miller already can't wait: "Going to the movies is one of the few activities I still have to leave downtown for."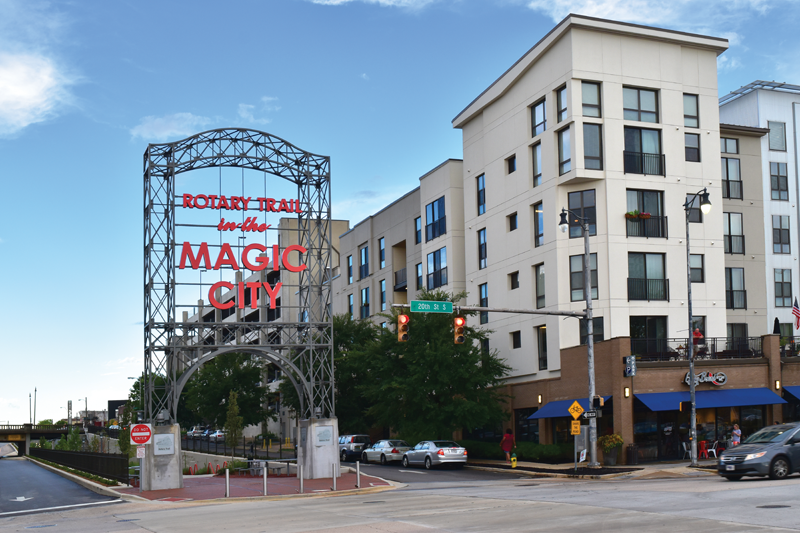 6. 

Publix
Scheduled to open this fall, the downtown Publix location will be the first major large-scale grocery retailer in the area. "I'm already shopping for a cool wagon or cart that I can use to walk to Publix and get my groceries, " says Marci Parham. This location will capitalize upon the unique and diverse downtown community, serving those who live there and those who just work nearby.
7. 

Investment opportunity
Talk to any commercial developer and they will extoll the virtues of our booming downtown and the projects they've had a hand in creating. And with a wink, they'll tell you there's plenty more on the horizon "but nothing they can talk about just yet." Most notably, the consensus among developers is that there is not just one single demographic who wants to live downtown.  Dick Schmalz of RGS Properties says, "We are definitely seeing a wider range of people who want to live downtown. In fact, we're evaluating a change in design in some of our upcoming residential spaces to reflect requests we're getting for two- and three-bedroom units. We are getting asked for live/work options such as a two-story loft with a living space upstairs and an office downstairs. 
Employers are reconsidering what they want their offices to look like, and many are thinking outside the glass-walled, high-rise, four-walled box.
A law firm could relocate to a warehouse. An accounting firm could set up shop in a loft. There are buildings with historic significance that are taking on new life from what they were originally built to do. By rethinking the traditional, companies are creating a space and a place that is attracting the best and brightest to Birmingham. And isn't that what living in the Magic City is all about?
---
Photography by Erica Lawson