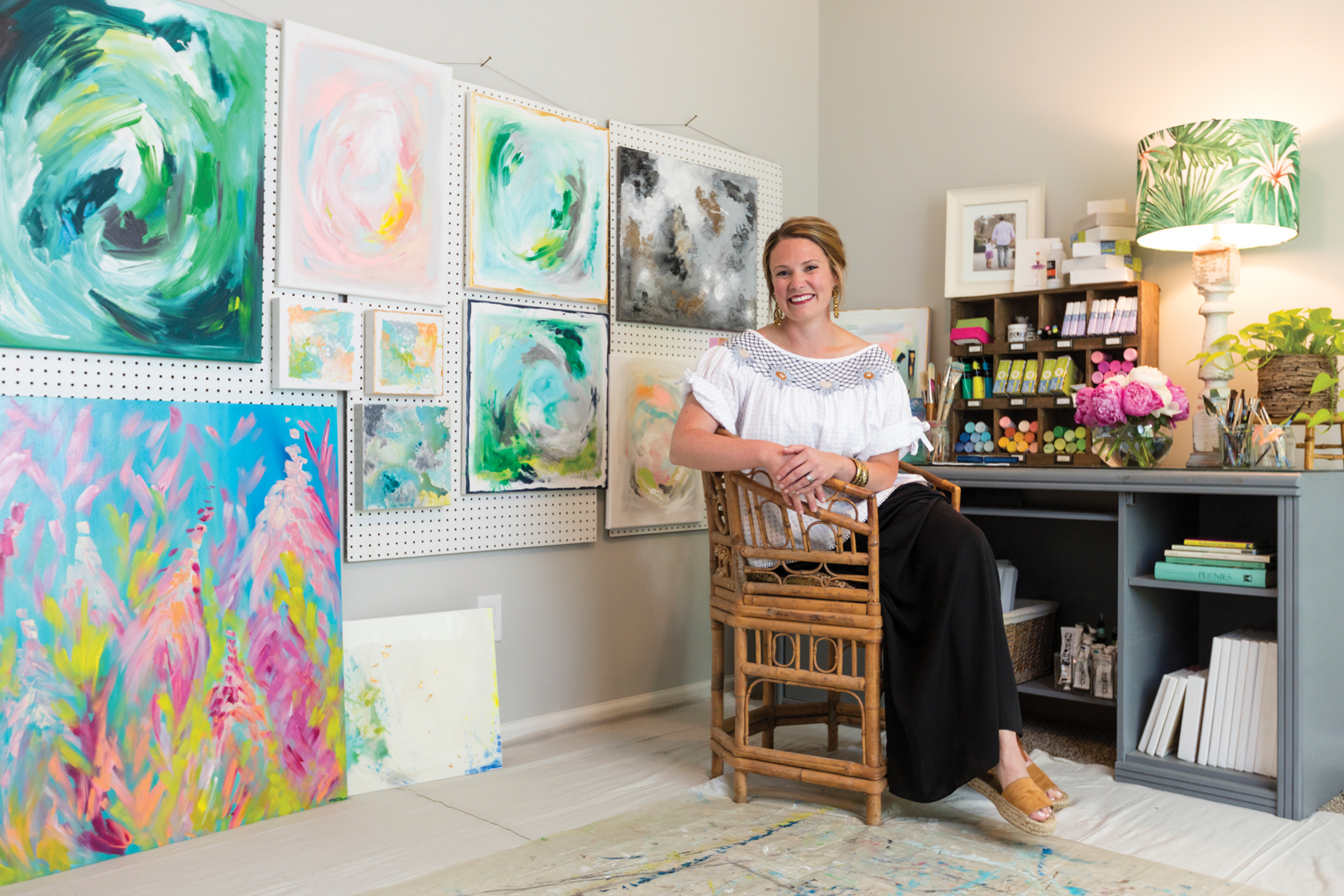 Photo by Art Meripol
Step inside Ashley McCullars' studio and you're instantly greeted with the kind of smile she gives her first-grade students when they walk into her Edgewood Elementary classroom. It's the sincerest form of welcome—the kind that makes you feel right at home. And she conveys the same sense of warmth in her artwork. We sat down with Ashley to discuss how she remains so vibrant in everything she does.
Your art is colorful and happy. How do you think your paintings reflect you?
There are many things I am not— organized, type A, tidy, ahead of schedule, etc. But I do think I am a pretty happy person. I feel I've done my job as an artist if a piece of my work brings happiness into a home. I am also driven by the idea that it doesn't have to be perfect to be beautiful. I'm certainly not perfect, and I find joy knowing I don't have to be.
What inspires you?
Color. I love color! I do appreciate clean, crisp white, but I crave pops of color, and that is reflected in my work. I embrace the belief that beauty is in the eye of the beholder, so I try to offer a variety of color palettes, styles, and sizes so that everyone might find something they love and can picture in their home.
How do you approach each painting?
I begin with a color palette in mind, but I almost never have the end product envisioned until the work is complete. I like to turn on music and let the art take shape as I work. I paint until I'm happy with the piece. Some pieces evolve quickly and effortlessly while others are a labor of love and take more time. My husband often plays a role in the process as well. He's my biggest supporter, but I also think he's my toughest critic. He's artistic and has a good eye, so I appreciate his feedback.
What is your medium/style?
I love painting abstracts with acrylics. Acrylics offer a vast color selection, the ability to layer and texture, easy cleanup, and a fast drying time—which is a huge benefit since my children are constantly around my artwork. I enjoy working with watercolors too. They're beautiful and soothing. I prefer realism when I paint with watercolors—anything from fruit to ballerinas to sketches of houses.
Can I afford you?
My goal is to provide affordable artwork. And since I am new to the art scene, my prices reflect that. I also take commissions and am always flattered when someone asks.
Find Ashley's art at…
Four Seasons Gallery in Homewood and sometimes at Pepper Place Market. Follow her IG at ashleymccullarsart for pop-up shows, or contact her at ashleymccullars@gmail.com. Headed to the beach? Look for Ashley's artwork at East End Gallery on 30A.