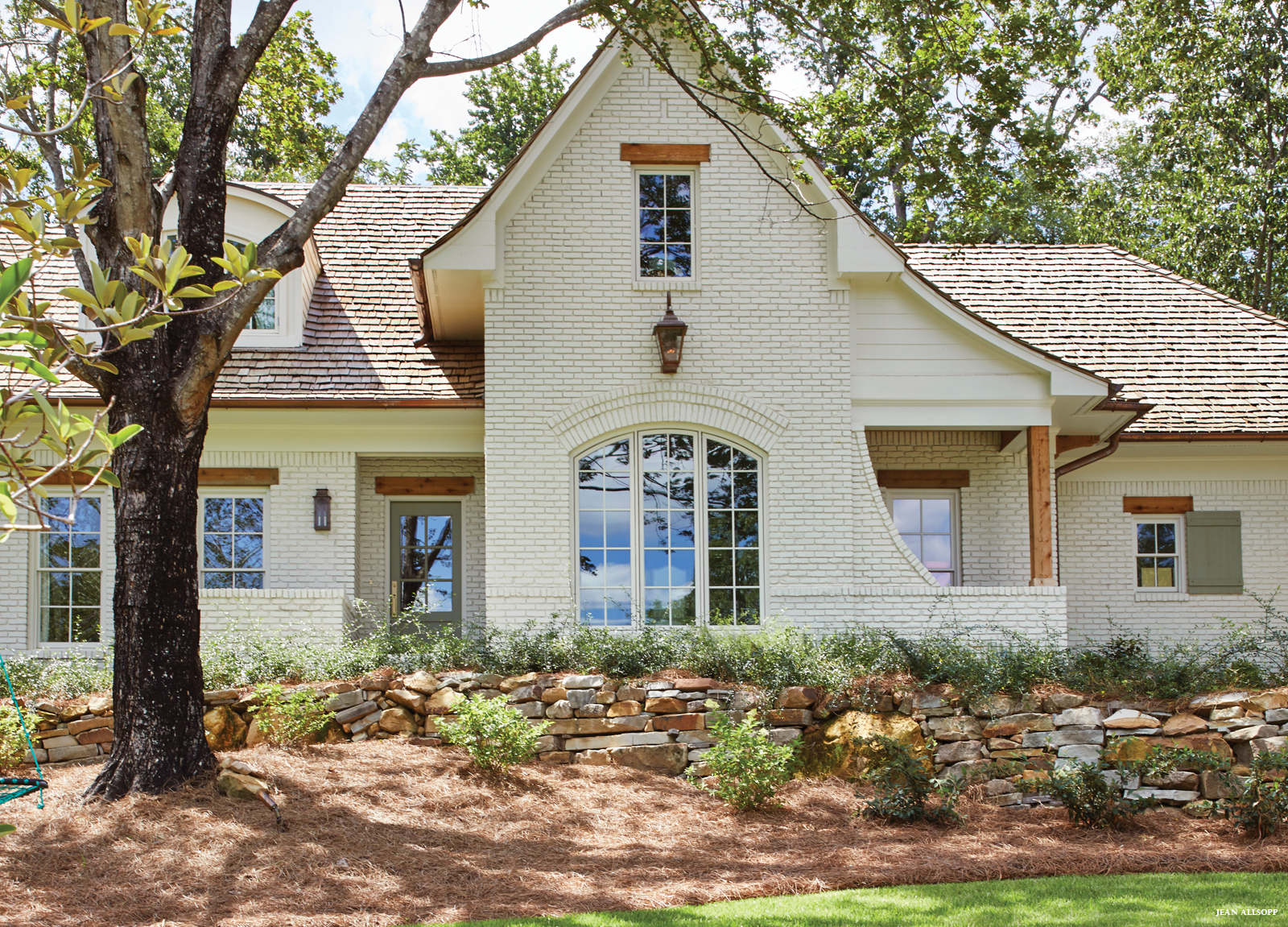 Jana and Carey Rome faced a fairly common quandary—a growing family of five in a finite space they had inhabited for more than a decade. The simplest solution would have been relocation, but that's when they realized their dilemma—Jana couldn't fathom leaving the Brookwood Forest area of Mountain Brook. "It's a very easy place to live, and the topper was that we fell in love with the girls' elementary school, " she says. After looking at houses within their desired radius, the couple felt they'd exhausted their options. "We never found anything doable, " Jana says. "We were weary with looking, and one day we just decided it would be better to add on to our current home. Once we thought of it as the house we were staying in for a long time, we felt more confident."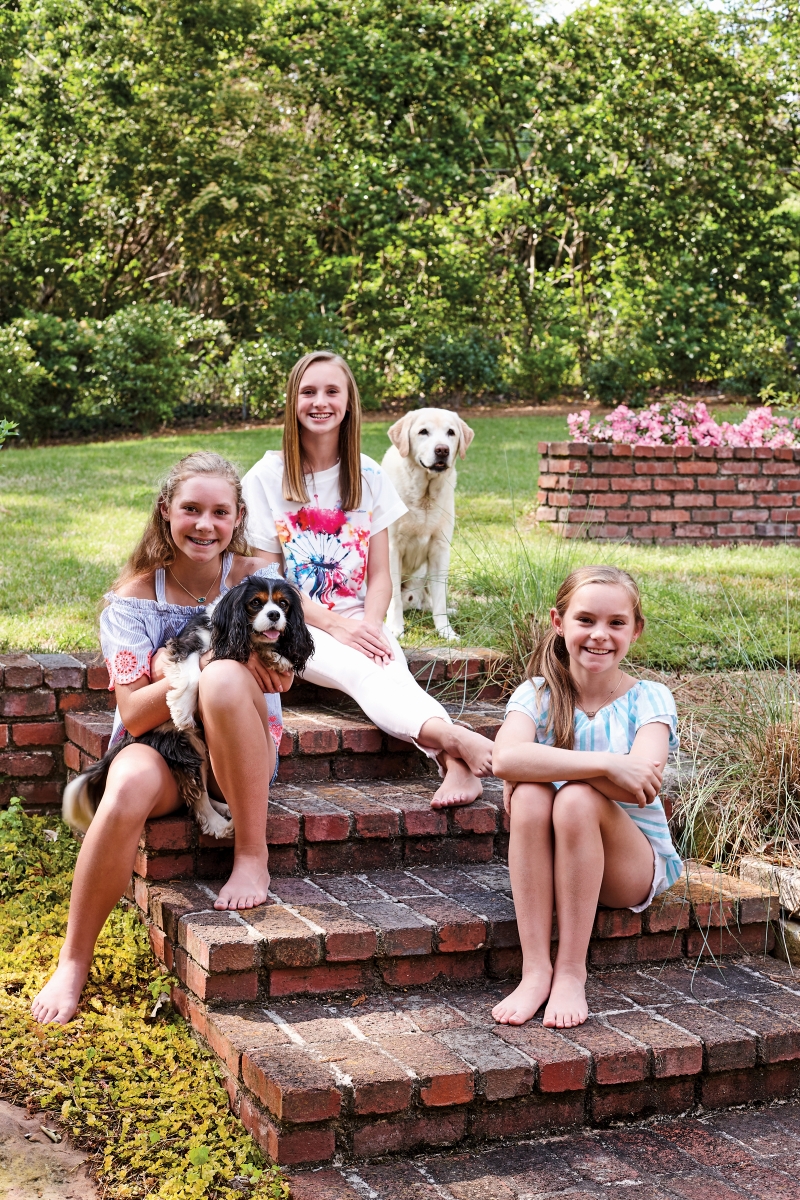 The Rome sisters take a break from their busy summer schedules in the family's backyard.
Photo by Laurey Glenn
Shea Bryars, one of Jana's best friends, was a shoo-in for interior designer. Shea, who specializes in kitchen planning, also had longstanding relationships with the Romes' architect and builder, creating a cohesive team for making decisions. "She knows how we live, and we're such good friends, " Jana says. "It was easy for her to say, 'You don't need to do that, ' and she served as a great mediator between myself and my husband. If I wanted to do one thing and he wanted to do something else, we trusted that Shea would know what was best."
It wasn't always easy, though. As the former living room became an expansive kitchen, Carey had to overcome his initial resistance to the idea of seeing the kitchen from the front door. "He wrestled with that a lot, " Shea says. "Today's lifestyle demands the kitchen be the center of the home." That's particularly true for Jana, who loves to cook and had strong feelings against a galley kitchen.
To add visual impact to the open space, Jana discovered outside-the-box lanterns at Pottery Barn. "They aren't traditionally what you see in a kitchen, but I fell in love with them, " she says. Smoky blue cabinets pop against a white glass-tile backsplash, while a custom-designed sheetrock hood adds a rustic touch. "I love color, and Shea knew I wanted to incorporate plenty of it, " Jana says. "Sometimes people worry they'll tire of color. But an easy way to bring it in is with pillows or rugs or artwork—things that aren't so permanent."
Adding an upstairs floor meant only a small change in the footprint of the house, but it allowed for a separate bedroom for each girl. "My desire was to create the smallest house that would give us room for everything we need, " Jana says. "I wanted just enough space what we would use every square inch of it on a daily basis."
When it came time to decorate the girls' rooms, Shea made sure to get their input. Since she knows the family well, she was familiar with the individual tastes of Olivia, 13, a fan of purple; Hillary, 12, who loves blue; and Kate, 10, who, like her mom, enjoys pops of pink. Varying shades of turquoise unify the rooms, which otherwise make distinctive statements.
With the renovation finished and the family settled in, Jana says her wish list is complete. "I don't think we could have done a better job of making this home work for our family, " she says.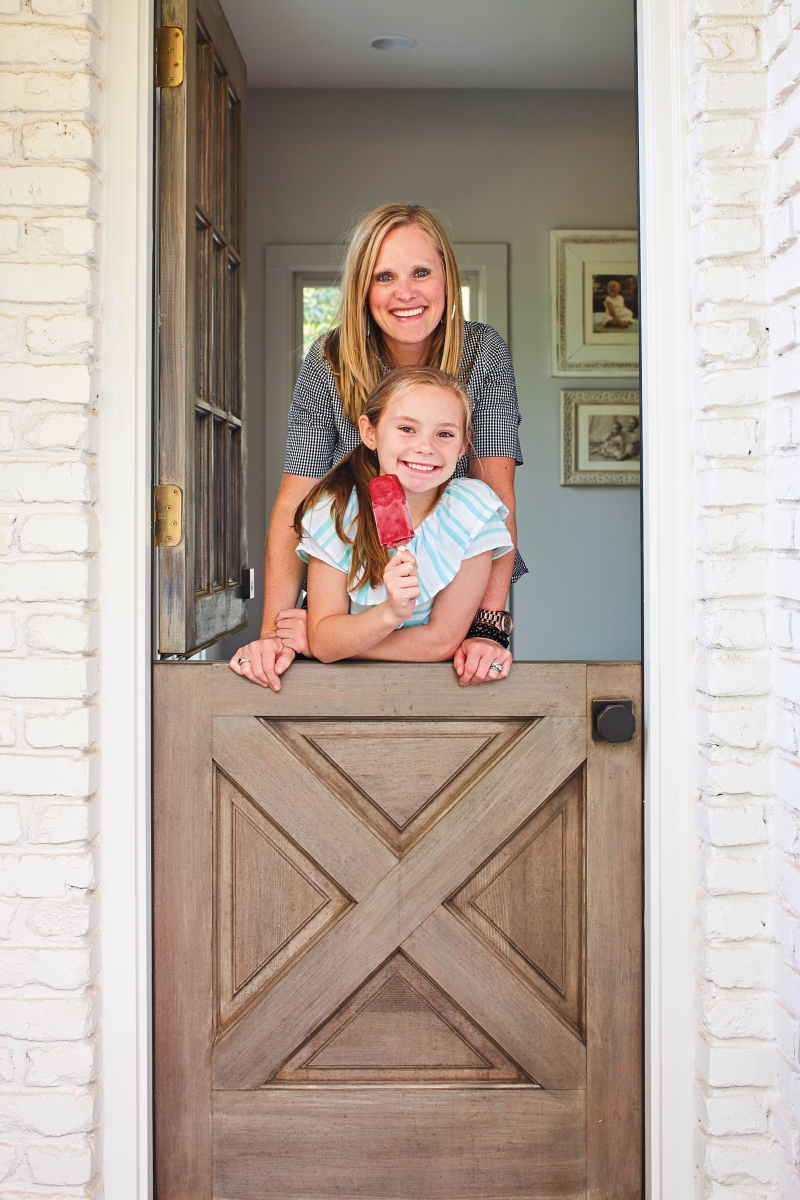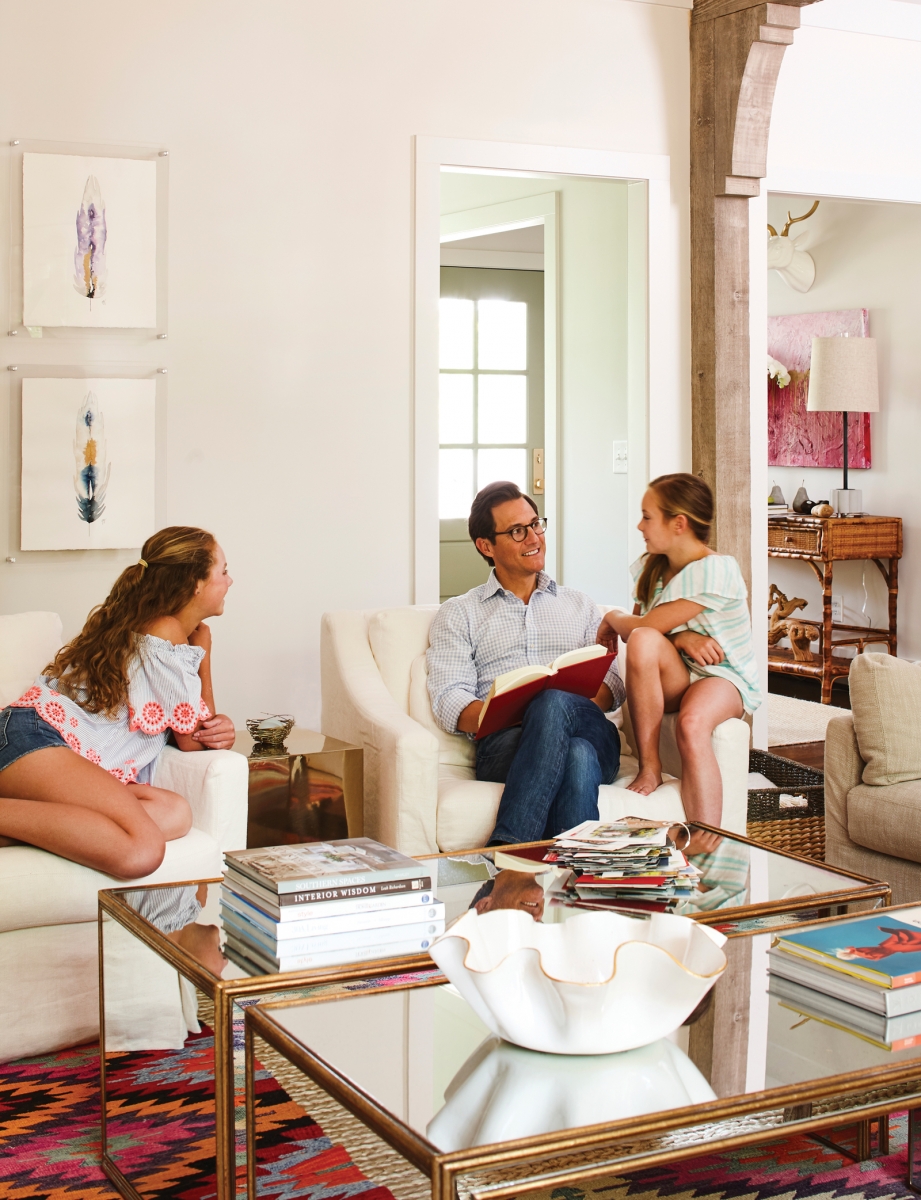 Photos by Laurey Glenn
Why It Works
PRACTICAL MAKES PERFECT A renovation is an opportunity to breathe new life into pieces you've had for years. "One of the fun things was making our furniture seem new again in the different space, " says Jana.
SHORT-TERM COMMITMENT Choose less costly fabrics that allow you to change bedroom decor as the kids' tastes change. Look for fun art and accessories at places like HomeGoods and Hobby Lobby. "That way, it won't break your heart—and your bank account—in five years when kids want to change it up, " Shea says.
KNOW YOUR OWN MIND Carey was adamant about including a sizable screened porch for his take on a man cave, although Shea was concerned the expanse might overwhelm the exterior profile. Thanks to smart design, the room ended up blending beautifully, and the space is something the entire family now enjoys year-round.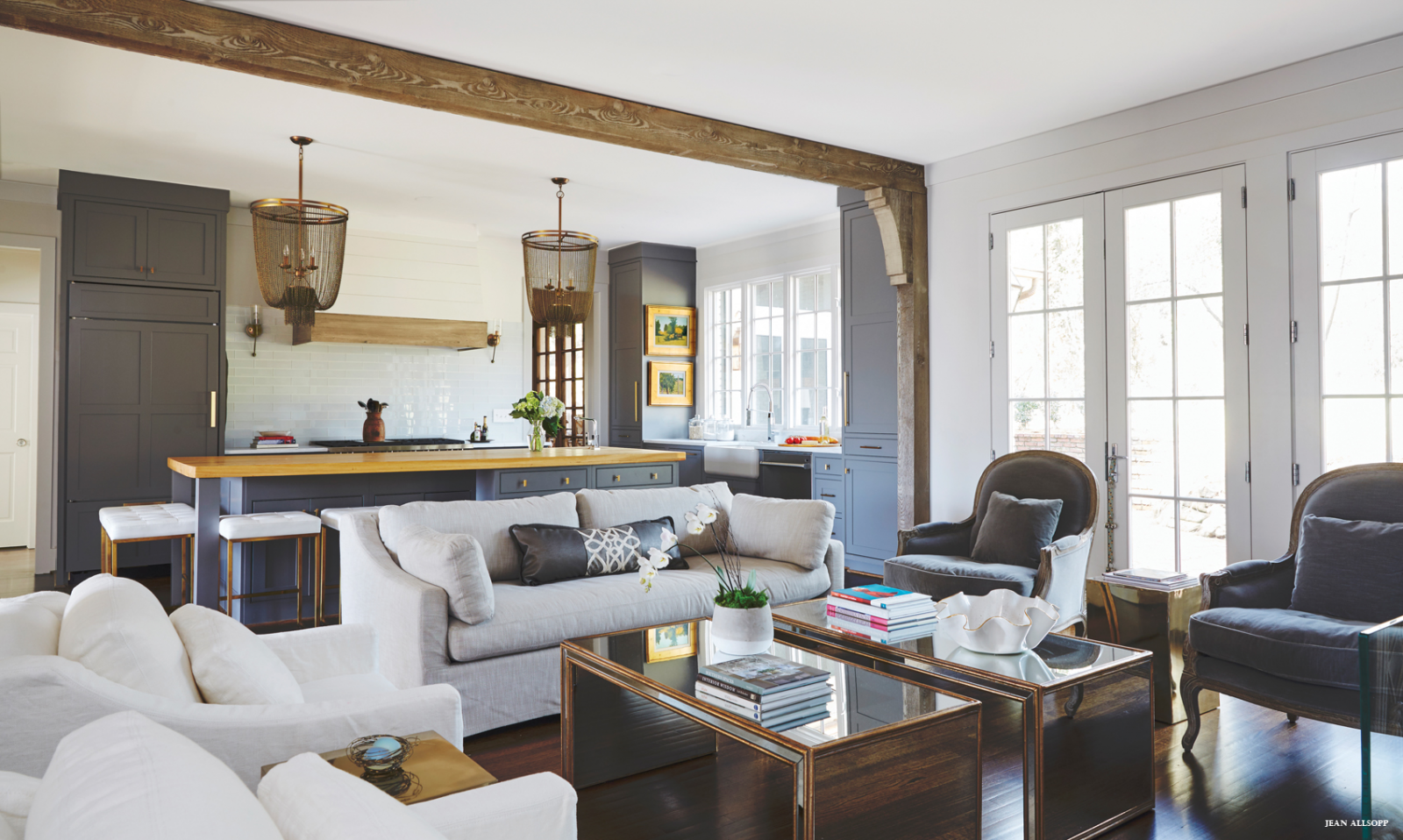 ABOVE Shea emphasized the importance of light, one of the costlier aspects of interior design: "Windows are a big investment, but they're so important, " she says. "The light is so great for our psyche."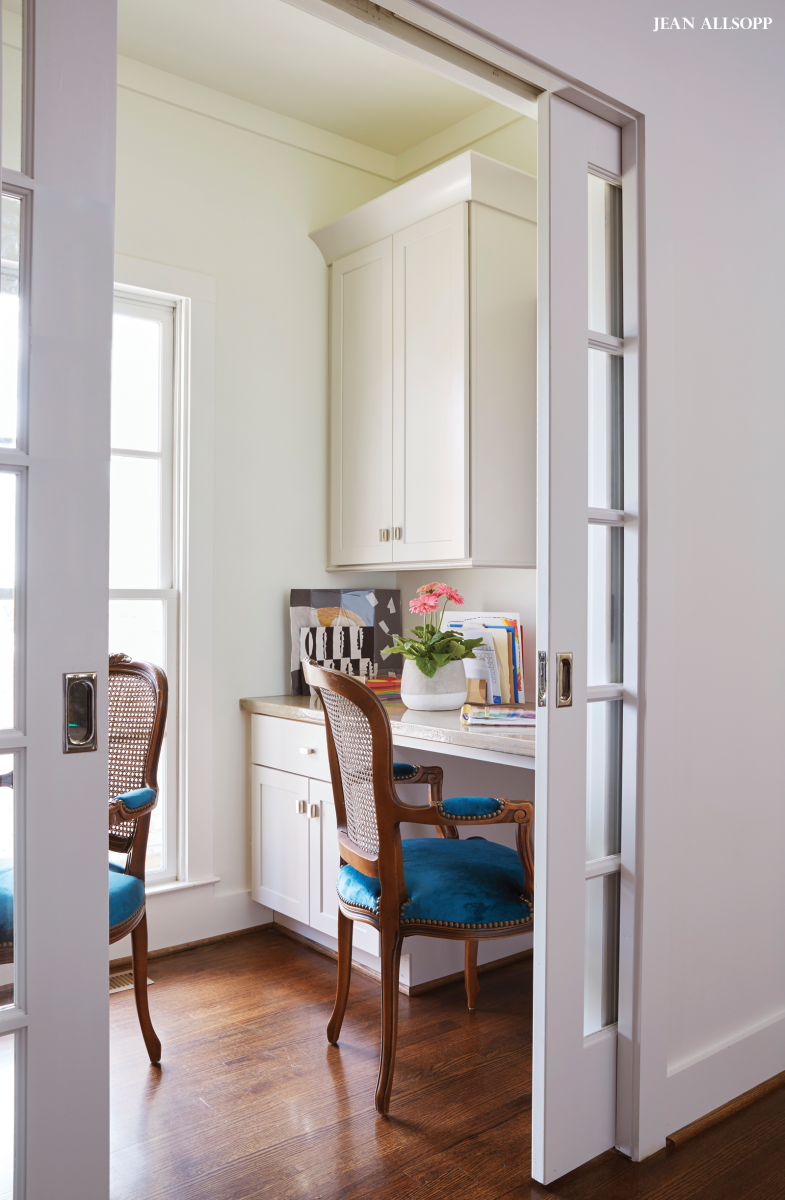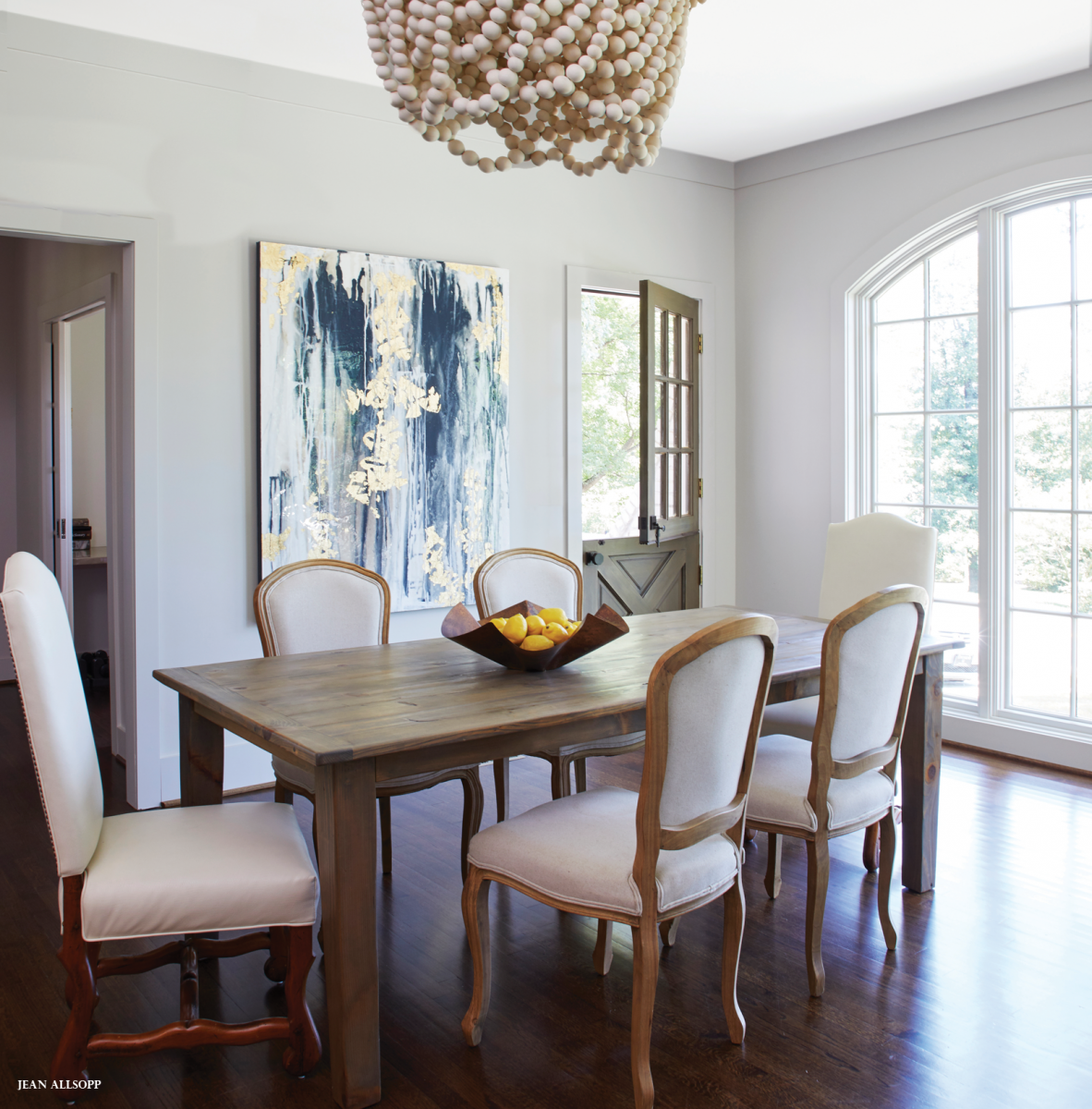 ABOVE LEFT In a minimal office space just off the kitchen, French doors keep the compact area feeling open, while peacock-blue upholstered chairs add a vibrant splash of color.
ABOVE RIGHT Appealing elements such as the Dutch door in the dining room and the exposed, custom-painted beams and island top in the kitchen add subtle textural interest.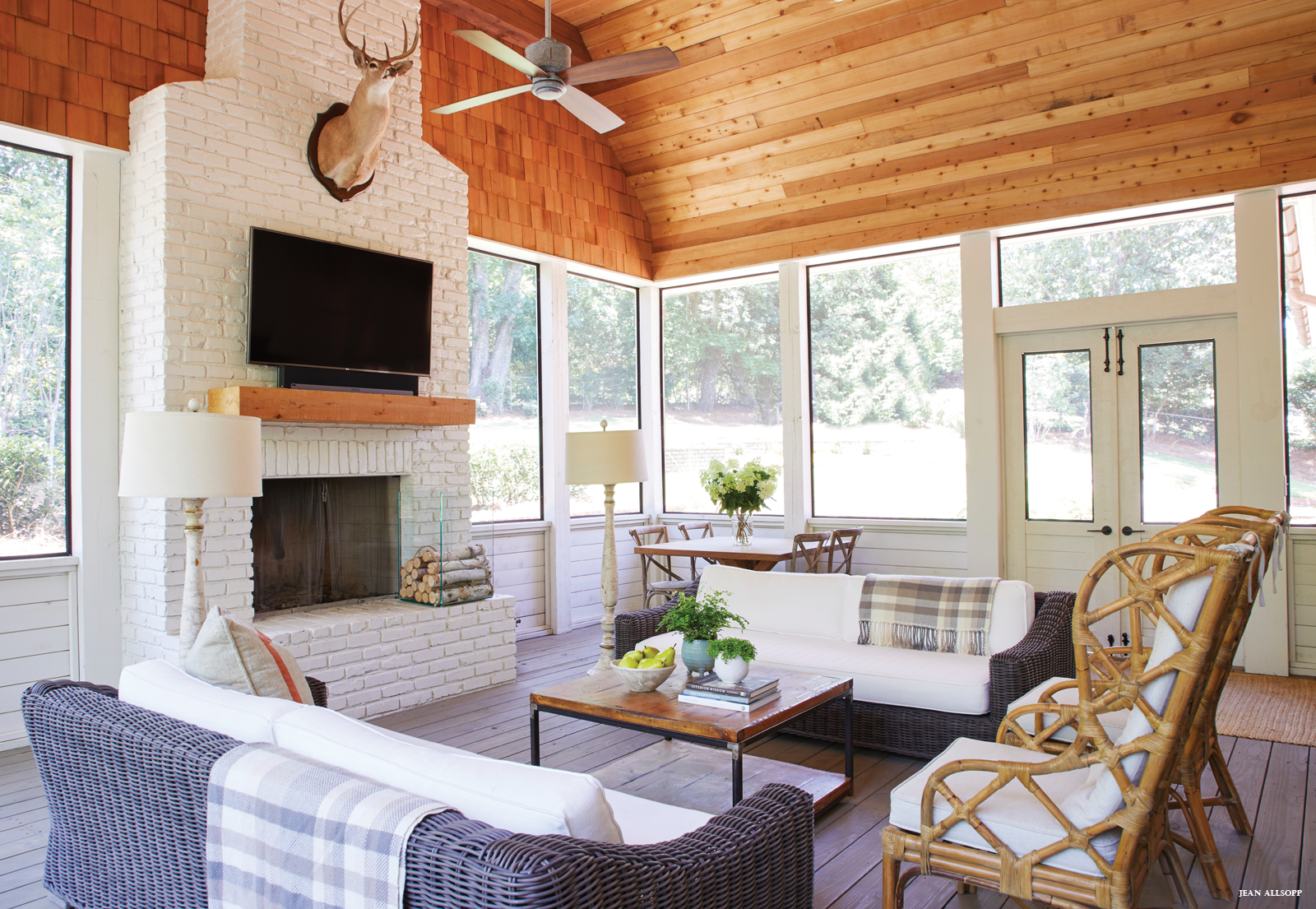 "Jana likes color so much, and that's fun for me. The philosophy here is that any piece in the house can be used anywhere else in the house. You can move a chair out of the master bedroom, put it in the den, and it still works. It's such a dance." — Shea Bryars
​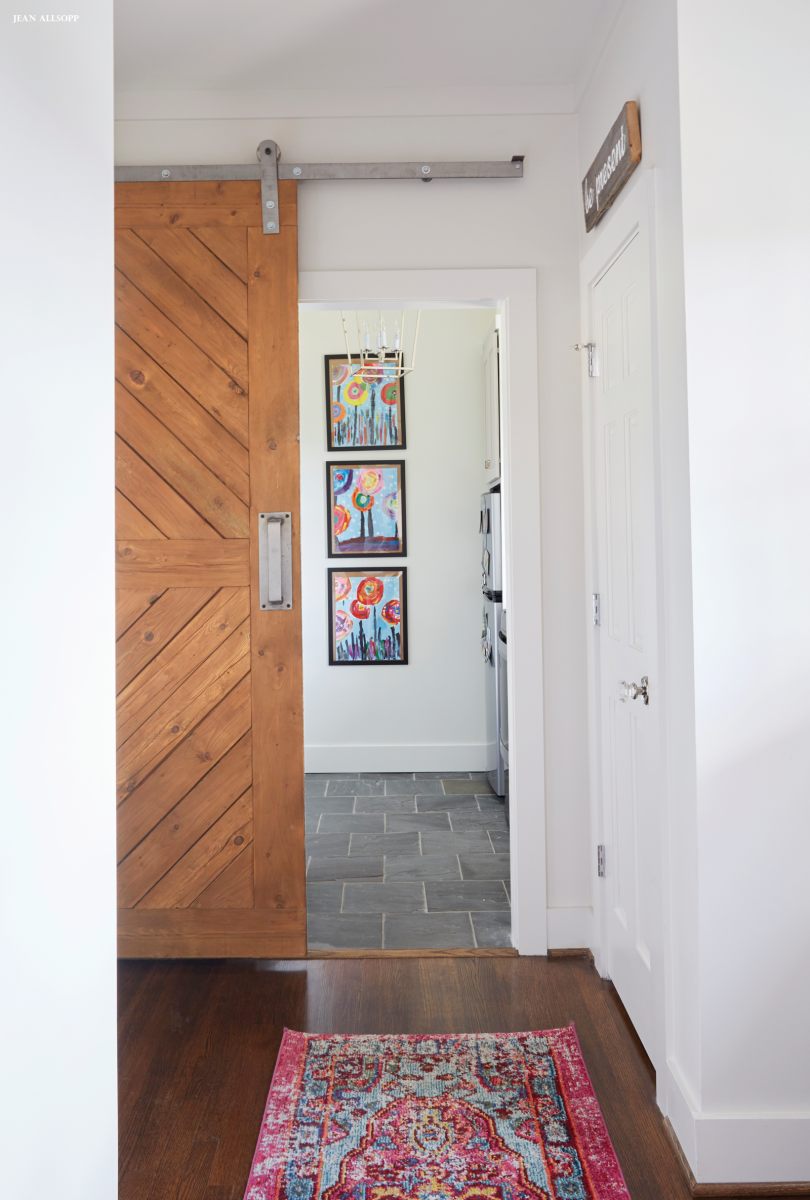 ABOVE LEFT In the laundry room, Shea added a reclaimed wood barn door she found at a shop in Mobile.
ABOVE RIGHT In the master bedroom, purple pillow shams and colorful accents add a wow factor to the otherwise neutral backdrop. The wood headboard has sentimental value to Carey, who grew up in Louisiana, where his grandfather had a barn crafted of cypress. When the dilapidated structure was razed, each of the grandchildren received some of the beautiful wood, which the Romes used for this focal-point piece.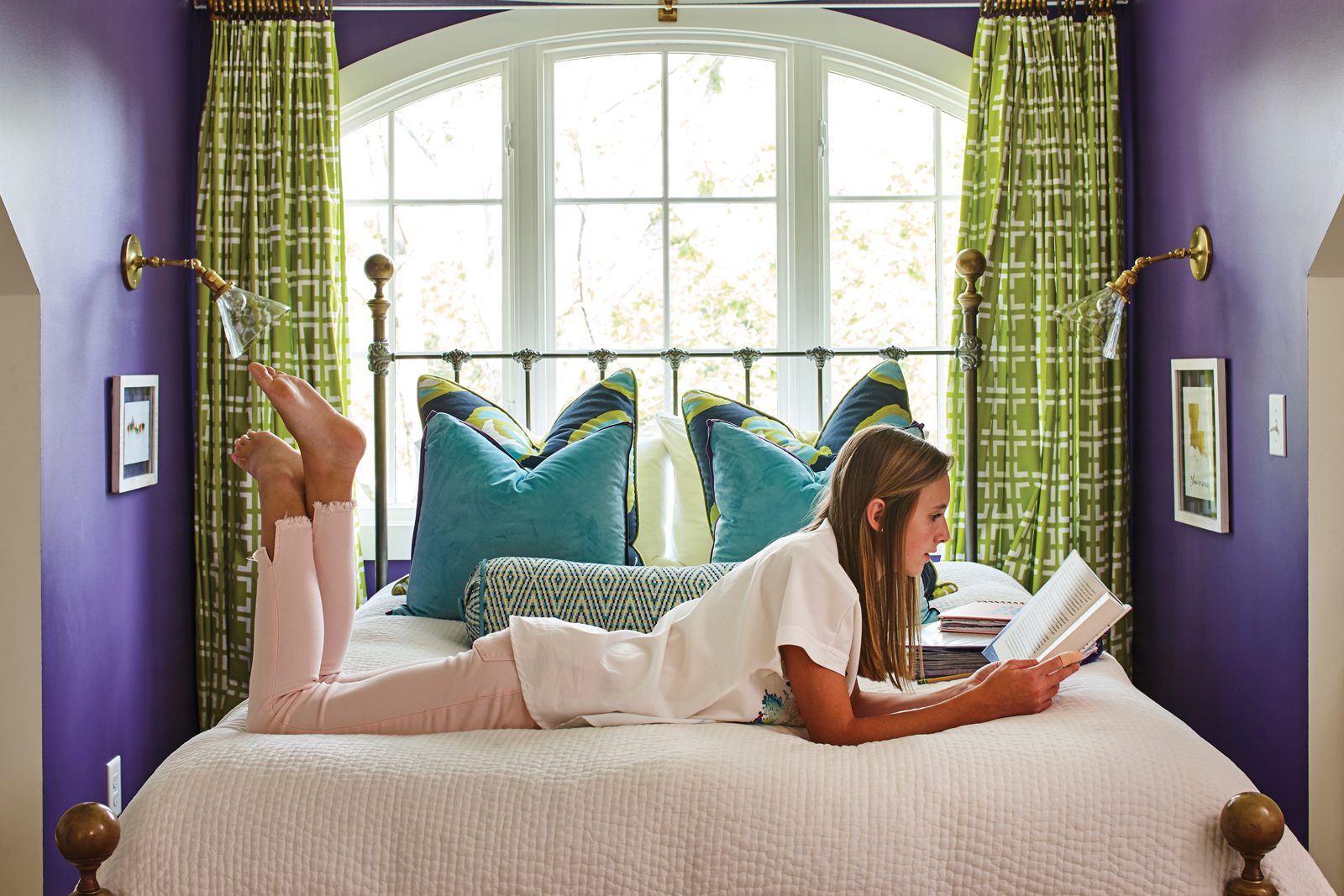 ABOVE Turquoise and purple touches can be found throughout the Romes' home, including in all three daughters' bedrooms.
Photo by Laurey Glenn
RESOURCES
Interior designer: Shea Bryars, Shea Bryars Design, 205.533.2268, sheabryarsdesign.com Architect: Joe Ellis, DWELLing Architecture, 205.790.1389, dwellingarchitecture.com Builder: David Siegel, Twin Construction, Inc., 205.802.3920, twincompanies.com Select fabrics: King Cotton, kingcottonfabrics.com Landscape: Ramon Perez, 205.296.7706 Kitchen cabinets: Twin Cabinets, twincompanies.com Countertops, tile, and backsplash: Triton Stone Group, tritonstone.com Plumbing fixtures and appliances: Ferguson Bath, Kitchen & Lighting Gallery, ferguson.com Barn door: Charles Phillips Antiques and Architecturals, charlesphillipsantiques.com