She's always been the fashionable one, " Birmingham native Virginia Cheek says of her one-year-and-two-weeks-younger sister, Libby. "She was always having her closet raided by sisters and roommates because of all her great finds." While fashion may be her sister's talent, Virginia has an astute design sense all her own. So when Libby and her husband bought their first home, an 1,800-square-foot Edgewood cottage, she turned to Virginia, an interior designer, to make it shine. "Because I'm so familiar with her personal style, Libby thought I was the perfect person to translate that into her home environment, " Virginia says.
When the couple purchased the cottage, built in 1930, it was far from looking and feeling like Libby. "It had a lake house vibe with moss greens and grays as the main colors, " Virginia says of the three-bedroom, two-bath home. "Dark interiors are definitely not her taste." Among the home's redeeming qualities, however, was an addition on the back that includes a master suite, screened porch, and deck, as well as outdoor living areas that checked off a box on the couple's wish list.
To achieve a lighter, brighter look inside, Virginia painted all the public spaces the same shade of warm white—Benjamin Moore's China White. "That change gave the whole place a happier, cottage vibe, " she says. "White lets spaces live a little larger than their actual footprint." Plus, it gave her a clean canvas for assembling each room.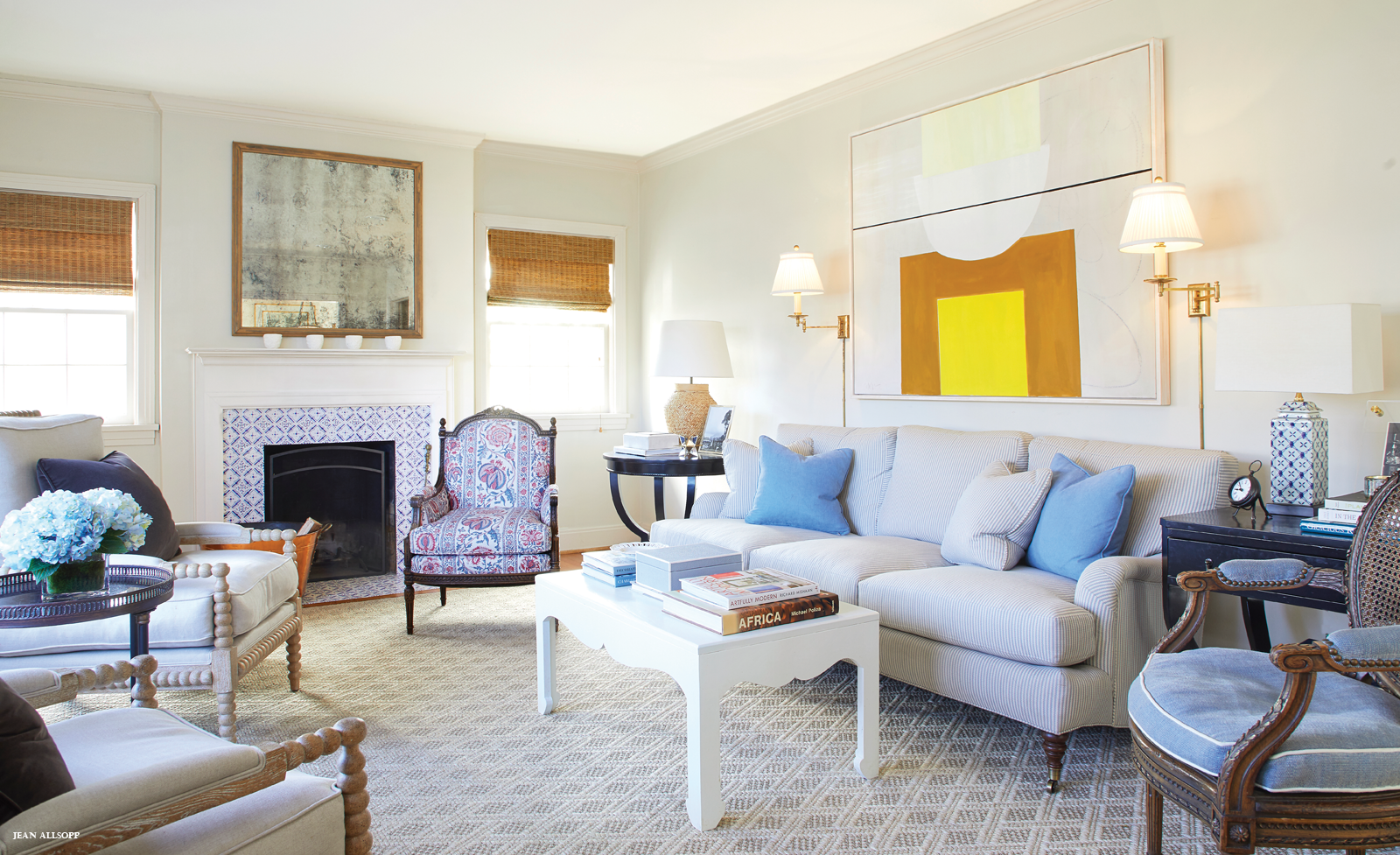 ABOVE A fresh color scheme and lighter art, furnishings, and fabrics opened up the space. A mirror above the mantel brings in more light.
ABOVE This is both breakfast and dining room, so I didn't want it to feel too formal, " Virginia says. "Libby found the table super on-sale. I like the glass because it feels light in the small room." Vintage French chairs were painted white, and Virginia covered them in a pretty bohemian blue-and-white fabric. She topped the room with a substantial fixture from Circa Lighting. "Beware dinky fixtures, " she says.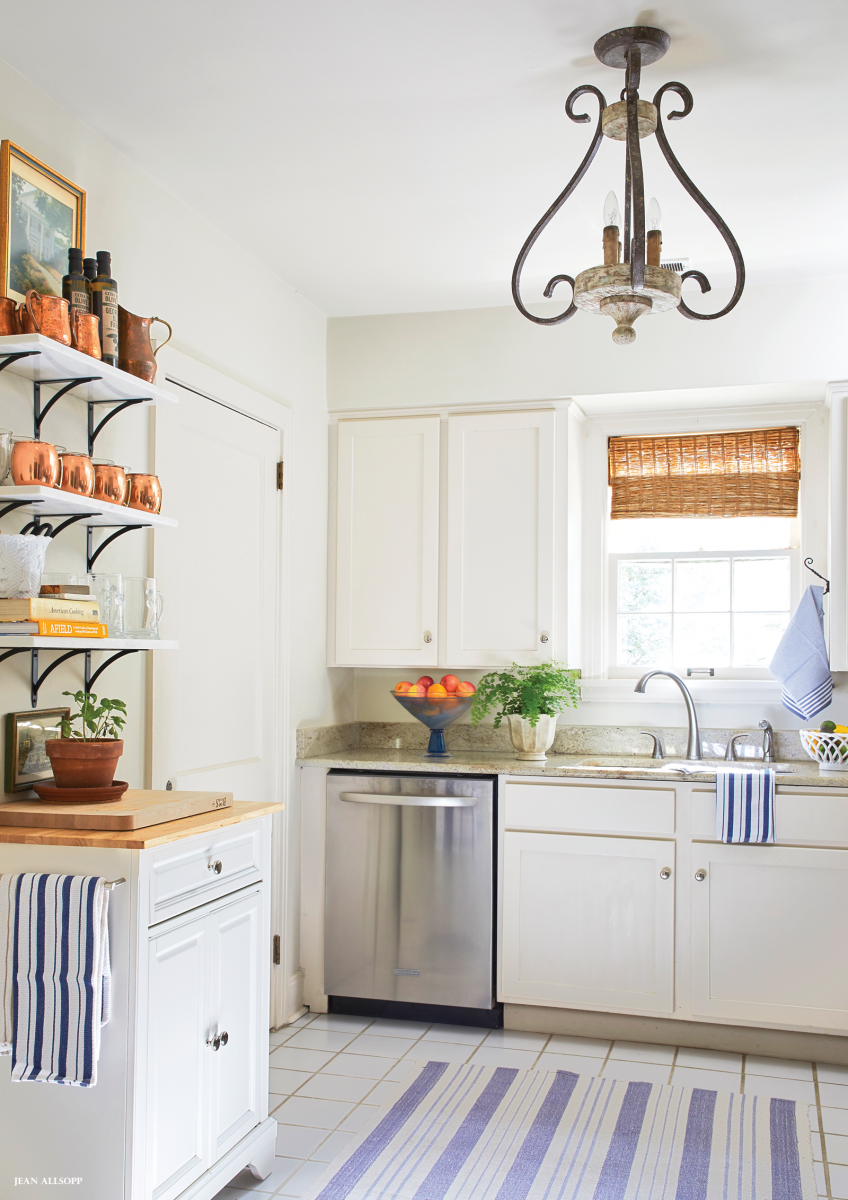 ABOVE Open shelving offers interest and a place to display Libby's collection of flea-market copper. A butcher block island from The Home Depot takes the place of the table and offers additional work space and storage underneath.
When it came to furnishing the home, Virginia found inspiration in an unexpected place. "We started with a blue-and-white lamp given to my sister by her mother-in-law, " the designer says. With the classic color scheme in place, the sisters filled the house with a variety of items, including found pieces, hand-me-downs from their "super traditional but not in an old-lady way" parents' home, and new purchases. They reupholstered many pieces in modern performance fabrics, which Virginia carefully chose to keep the classic blue-and-white color palette from feeling staid. The living room sofa gained new life with a "very pale ticking that reads as a solid, " Virginia says. And the room's art is local—a commissioned painting by Catherine Booker Jones and a custom-made mirror.
One of the most curious features of the space is the handmade tile on the fireplace surround. "We purchased it on Etsy, " says Virginia. "That was Libby's idea. We had looked around at high-end designer and antique tile options, but they were were expensive for a starter home. She found a woman on Etsy who hand-paints tiles. We sent her samples of ones we liked to help her know what we wanted."
Each room features an antique or two, such as a small table between bobbin chairs in the living room and a buffet and French chairs in the dining room. A hand-me-down-from-Mom table greets guests in the entry. "It's Victorian, which I normally wouldn't like, but it looks really fresh against white walls, " Virginia says.
Nothing in the house feels too big for its space—even rugs were cut to fit. "We were specific about scale and maintaining walkways, " Virginia says, noting that keeping furniture to the right size is key to having a small house feel comfortable rather than overstuffed.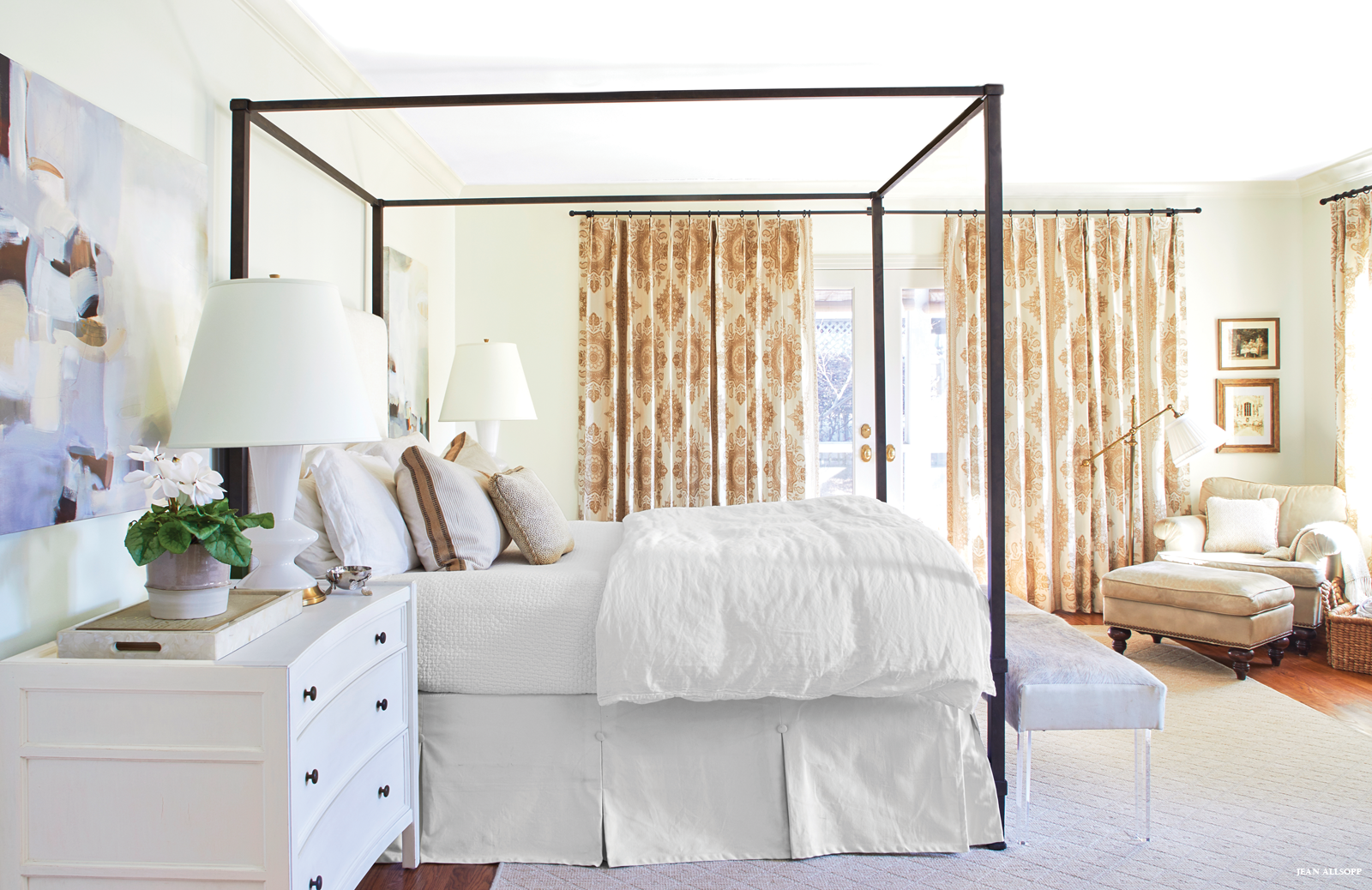 ABOVE By eliminating a TV in the bedroom, Virginia was able to flip the space plan "and not block any windows, " she says.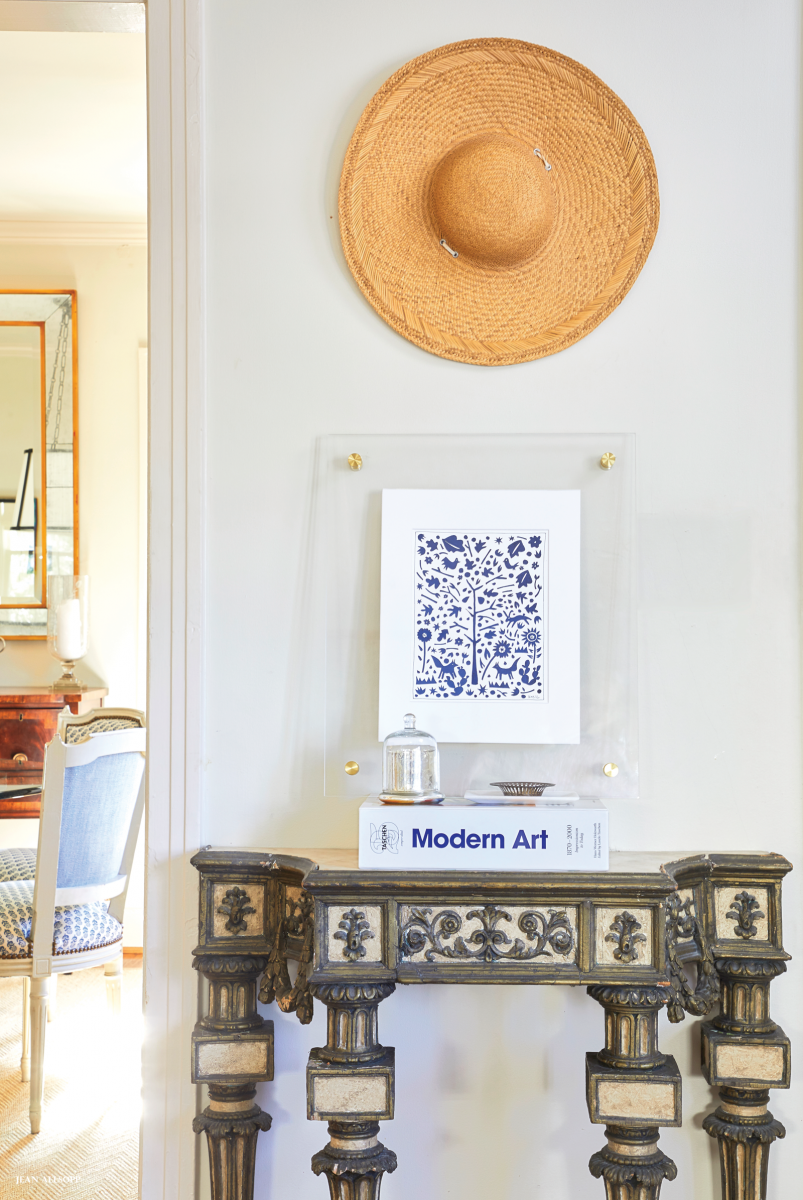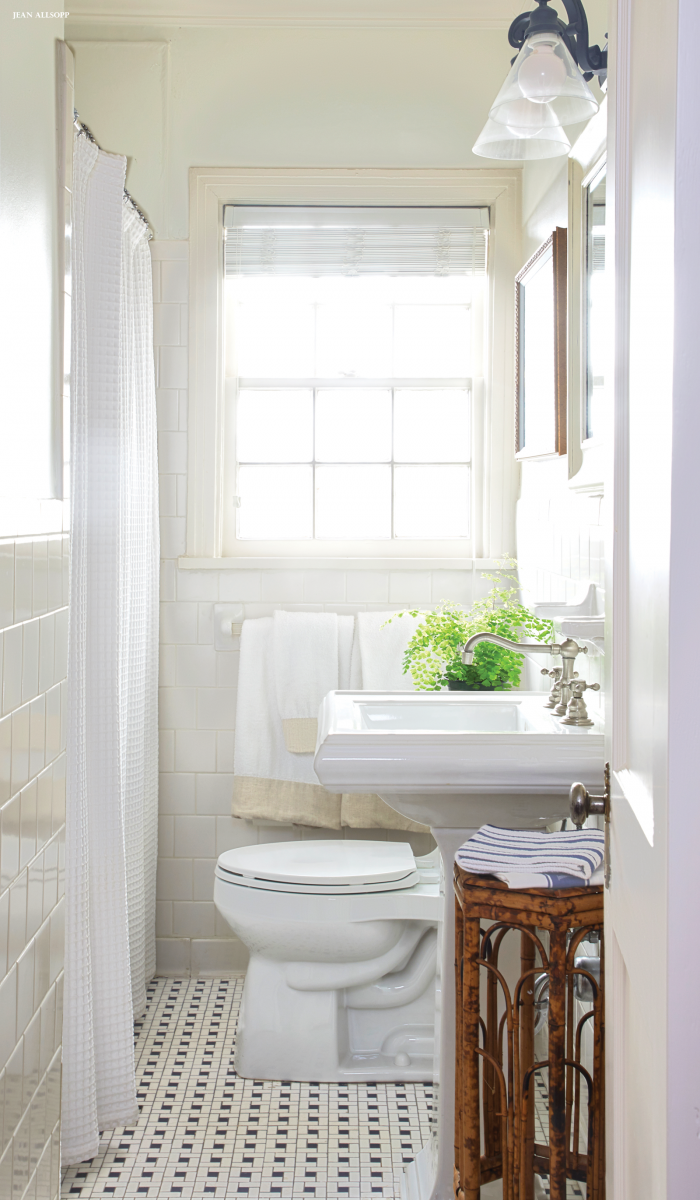 ABOVE The guest bath offers cottage simplicity with vintage floor tile and a pedestal sink. "All we did was change the light fixture and the mirror, " Virginia says.

ABOVE A swinging daybed brings in cottage comforts—and some breathing room.
Lighten Up
1. Paint walls and trim the same color but different sheens (semi-gloss or glossy on trim) to trick the eye and make the room feel bigger.
2. Hang curtain rods at the crown molding to make ceilings feel taller.
3. Antiques are great, but be sure to mix in lighter furnishings, such as the white cocktail table, so you don't have a room full of heavy, brown furniture.
4. Need a ceiling fan? Go for flush-mount and white. "I've done that with all my little cottage projects, " says Virginia. "That way, you don't really notice it."
5. Lighting is important. "I put can lights in ceilings, and I always include dimmers, " says Virginia. "Being able to dim or brightem the lights makes a huge difference, especially in older homes with 8-foot ceilings and small windows."
Meet Virginia Cheek

From I grew up in Birmingham, and now I live and work in Atlanta.
Design Philosophy Every home should be unique to its owners. Success means the finished product actually looks like the clients—not like a photo shoot for a retailer.
White Walls One of these Benjamin Moore colors always works: China White, Bone White, Super White, Simply White, or Classic Gray.
Favorite Accessory For a small house, a couple of high-end pieces or heirloom antiques really do the trick. They add a layer of sophistication without feeling too fancy.
Best Advice A mistake people make in these 3/2 cottages is trying to fit furniture that's too big. Sometimes furnishings that get passed down would make more sense in a larger home. If it's beautiful and you love it, store it until you move.
RESOURCES
Designer: Virginia Cheek, 404.530.9805, virginiacheek.com Rugs: Hiltz-Lauber Fireplace Tile: Etsy: tigercattiles Art in entry: Kathryn Cooper, kathryntaylorcooper.com Living Room: Sconces: Visual Comfort Painting above sofa: Catherine Booker Jones, catherinejonesstudio.com Antiqued mirror above fireplace: Mirror-tique, mirror-tique.com Dining room chairs: Argent Antiques re-covered in Lisa Fine Textiles, argentantiques.com, lisafinetextiles.com Master bedroom: Bed: Three Sheets Artwork flanking bed: Kristen Blakeney through Design Supply Shop, artgallery1930.com/designsupply/ Bedside table lamps: Hiltz-Lauber