Overgrown gardens are often full of surprises. Beneath spindly hedges, there's usually a trove of heirloom plants, remnants of paths and walls, and a fabulous house as the backdrop. While there's a romantic notion to uncovering the secrets of a hidden garden, homeowners Leslie and Rob Robinson knew it wasn't a job for them. "It was obvious that it hadn't been taken care of in a while, " says Leslie. "It desperately needed to be cleaned up and planned out."
To revitalize the tired landscape, the Robinsons called in landscape designer Rob Garrard, who put a plan together that blends the existing elements with new garden areas—all while creating an overall look reminiscent of an English country garden, a favorite style of the Robinsons. "The architecture of the house is timeless and simplistic, and we wanted to create surroundings to mimic that, " the designer says.
Rob started by focusing on the front of the house. On the right side, he removed invasive nandina to open up the view of the home and allow its architecture to take center stage. He then added large boxwoods to match the ones on the left and unify the front elevation. To bring in more of an English feel, he incorporated a large dwarf oval boxwood parterre on the right side, which created interest without blocking the house. "The house has such a presence, " Rob says. "We just simplified the front to let it be seen."
For ornament, the designer added a limestone urn on a pedestal. "The urn is a small detail, but it creates dimension and is a focal point from the dining room window, " he says.
"Rob did an amazing job of working with some of the materials that were already there and adding to them, which created interest and freshened everything up, " says Leslie.
The designer then turned his focus to the back of the property around the pool. To create a "lush, leafy, and verdant oasis, " he flanked the pool with four windmill palms—a nod to Leslie's childhood home in south Alabama—and covered the existing concrete wall in creeping fig. He also designed a cypress treillage lattice wall (which he painted a soft gray-green to blend in with the plant materials), featuring Bartlett espaliered pears fashioned in a three-tier candelabra pattern—another reference to an English garden. "The house had such good bones that simplifying and giving its landscape some detail brought it back to its grand feel, " Rob says. "Now it all flows with a simple and classic design."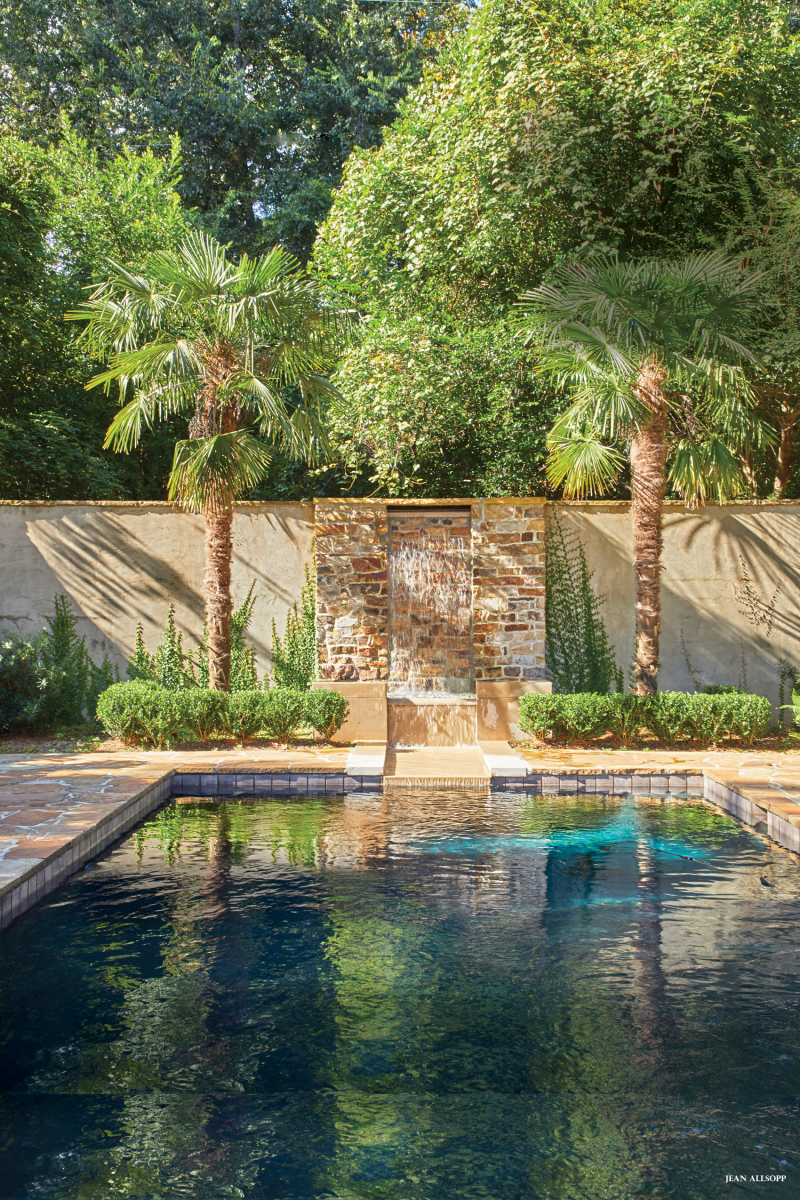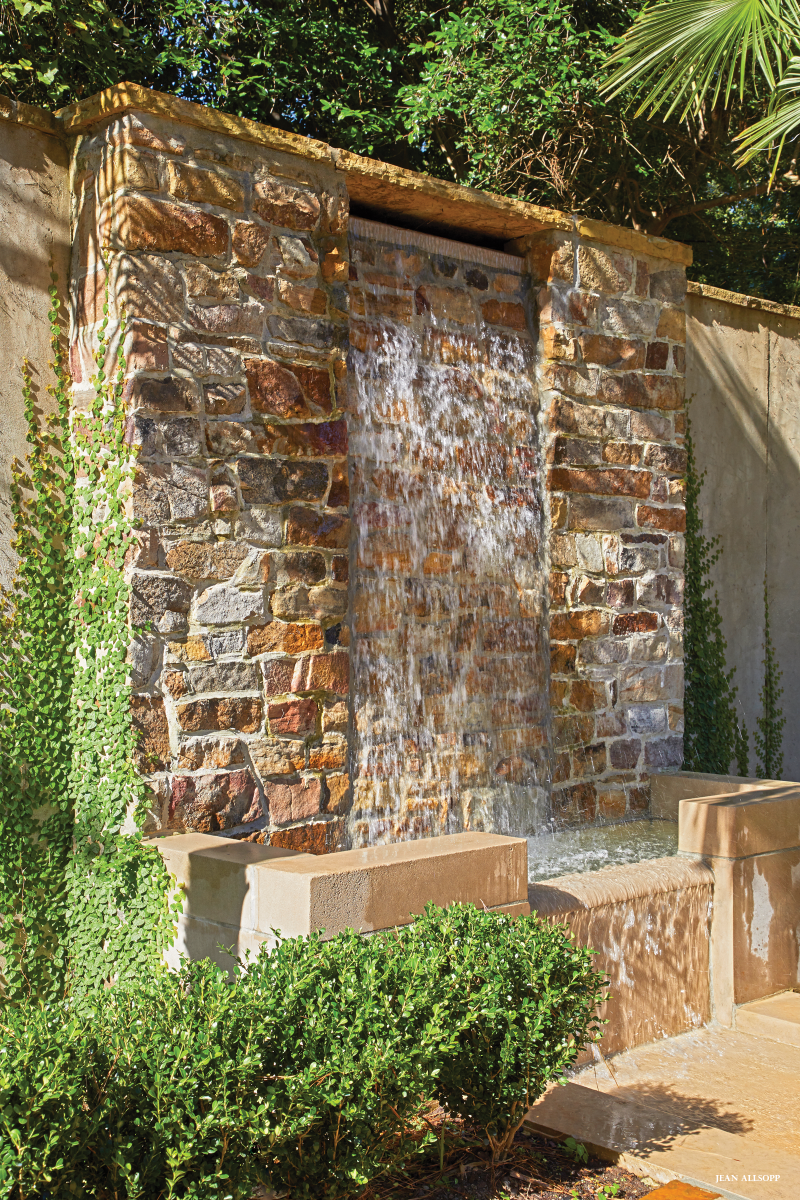 Rob added a stacked-stone fountain to the pool deck's koi pond to provide visual and auditory interest.
Rob Garrard's Garden Favorites
HEDGE: Green giant arborvitae."It has dark, lush greenery and a fine texture, which blends well with other evergreens—and it creates a lot of height without requiring a lot of space."
FLOWERING SHRUB: Hydrangea. "This shrub has a long blooming season and a lot of varieties, so you can have different types blooming at different times to provide interest year-round."
GROUND COVER: Asiatic jasmine. "It works so well in a sunny spot and has such a fine texture that meshes well together and creates a thick carpet."
SHADE GROUND COVER: Pachysandra. "This ground cover has a courser texture and blends well with ferns, hydrangeas, and aspidistra—and it blooms too."
NON-PLANT FEATURE: Urn on a pedestal. "It provides a great architectural element, which is helpful in creating a focal point. And it brings a vertical element other than a plant to the landscape."
ANNUAL: 'Dragon Wing' begonia. "This is a foolproof plant that can take sun or shade."
SUNNY MIX: 'Dragon Wing' begonia, Cuban oregano, and angelonia. "It's a thriller, a filler, and a spiller: One creates height, one creates volume in the center, and one cascades over the pot's edge. That creates a lot of dimension and interest."
SHADY MIX: Caladium, impatiens, variegated ivy, and asparagus fern. "This mix provides dimension as they have such different textures."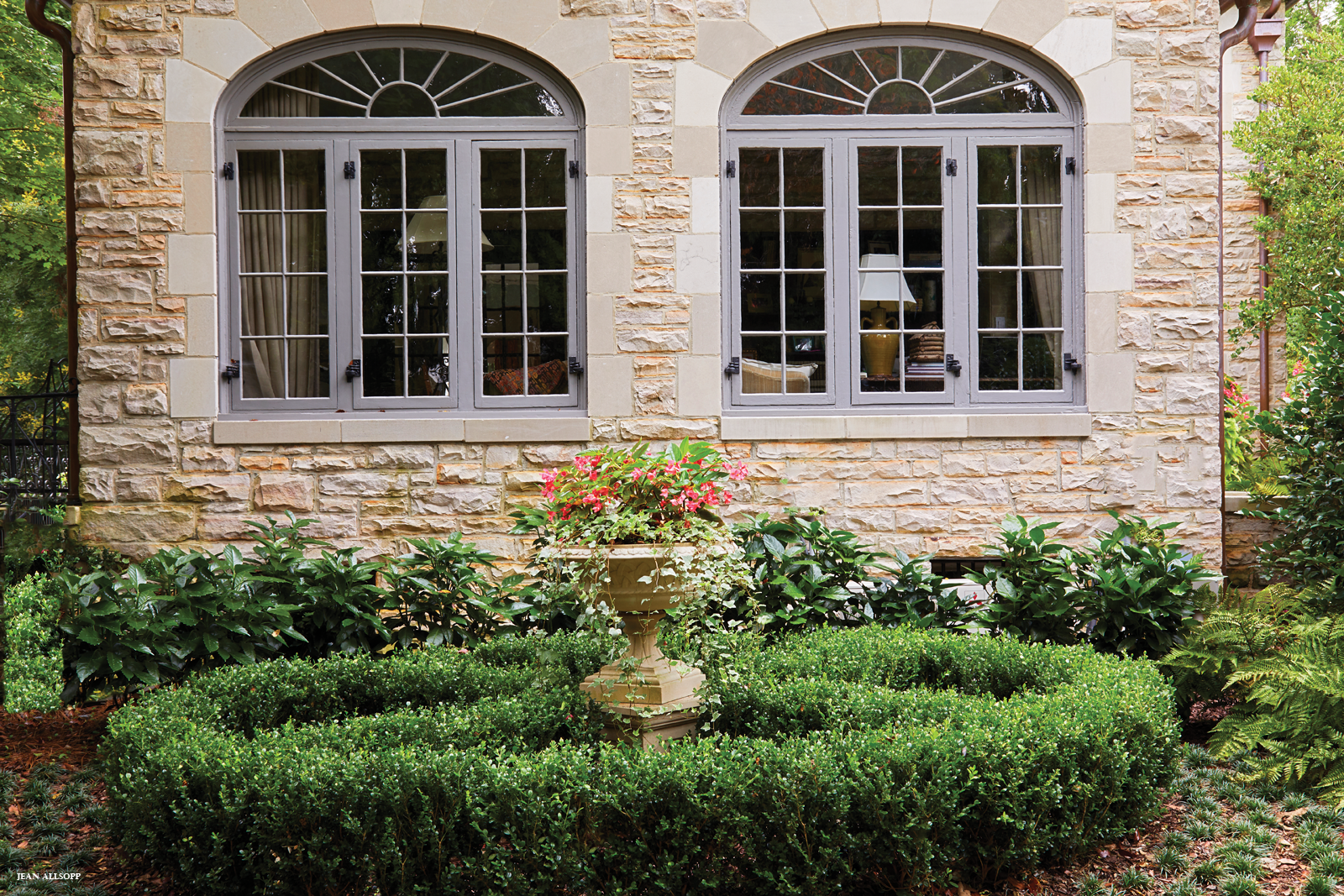 Just off the home's sunroom, the designer added a second wintergreen boxwood parterre and limestone urn filled with variegated ivy and 'Dragon Wing' begonia.
A secluded patio area just off the kitchen creates a cozy spot to sit among the hydrangeas and enjoy the garden.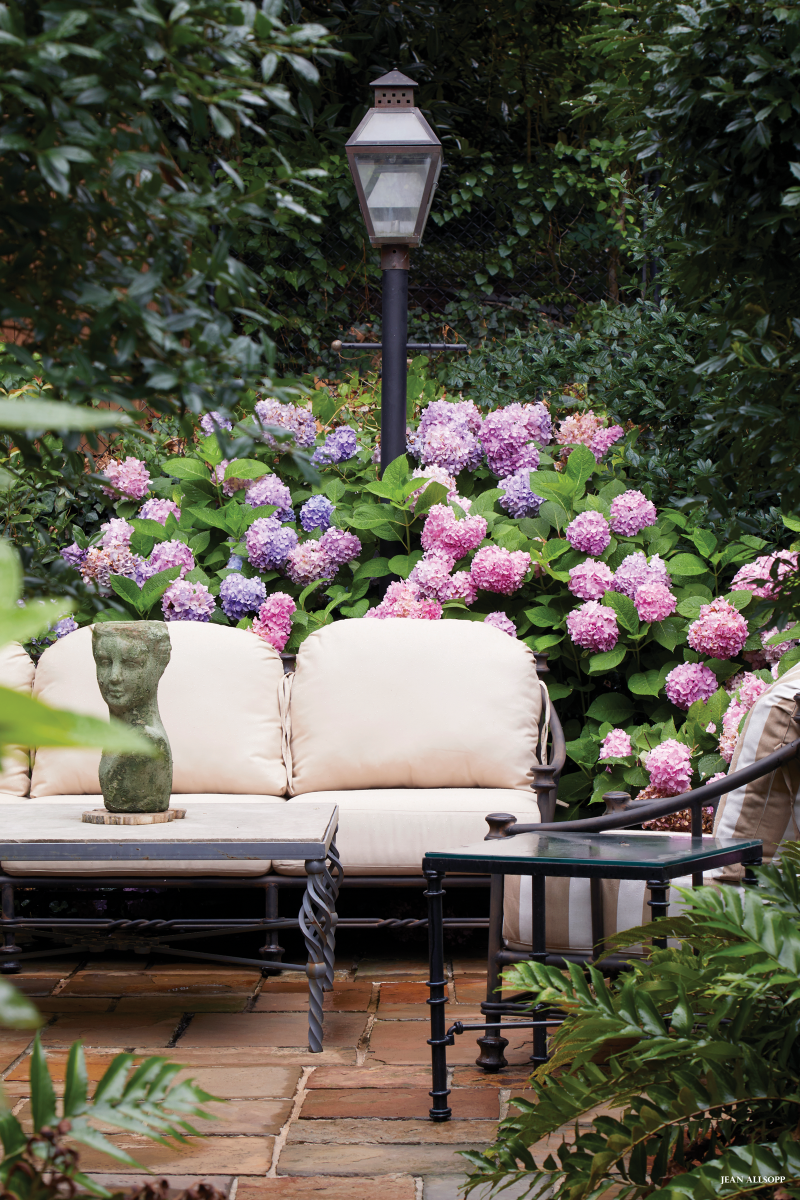 Steps lined with oakleaf hydrangeas and burford hollies lead from the front of the property to the back garden and pool area.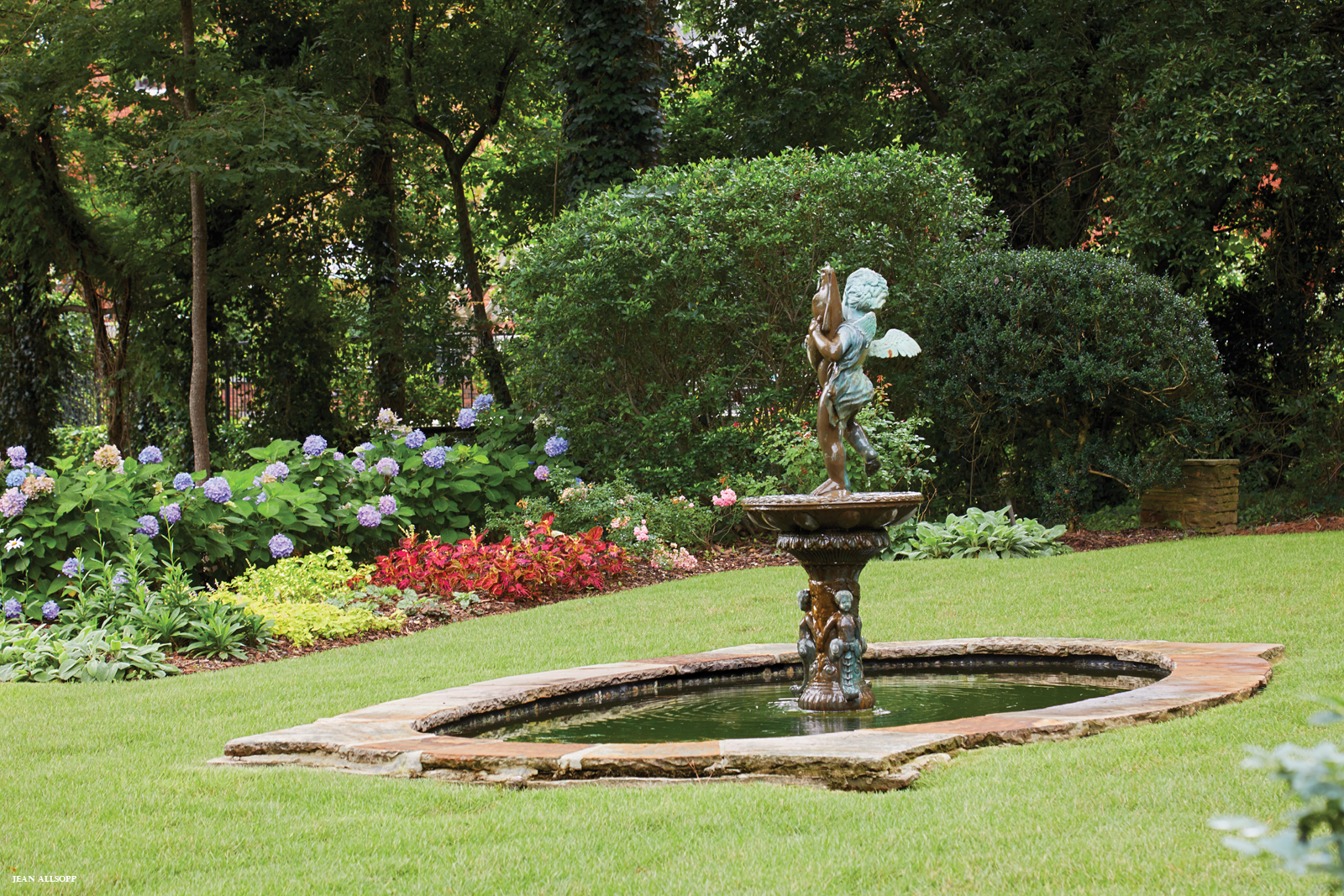 A bronze cherub graces the top of the fountain in the fish pond.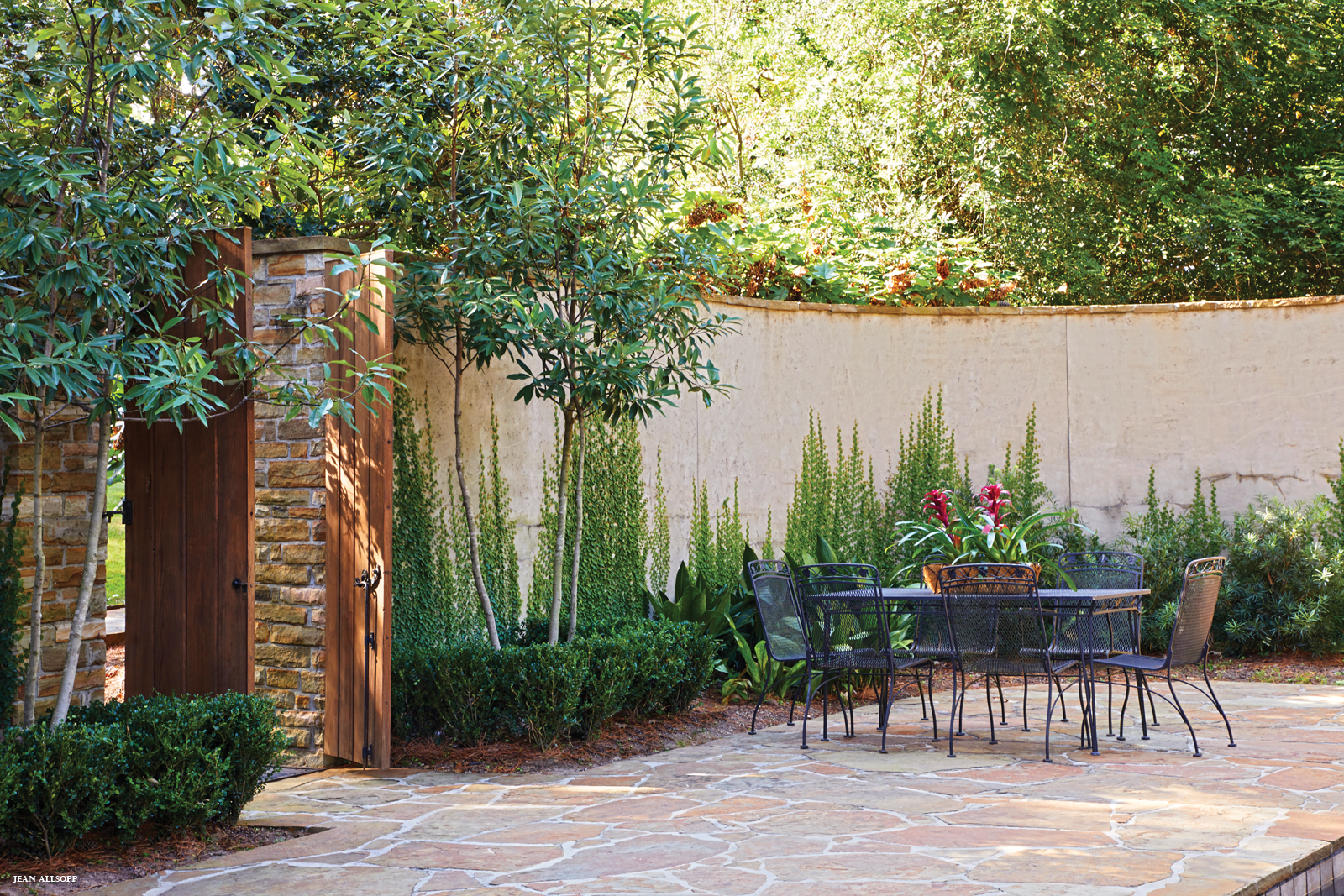 Two sweetbay magnolia trees flank the gate to the pool. Fig ivy will soon overtake the walls, turning the pool area into a green cocoon.