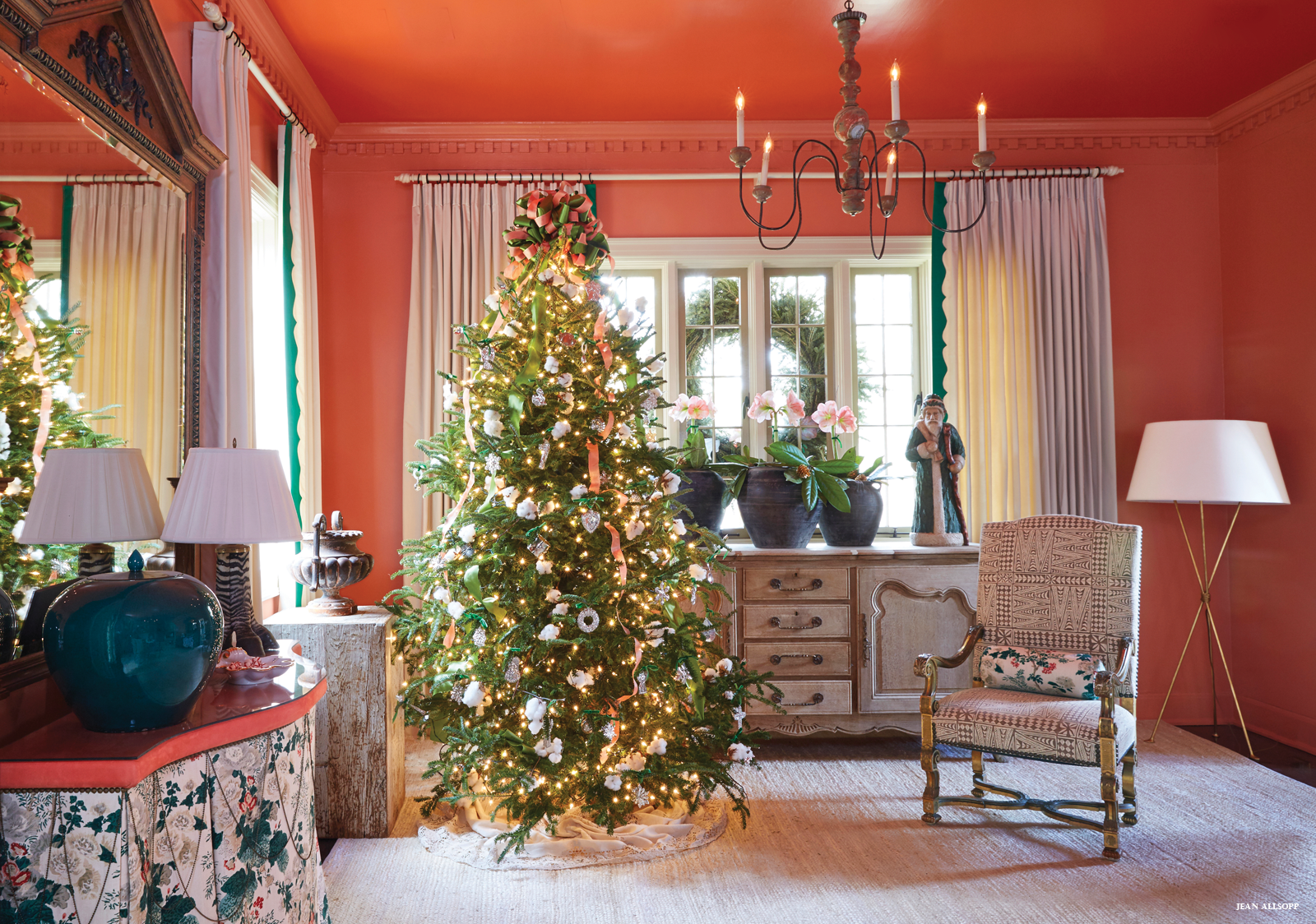 ABOVE The tree is decorated with tufts of cotton tucked in among sterling silver, baby rattles, cups, and napkin rings. White lights and a large green-and-coral bow with trails of ribbon complete the charming look.
 
While thoroughly ensconced, successful, and happy in Birmingham, Eufaula natives Ragan and Brad Cain felt the tug of their charming hometown—a tug they kept thinking and talking about. Then, a particular property became available that turned the 'maybe' into a big 'yes'—a house that was next door to the couple's best friends and a hop, skip, and a jump from many family members. It also backed up to acres of undeveloped family-owned property with quite possibly the largest gingko tree in the state of Alabama. Providence was in play, and the couple knew this was the second home they had always dreamed about. Christmas also played its part. "I have spent every Christmas in Eufaula around family tables, " says Ragan, "and having our own place to decorate and entertain in is really special to us."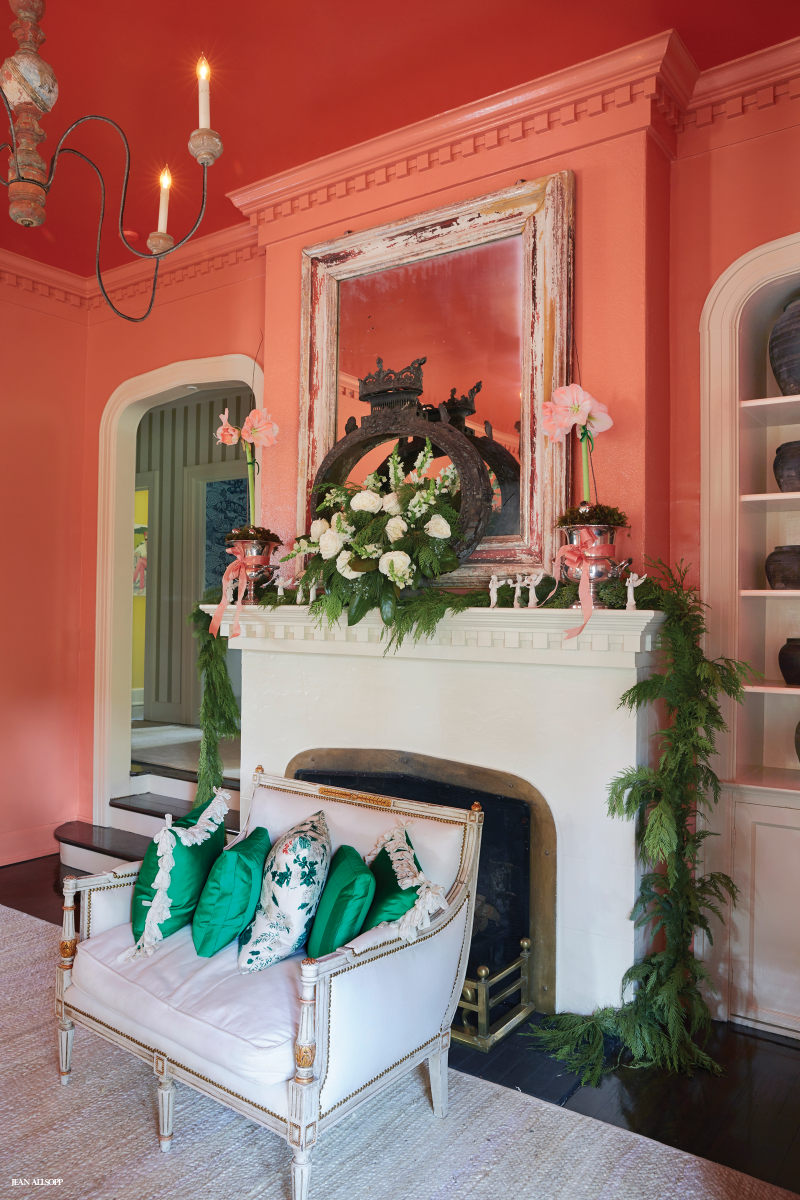 ABOVE On the mantel, an iron piece topped with a crown holds cedar, white Tibet roses, snapdragons, and magnolia.
The 1920s house was ideally located, but Ragan knew some changes were in order for the inside. "We reconfigured the rooms, painted, and totally updated the kitchen, " she says. While Ragan's day job involves serious number crunching as the vice president and treasurer of Tacala Companies, she also has a passion for style. With a treasure trove of collected pieces to place in the house, she just needed a little help putting it all altogether. Melanie Pounds of Patina in Mountain Brook came into the picture. "I had long admired Melanie's work and knew she was the person to make my vision come to life, " says Ragan. The only catch to the partnership involved Ragan's fondness for color. "I challenged Melanie a bit to get out of her comfort zone of more understated, neutral interiors, and she was up for it, " explains Ragan. The beautiful result is a coral-colored lacquered living room with a deeper coral on the ceiling that creates a cozy elegant attitude. Yellow envelops both guest rooms, while deep green covers the walls in the den and mudroom. The home shows off finds that Ragan unearthed in antique shops, flea markets, and estate sales, as well as from online sources.
With their renovated and colorful home complete, the Cains were asked to put it on the Eufaula Christmas tour. Ragan paused only long enough to make sure that Mary Cox Brown of Marigold Designs was available. "I would not have said yes to the tour without her talents to draw on, " says Ragan. "We have worked together many times and are now good friends. She is my voice of reason."
Both women agreed that the Eufaula home didn't lend itself to traditional red and green Christmas décor. The coral living room provided the perfect jumping off point. "I ordered all kinds of ribbon in coral, salmon, and apple green shades. Those colors provided the foundation for other choices, " says Mary Cox. "Ragan had so many wonderful things, but she also borrowed items from family members and neighbors. Eufaula is that kind of place."
One piece from Ragan's collection was destined for a starring role. "I have a pair of swan containers, and I am absolutely obsessed with them, " says Ragan. One of the swans, placed on the dining table, shows off a cornucopia of flowers and greenery. At every turn, there are holiday treasures, flowers, and greenery to attract the eye. "Ragan wanted this tour to be a really special experience for the visitors, " says Mary Cox. "Some people came back two or three times during the day to take everything in." And for the Cains, seeing the success of the tour was the perfect way to celebrate their homecoming.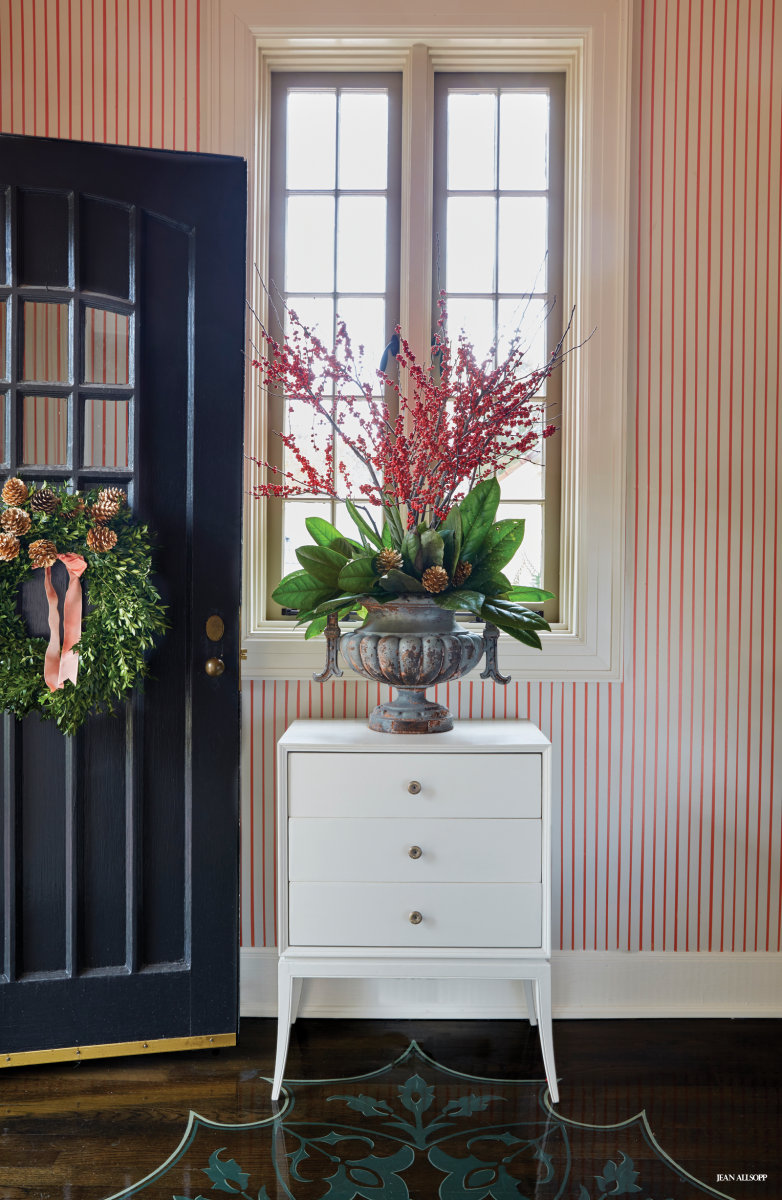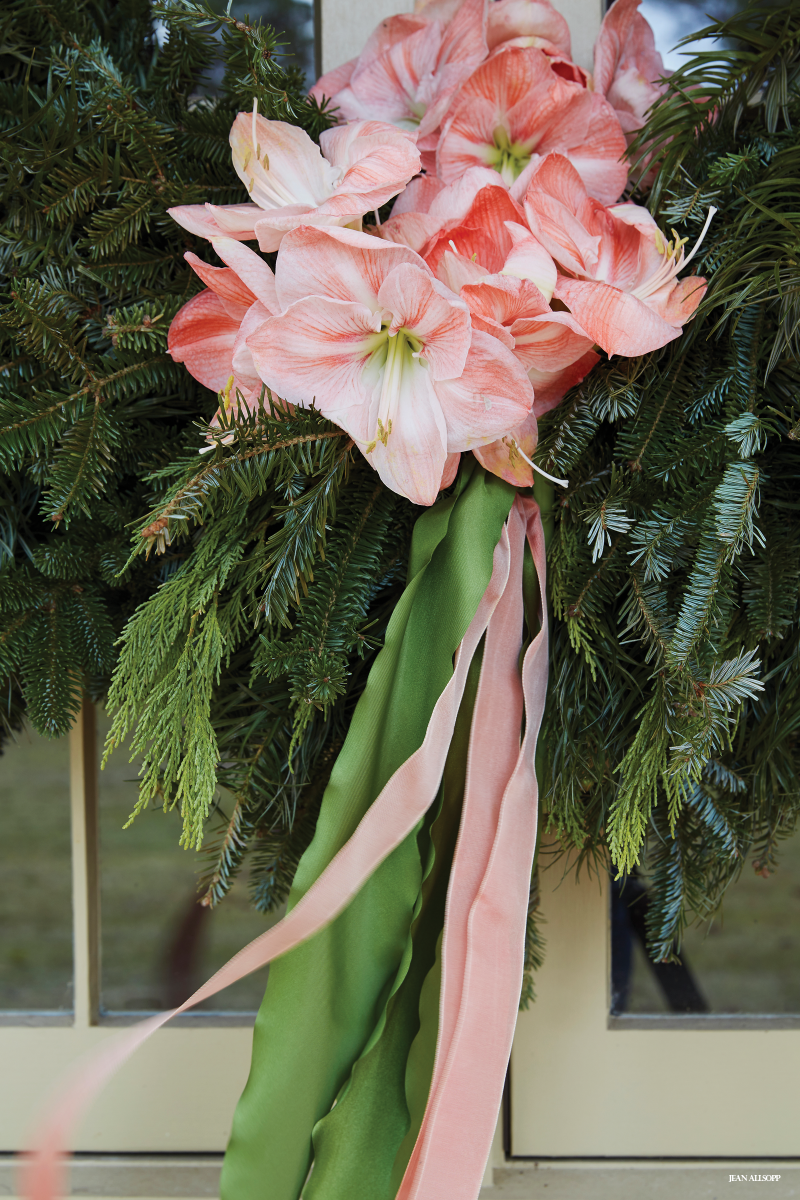 ABOVE LEFT An urn filled with ilex, magnolia, and gold-painted pinecones greets guests in the entry. Jan Roberts of Finishing Touches hand-painted the detail on the floor.
ABOVE RIGHT Amaryllis blooms perfectly fit the home's color palette.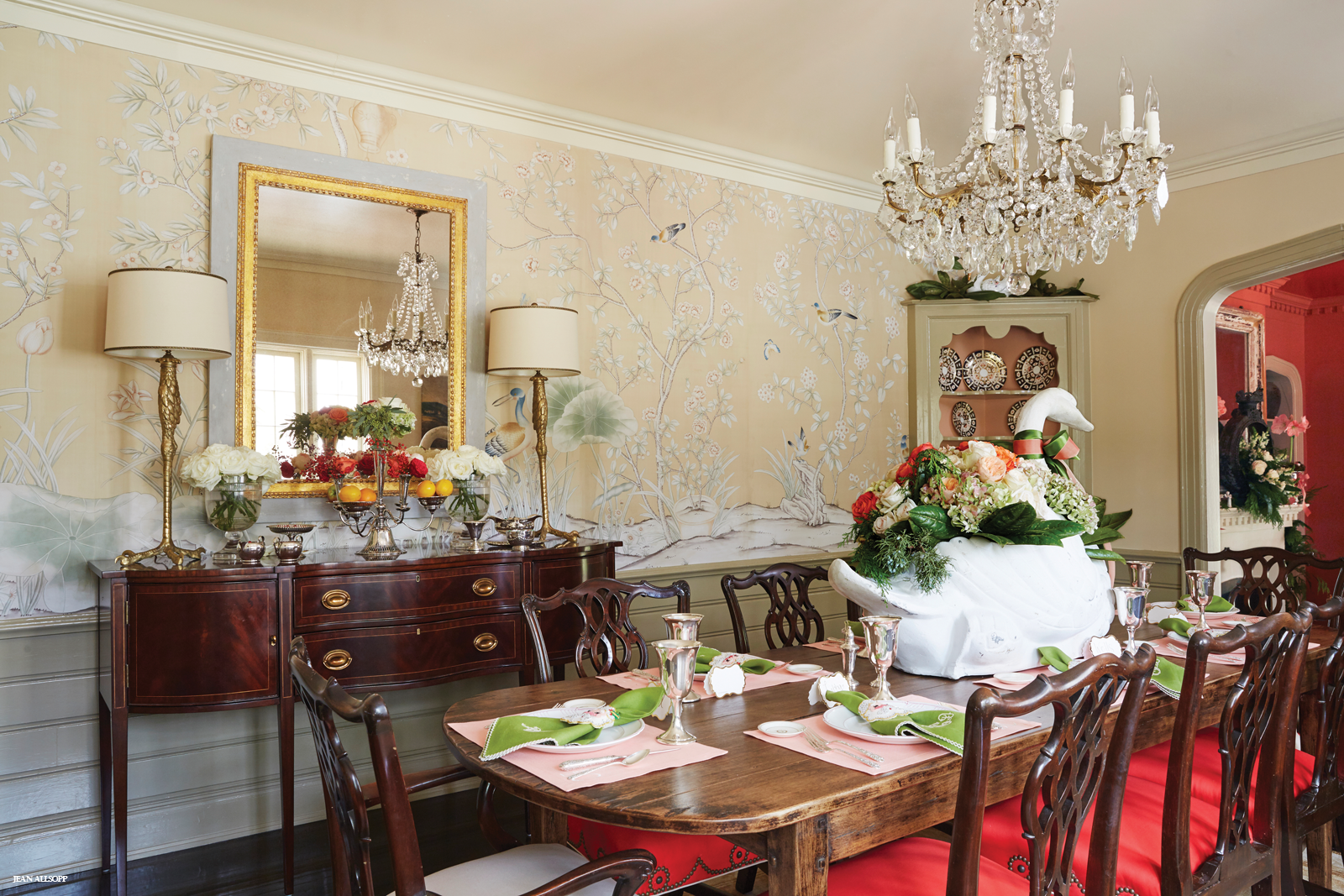 ABOVE A favorite vessel, one of a pair of swans is filled with antique hydrangea, Juliet garden roses, white O'Hara roses, magnolia, and cedar.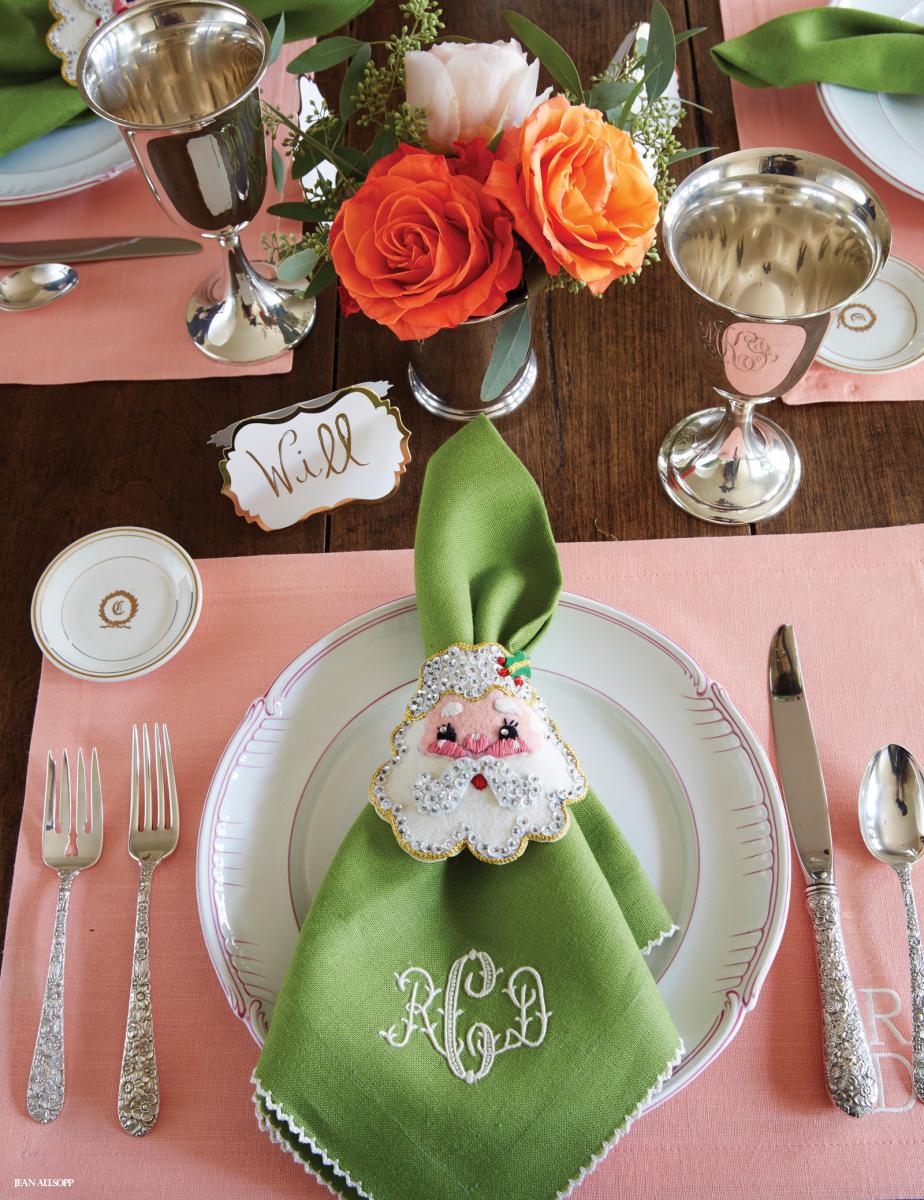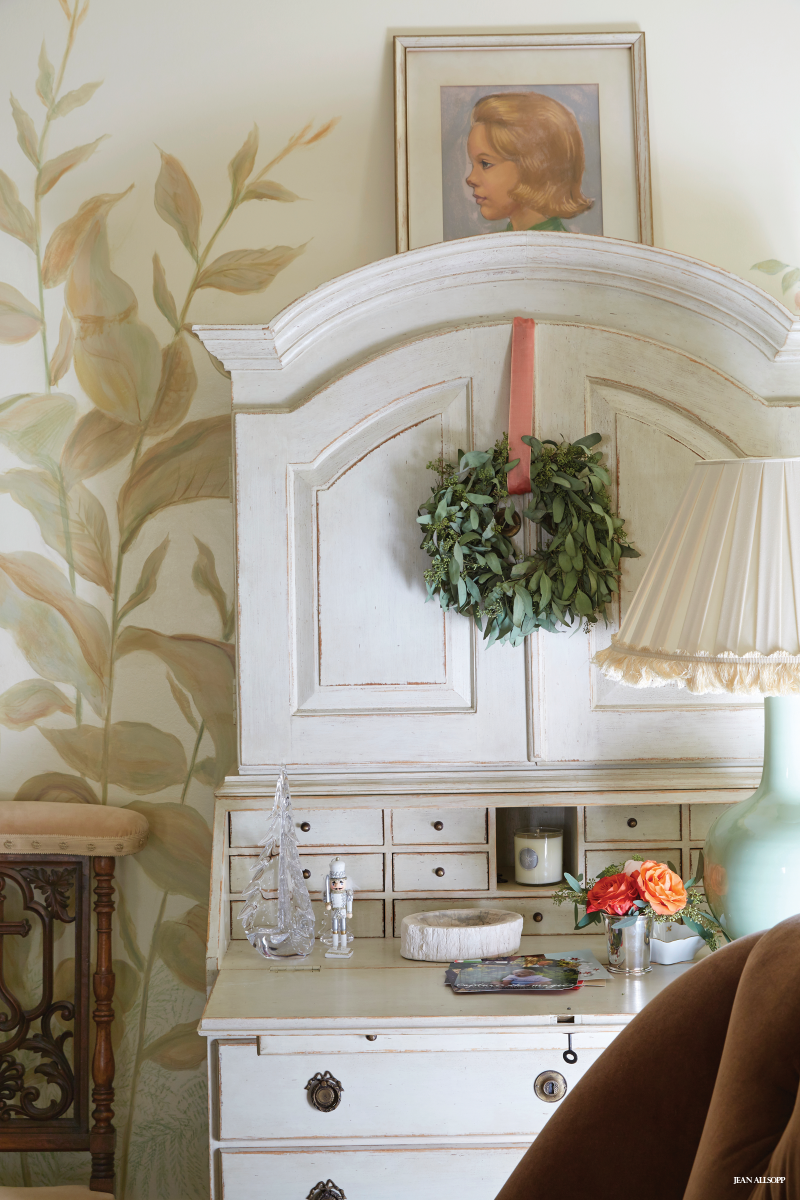 ABOVE LEFT Vintage napkin rings bring a cheerful note to the place settings.
ABOVE RIGHT Elegant hand-painted botanicals on the wall provide more visual appeal.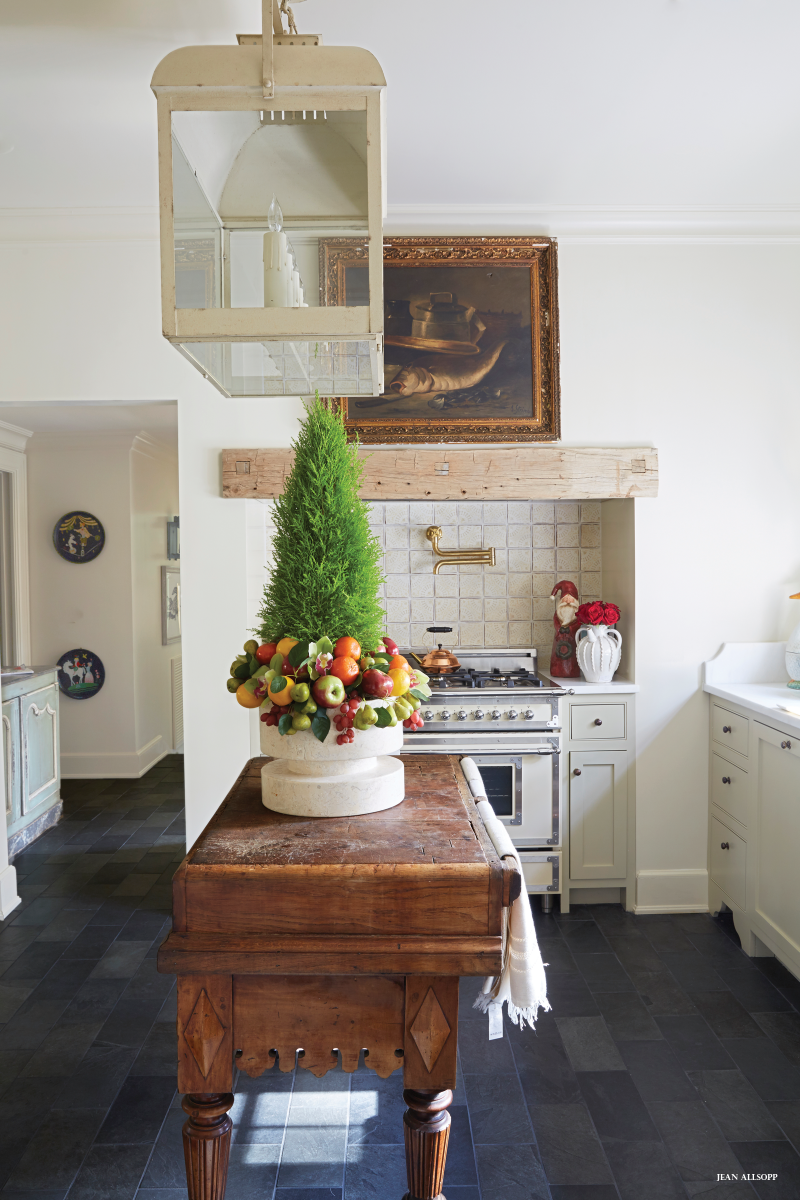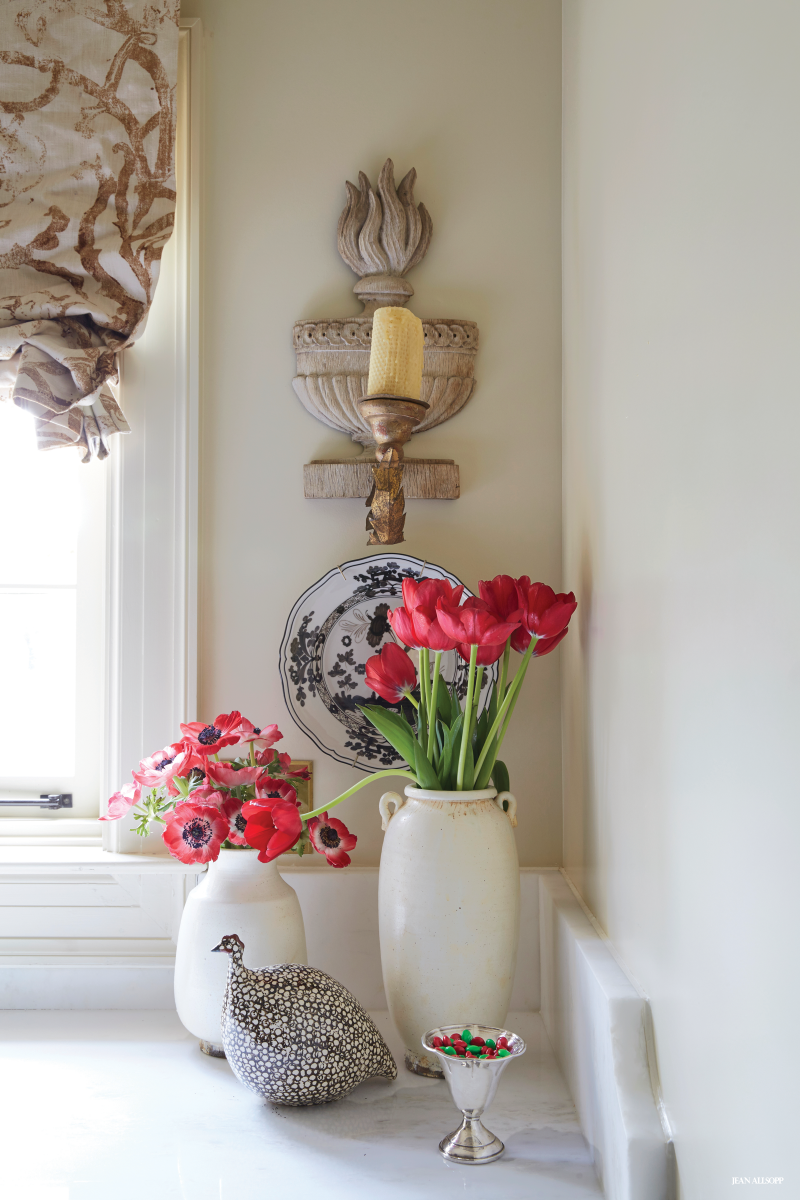 ABOVE LEFT "We wanted to put something in the kitchen that wasn't too flower heavy, " says Mary Cox. "We used a lemon cypress and then skewered fruits around the base and filled in with green cymbidium orchids. It's our take on a Williamsburg Christmas tree."
ABOVE RIGHT Bright red tulips and anemones liven up a kitchen corner.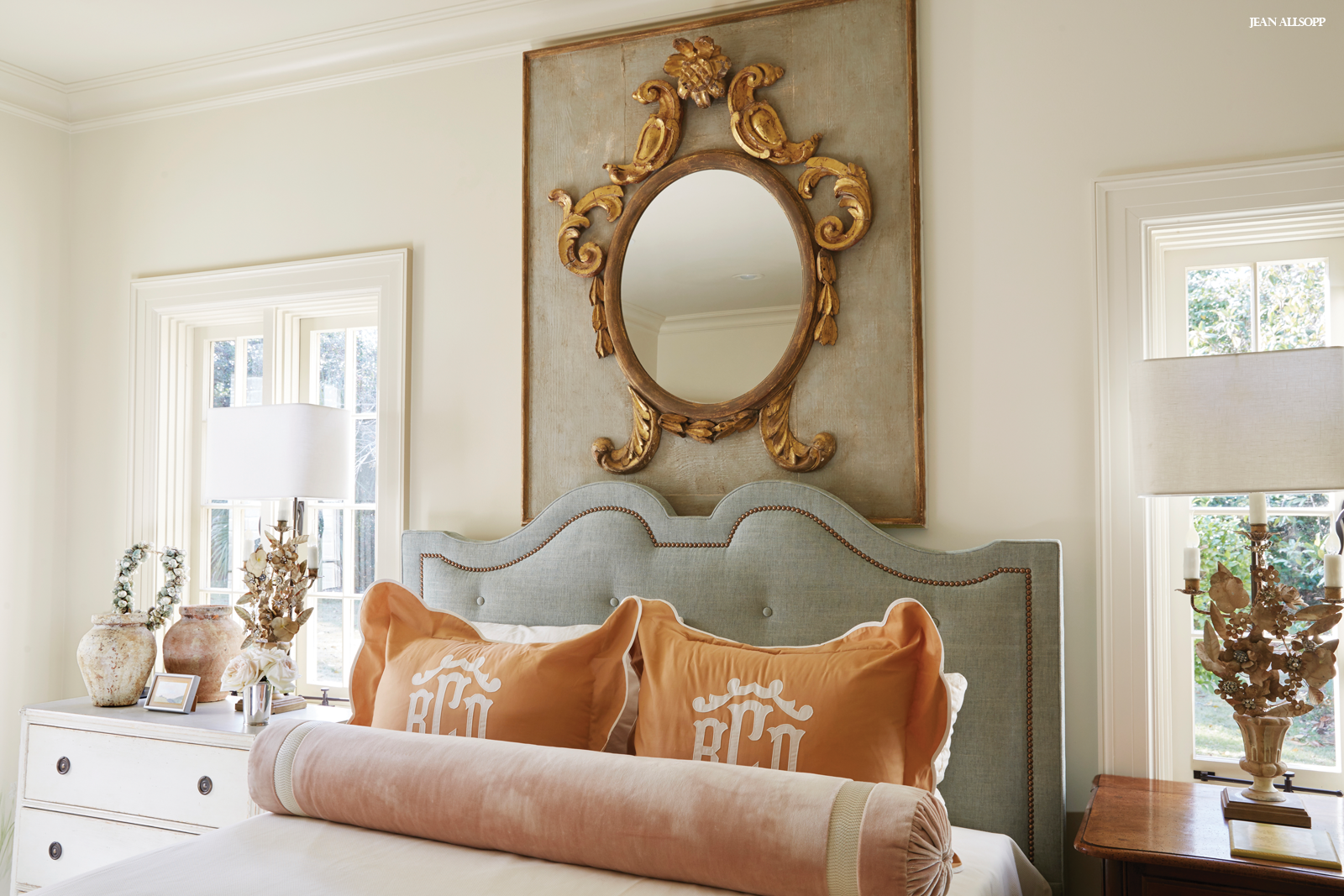 ABOVE The color palette takes a bit of a turn in the master bedroom with more muted tones. A gilded French mirror, Italian tole lamps, and a velvet bolster pillow add layers of luxe to the room.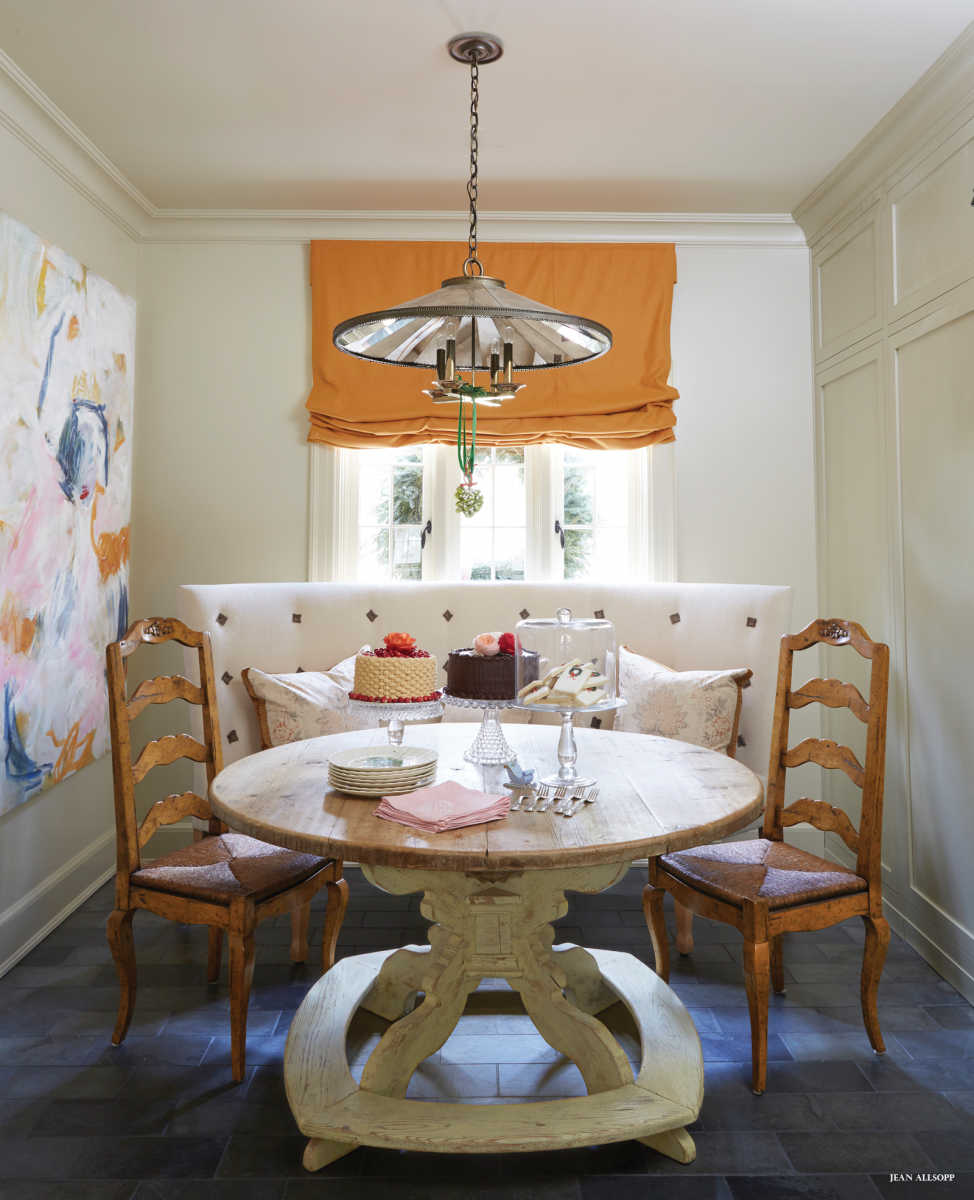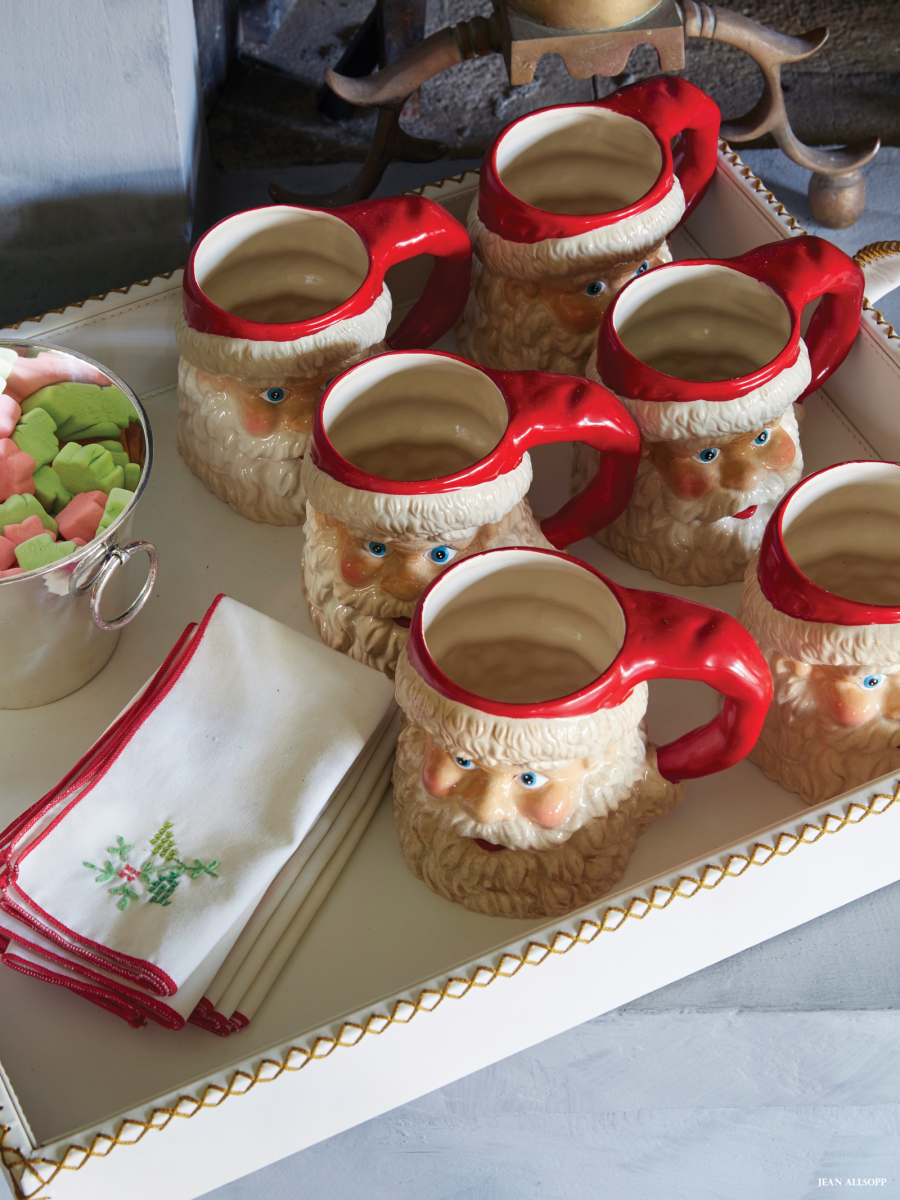 ABOVE LEFT "I had a fit when I saw this Carolyn Goldsmith painting and had to have it, " says Ragan. "It brings so much interest and color to this small space." A banquette and round table make the most of this tight nook.
ABOVE RIGHT Santa mugs add a touch of whimsy to the décor.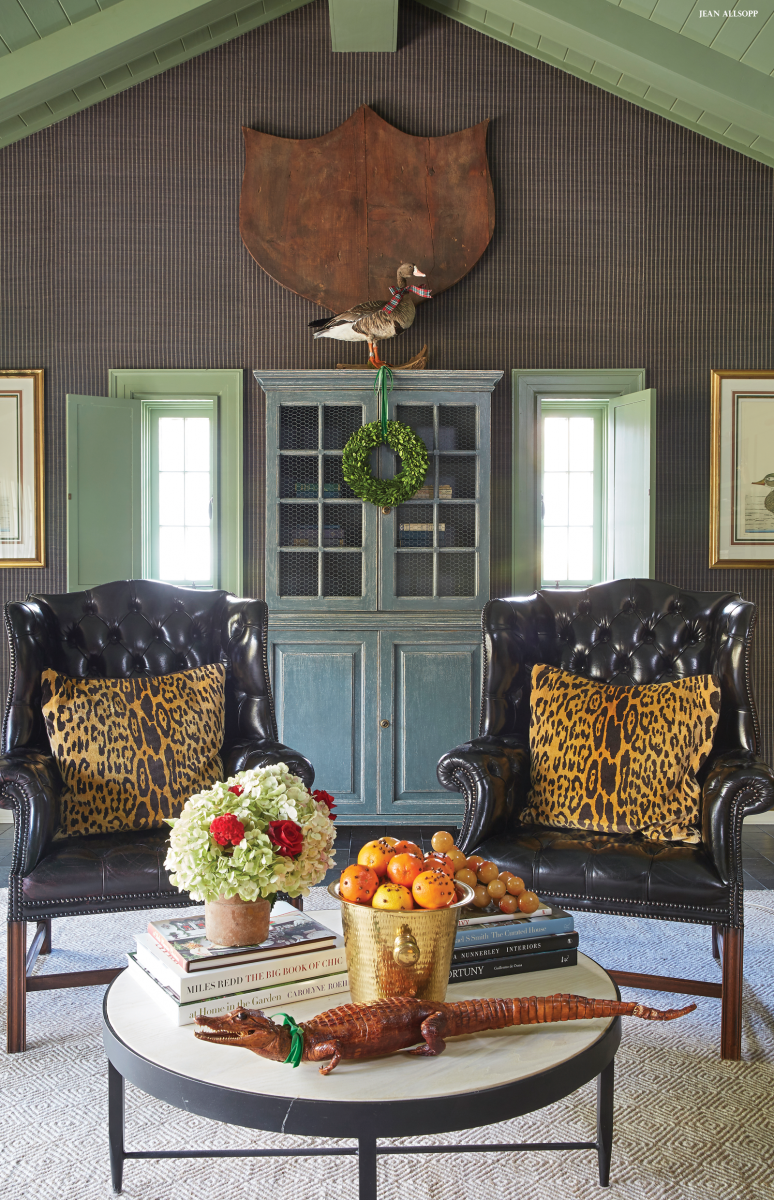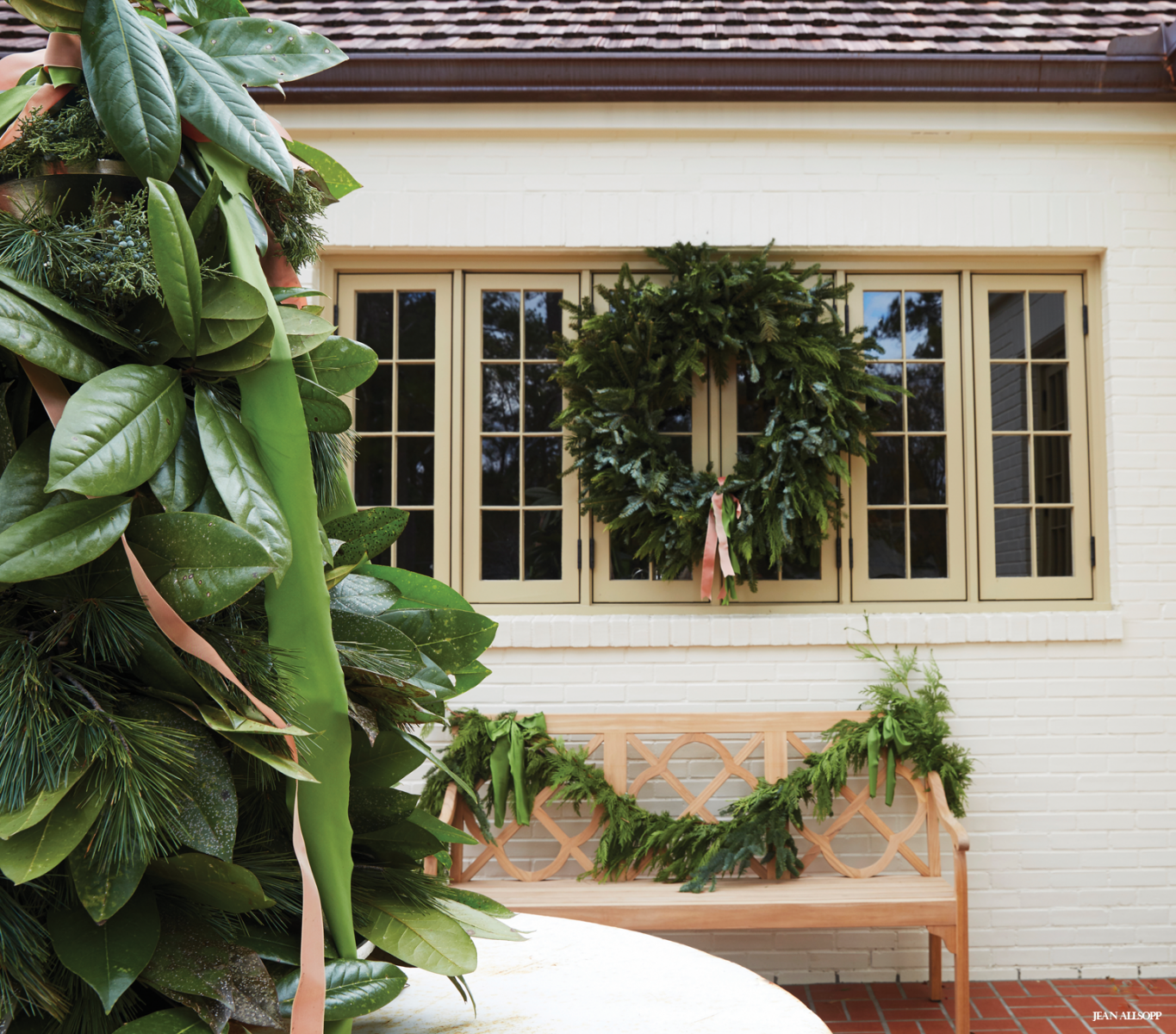 ABOVE LEFT The den's handsome walls are papered in grass cloth set off by green trim in an artichoke color.
 
RESOURCES
Floral design: Mary Cox Brown of Marigold Designs • 205.447.4747 marigold-designs.com Interior design, fabrics, wallpaper, and select furnishings, lighting, and accessories: Through Melanie Pounds at Patina • 205.802.9802 Decorative painting on entryway floor and master bedroom wall: Jan Roberts of Finishing Touches • 205.823.8305 Living room paint color: Pratt & Lambert 'Mineral Red' in high gloss: prattandlambert.com Ceiling color: Pratt & Lambert 'Poppy Petal' Iron ring with crown on mantel: maison 205.848.2727 Den wall trim: Pratt & Lambert 'Artichoke' • 205.447.4747 marigold-designs.com Kitchen island: through Ware & Co. • 504.267.3868 Painting in breakfast room: Carolyn Goldsmith through Gallery 1930 • 205.870.1930 artgallery1930.com Wallpaper: Degournay degournay.com Porcelain swan: Blackmon Antiques at the Farm • 334.687.6360 vintage Santa napkin rings: Homewood Antiques • 205.414.9945 homewoodantiques.com Master bedroom mirror: through Libby Greene Interiors libbygreeneinteriors.com
---
Text by alice welsh doyle // Photography by jean allsopp