Sometimes the best homes offer almost as much meaningful living space outside as they do inside. That's the idea behind many of the Alys Beach homes designed by Birmingham architect Gary Justiss, who frequently incorporates cozy courtyards into his sought-after 30A styles. Anne and Henry Strickland were wanting this type of outdoor space, so they enlisted Gary to design their new home in the Highland Crescent neighborhood of Birmingham. "Gary perfectly harmonized indoor and outdoor living, " Anne says. "The outdoor courtyards practically beckon you to come relax."
Make planning a priority. 
Well-designed outdoor space doesn't happen by chance. "It's important to think of outdoor space as a room and how that area is going to function, " Gary explains. "That may change the actual shape of your house." Here, the Stricklands were working with a fairly small lot, so instead of designing a typical rectangular house to sit in the center of the property, Gary made the house a "U" shape and pushed it closer to the edges, opening up some meaningful space for front and back courtyards.
Think like a room.
To validate the outdoor space as a living area, it must be given dimension that makes it feel like a room. "You must think in terms of a room rather than a yard, just one that happens to not have a ceiling, " Gary says. Here, Anne created a sense of enclosure and definition by utilizing furniture groupings (like sofas, chairs, and coffee tables) that establish typical traffic patterns for a room.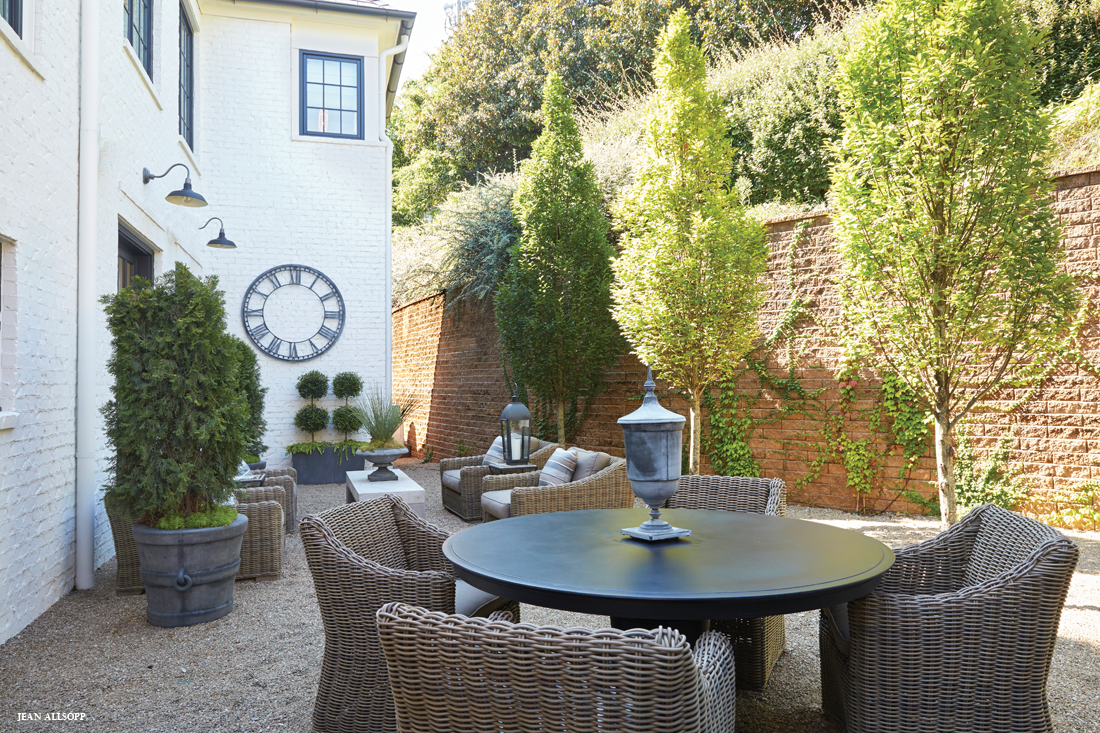 Consider the materials.
The vast amount of outdoor space is meant for enjoying, not maintaining. To make upkeep hassle-free, the Stricklands went with an easy-to-use large concrete paver by FireRock in the front courtyard, which also makes the space feel more spacious. For the back courtyard, crushed oyster gravel was shipped in from the Gulf of Mexico. The gravel selection created continuity in the overall space by keeping it all one texture.
Design for privacy.
Gary used the "U" shape design to create much of the home's private exterior space. In the back, he also used a retaining wall to his advantage for extra privacy. The challenge, however, was keeping the front courtyard from being too enclosed and disconnected from the street. To create the best of both worlds, he called for wrought iron railing that allowed for some sense of privacy without being totally enclosed.
Add natural appeal.
With space being tight, Dwight Brown of Father Nature Landscapes brought in plantings that would complement the home's architecture and grow up rather than out. To soften the back retaining wall, he planted Boston ivy and creeping fig, which offer interesting textures and will eventually cover the wall. He also squared off the backyard with fastigiated hornbeam trees, which stay very contained. With little space between the front of the house and the street, Dwight went with a plant palette that was very durable to sun exposure, including Italian cypress and fastigiated hornbeam trees, green velvet boxwood, and adagio maiden grass.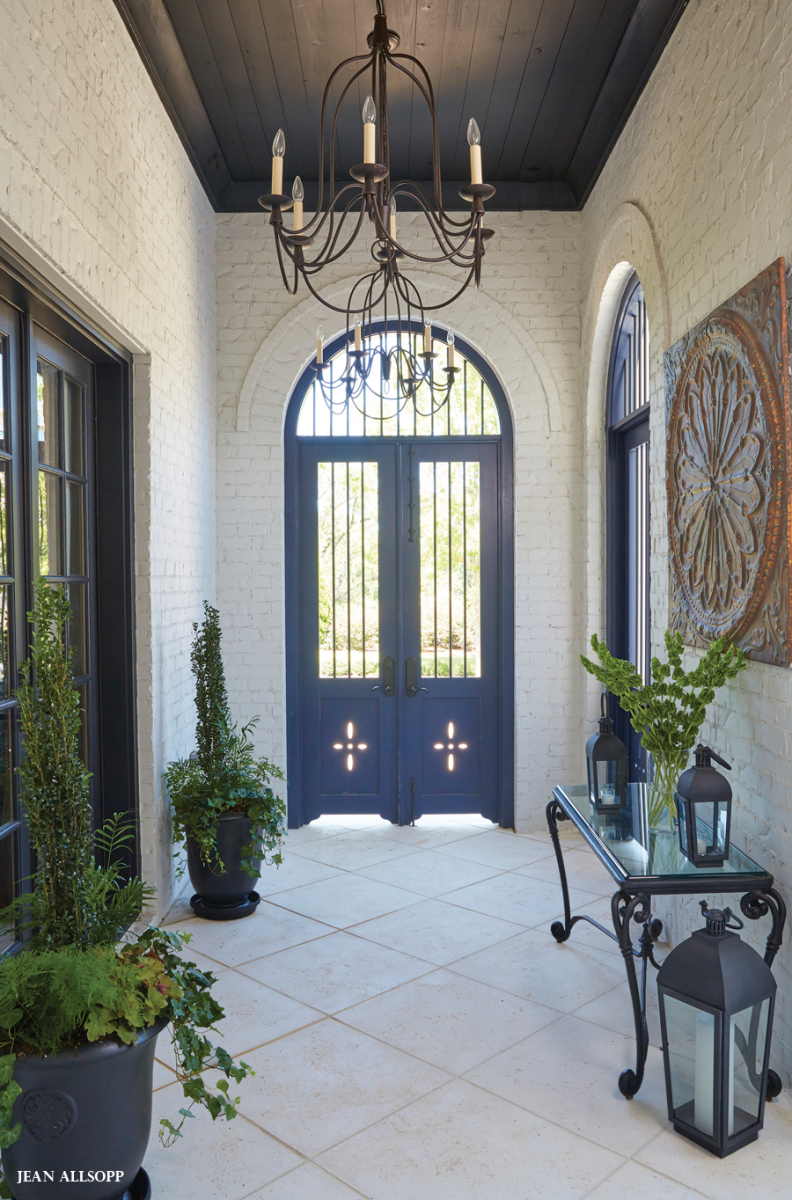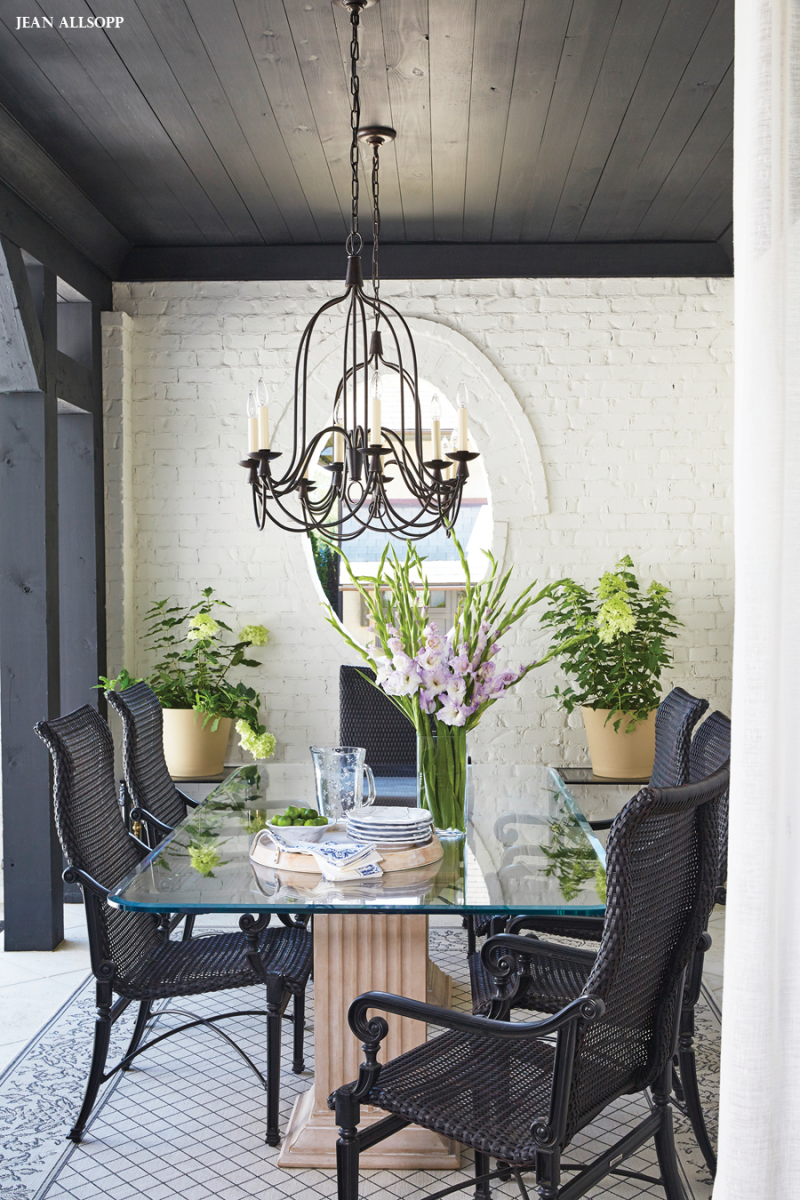 Bring the inside out.
To blur the lines between inside and out, Anne incorporated "typical" indoor furniture arrangements into both courtyards. Wanting a contemporary, modern design and materials that were comfortable yet durable, she turned to favorites like Summer Classics and Frontgate for most of the sofas, tables, and chairs. For her outdoor covered dining area in the front courtyard—the home's only "dining room"—she repurposed her existing glass-top dining table and simply added weather-resistant iron chairs.
Let the light in.
Gary was sure to incorporate numerous windows in the front of the home to take advantage of the view of Caldwell Park. He also included some in unexpected spaces like the staircase. "I like to bring in as much light as possible, " he says. "To me, that gives a home character." The staircase's unexpected high, large window creates a nice view of the hillside behind the home and also brightens an area that tends to be dark and dismal.
RESOURCES
Architect: Gary Justiss Architect garyjustiss.com Landscaper: Father Nature Landscapes 205.956.3030 fathernaturelandscapes.com Paint colors: exterior brick paint: Benjamin Moore Aura Exterior Paint "Glacier White" benjaminmoore.com; Exterior arched doors: Benjamin Moore Aura Exterior Paint "Downpour Blue"; Exterior French doors and trim: Benjamin Moore Aura Exterior Paint "Black Tar" Concrete pavers: FireRock firerock.us Front courtyard: iron sofas, dining chairs, and sofa cushions: Frontgate frontgate.com; coffee table: Summer Classics summerclassics.com Chandeliers: Pottery Barn potterybarn.com Back courtyard: concrete coffee table: Richard Tubbs Interiors richardtubbsinteriors.com pillows: Pottery Barn chairs: Restoration Hardware restorationhardware.com
---
Photography by Jean Allsopp