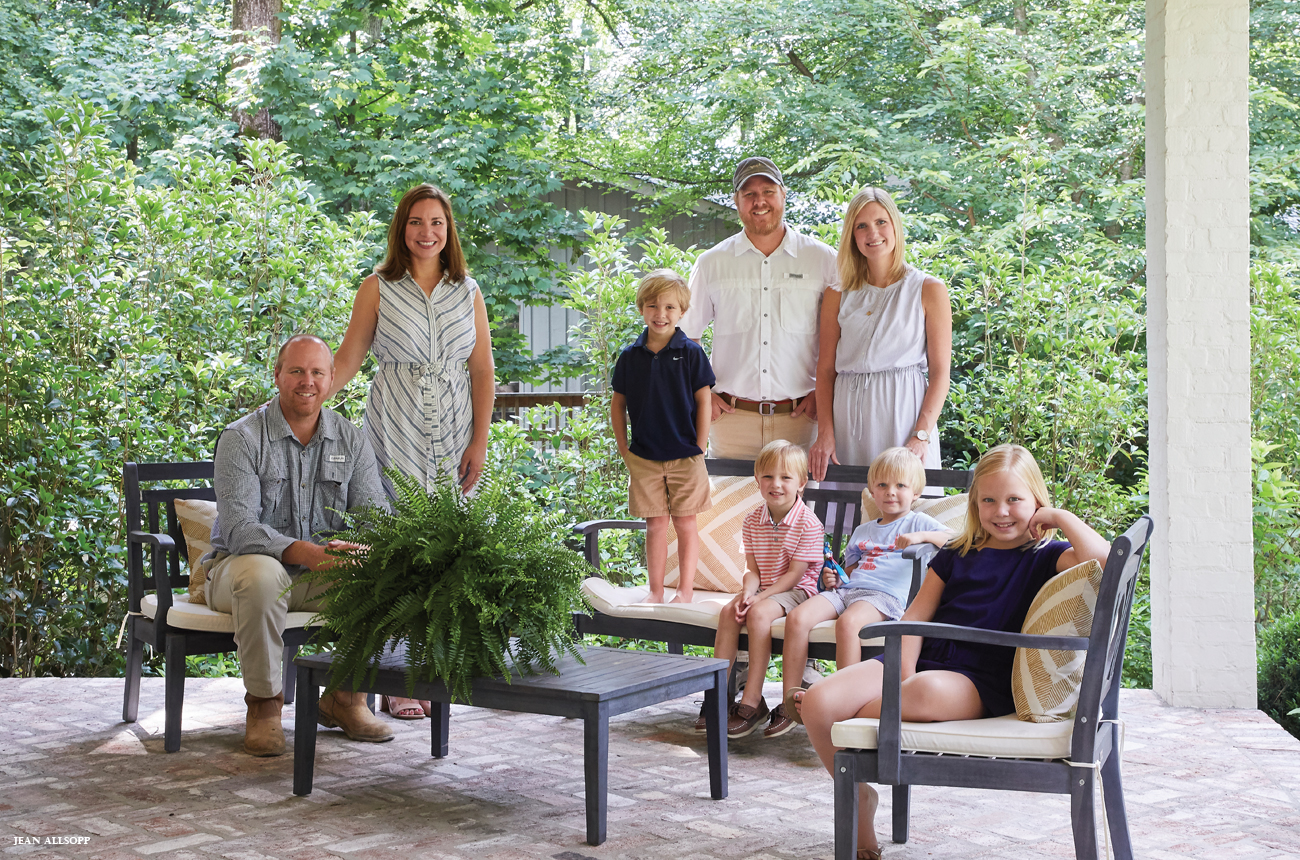 Photos by Jean Allsopp
When twin brothers Brandon and Brad Davis were fresh out of college, they followed the path to corporate America. Brandon, an insurance broker, and Brad, a CPA, put on their suits, went to their offices, and did the things they were supposed to do. As a side investment, the brothers started renovating fixer uppers and flipping houses. They began small, learning as they went. As they took on more projects, the brothers found themselves leaving their desks more and more to check in with their subcontractors and make site visits. They soon realized it was time to trade in their suits for steel-toed boots. That was 13 years ago.
For staffing, the brothers looked no further than their own wives for help. Brandon's wife Tasha is their designer, and Brad's wife Lauren is the bookkeeper. The team credits their success to smart, well-timed decisions and some lucrative projects in neighborhoods near Overton Park. "That area of Mountain Brook still has so much opportunity for renovations and new construction, " Brandon says. "We have actually been able to find a few empty lots along the way."
Long talked about by real estate agents as the next big thing, the neighborhood was ripe for some excitement, and the Davises decided to jump in. They purchased a teardown on the corner of Halbrook Lane and Overton Road and began construction in 2014. "We built two houses on that corner, and the visibility that came with those homes is really what got us going, " says Brad.  "Sometimes you have to bring the vision."
While the Davises do work all across the city, it's the wooded and windy hillside off Overton Road that they call home. The brothers and their families both live in the area, having renovated and built four homes between them. "We like it. The lots are big, there's plenty of privacy, and our family is right around the corner, " Tasha says. Adds Brandon, "We want to raise the bar and raise the ceiling in this neighborhood.Sometimes you have to be willing to start something yourself to give other people the confidence to jump in."
Working with local architects for each project, the Davis family has created a custom home-design business that is making neighbors cheer. "We drive by these houses every day coming and going from our own homes, " says Brad. "We want something nice to look at too."
Lauren and Brad's Home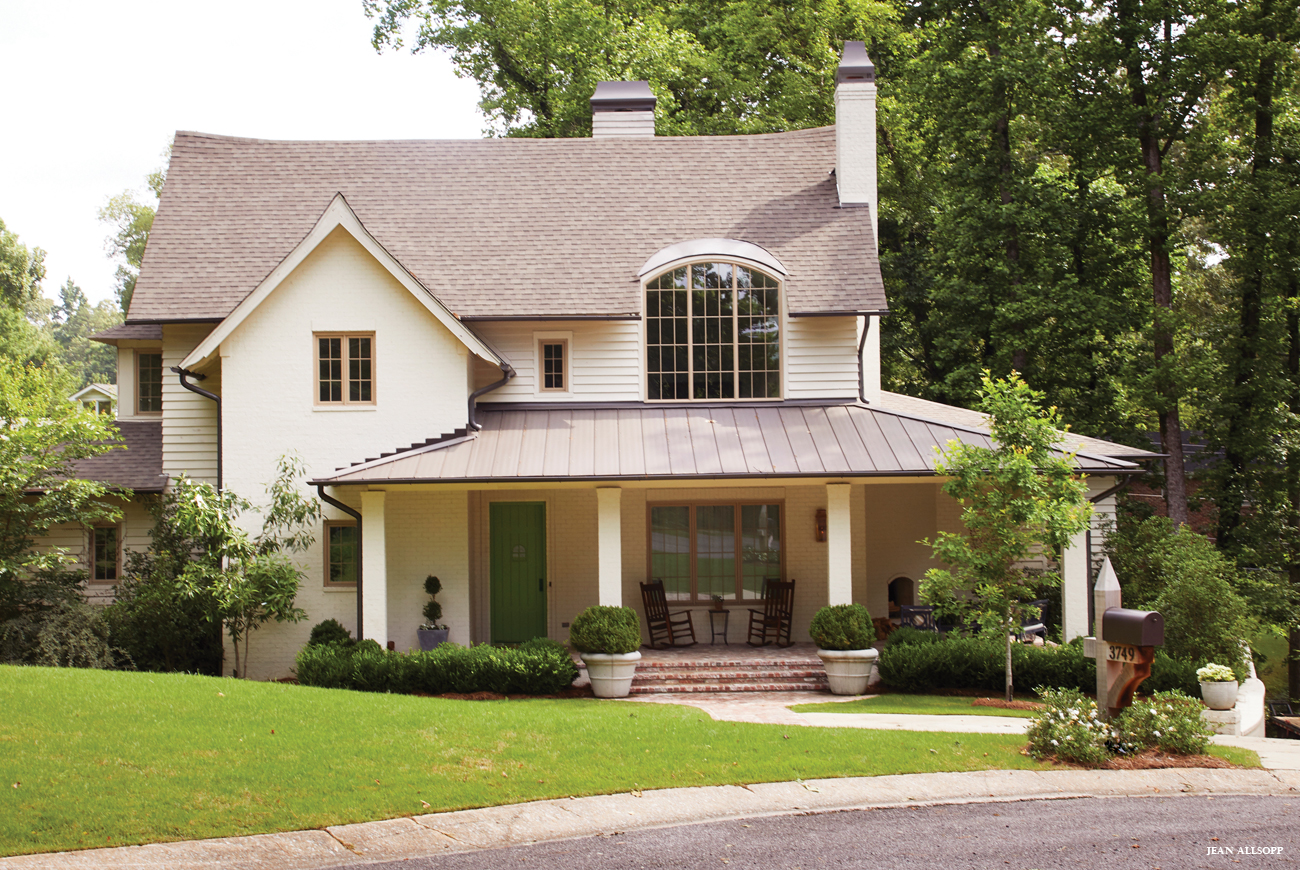 Gathering spots are key to family living. At Lauren and Brad's home, an expansive front porch is situated with plentiful seating and a corner fireplace.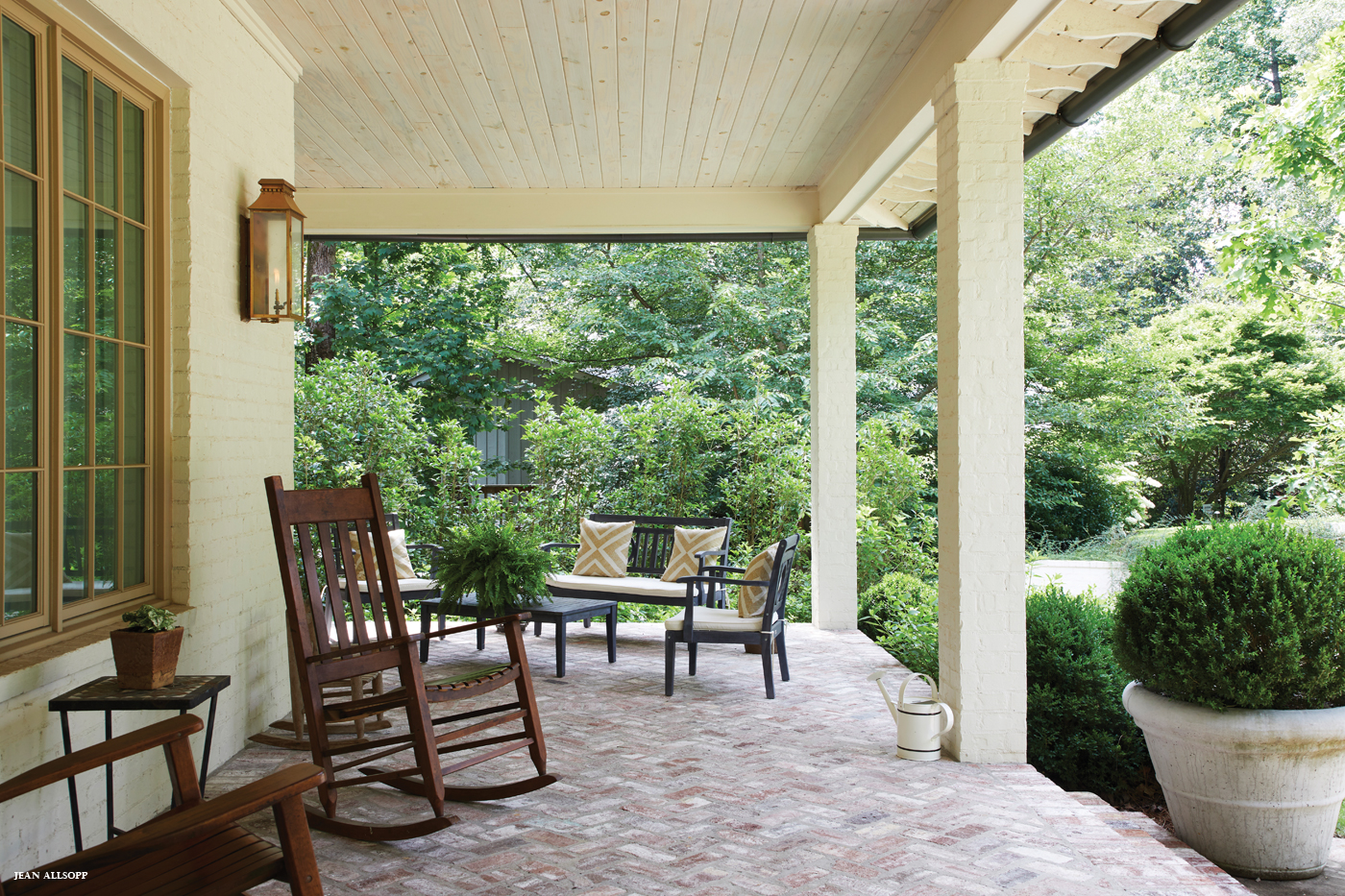 "We want to raise the bar and raise the ceiling in this neighborhood. Sometimes you have to be willing to start something yourself to give other people the confidence to jump in." — Brandon Davis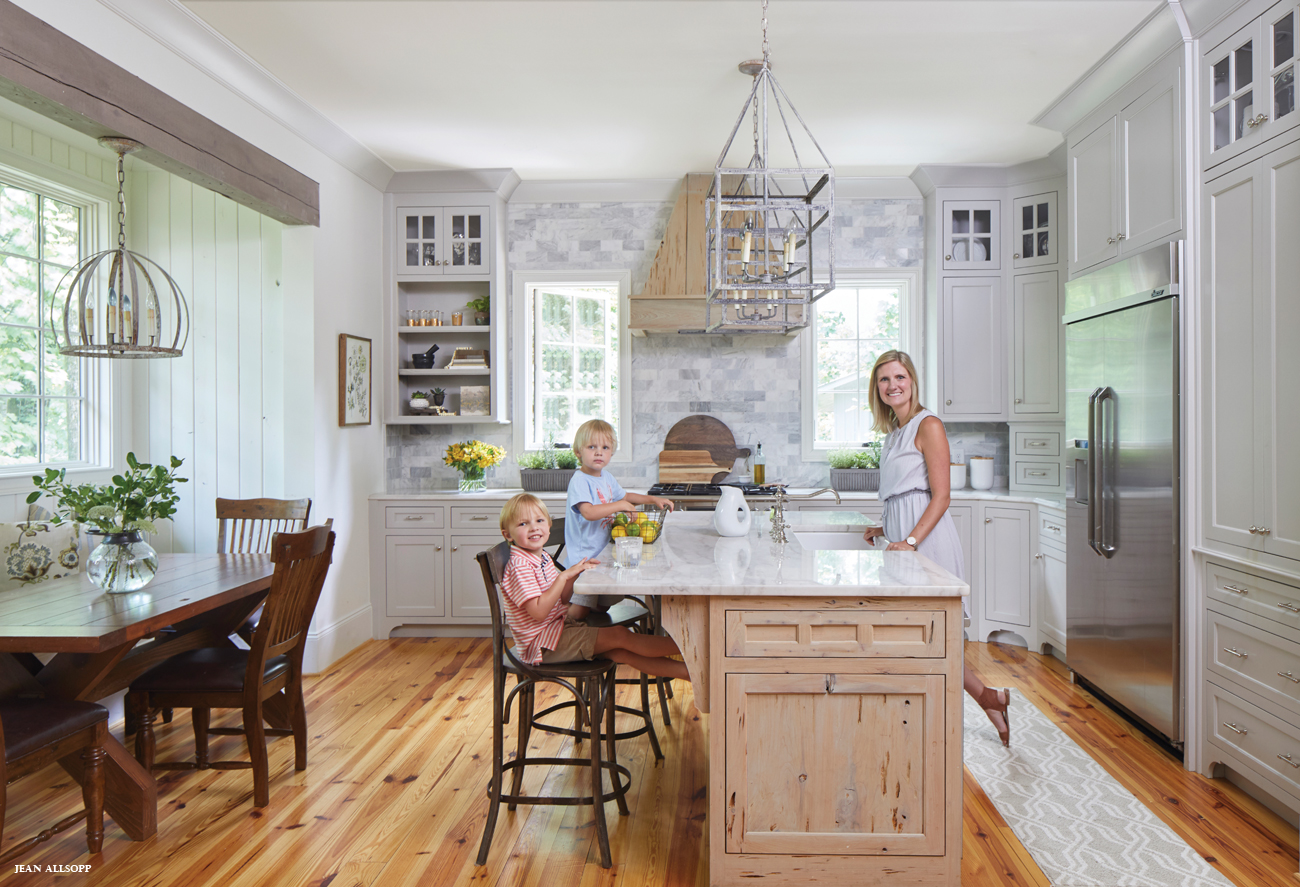 Lauren and Brad's kitchen showcases the team's commitment to creating individual style. Here, a pecky cypress island, heart pine floors, and a custom table from Evolutia combine with classic white cabinets and a Carrara tile backsplash for modern farmhouse appeal.
Tasha and Brandon's Home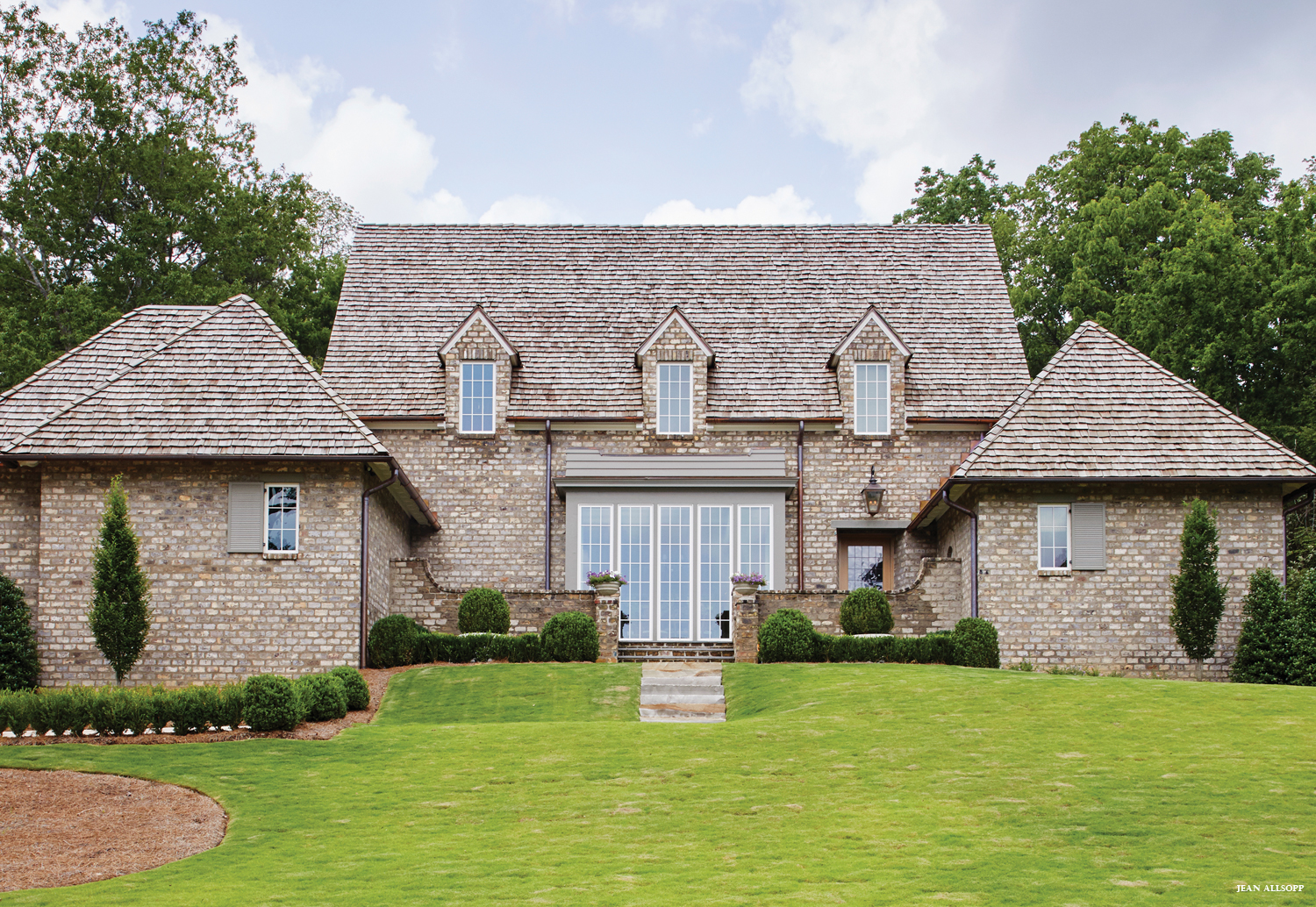 Tasha and Brandon tore down a tired house, replacing it with a new, two-story home and pool. Bluestone pavers from Triton Stone, Bessemer gray brick salvaged from the old house, dormers, a cedar shake roof from FireRock, and copper gutters give instant character—something the Davises strive for in all of their builds.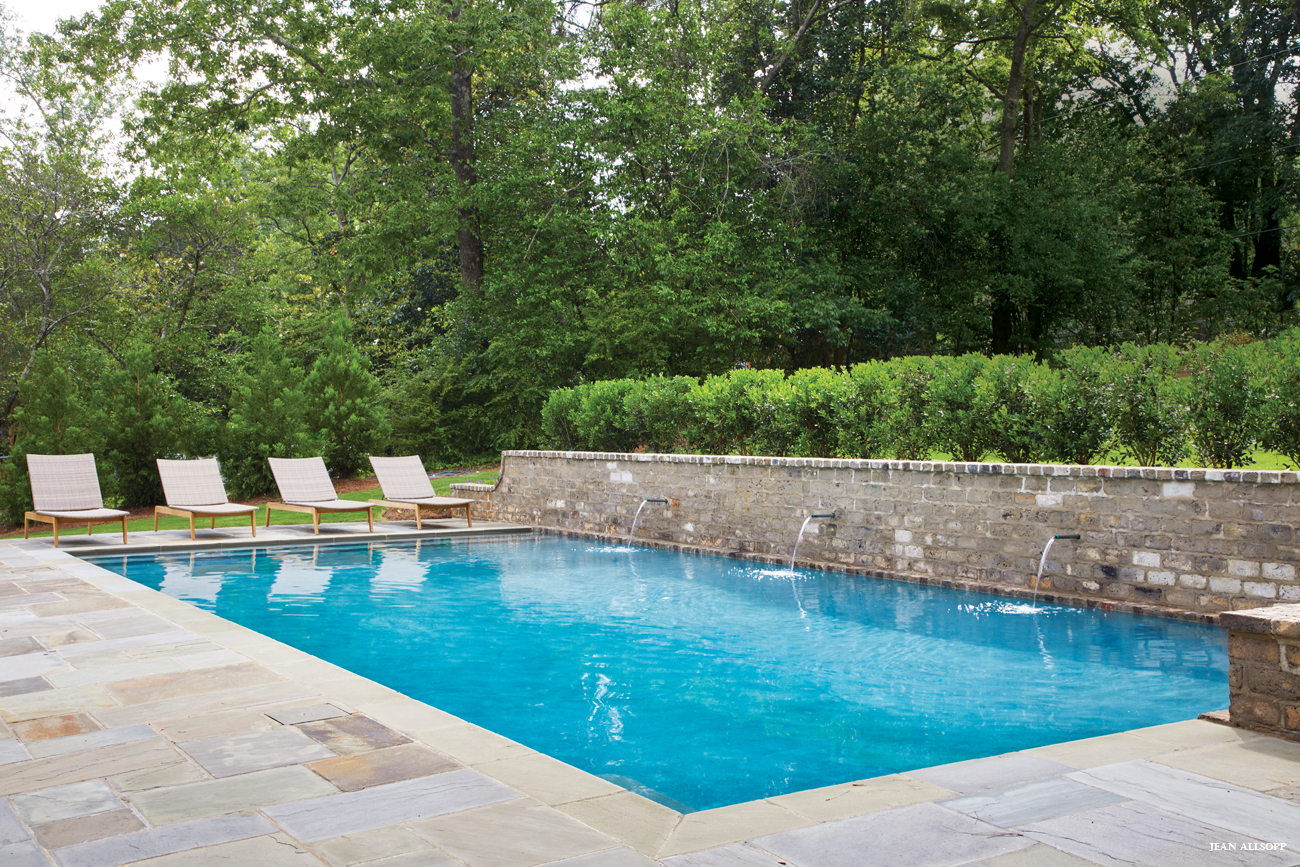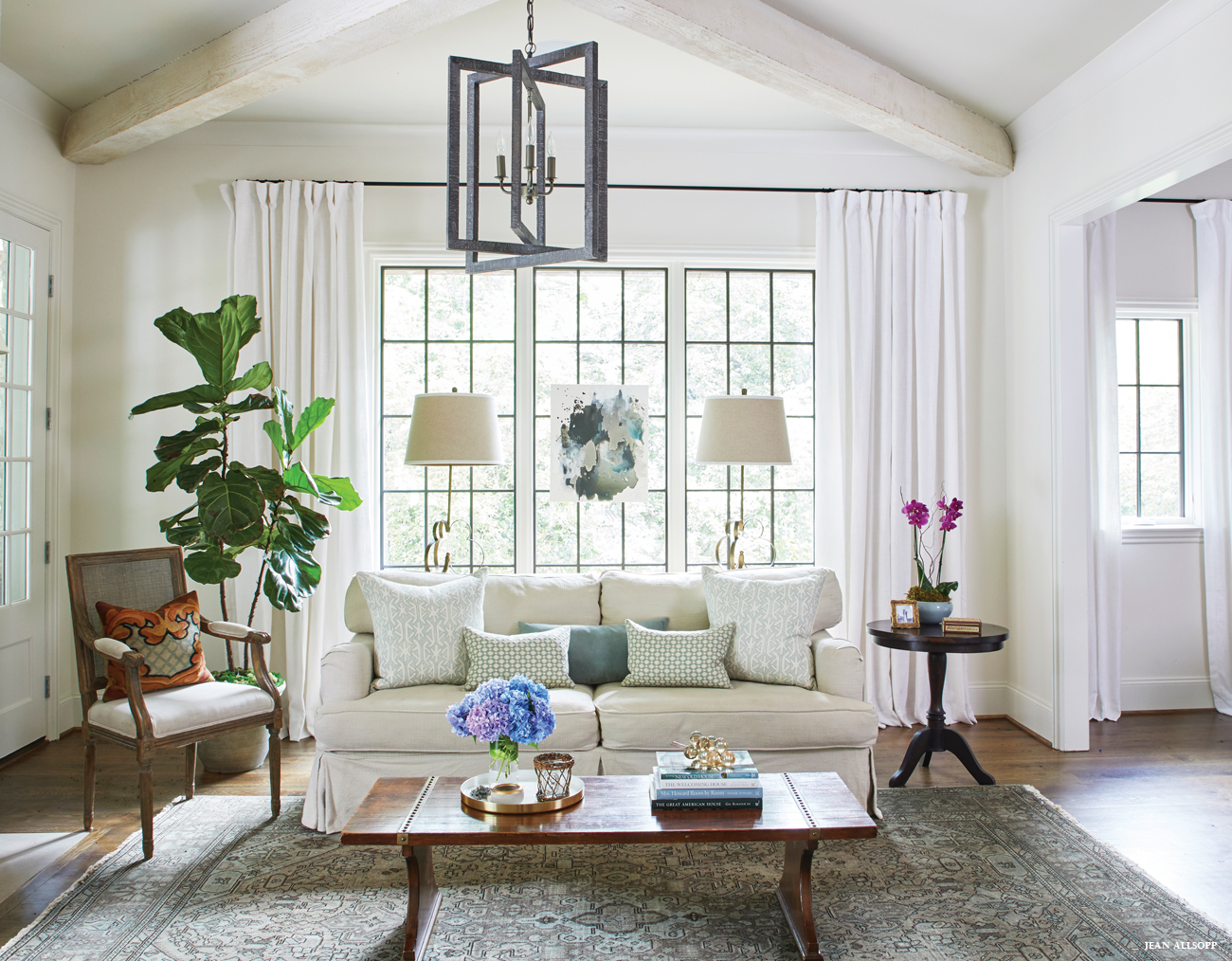 The living room opens onto a covered porch and outdoor fireplace for casual afternoon gatherings.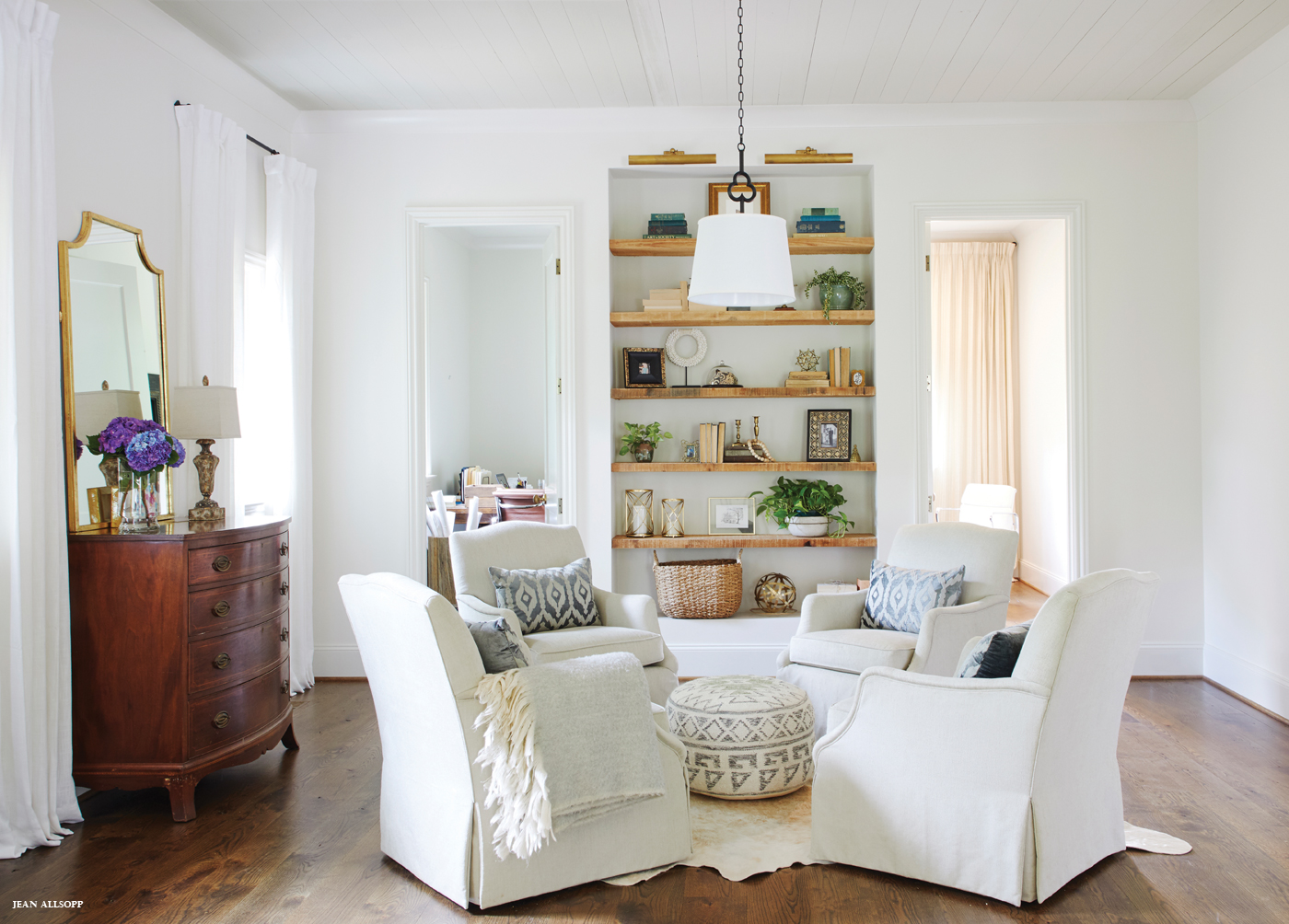 Tasha and Brandon maintain home offices. Open doorways show his office (left) and her office (right). A center workroom behind the bookcase houses a shared copier, filing cabinets, and office supplies. "Having a home office is great with young kids, " Tasha says. "It's also a good way to keep business overhead low."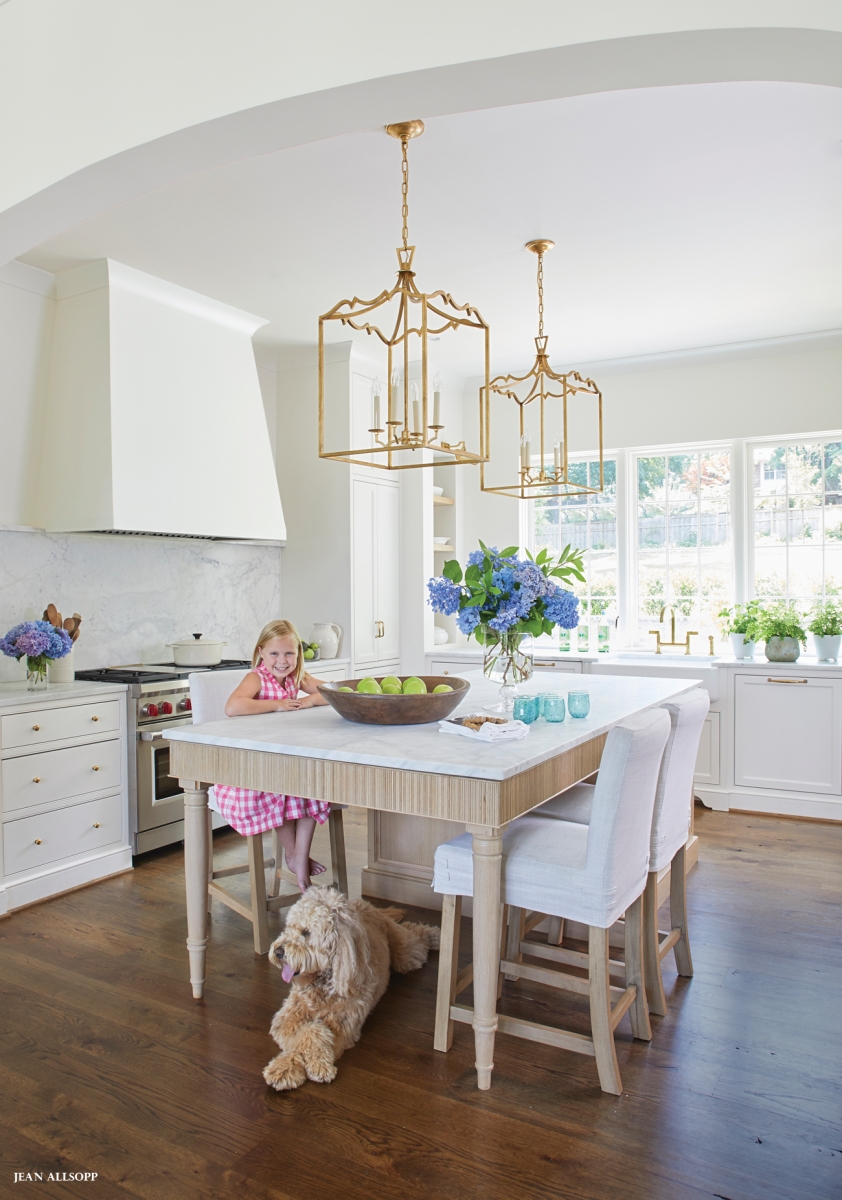 Tasha and Brandon's home is more transitional in style with its lantern pendants, fluted island, and crisp hood above the range. The expansive kitchen window overlooks a pool in the backyard that welcomes all of the Davises.
Resources
Construction and Interiors: Davis Construction Services, davisconstructionservicesllc.com Landscaping: Brent Donaldson, Donaldson Landscape & Design, 205.337.2473, donaldsonlandscape.com Tasha and Brandon's Home: Kitchen cabinets: Hamm's Custom Woodworks, 256.232.1924 Hardware and Appliances: Ferguson Bath, Kitchen & Lighting Gallery, ferguson.com Countertops: Surface One, surface1.com Glassware on island: Micah Simpson, Alabama Hot Glass, alabamahotglass.com Art: Wellon Bridgers (living room), IG: wellonart, and Renée Bouchon (kitchen), reneebouchon.com Casement windows: Southern Sash Supply, southernsash.com, 334.265.3521 Pool service: Kelco Service, LLC, 205.447.4598 Lauren and Brad's Home: Kitchen cabinets: Wentzell Cabinets, wentzellcabinets.com Countertops: Premier Surfaces, premiersurfaces.com