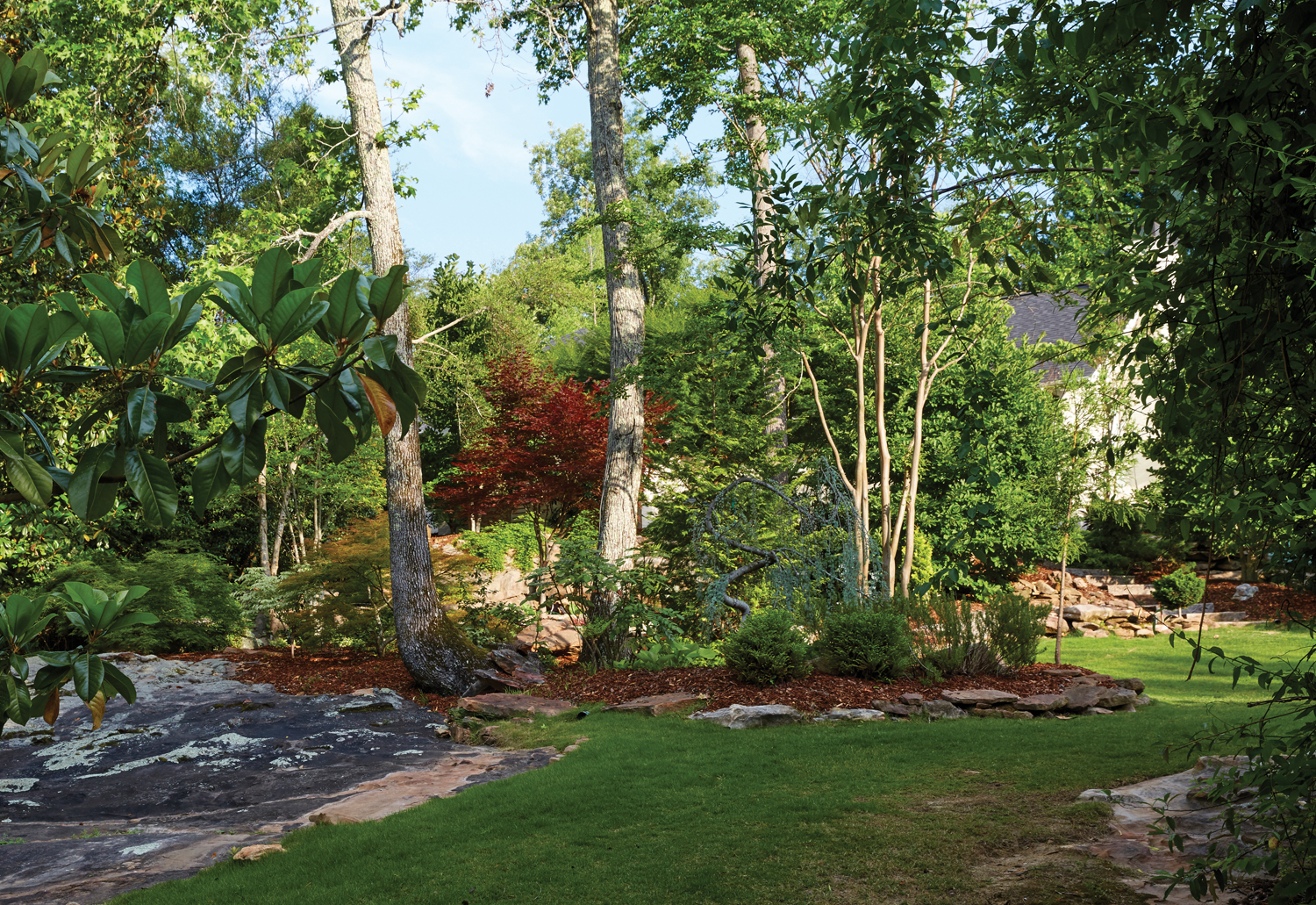 As spring's tender green shoots mature into the richer hues that signal early summer, one corner lot in the Cherokee Bend neighborhood, sheltered by trees and shrubs, might seem as conventional as the next. It takes only a turn into the drive to dispel that impression. This two-acre expanse defies convention with an abundance of expressive color and texture, combining native flora with the exotic to establish a tableau of contrasts.
"We call it Botanical Gardens 2, " says Jonathan Brown of Deep Roots Landscaping. He has worked with homeowner John Cowin for more than nine years in carving patches of green amid the rolling edifices of rock and adding the remarkable elements that establish the unique gardenscape.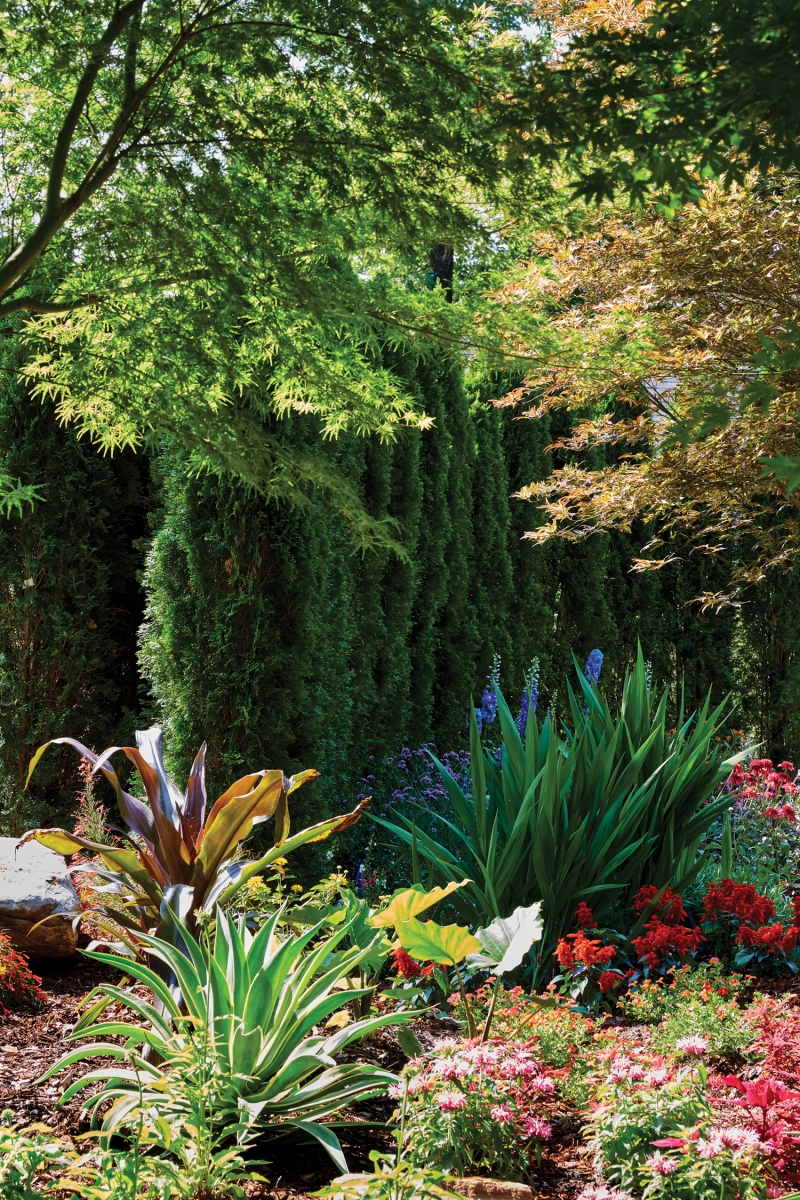 ABOVE A showy display of summer color complements the red hues of Japanese maples and a darker backdrop of evergreens.
Jonathan, a forester-turned-landscaper, initially helped John battle privet hedges and tame cherry laurels before harnessing two natural springs on the property, routing them into ponds, and creating a habitat for placid water lilies and a variety of frogs. The property includes eucalyptus, five varieties of palm trees, and three Merrill trees that showcase their waxy, fragrant white blooms in winter. They share their habitat with rare forms of native mountain oak, a century-old Hawthorn, a topiary blue spruce, and a determined black pine holding its own among the rocks.
John's tours of botanical gardens the world over have acquainted him with varieties he wants to see in his own yard, and he "has a real infatuation with plants, " according to Jonathan. The homeowner comes by his love of plants organically from his godfather, Beatty Hanna. The renowned gardener, who made his mark on the city's topography, took John along on jaunts into the woods or to old home sites to dig up trees. "He could name the genus, phylum, and kingdom of every weed, plant, and tree in the woods, " John says. "He was an amazing man."
On Jonathan's team in tending the landscape is Chris Gooden, who has helped install many of the maple trees, including Seiryu, Viridis, Oshio-Beni, and a standout translucent Fireglow Japanese maple shading a double pond. Former Auburn coach Pat Dye, who now owns Quail Hollow Gardens in Notasulga, Alabama, procured some of these showpieces, such as a coveted 80-year-old Japanese weeping maple, which required Herculean effort to safely ground its 8, 000-pound root ball. The coach himself often shows up with pruners to check on the trees he treasures.
Jonathan has chosen several tree specimens for their unique shapes or advanced age, which establish them as collector's trophies. Native plants, such as orange azaleas, mix with silvery eucalyptus trees more at home in Australia, as well as tropical palms and fragrant orange trees in planters. Daphne, a small winter-flowering shrub, redolent with sweetness, shares space with spiky agave, fruitful banana plants, and tropical windmill palms. "We're pushing the envelope on getting these plants to grow here, " Jonathan says. "Soil depth is a problem, so we have to do a lot of raised beds. With the springs and the rock, this is not your typical yard to landscape."
Despite the many challenges, the landscaper is quick to add that the overall project has been a lot of fun. "I am grateful to be working with John, who is full of creativity and likes to think outside the box."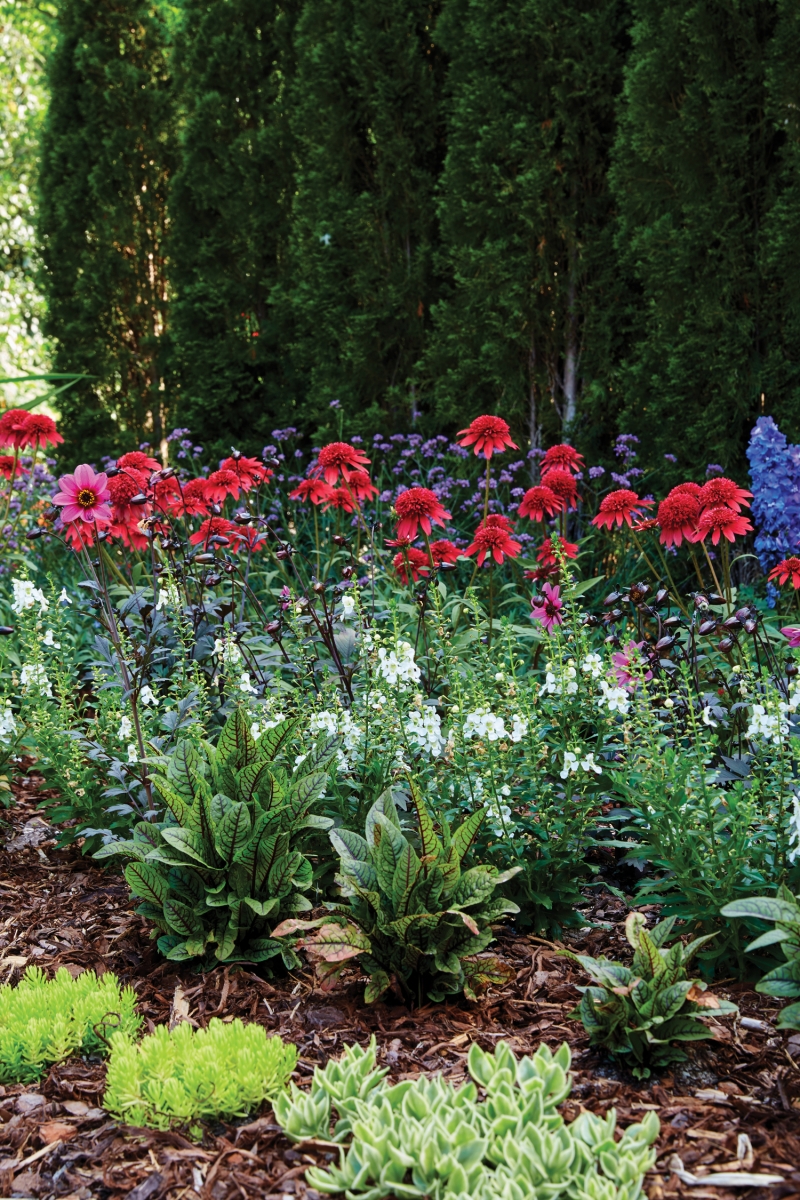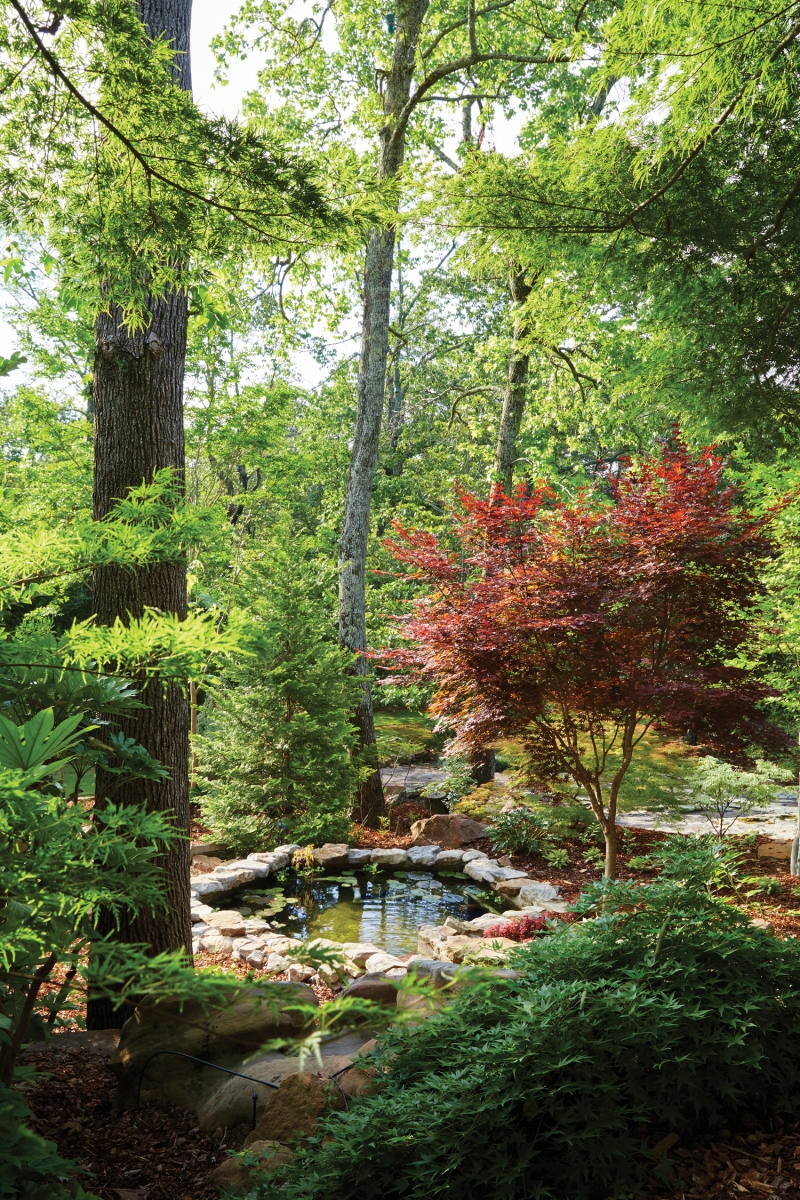 ABOVE LEFT Emerald arborvitae trees are a verdant backdrop for blue vervain, blue delphiniums, pink dahlias, red double coneflowers, and white Angelonia.
ABOVE RIGHT This pond, sheltered by old-growth trees and a translucent maple, was created from rock excavated in the landscaping process.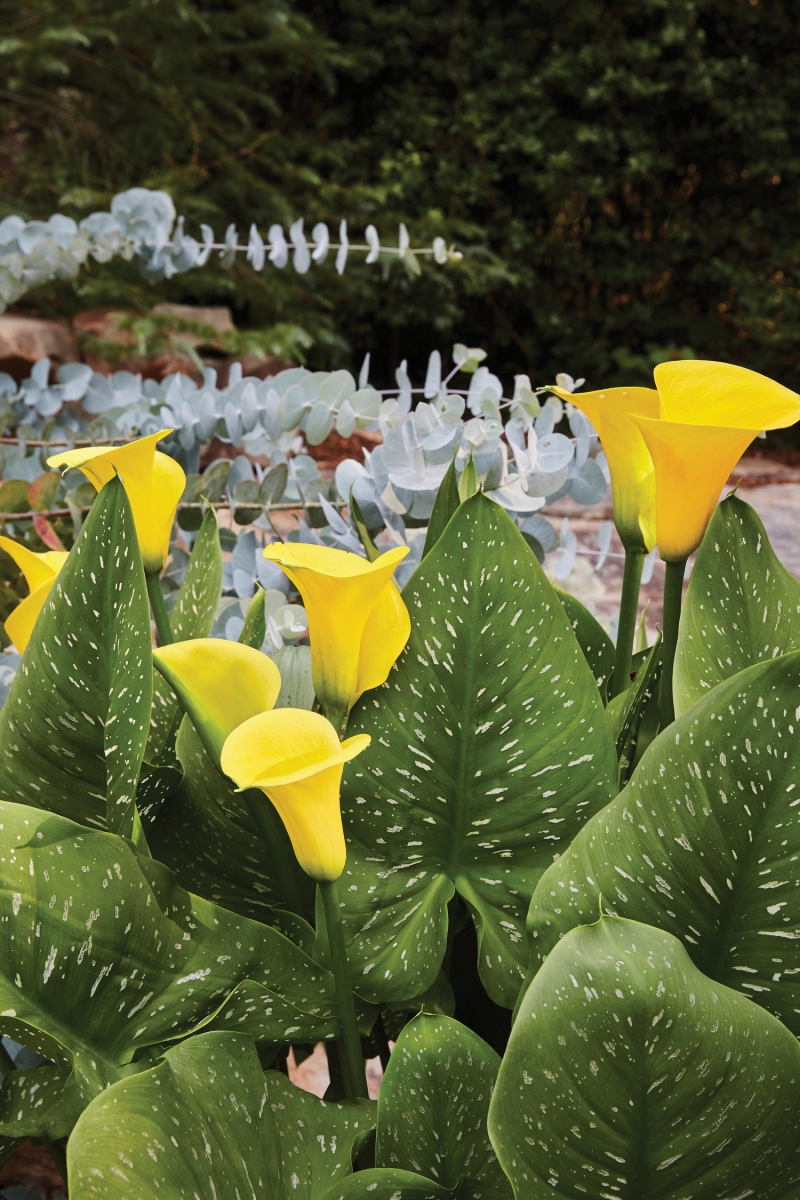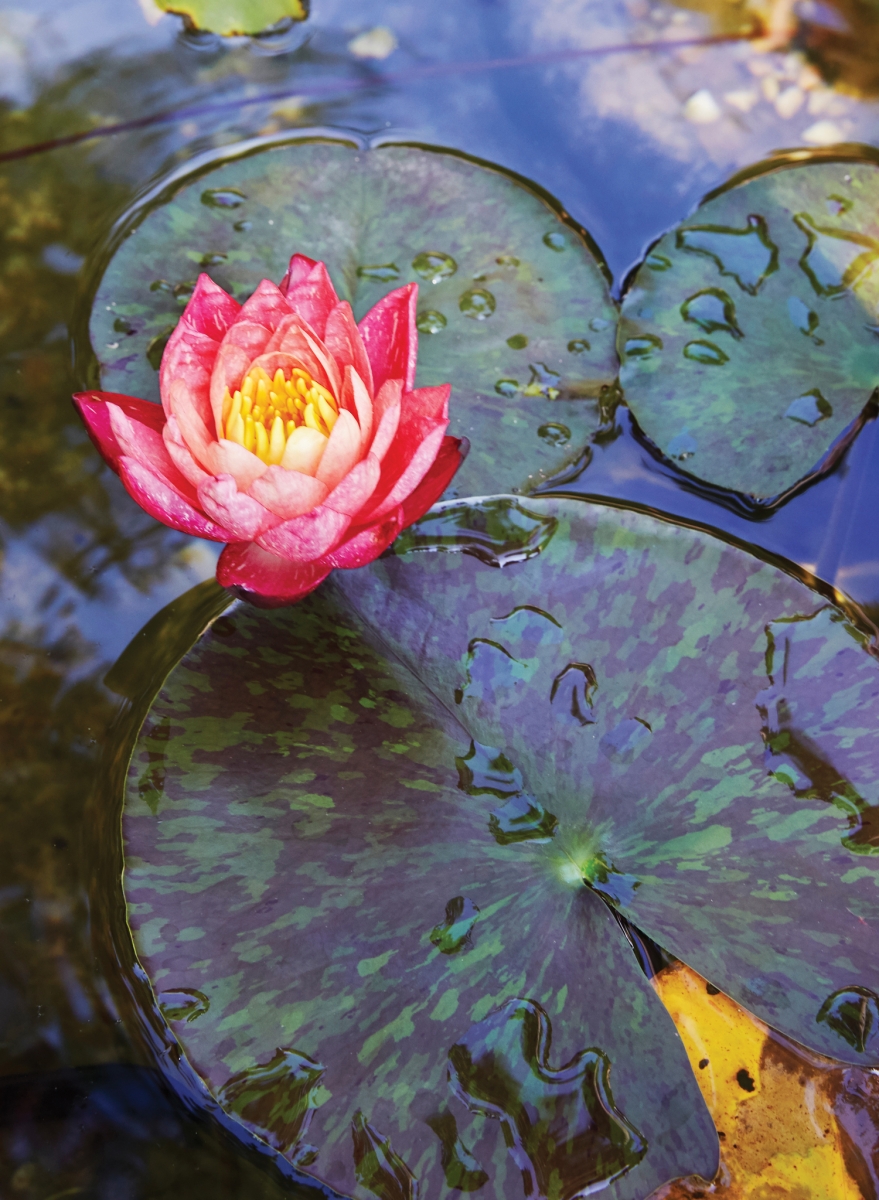 ABOVE LEFT Fragrant silvery eucalyptus leaves stretch behind the variegated leaves of yellow calla lilies.
ABOVE RIGHT Natural springs on the property feed ponds where lilies provide a stage for the frogs that sing their nighttime melodies.
---
Photography by Jean Allsopp