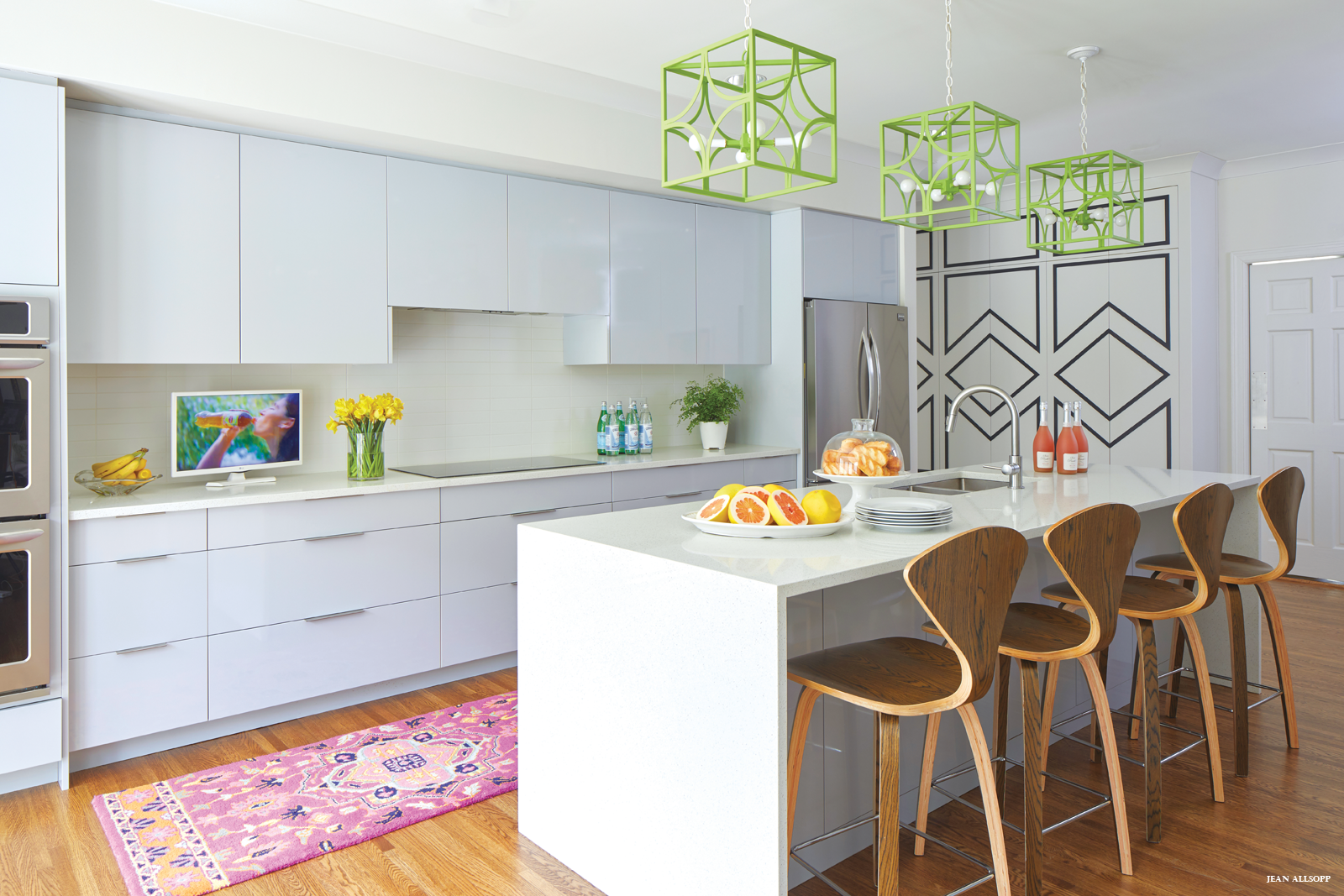 ABOVE Sleek new cabinets (finished in auto paint), reallocation of appliances, and a new center island make the kitchen fun and more functional.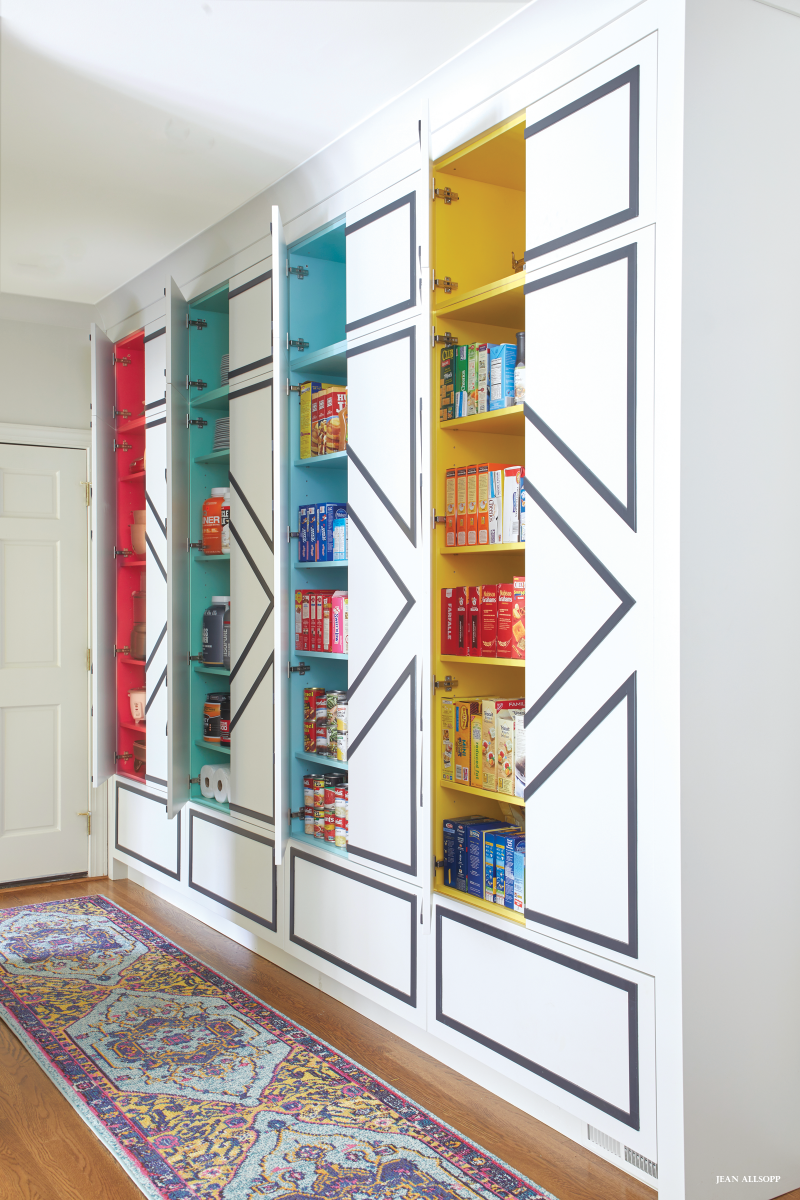 ABOVE The pantry received a facelift inside and out. A Kelly Wearstler-inspired pattern on door fronts creates a dynamic focal point.
Perrie Tomlin and her husband, Christopher, have five dogs, a college-age daughter, and two boys—make that two still-growing, athletic boys. For Perrie, that means a lot of time in the kitchen and laundry room—two outdated rooms (see photos below) that begged for a makeover. "I wanted to make them fun places to be, " Perrie says, "especially since I am in there so much."
Calling on designer Katrina Porter, Perrie shared her design loves to help harness her vision. "I'm a Lilly girl and a minimalist, " Perrie told her. She also wanted to replicate the look of her mother's shiny Formica kitchen cabinets. "When I was growing up, I always thought they were awesome, " Perrie says. And she wished to incorporate influences of her Birmingham decorator grandmother, Doris Schuler. "Yellow was her signature color, " she says. "I had saved one can of her signature mix so we could get the right color for the laundry room cabinets."
The result is a summertime vibe that's as fresh as, well, clean laundry. It's a place Perrie often finds herself, even when the chores are done. "I can close the door and hide from my kids and dogs, " she laughs. "Sometimes I like to sit in there with a glass of wine and just look at it."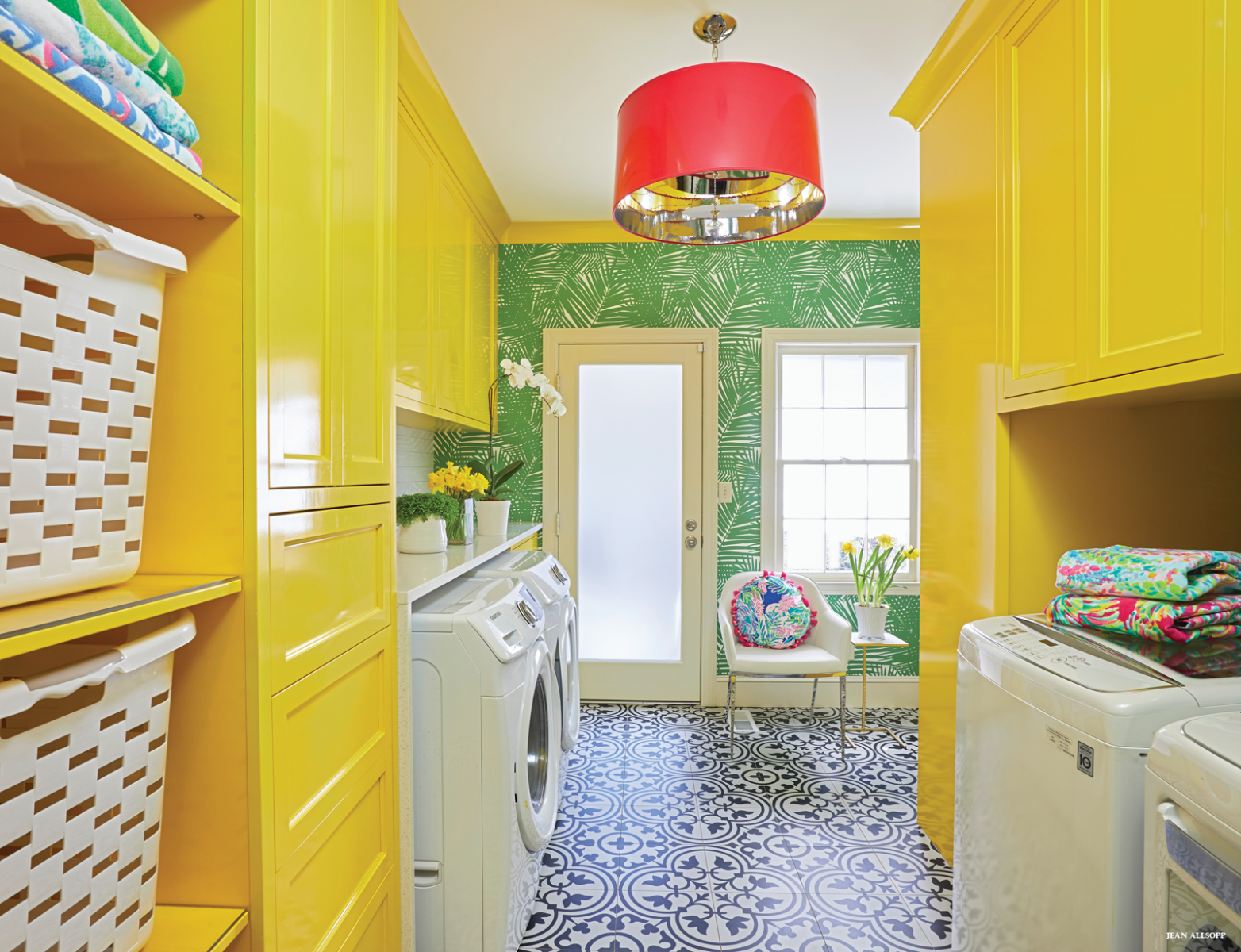 ABOVE Chores are way more fun (and easy) with vibrant yellow walls, a palm-print wallpaper, graphic floor tiles, two washer/dryer sets, and a doggie bath. The only thing missing is the drink umbrella.
---
Kitchen + Laundry Before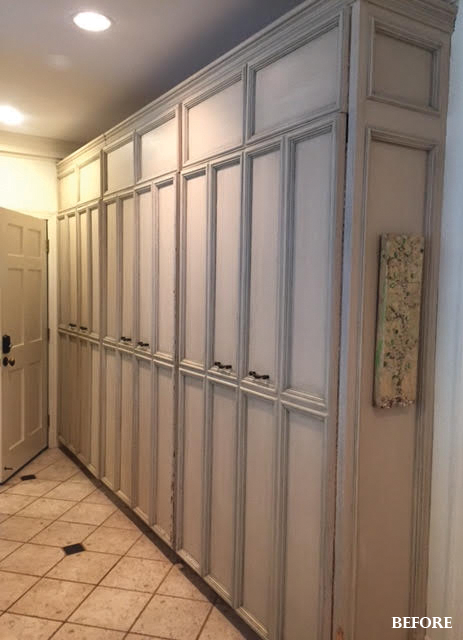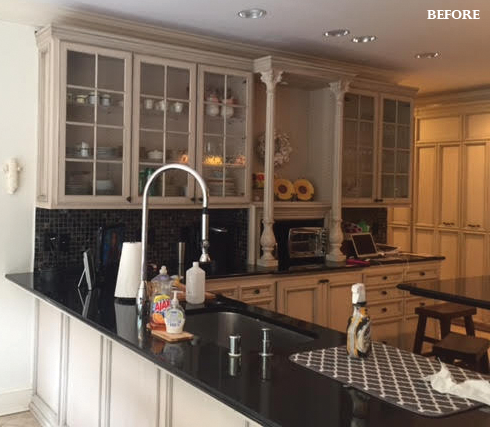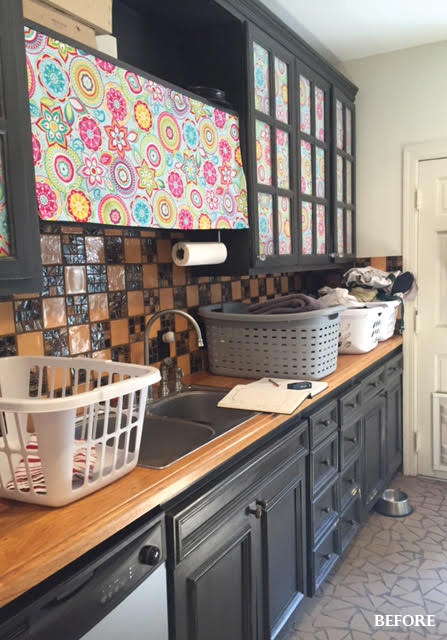 KITCHEN The awkward layout and heavy look of the cabinetry went against the owner's aesthetic. The pantry offered lots of space but little appeal. Heavy trim weighed down the cabinetry.
LAUNDRY ROOM The dark cabinets, dated tiles, and task sink were certainly serviceable, but they didn't offer Perrie the cheery work space she craved.
---
RESOURCES
Designer: Katrina Porter, Katrina Porter Designs, katrinaporterdesigns.com Builder: Slate Bargainier Building, slatebargainier.com Cabinets and touch latches: Matt Parsons, Parsons Cabinetry, mattparsonscabinetry.com Appliances: AllSouth Appliance Group, Inc. Countertops: Will Casey, Cottage Supply Company, cottagesupplycompany.com; Synergy Stone, synergystoneinc.com Backsplash: Triton Stone Group Wallpaper: Katie Kime, katiekime.com
---
Text by cathy still mcGowin // Photograpy by Jean Allsopp