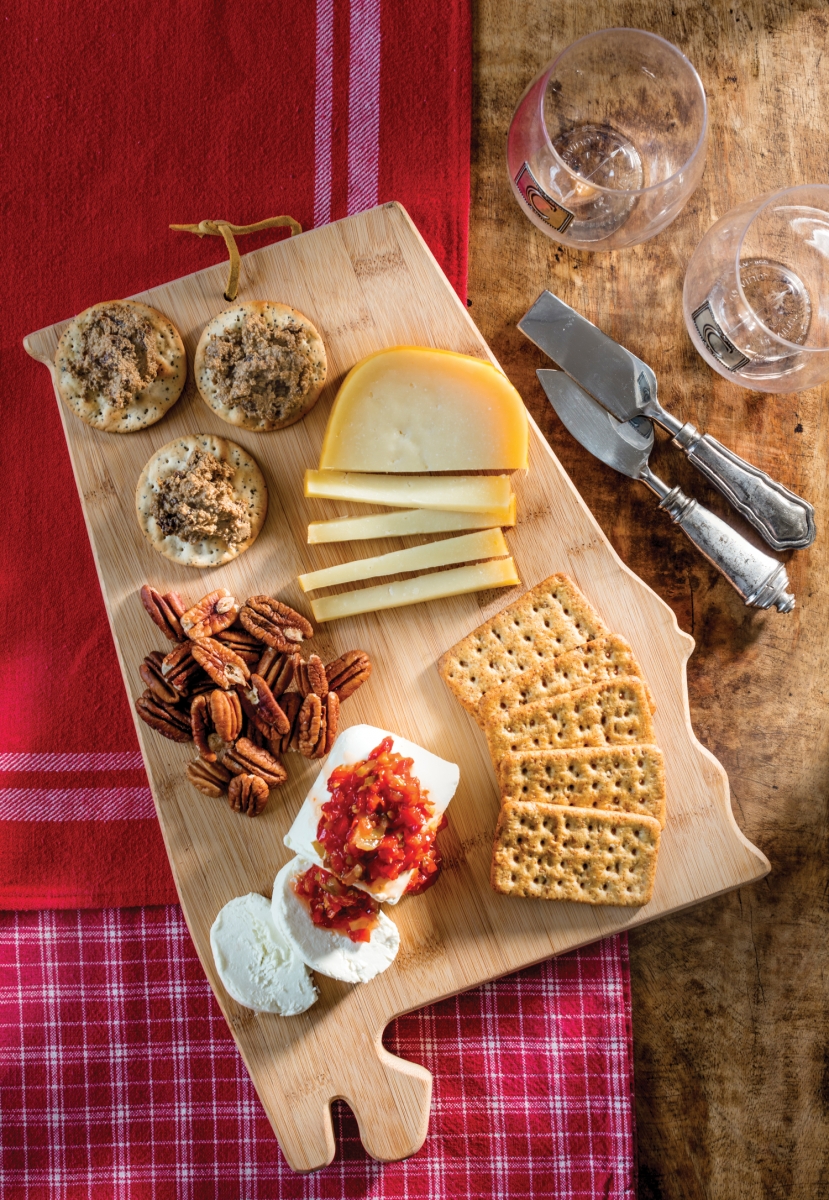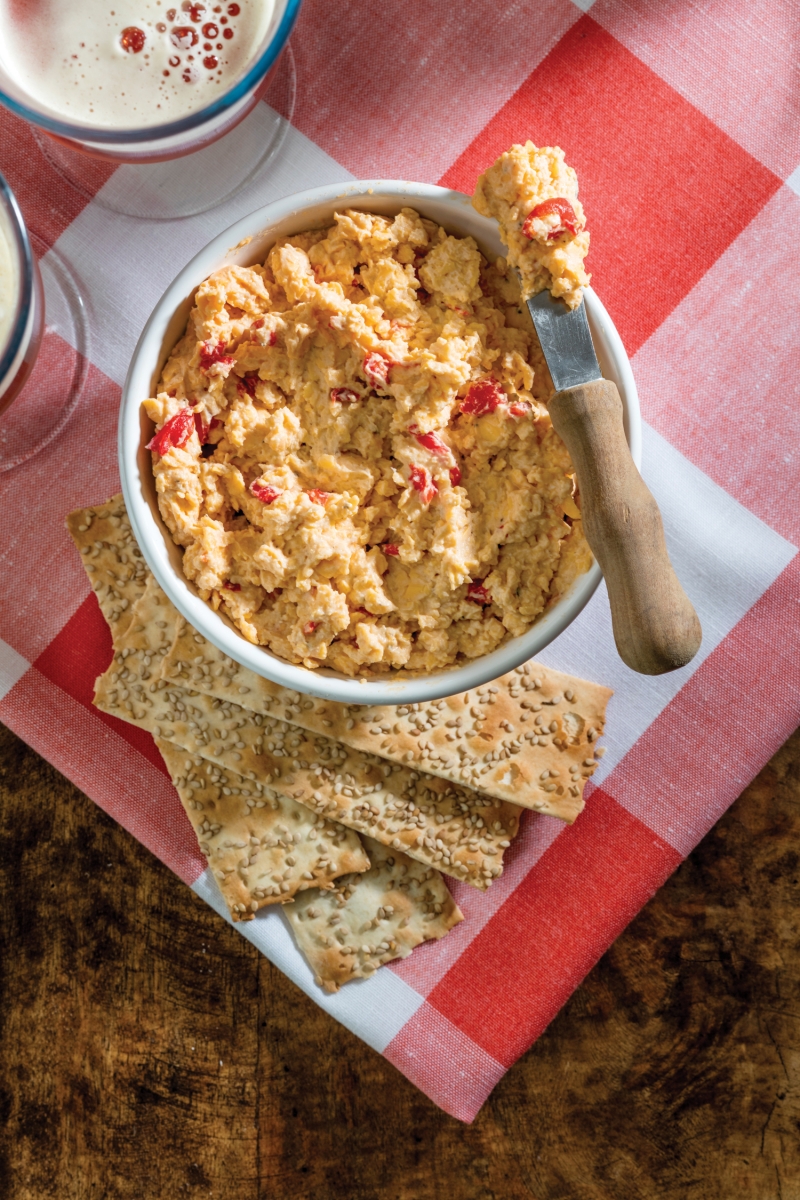 Alabama Cheese Board
For a no-cook tailgate option, create an artful display of Alabama cheeses on an Alabama-shaped wooden cutting board.
1 (11-oz.) Belle Chevre goat cheese log
½ cup Wickles spicy red sandwich spread
1 (6-oz.) jar Stone Hollow Creamery goat cheese with sundried tomato and basil
1 (4.2-oz.) wedge Dayspring Dairy sheep's milk gouda-style cheese
Assorted crackers
½ cup pecans
To serve, top log of goat cheese with about ½ cup spicy red sandwich spread. Spoon sundried tomato and basil goal cheese onto crackers. Arrange all items on cutting board. Yields 12 servings.
Pimiento Cheese
This classic spread is a must at all Southern tailgate parties.  It's better if you make it a few days ahead.
8 oz. extra-sharp Cheddar cheese, shredded
½ cup cream cheese, softened
½ cup mayonnaise
1 tsp. Worcestershire sauce
½ tsp. garlic salt
¼ tsp. freshly ground black pepper
1 (4-oz.) jar diced pimiento, drained
Combine first 6 ingredients, and stir well.  Stir in pimiento.  Cover and chill.  Serve with crackers. Yields 2 1/2 cups.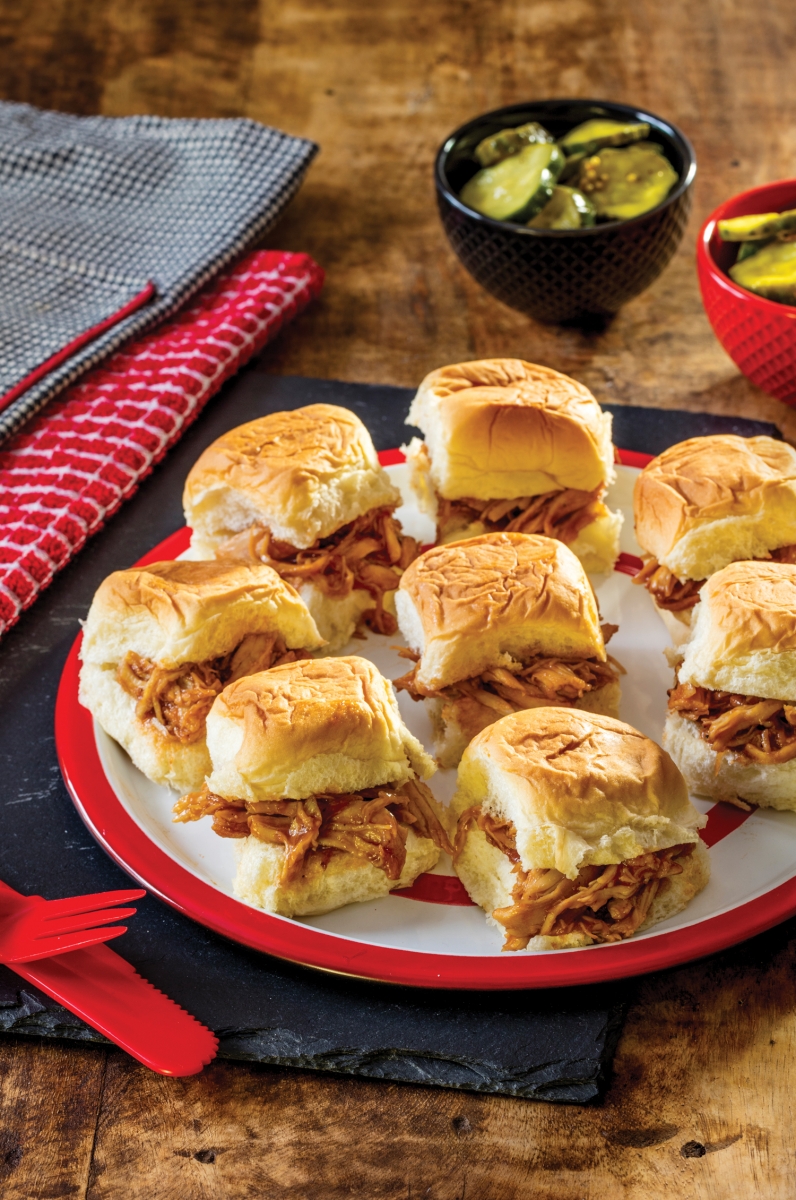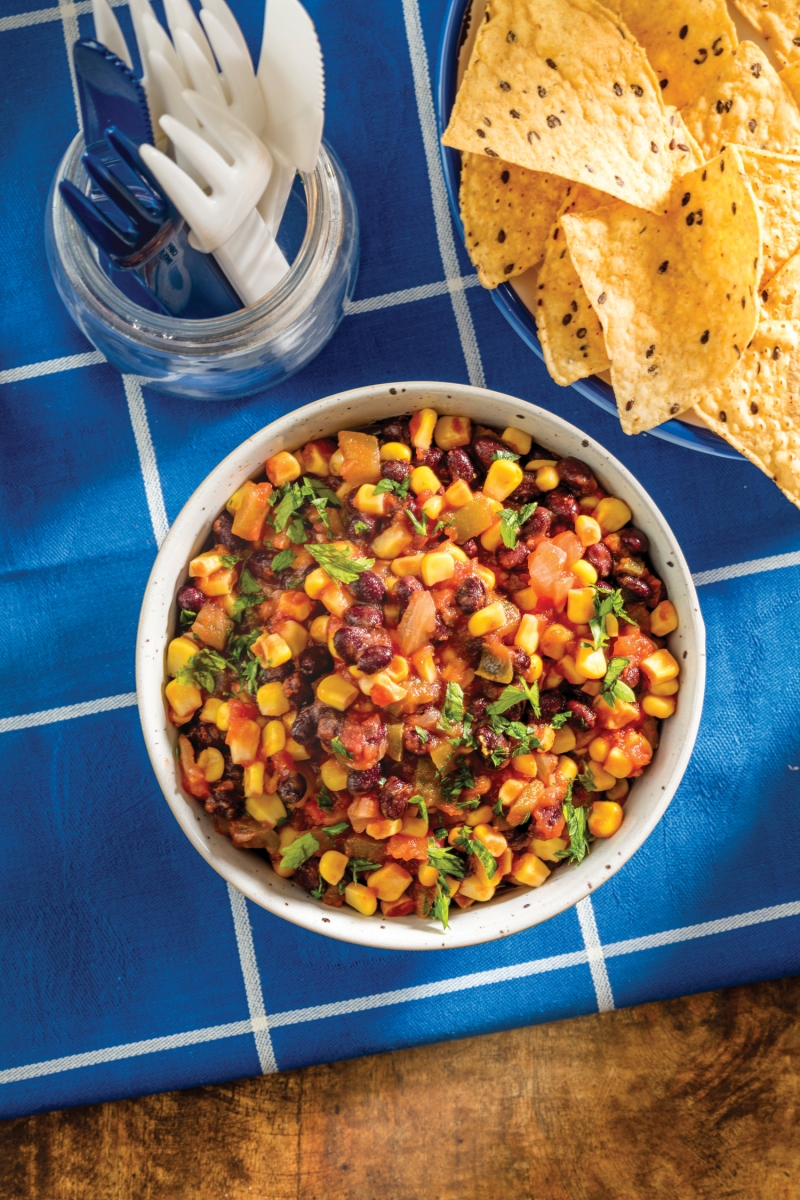 Easy Barbecue Chicken Sliders
Use rotisserie chicken and bottled barbecue sauce to make these easy mini barbecue chicken sandwiches
1 cup traditional barbecue sauce
1 Tbsp. cider vinegar
1 tsp. spicy mustard
½ tsp. ground cumin
½ tsp. garlic salt
2 cups shredded, skinless boneless rotisserie chicken breast
1 (12-oz.) package Hawaiian sweet rolls
12 bread-and-butter pickle chips
Combine barbecue sauce and next 4 ingredients in a medium saucepan, and cook over medium heat until mixture comes to a simmer.  Add chicken, and stir well.  Cook until thoroughly heated. Spoon about 2-3 tablespoons of chicken onto the bottom half of each roll. Top with a pickle and top half of roll. Yields 12 sandwiches.
Easy Black Bean-and-Corn Salsa
You can make this easy 5-ingredient dip in about 5 minutes with items you may already have in your pantry.
1 (15.5-oz.) can black beans, rinsed and drained
1 (15.25-oz.) can whole-kernel corn, drained
1 (16-oz.) jar chunky salsa
2 Tbsp. fresh lime juice
2 Tbsp. chopped fresh cilantro
Combine all ingredients in a large bowl, and stir to combine.  Cover and chill until ready to serve.  Serve with tortilla chips. Yields 4 cups.
Photography by Art Meripol