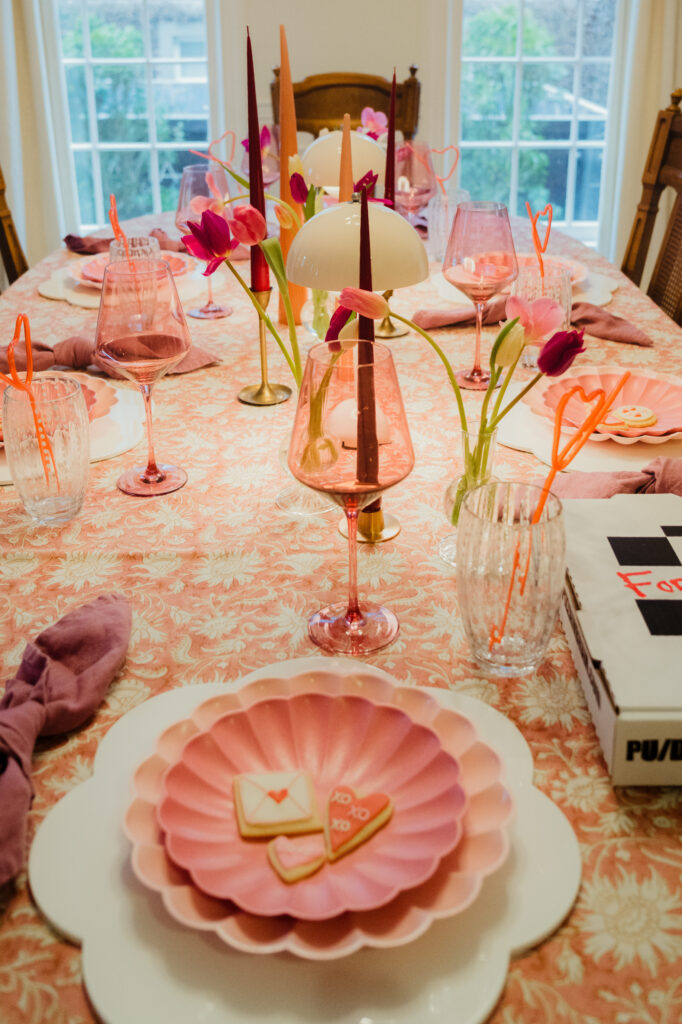 Where do you find your styling props?
I'm always on the hunt! Part of why I love to travel is to look for new and interesting items to use! However, we are very lucky in Birmingham to have so many great local stores to pull from.
What 3 items should every good tablescape have?
1. LIGHTING! Whether you put lights on a dimmer or use candles, lighting sets the mood! Lately, I'm loving cordless lamps. They are unique and it makes clean-up easy!
2. A touch of pattern: This can be in the tablecloth, napkins, plates, etc. It just makes the table a little more interesting.
3. Something slightly unexpected: Maybe it's a different way you folded the napkin, or something casual you mix in with more formal items. As long as the pieces share a common thread like color or texture, mixing in at least one playful/unexpected element makes a tablescape more interesting. Here we knotted the napkins and added in the lamps for some fun.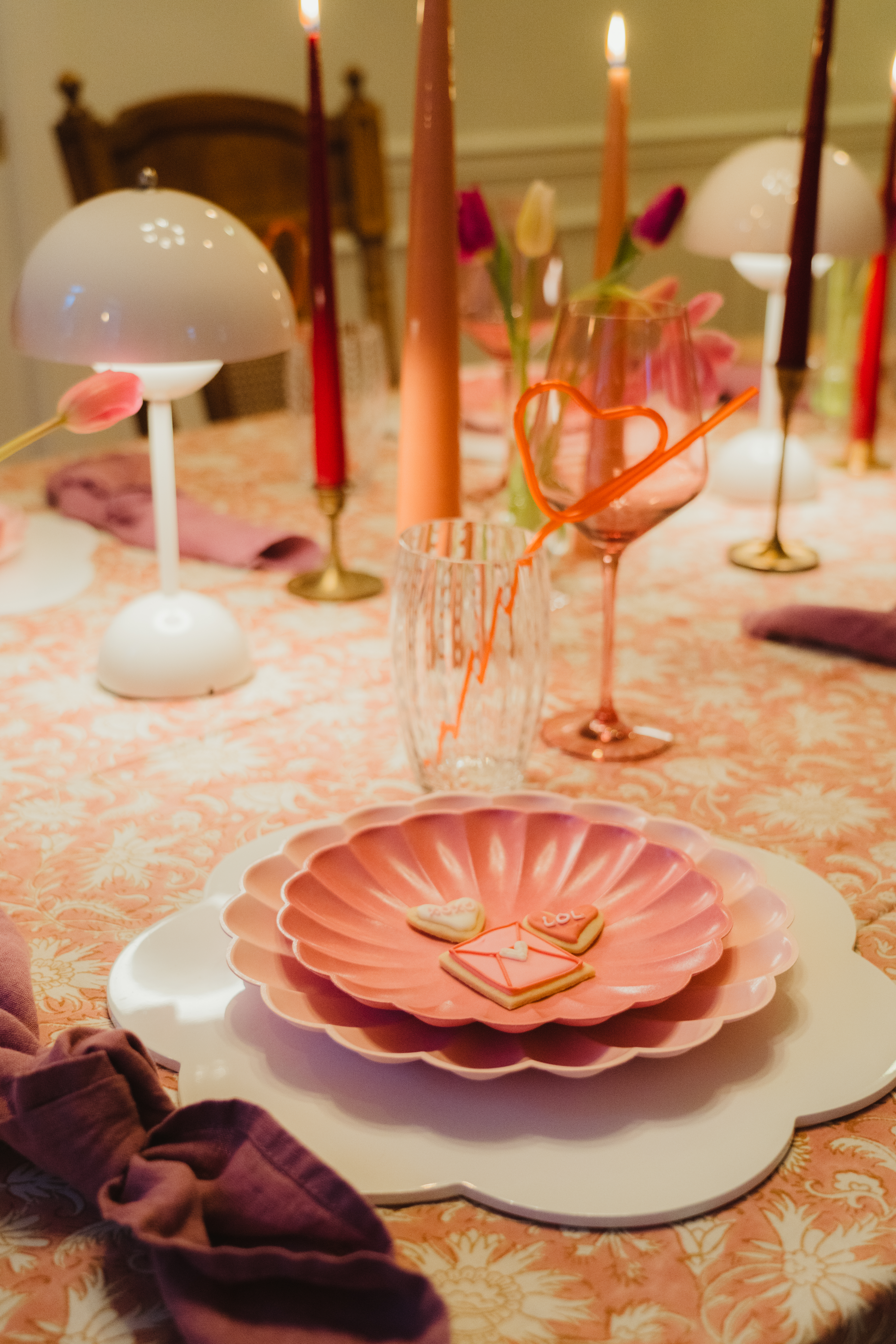 What is a must-have for every dinner party?
Music! A great playlist is a must! No one likes an awkward silence!
How do you keep a dinner party from breaking the bank?
It never fails, I usually end up buying something new whenever I host, whether it be a tablecloth, glassware, or napkins. If you invest in some great plates, you can easily change up the napkins, salad plates, or add fun candles to make it different every time. It's kind of like buying a nice sofa and seasonally changing out the pillows.
I'm also notorious for hosting and styling a beautiful table, but then ordering pizza. It's a money saver that everyone loves and allows me to be present instead of worrying about cooking! I'd rather fuss over the way I set the table than be stuck in the kitchen when my guests arrive!
How do you make sure a dinner party isn't stuffy?
I always like to have a glass of wine or cocktail in hand when my guests arrive. People respond to your mood, if I'm relaxed, so is everyone else.
What is the best way to send invitations – Evite? Text? Printed?
I will always love a printed invitation but I don't think there is anything wrong with an evite or text! Most of the time, I just send out a mass text because let's face it, life is busy, and I'd rather do that than nothing!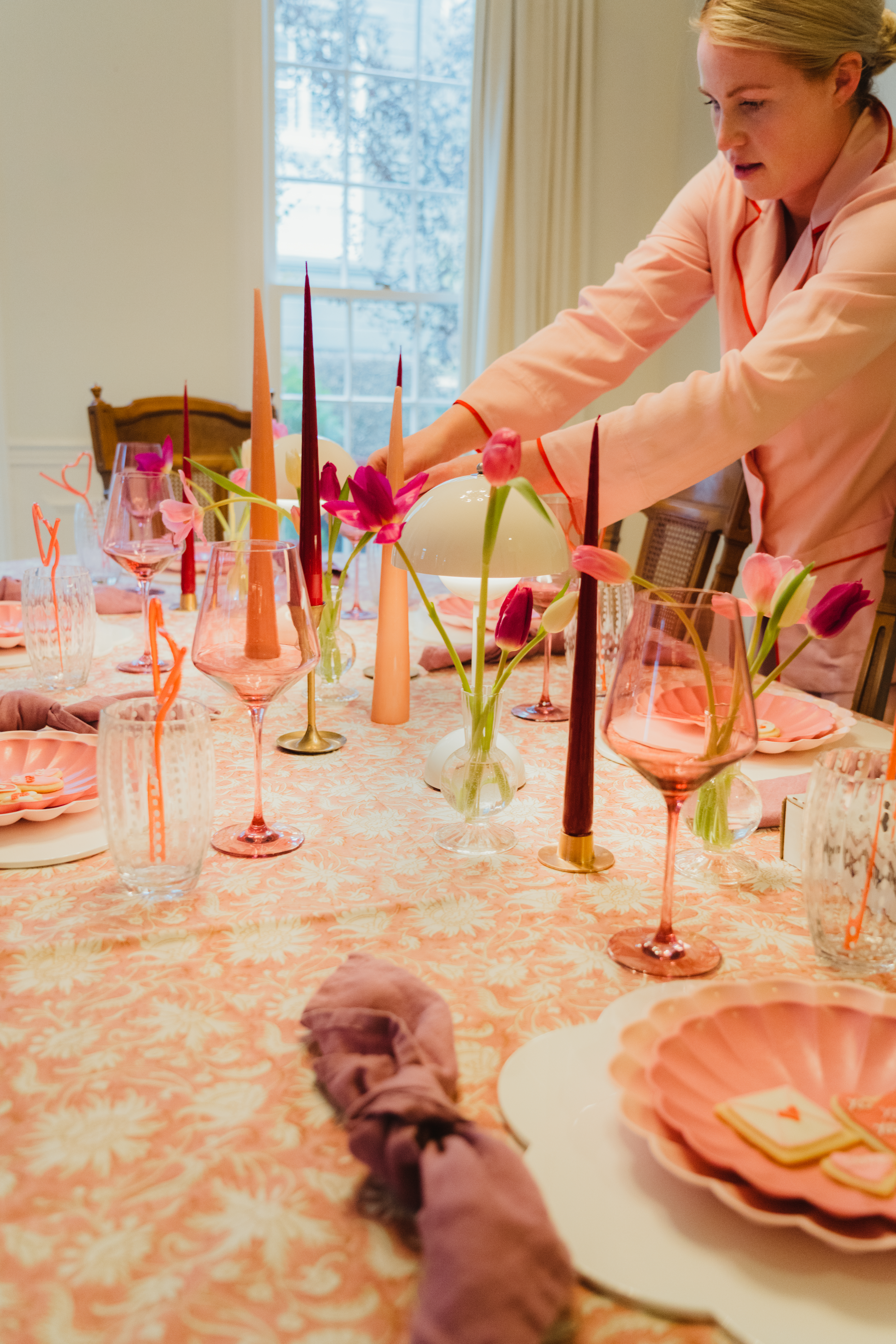 Do you have any favorite dinner party games?
Some groups of friends are known to end the night with a good puzzle. If the wine is flowing and the music is playing, laughter follows no matter the activity.
What are the dinner party Dos and Don'ts?
DO have music playing when guests arrive.
DO have an appetizer and drinks out and ready.
DO light candles five minutes before guests arrive.
DON'T have too many dishes cooking at once. Simple is better. Choose quality over quantity.
What is your favorite party favor?
Flowers and dessert!
What hostess gifts have been your favorite?
Flowers/plants, a bottle of wine, candles.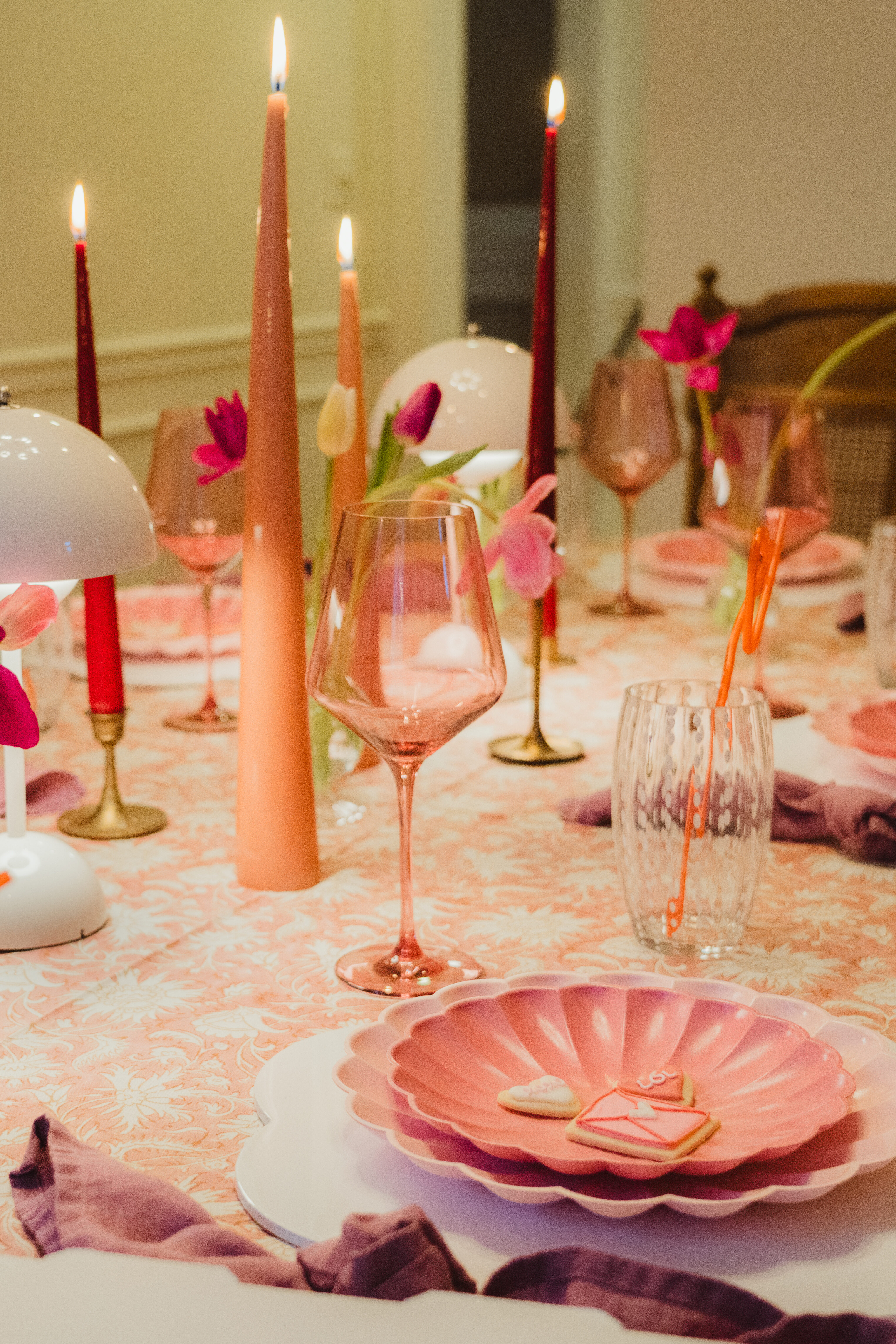 Should guests avoid any specific hostess gifts?
Consider gifting a perishable item instead of decor. You don't want to leave your host with something they feel required to display in their home. Unless you know the person's style very well and feel confident it's something they will like, it's best to steer clear.
Any other tips?
Keep it light and go to your strengths!
I don't love to cook, but I know where to pick up the best apps and desserts. So I set a great table, mix up a cocktail, maybe make ONE thing, and pick up the rest.
If you are not confident with flowers, stick to one type and arrange them in varying heights in varying colors – like we did with these tulips!
More About this Table
For this table, I pulled from a lot of my local favorites.
Tablecloth: Hammett
Lamps & White Pearl Dot Glasses: Alkmy
Purple Estelle Wine Glasses & White Placemats: Amano
Candles: Patina
Cookies: @Annie_Bakes_Bham