The Spanish Colonial Revival style has an undeniable glamour that rose to popularity in the 1920s, especially in California. With its Mediterranean roots, the architecture often highlights outdoor spaces and greenery. Such elements served as inspiration for garden designer Kelly Hulsey as she renewed the surroundings of a fine Spanish Colonial Revival manor, the Mountain Brook home of Tom Lowder and Susan Carrington.
Built in 1928, the handsome house was purchased by Tom in 1986. Over the years, it received sensitive additions by Birmingham architects John Carraway and James Carter. The result could easily have been transported from Beverly Hills—or from Holman Ranch, the Carmel Valley property Tom and his late wife, Jarman, purchased a dozen years ago. The ranch has a house of the same style and vintage as this one, as well as vineyards and olive groves that produce fine wine and oil.
The garden project represented renewal in more ways than one. Tom and Susan met after both lost their spouses to neurodegenerative diseases. When they married, she moved to Birmingham from Virginia and, with his three sons and her three daughters, "formed a modern Brady Bunch family, " Susan says. "Being new to Birmingham, I loved the history and setting of this house. The garden project was a way to make it my own."
In the home's overgrown landscape, some of the old plantings were assets; others, such as the front yard's large but decrepit hackberry trees, needed to be removed. With the trees gone, the south-facing front of the house "went from full shade to full sun, " Susan says. "I was pulling plants out but didn't know what to put in. That's when Kelly got involved. She would come over, walk around, and spend time getting to know the place, and us. She's like a plant whisperer."
The now-sunny front got a lush new lawn, overcup oaks, and magnolias to fill a gap at the property line. ("Good screens make good neighbors, " Kelly says.) The designer planted a large maple tree on the left of the front terrace to balance the mature one to the right of the entrance. "I like to work incrementally, putting in plants in stages to see what will go well together, " she says.
Echoing the red tile roof, the red-brick courtyard behind the original house boasts a long arbor, a fountain, and a covered loggia where Tom and Susan often dine. Kelly adorned the courtyard with ample containers planted with large globular boxwoods and decorative plants that Susan swaps out three times a year.
Steps at either end of the courtyard lead to an upper terrace where Kelly installed drainage to keep a new paver-framed bocce court dry. Here and elsewhere on the grounds sit bronze sculptures Tom has collected over the years. Some depict St. Francis, a symbol of harmony with nature and an apt companion to the style since Franciscan monks founded Spanish Colonial missions from Mexico to northern California.
"We wanted to stay true to the house but reflect the way we live, indoors and out, with a focus on entertaining family and friends, " Susan says. "What Kelly did perfectly suits the house and our lifestyle."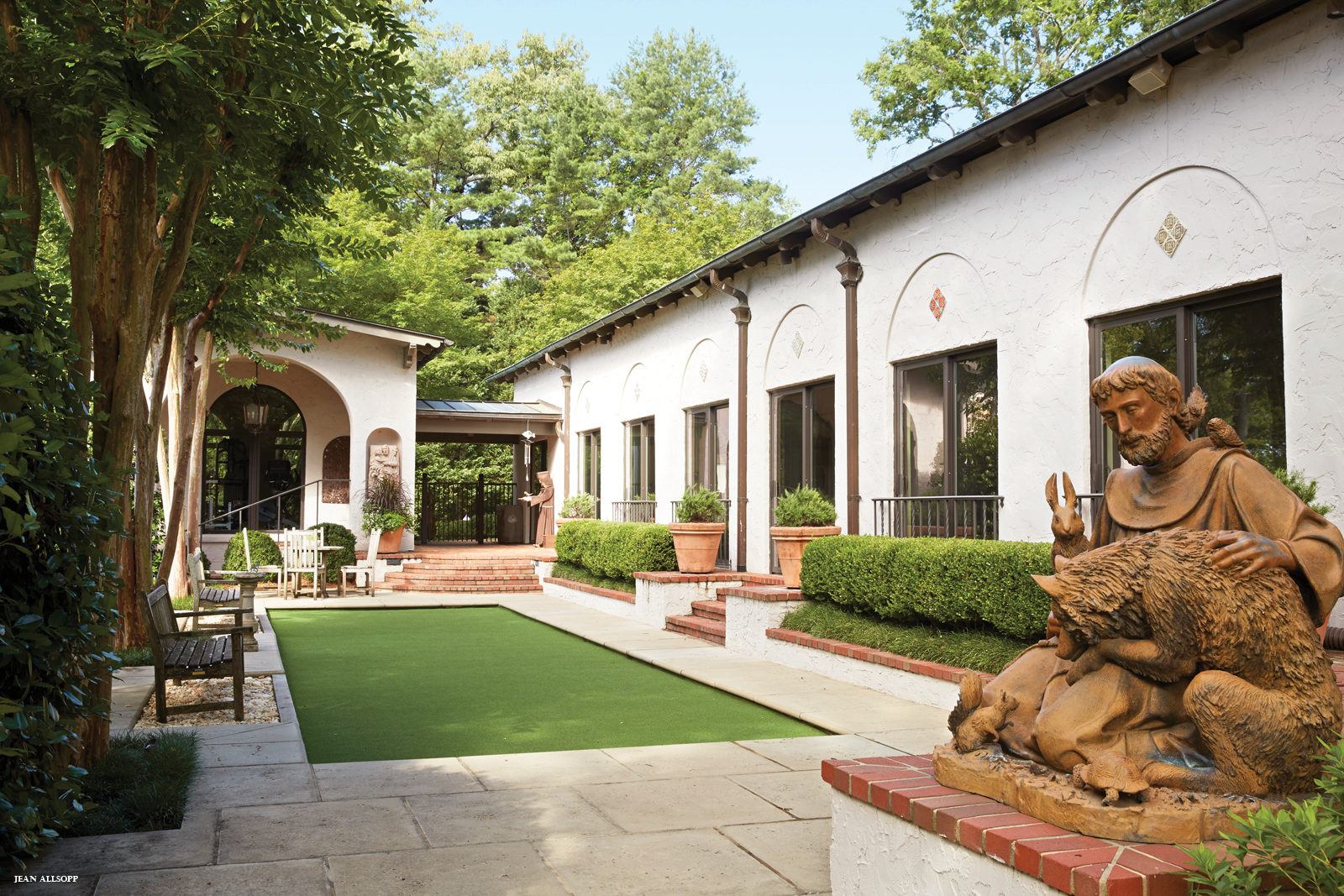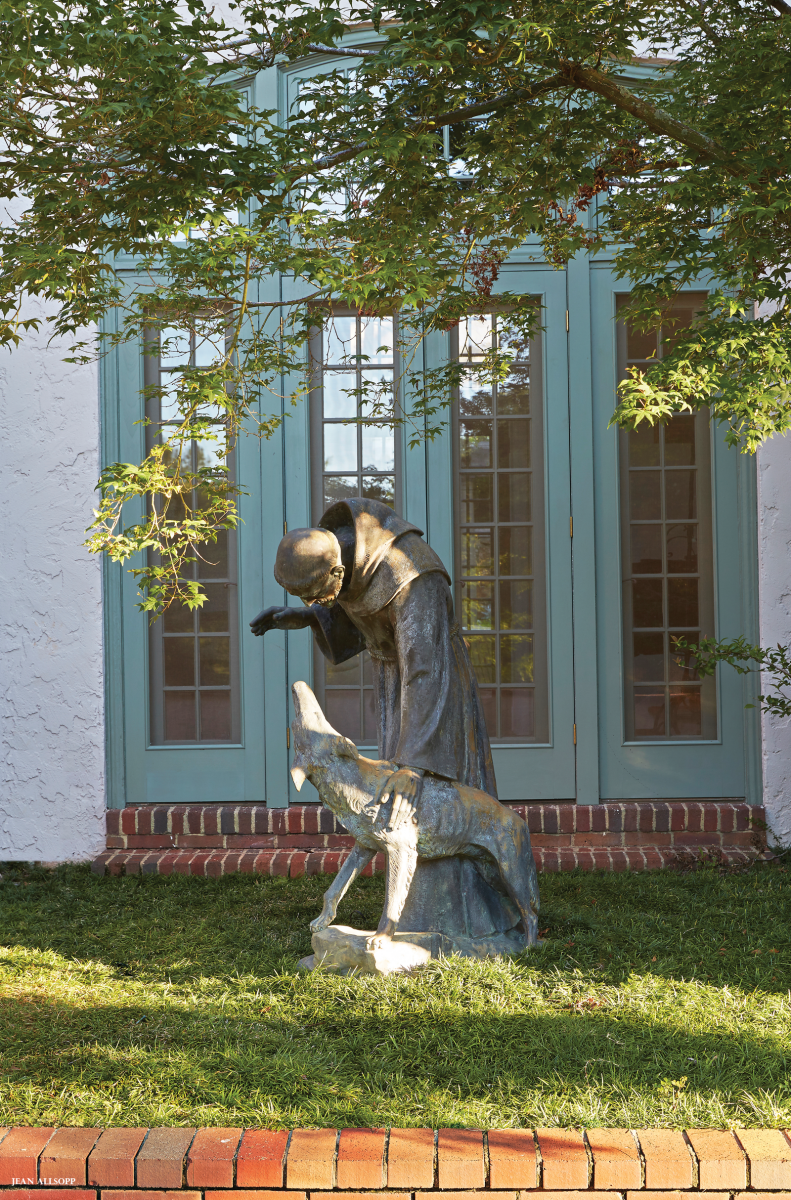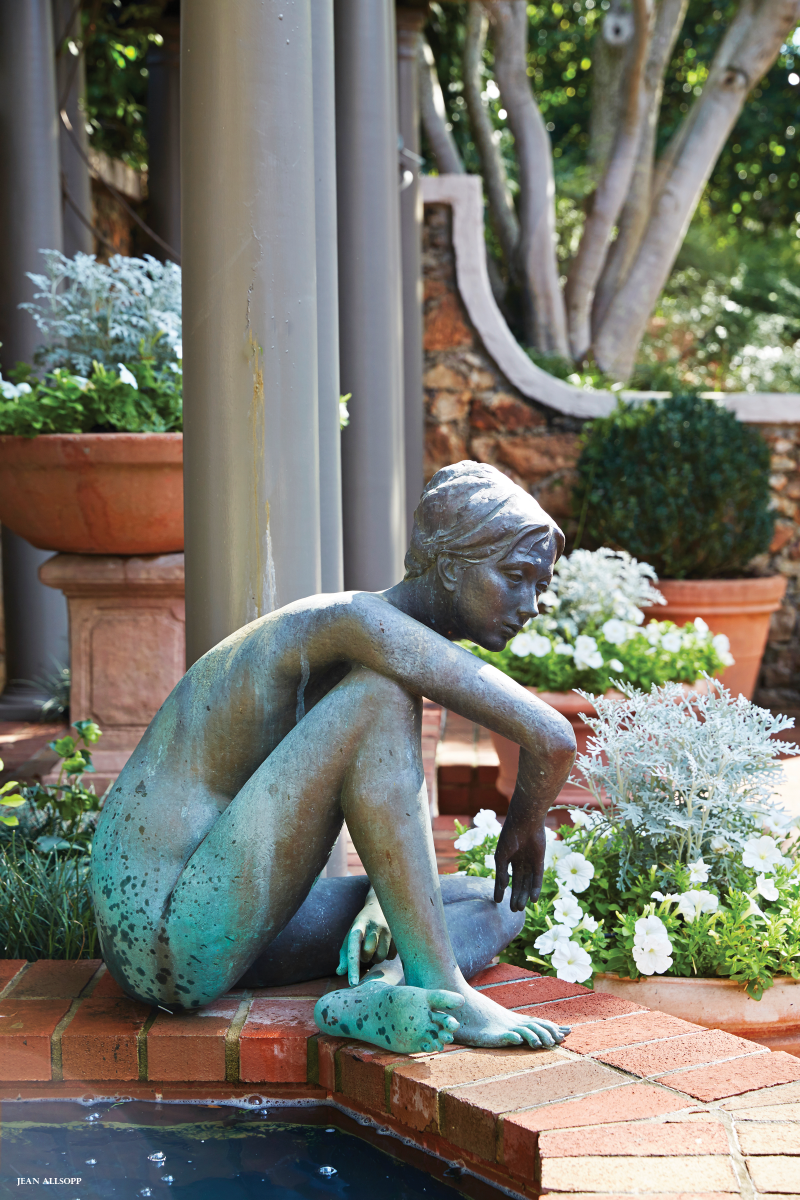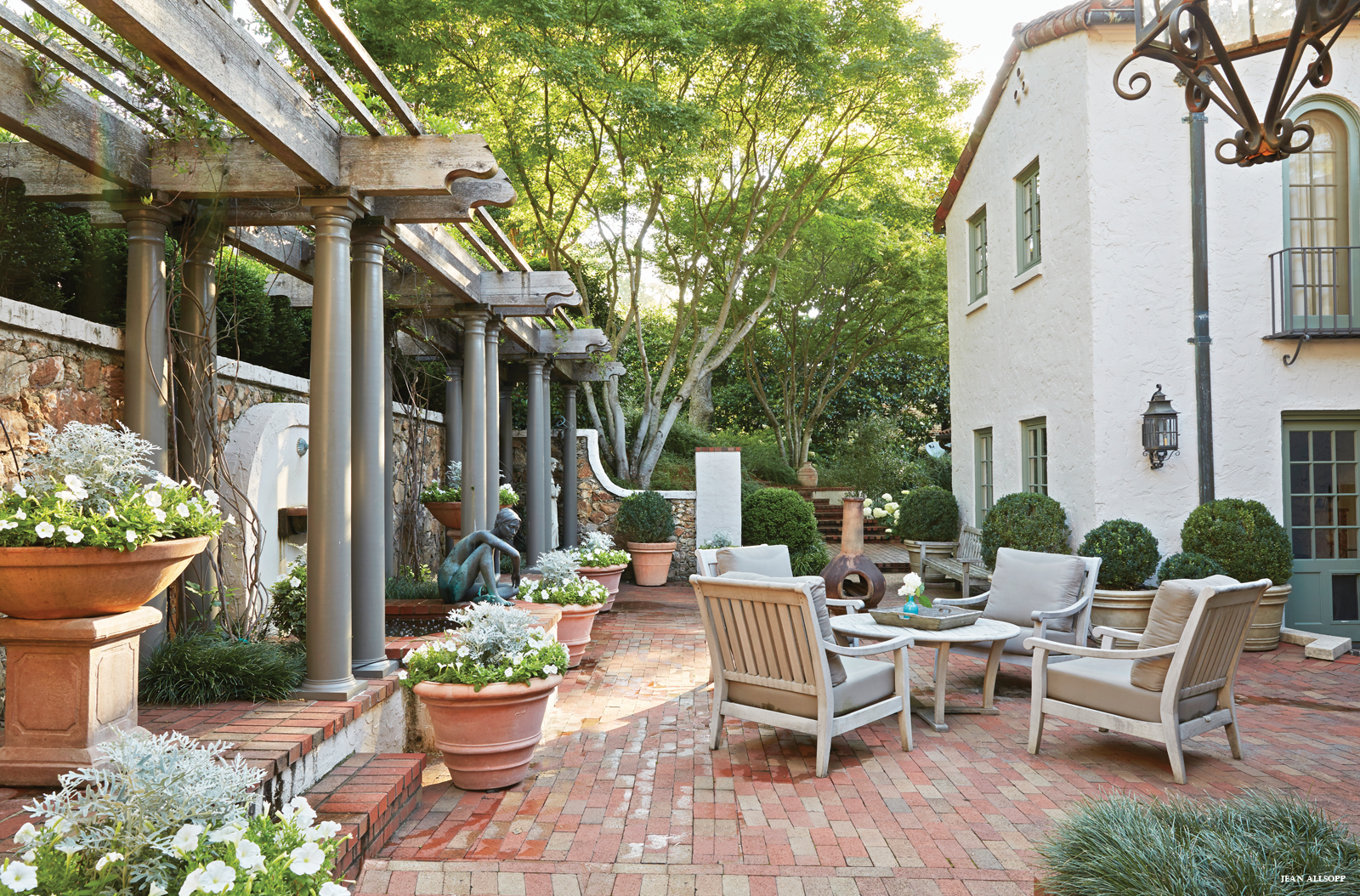 RESOURCES: Garden design: Kelly Hulsey, hulseygardens.com // Lanterns and metalwork: Robert Lehman Studio, 205.324.0901