The blend of Old-World influences with an open floor plan in Laura Strubel Bledsoe's Crestline home feels neither too new nor too old. It's simply restful and fresh. The secret to her Goldilocks of houses: decades spent amassing antiques and then taking the time to figure out what to keep and what to give away.
The transformation began with a dining room that couldn't hold her brood of three children, their spouses, and 12 grandchildren. And underneath her too-small dining table was a beautiful investment rug, exactly the kind grandkids are bound to spill on. "I thought, 'Why do I have a table I don't use and a rug I'm scared of?' " Laura says. Wanting to rework the space, Laura called Meg Wallace of Meg Wallace Design to help plan out the details. "Meg edited my collections and pulled out everything she thought I didn't need anymore, " Laura says. "And it was fabulous stuff!" Once the two women had worked out which pieces fit the new plan, Laura's children got to pick through the items that didn't make the cut. "It was like Christmas for them!" Meg laughs.
In the end, Laura's large former living room became a combined living and dining space. A custom table of reclaimed wood spans the wall of windows, and Meg added a matching church pew on the window side to accommodate lots of kids. Wing chairs, Laura's longtime standbys, anchor each end. The more compact formal living space still has plenty of seating, including Laura's existing couch, a new shelter sofa, and slipcovered side chairs. Across the open kitchen from the living space, the old dining room has become a keeping room, with seating on a daintier scale and a small table for casual suppers.
Laura's antiques still feature prominently in the design, though rarely in the places where she originally had them. A champion at repurposing, Meg loves helping clients rediscover things they already own. "That's the most fun part when I go to a client's house. I love finding things that are tucked away and presenting them in a new way to the client, " she says. "Plus, Laura has such a great collection of antiques."
In the new design, an intricately-carved cabinet moved from the prior living room to the new keeping room, where it showcases a collection of English ironstone. In its old place sits a dresser, once upstairs, which Meg was drawn to because of its simplicity. "I was stunned that she put that down here, " Laura says, "but it looks great." And now that the house is complete, it's clear these reworked spaces aren't just for grandkids. "This is the perfect place to have friends come for wine and cheese, " Laura says. "It's very liveable fun."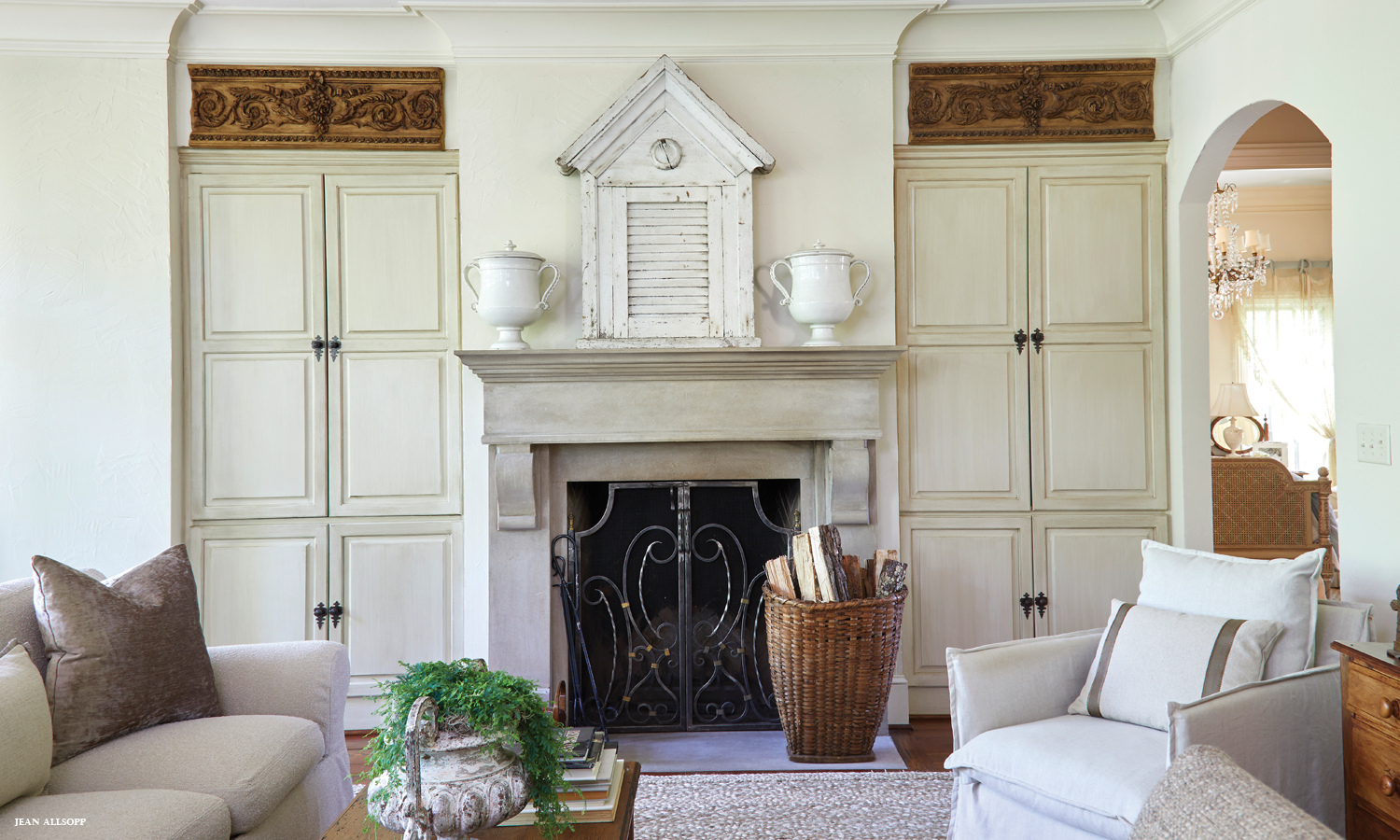 ABOVE A stately mantel and tall built-in cabinets anchor the living space.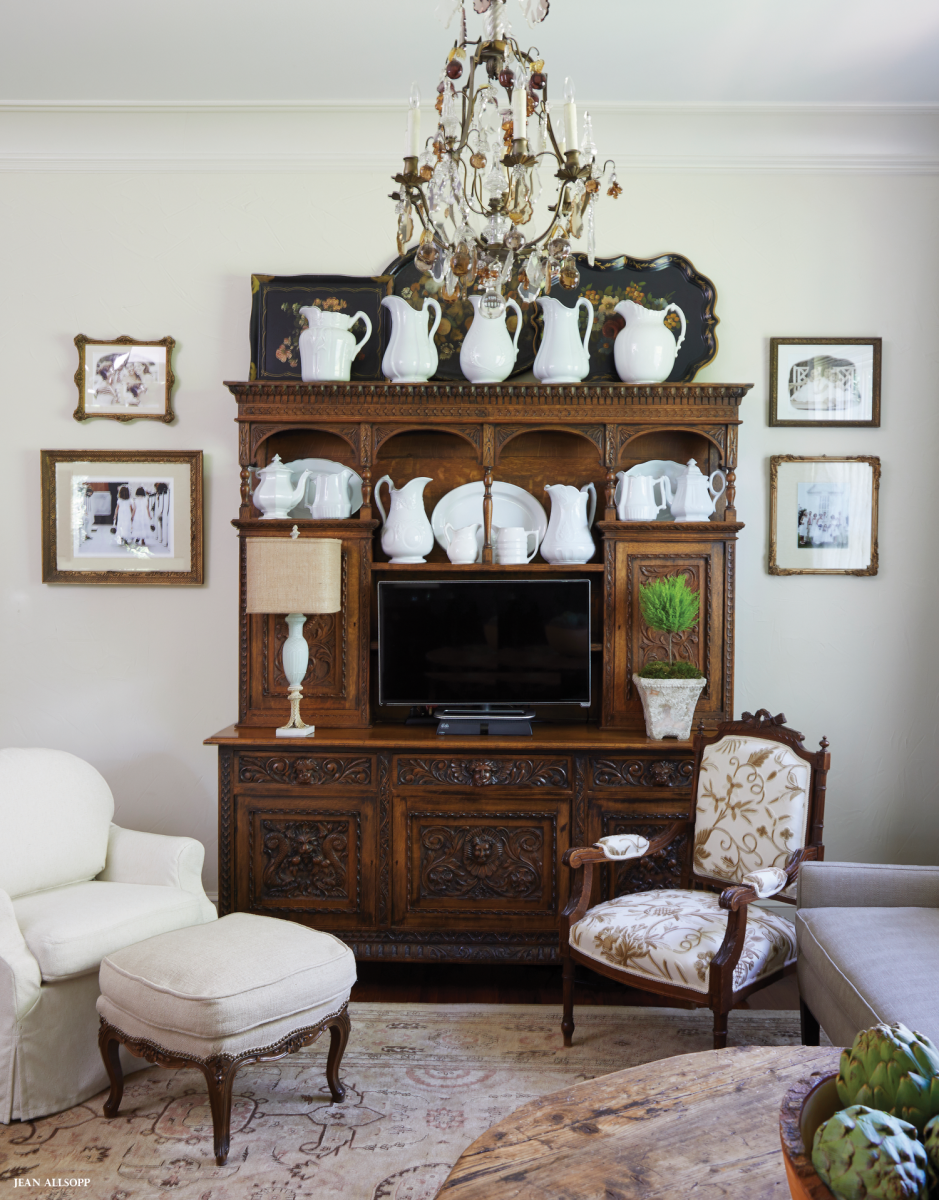 ABOVE "It's just so funny to see the stories of these different pieces of furniture, " says Laura. The slipcovered white chair (one of a pair) was "bright pink" in a past life as part of a "Pepto Bismol living room." The showstopping antique cabinet was an anniversary present from Laura's late husband.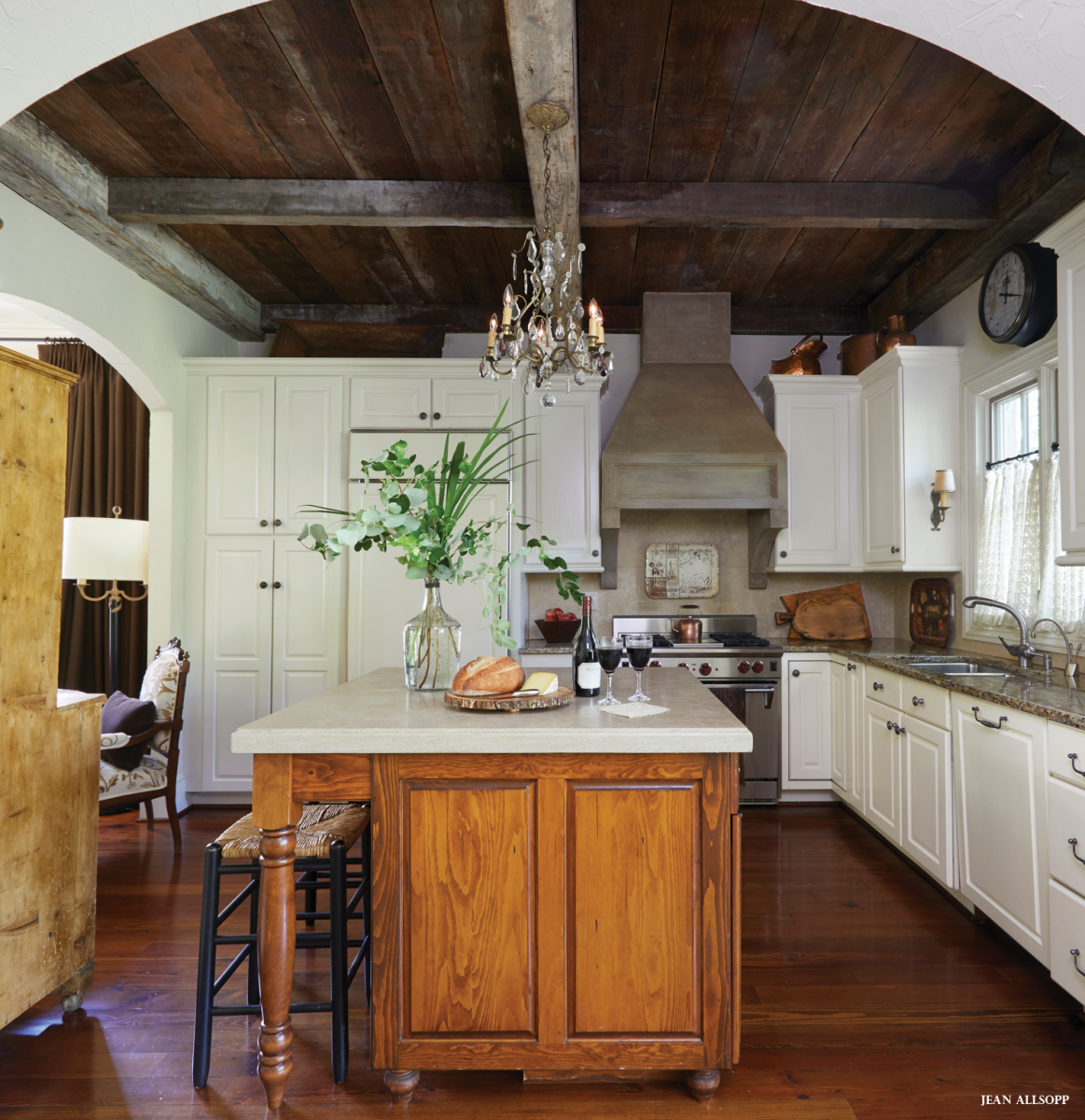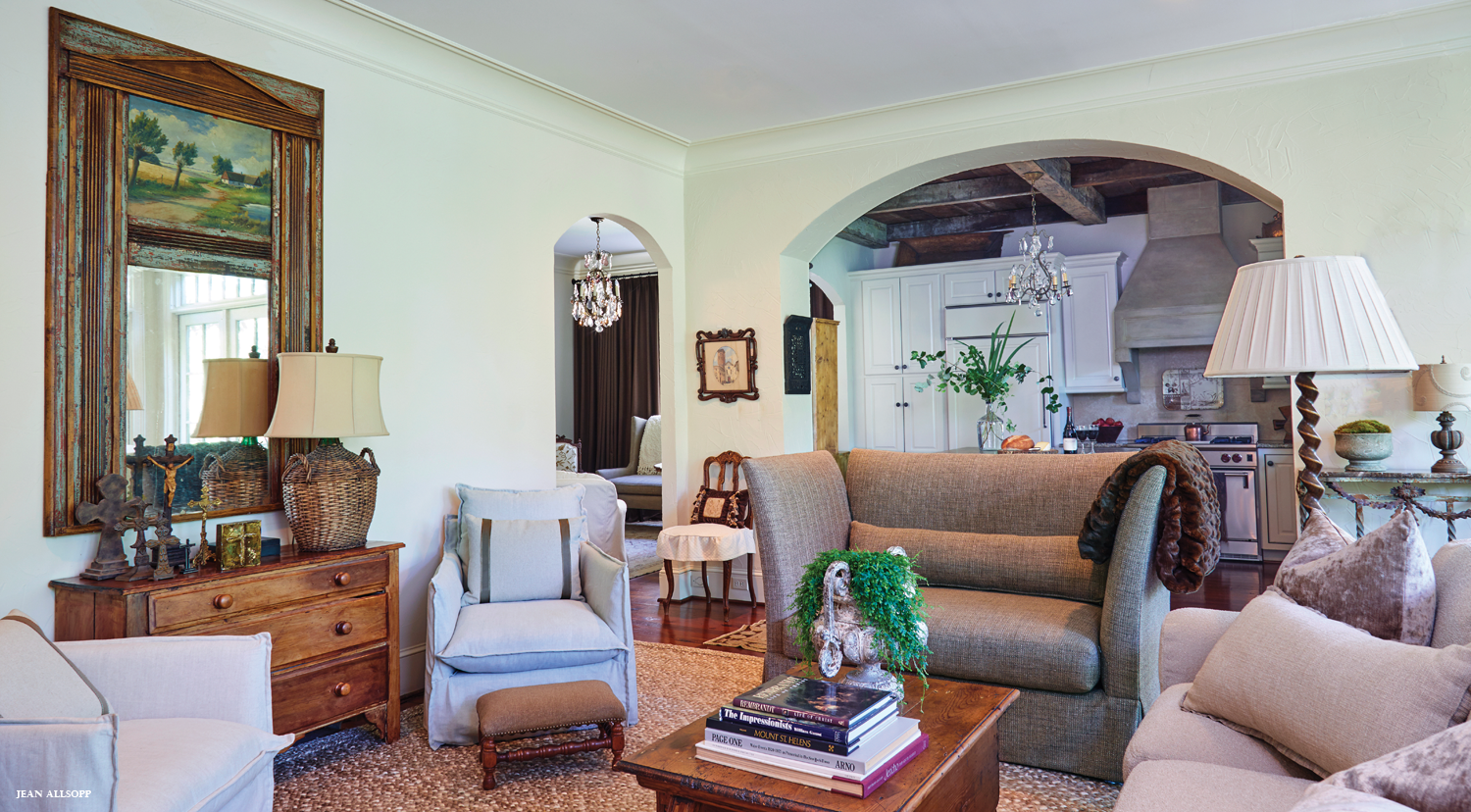 ABOVE Some of Meg's suggestions for new pieces challenged what Laura calls her "traditionalist" tastes. "I love the contrast of the clean-lined furniture with the antiques because it just adds an updated but still timeless feel, " Meg says.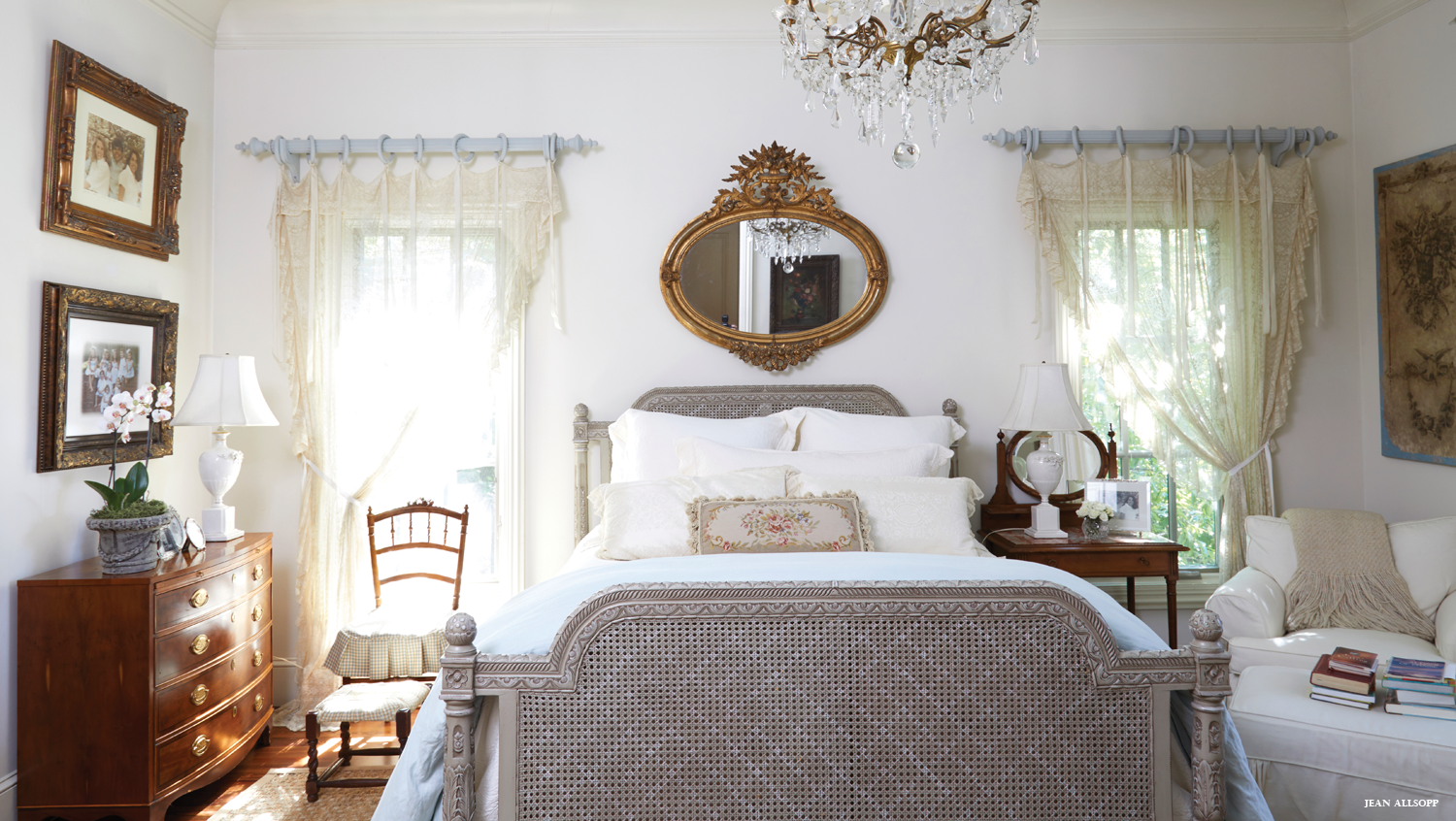 ABOVE Simple linens offset stately pieces in the master bedroom.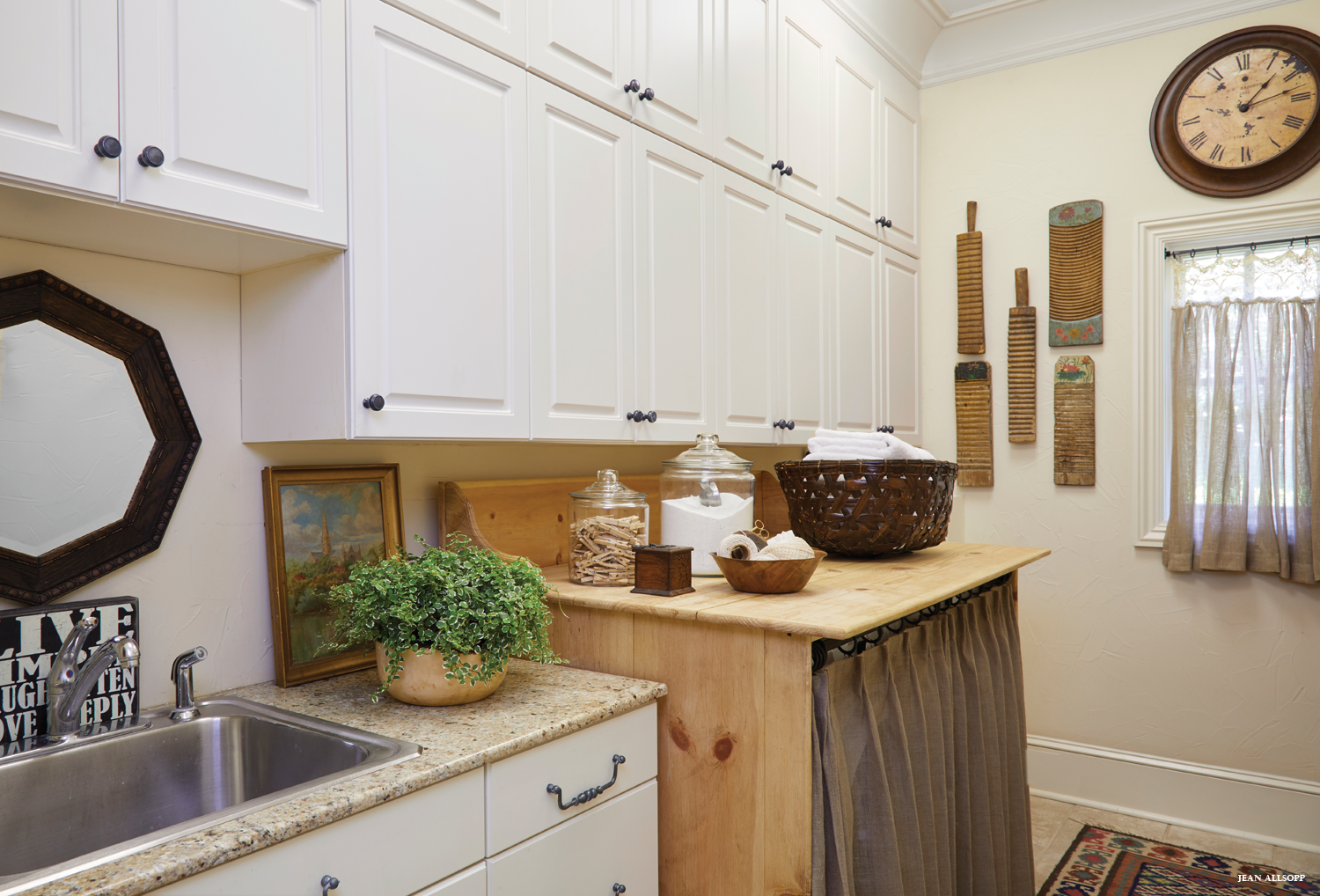 ABOVE The pine washer/dryer surround isn't just a stylish hideaway. "When I entertain, I'll set the drinks up in there, " Laura says.
Meet the Designer
Meg Wallace has been in business for 15 years but has kept a low profile, attracting new projects primarily through referrals. "I think it's a big step for people to hire somebody to come into their homes and work on their environment, " Meg says. "It's a very personal dynamic, and you just want to set people at ease and help them feel good about how they're spending their money." She approaches her designs with a focus on texture, existing pieces, and a keen editing eye.
ON PRACTICAL ANTIQUES New pieces are going to show wear and tear more quickly than an old piece with patina. Some of the older tables and chests can be more practical and more kid-friendly than newer items because they've already been a little beat up. The more dings they get, the more interesting they are.
ON LAYERING A room can get over-decorated really fast. You don't want it to be too matchy with too much of the same color. By adding different tones of, say, khaki, or different tones of browns—from cream to dark brown­—and then bringing in different textures of the same color scheme, you add warmth in a more subtle way. It's unexpected, and it feels more evolved than staged.
ON EDITED DESIGN You can always add more to a room. Often, the hardest thing is choosing what to leave out. To make a pretty space, consider what really needs to be there to make the room functional and beautiful.
Resources
Designer: Meg Wallace/ Meg Wallace Design • 205.447.5715 [email protected] • IG: megwallacedesign FB: megwallacedesign Architect: George Israel • 205.803.0075 ia-arch.com Builder: Keith Russell • 205.967.6878 Landscape: Todd Dorland, TMD Landscape Designs • 205.515.6643 tmdlandscapedesigns.com Living room rug: Issis and Sons • 205.874.9586 issisandsons.com Custom church pew and farm table: Renaissance by Evolutia • 256.318.6366 [email protected] Custom laundry counter: Pete Densmore Professional Remodeling and Repairs • 205.283.3930 Sofa and chair pillows, keeping room drapes, and washer/dryer curtain construction: Sew Sheri Designs • 205.879.8278 sewsheri.com Slipcover for living room sofa, keeping room club chairs, and wing chairs at farm table: Custom-Fitted Slipcovers by Angie • 205.533.5462 Keeping room settee, living room sofa, living room swivel club chairs: LEe Industries through Circa Interiors and Antiques • 205.868.9199 circainteriors.com Barley twist floor lamp: Beverly Ruff Antiques • 205.871.7872 beverlyruff.com Dough bowl: Argent Antiques • 205.871.4221 argentantiques.com Fireplace screen and drapery rods: Artistic Birmingham Iron LLC • 205.226.8822 Master bedroom duvet: Three Sheets • 205.871.2337 threesheetslinen.com