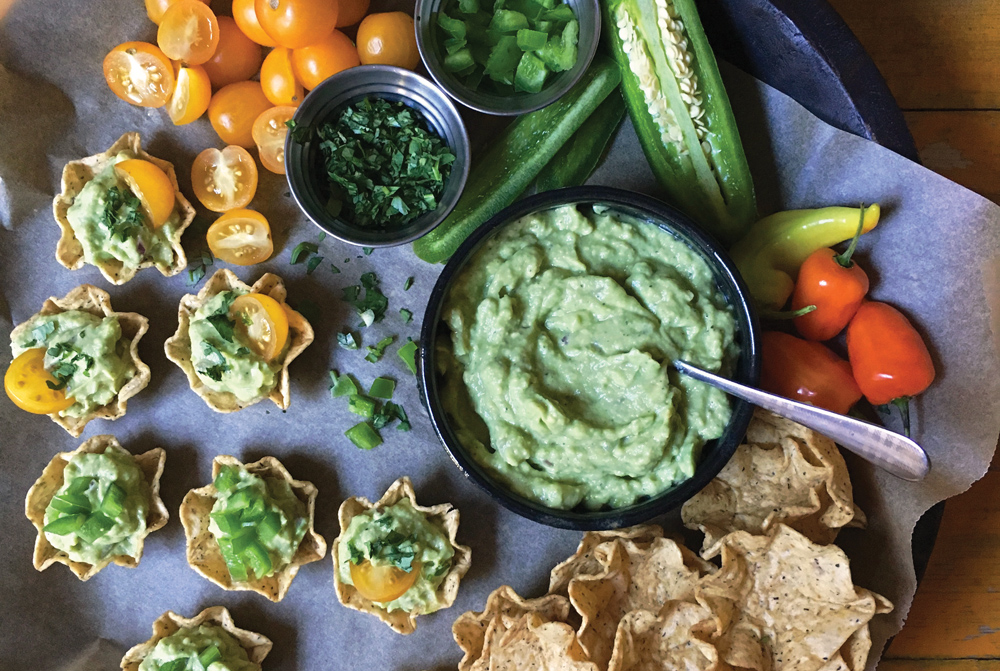 After the holidays, many of us try to cut back on calories, restart our exercise plans, and get healthy. And every year, just as we get in a good routine, Super Bowl Sunday arrives. But it doesn't mean you have fall off the wagon at your bowl game party. Even your most health-conscious guests will love these crowd pleasers. They're delicious and—best of all—guilt free.
Creamy Guacamole Bites
Juice of 2 lemons
4 avocados, peeled and seeded
1 ¼ cups red onion, finely chopped
2 garlic cloves, minced
½ teaspoon kosher salt
¼ teaspoon black pepper
Multigrain tortilla scoops (Leslie likes Tostitos)
Garnishes: cherry tomatoes, jalapeños; seeded and chopped; and freshly chopped cilantro
Combine lemon juice and next 5 ingredients in a medium bowl. (I like to squeeze the juice of the lemons first to prevent the avocados from turning brown.) With a potato masher or fork, combine ingredients until smooth and creamy; cover tightly and refrigerate. Prepare the garnishes for filling; refrigerate until ready to fill. Makes approx. 48 bites.
Slow-cooker Boston Butt Sliders
1 (6- to 7-lb.) boneless shoulder roast (Boston butt), trimmed
1 onion, quartered
1 cup water
Salt and pepper to taste
Whole wheat slider buns
Marinated Mexican Vegetables (see recipe below)
Shredded iceburg lettuce
Sweet barbecue sauce, optional (Leslie likes Sticky Fingers Smokehouse (Carolina Sweet) Barbecue Sauce)
Place Boston butt in a 6-quart slow cooker; add onion, water, salt, and pepper. Cover and cook on high for 6 to 7 hours or until meat shreds easily with a fork. Transfer to a cutting board; shred with 2 forks, and remove any large pieces of fat. Keep warm in a serving dish. Serve on slider buns with vegetables, lettuce, and barbecue sauce. Makes 12 – 14 sandwiches.
Marinated Mexican Vegetables
1 bunch radishes (about 10)
1 small red onion
3 carrots, peeled
3 pickling cucumbers
1 ½ cups white wine vinegar
1 ½ cups water
¼ cup honey
2 tablespoons salt
1 teaspoon red pepper flakes
3 garlic cloves, crushed
1 jalapeño pepper, sliced
Canning jars (any size)
Slice radishes, onion, carrots, and cucumbers as thinly as possible. Toss in a medium bowl. Set aside. In a saucepan, combine vinegar and next 6 ingredients. Bring to a boil for 5 minutes; remove from the heat, and allow to cool slightly. Divide vegetables into jars, and pour vinegar mixture over to cover them completely; cover and refrigerate. Makes 6 cups.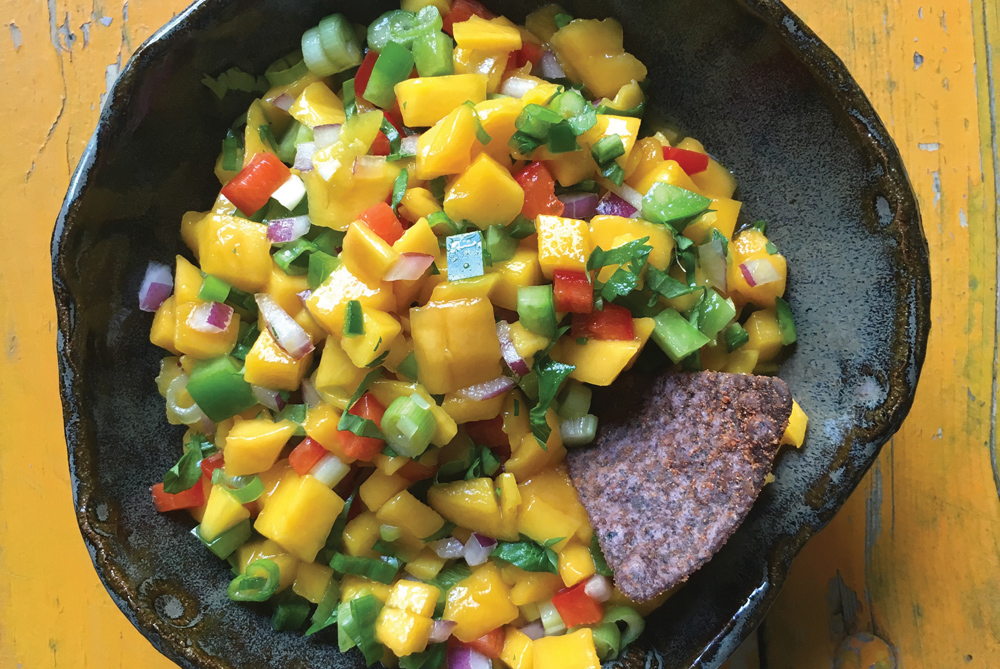 Mango Salsa
2 mangos, diced
½ cup green pepper, chopped
½ cup red pepper, chopped
¼ cup red onion, chopped
¼ cup green onion, sliced
¼ cup fresh cilantro, chopped
2 jalapeños, finely chopped
Juice of 2 limes
1 tablespoon olive oil
Salt and pepper to taste
Tortilla chips (Leslie likes Red Hot Blues Tortilla Chips)
Combine all ingredients except tortilla chips in a medium bowl. Cover and refrigerate. (Salsa can be made up to 24 hours in advance.) Stir before serving. Serve with tortilla chips. Makes 4 cups.