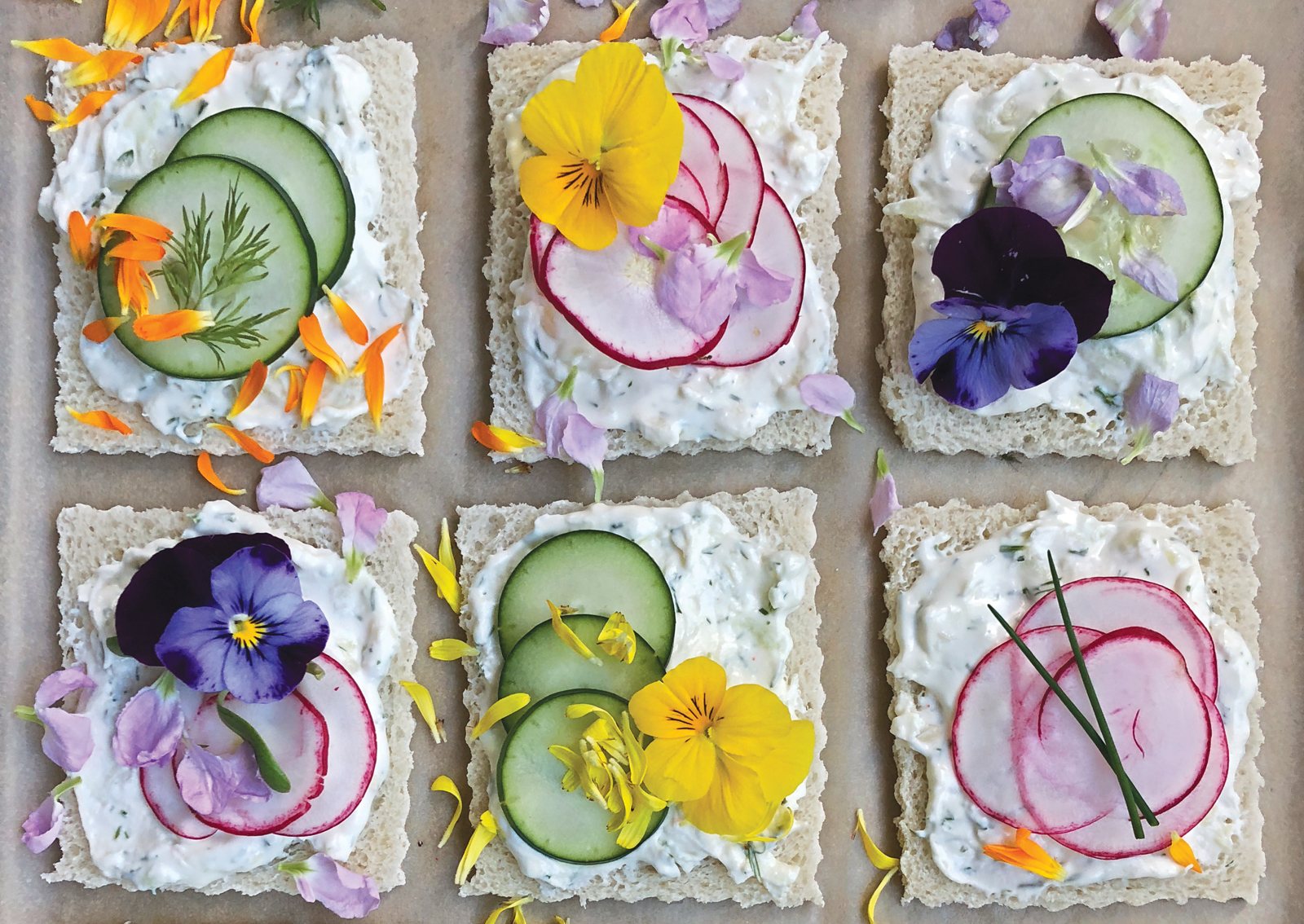 Cucumber-and-Petal Tea Sandwiches
This makes a nice appetizer to serve before lunch.
1 (8-ounce) package cream cheese, softened
3 tablespoons grated cucumber, excess water removed
1 tablespoon grated onion
1/4 cup fresh dill
2 tablespoons mayonnaise
1/4 teaspoon salt
1 loaf very thin white bread
Garnish with radish and cucumber slices, edible flowers, and fresh herbs
Combine first 6 ingredients in a small bowl. Trim crusts from bread to desired size. (I used a fluted pastry cutter. A cookie cutter will also work.) Spread cucumber mixture evenly on the bread, and garnish away! Makes approximately 36.
Celebration Shrimp Salad
The shrimp mixture and the dressing each can be prepared in advance, but wait to toss it together right before serving.
1 pound shrimp
1 cup finely chopped celery
3 Roma tomatoes, seeded and chopped
1/4 cup green pepper, finely chopped
2 tablespoons or 2-ounce jar pimiento, drained thoroughly
1 tablespoon finely chopped green onion (reserve tops for garnish)
1/2 teaspoon salt
1/4 teaspoon pepper
Sour Cream Dressing
1 cup sour cream
1/2 cup ketchup
1 tablespoon soy sauce
1 tablespoon grated onion
1 teaspoon horseradish
1/2 teaspoon dry mustard
Place shrimp in a medium saucepan of boiling water. Cook 2 to 3 minutes or until shrimp turn pink. Pour into a strainer, and rinse with cold water. Peel and place in a medium bowl. Add next 5 ingredients to shrimp. (Note: With a paper towel remove excess moisture from the pimientos and tomatoes before adding them to the shrimp mixture.) Prepare Sour Cream Dressing: Combine all ingredients in a small bowl, mixing thoroughly. Immediately before serving, toss shrimp mixture with half of Sour Cream Dressing. Serve shrimp salad on lettuce cups with remaining dressing. Garnish with reserved green onion tops. Serves 4 – 6 (recipe can easily be doubled).
Overnight Cinnamon French Toast
"It's the best of both worlds—French toast and cinnamon toast in one meal!"
6 pieces French bread, sliced 1 inch thick
2 large eggs, beaten
2 cups whole milk or 2% milk
1 teaspoon vanilla
1 cup sugar
2 tablespoons cinnamon
2 tablespoons unsalted butter
Maple syrup
Place French bread slices in a 2-quart baking dish. Whisk together eggs, milk, and vanilla in a medium bowl; pour over bread. Allow slices to soak in milk mixture overnight in the refrigerator. For a quicker method, soak for 30 minutes, turning once to ensure bread is saturated. Combine sugar and cinnamon in a small bowl; set aside. Melt butter in a nonstick skillet over medium heat. Dip slices into sugar mixture, evenly coating both sides, and place into nonstick skillet. Cook for 8 to 10 minutes; turn to brown other side for 5 minutes or until golden brown. Serve immediately with warm maple syrup. Serves 3 – 4.
Learn from Leslie: For easy cleanup, immediately rinse skillet before the cinnamon sugar sets up on the pan.
Sweet Corn Pudding
6 ears fresh corn, kernels removed
3 tablespoons sugar
1 teaspoon salt
1/4 teaspoon pepper
2 large eggs, lightly beaten
2 tablespoons butter, melted
1 cup milk
Preheat oven to 375 degrees. Lightly grease a 1½-quart baking dish. Stir together all ingredients in a medium bowl. Pour into prepared dish. Place baking dish inside a larger baking pan; fill pan halfway up with water. This "water bath" will keep the pudding moist. Bake for 45 minutes or until set. Serves 4 – 6.
No-Churn Strawberry Shortbread Ice Cream
With strawberries at their peak, it's a perfect time for this easy make-ahead dessert.
2 cups fresh strawberries, plus extra for garnish
2 tablespoons sugar
2 cups whipping cream, chilled
1 (14-ounce) can sweetened condensed milk
2 teaspoons vanilla
12 shortbread cookies (Leslie likes Lorna Doone Shortbread Cookies)
Fresh mint
Wash and hull strawberries, and place in a medium bowl. Sprinkle strawberries with sugar; set aside. Beat cream with an electric mixer until stiff peaks form; add sweetened condensed milk and vanilla and combine thoroughly; set aside. Place strawberries in a food processor, and pulse 2 or 3 times. Place cookies in a ziplock bag, and pound until crumbly. Layer cream mixture, strawberries, and cookies in a 9- by 5-inch loaf pan, repeating twice. Swirl the layers with the blade of a knife after each layer. Top with remaining strawberry slices. Cover tightly with several sheets of plastic wrap. (Carefully press plastic wrap onto ice cream mixture to prevent any ice crystals from forming.) Freeze for 5 to 6 hours or overnight. Remove from the refrigerator 10 to 15 minutes prior to serving. Garnish with strawberries and fresh mint. Serves 6 – 8.
Leslie likes: I love the idea of a fancy luncheon, but the cleanup can be overwhelming. Make it easy on everyone with these pretty paper plates (right) by Meri Meri. (Available at Table Matters.)