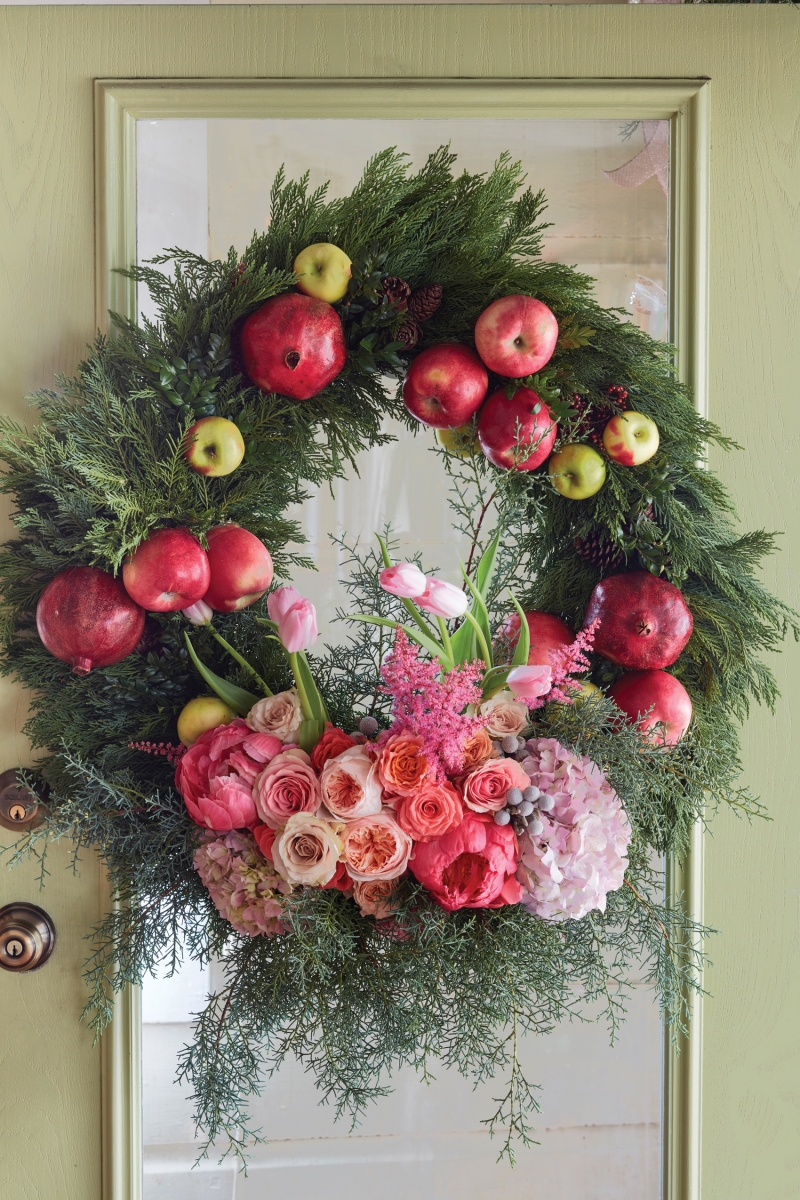 ABOVE The front walkway sets the holiday tone with embellishments of fruit, pinecones, and all sorts of flowers, including garden roses, English tea roses, berry branches, and tulips.
 
In the beginning, I just wanted to spend some time with those that I don't get to see very often, " says Suzanne Oparil. "I wasn't really thinking about doing anything big or elaborate." Yet it didn't take long for her simple gathering to grow into anything but your average holiday party—complete with live music, exquisite ice sculptures, a mouth-watering menu, and over-the-top decorations
Now, that fabulously festive holiday atmosphere is created year after year thanks to famed wedding and event designer Scot Wedgeworth, who helps Suzanne plan the party in between designing for celebrities and major events such as the Tournament of Roses Parade. His philosophy each year is simple: Go big or go bigger. "Suzanne and I both love a good party, so I like to go for that 'wow' factor, " he says. "When people arrive, I want them to be completely blown away. I like doing the unexpected."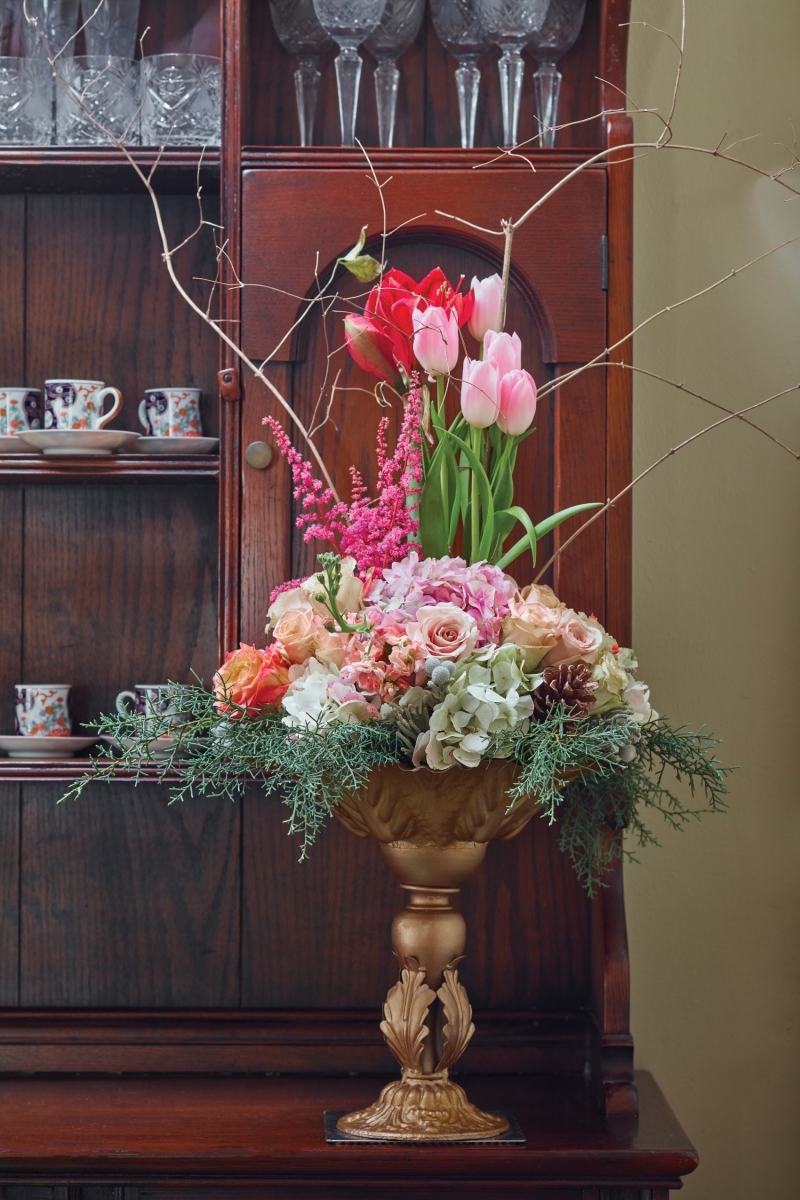 ABOVE Almost every table is dressed with a festive centerpiece. Suzanne likes to travel, and her home exhibits many pieces of art she has collected. When possible, Scot incorporates those sculptures into the décor, using them as vases. "I like utilizing pieces she already has, " the designer says. "To me, that keeps the overall look all about her."
To deck out Suzanne's circa-1924 home, Scot brings in decorations by the truckload, including at least 3, 000 fresh flowers, 1, 000 feet of garland, and case after case of fruit. Added to that are dozens of wreaths, yards of colorful ribbon, and all sorts of potted plants. "We want the party to be a real experience for the guests, " he says, "and that means covering every aspect of the house."
And it's not just the inside of the house that Scot covers—it's the entire property. He embellished the front of the house with fresh garland trailing the railing and a Williamsburg-style design complete with berries, greenery, and tightly packed fruit above the door. Inside, every doorway, chandelier, mantel, table, and window is dressed with florals, fruit, ribbon, and seasonal accents such as pinecones and berries. "Suzanne is very environmentally friendly, so I try to always incorporate some fresh flowers and fruit and various natural elements, " Scot says.
The designer also comes up with a different theme each year, never repeating the same look twice. One year he focused on shades of red. Another year was all about purple and lavender. Last year's décor included lots of pinks and apricots. "I thrive on changing it up and making sure guests never know what they are going to see, " Scot says. "I want every guest to walk in and be wowed, Even if it's been a year since they've been there, I want them to see a noticeable difference."
Now 25 years in, Suzanne can't imagine spending the holidays any other way. "Once each party is over, we immediately start talking about the next one, " she says. "It somehow keeps getting better every year."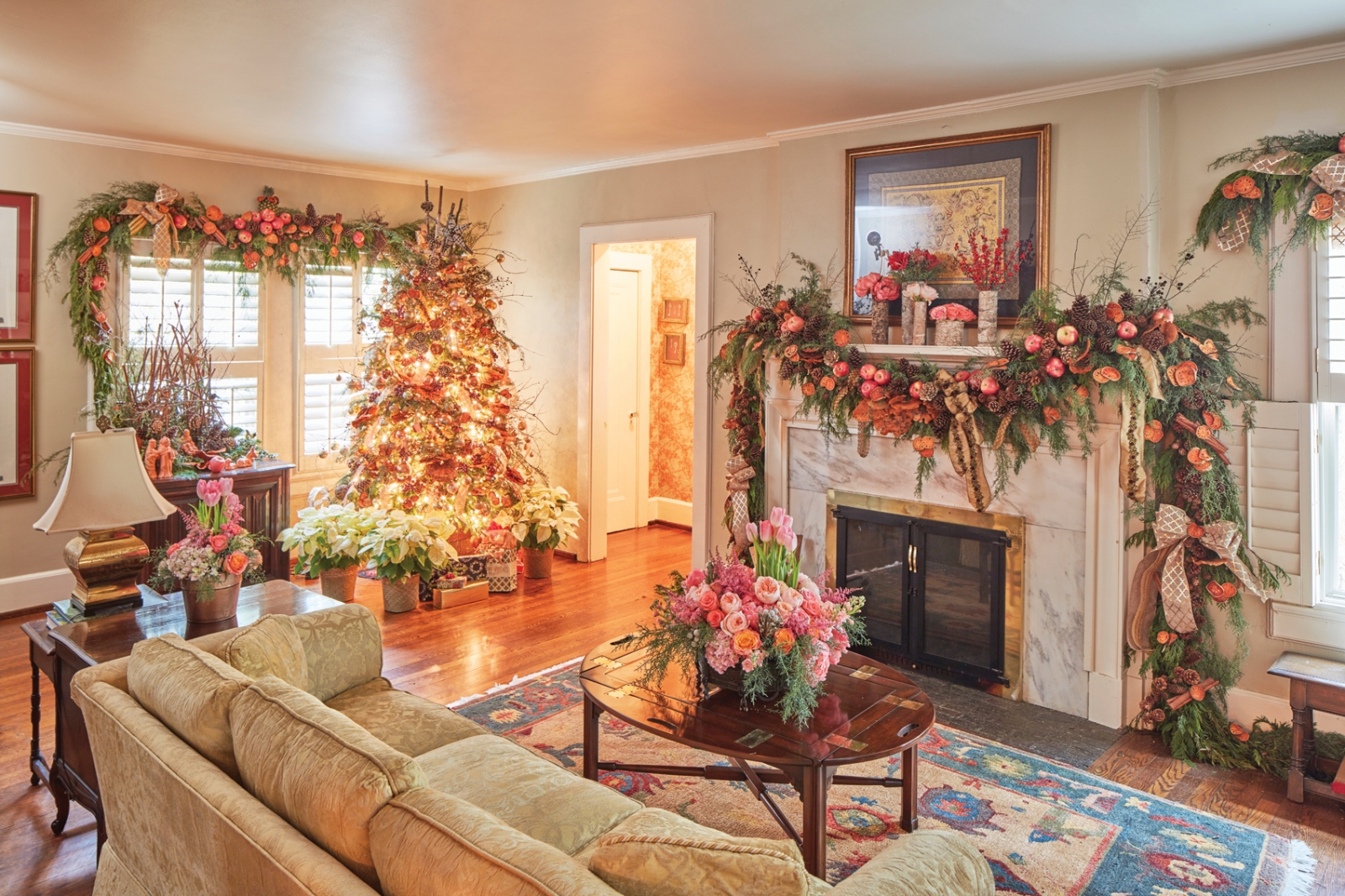 ABOVE The mantel is outlined with fresh coned cedar and Carolina Sapphire topped with dried quince slices, pinecones, apples, and cinnamon stick bundles. 
 
Meet the Designer: Scot Wedgeworth
For 24 years, Scot Wedgeworth has been jetting around the country as a celebrity wedding and event designer, working with everyone from Dolly Parton and Elton John to Sela Ward and Reba McEntire. Known as "Mr. Fabulous, " he even had his own Food Network reality series called Bama Glama, which followed him as he created the most exquisite weddings and events in the Heart of Dixie. And while this award-winning designer has had a successful career thus far, he actually never planned to focus on floral design. "I really stumbled into it, " he says. "I was in college as a pre-med student planning on being an ER doctor. But I quickly realized I didn't like it."
Scot had always enjoyed art, so when a friend who owned a Tuscaloosa flower shop needed a floral designer, Scot decided to apply for the job. He not only got the job but was soon designing flowers for dozens of weddings. Today, Scot handles about 75 events a year, including working as a designer for the Tournament of Roses Parade in Pasadena, California, for the past five years. Last year alone, he designed eight of the floats for the parade.
While his job keeps him busy and always on the go, Scot never tires of transitioning a space from normal and bland into an unexpected wonderland. "I absolutely thrive on the responses I get from people when they see my end product, " he says. "That's what makes all of the hard work and long hours worth it. I love creating something that makes people so happy."
Scot Wedgeworth, Scot Wedgeworth Weddings, Events & Entertaining, 205.233.7614
 
---
Text by paige townley // Photography by art meripol