1. Summer Watermelon and Tomato Salad
1/2 of a medium seedless watermelon
1 red onion, cut in half vertically and thinly sliced
2 cups pear-shaped yellow tomatoes,  cut in half
1/2 cup olive oil
1/4 cup red wine vinegar
3 tablespoons chopped fresh mint
3 tablespoons chopped fresh basil
Salt and pepper to taste
1 (4-ounce) package block feta cheese
Fresh mint or basil leaves for garnish
Cube watermelon into bite-size pieces, and place in a large bowl; add onion and tomato halves. Whisk together oil and vinegar until blended; stir in mint and basil. Drizzle over watermelon; toss gently. Add salt and pepper to taste. Top with feta cheese, and serve immediately. Garnish with fresh mint or basil leaves. Serves 8 – 10.
Learn from Leslie: To make a watermelon bowl, carefully cut the top third of the watermelon off horizontally, and then remove watermelon in 1-inch sections or rows. When all is removed, neaten up the edges with a paring knife, and scoop out excess juices with a large spoon.
2. Baked Corn and Jalapeño Dip
4 ears corn, kernels removed
4 ounces light cream cheese, softened
1 1/2 cups sharp Cheddar cheese, grated, divided
1 (4-ounce) can mild green chiles, drained
1/2 small Vidalia or sweet onion, finely chopped
3 to 4 jalapeños, seeded and chopped, reserving a few slices for garnish
2 tablespoons mayonnaise
4 slices cooked bacon, crumbled
Jalapeño slices for garnish
Corn chips
Preheat oven to 350°. Combine first 7 ingredients in a medium bowl, reserving ½ cup of the Cheddar cheese. Place corn mixture into a lightly greased, 1½-quart ovenproof dish. Bake for 20 minutes; top with remaining cheese and bacon, and bake 10 more minutes or until hot and bubbly. Garnish with jalapeño slices. Serve with corn chips (Leslie likes Frito Scoops). Serves 8 – 10.
3. Scallopini Chicken Fingers
2 pounds chicken tenders (about 10)
2 cups panko (Japanese breadcrumbs)
1 cup Parmesan cheese
1 teaspoon black pepper
3 eggs, lightly beaten
3 tablespoons olive oil
3 tablespoons butter
Lemon slices and fresh herbs for garnish
Place chicken tenders between two sheets of wax paper. Using a meat pounder or rolling pin, pound chicken tenders to ¼- to ½-inch thickness. Combine next 3 ingredients in a shallow dish; set aside. In a separate dish, stir together eggs; add 1 tablespoon water. In a large nonstick skillet, heat half of the oil and butter on medium-high heat. Dip each tender into egg mixture and then panko. Place into hot skillet, cooking half at a time so as not to crowd the skillet. Use remaining butter and oil for the second batch. Keep cooked tenders warm on a cooling rack resting on a baking sheet in a 250° oven while cooking the remaining chicken. Serve warm on a platter. Garnish with lemon slices and fresh herbs. Serves 6 – 8.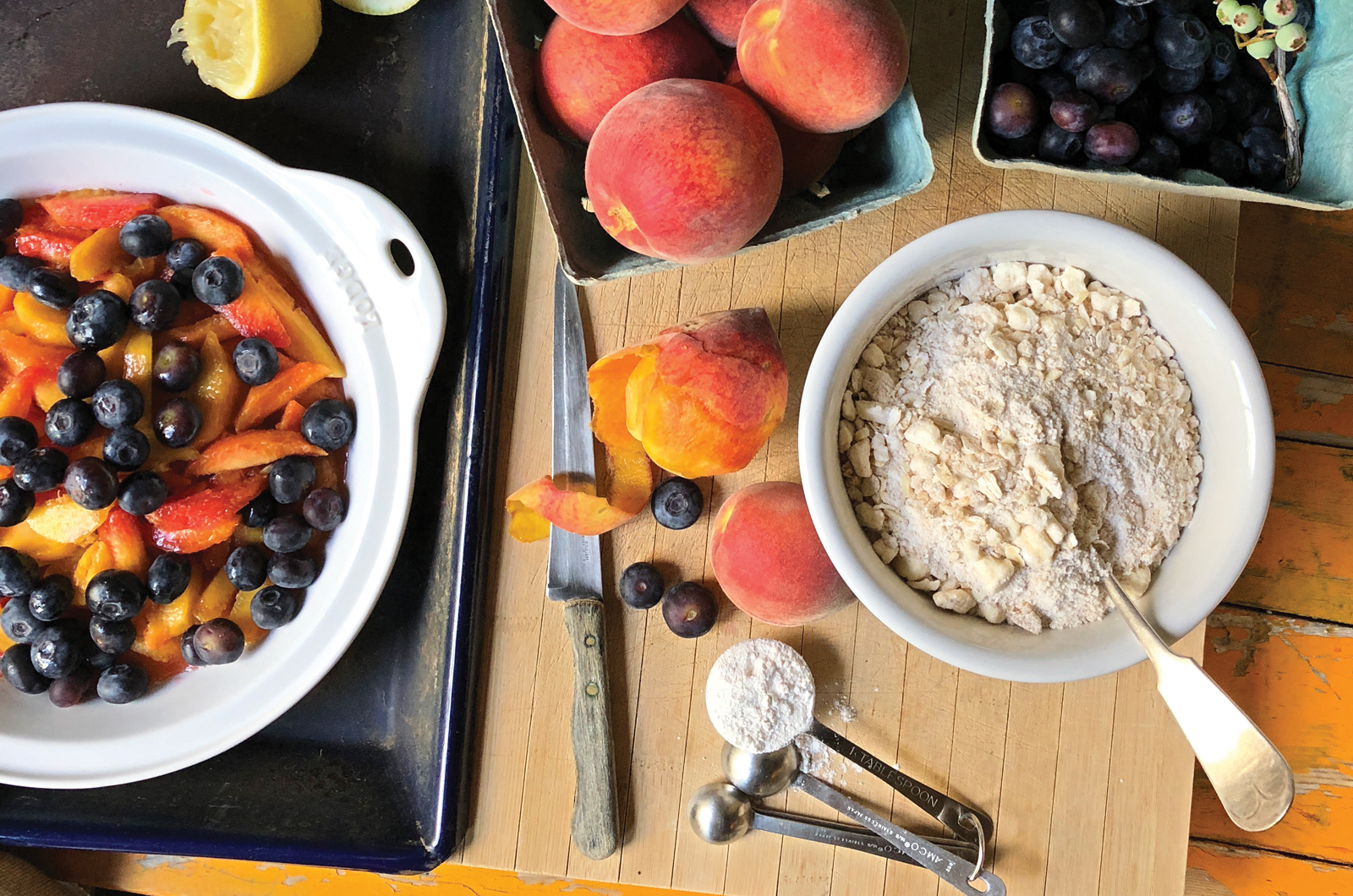 4. The Ultimate Cobbler Topping
3 cups all-purpose flour
1¼ cups granulated sugar
1 cup old-fashioned rolled oats
1 cup light brown sugar
1 cup slivered almonds, crushed
2 teaspoons kosher salt
1 teaspoon ground cinnamon
1 pound unsalted butter (4 sticks)
Combine all ingredients except butter in a medium bowl. Cut butter into small pieces and add to mixture. With the tines of a fork or a pastry blender, incorporate the butter evenly into the mixture. Using your fingers, make pea-size clumps. Divide into 4 Ziplock bags, and store in freezer until ready to use. Enough for 4 (9-inch) cobblers.
Learn from Leslie: For the 6-inch blueberry cobbler in the photo right, use:
1 pint of blueberries
1/2 cup sugar
1 teaspoon lemon zest
juice from 1/2 of a lemon
1 tablespoon flour in the berry mixture
Top with 1 cup of The Ultimate Cobbler Topping. Bake at 350° for 30 to 35 minutes until hot and bubbly and golden brown. Note: This topping works with all fruits and berries. Cooking times may vary depending on size of fruit and baking pan.