Joining a sense of nature with a healthy dose of hominess was the top priority for a Birmingham family wanting to build a lakeside retreat. To manifest that ideal for the couple and their five children, they found the perfect pairing—Jessica Prier of Birmingham Design House combined with Nequette Architecture and Design.
Built for outdoor living with plenty of gathering spaces indoors as well, the 3,785-square-foot, four-bedroom, four-bath home in the Kennebec community offers the best of both worlds. "This is not a huge house, but every area of the house is used," Jessica says. "I really enjoy working with the Nequette team. They have a gift for restraint—a less-is-more approach—and they know how to use space efficiently."
The vision behind Kennebec was to create a special place on Lake Martin where the consistency of design and the quality of construction were really apparent and pushed to the forefront.

Architect Travis Burke, Nequette Architecture and Design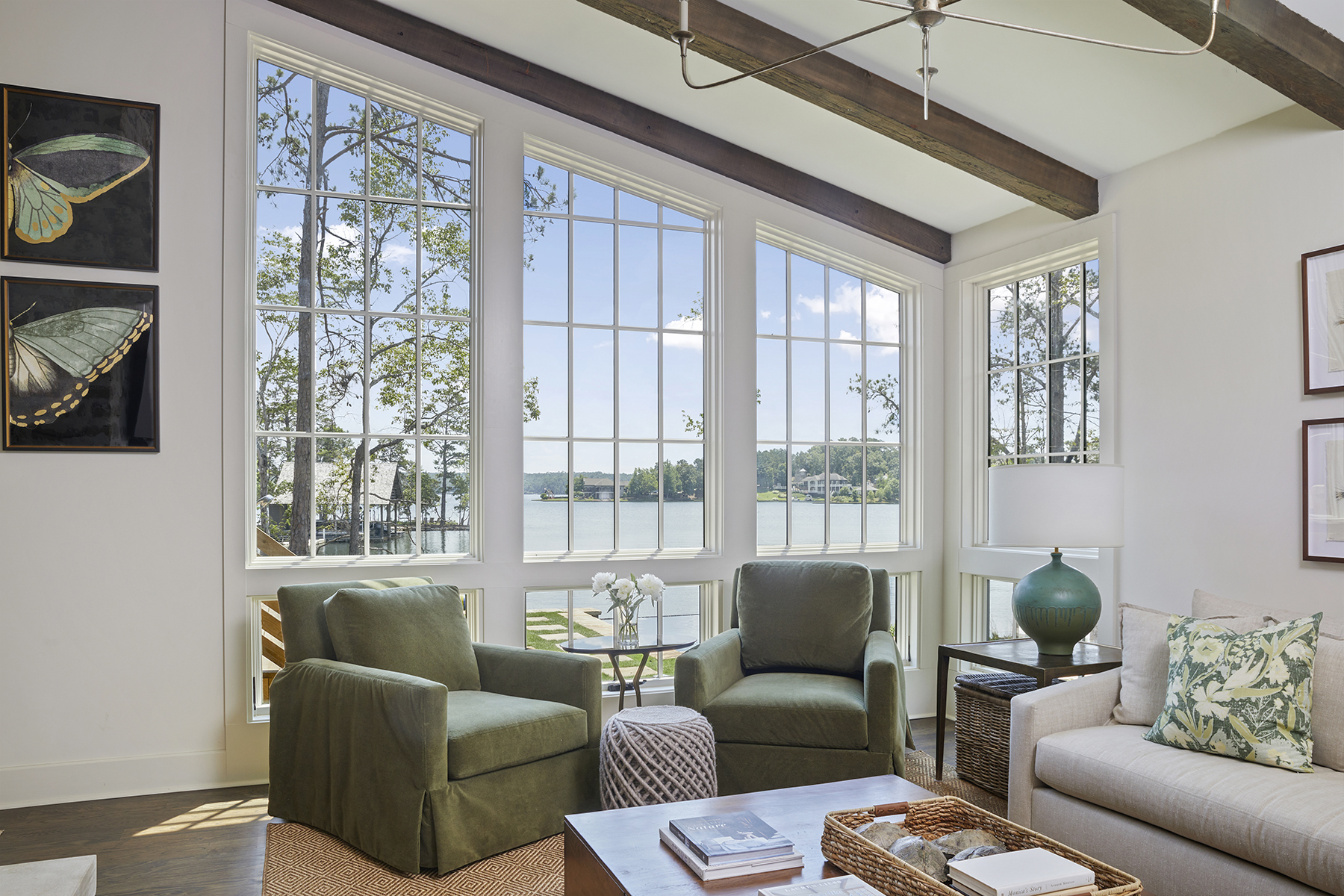 With a cedar shake roof, painted cedar trim, and Douglas fir beams, along with painted siding in Dragons Breath from Benjamin Moore, the house fits perfectly amid the dark brown, green, and gray palette that takes prominence throughout the community. Exposed rafter tails further the natural blending with the environment, helping the house settle comfortably amid the trees.
Inside, timeless tongue-and-groove walls are painted with a custom wash while doors are tinted with a green paint wash. Sherwin-Williams Natural and Sage Green Light combine with the washes to draw in the wooded outdoor setting, where views of the lake lull the senses in hues of blue-green.
Furniture and accessories also cue nature's palette. "I like textures and earthy, organic materials in a lake home," Jessica says. She chose high-end, performance fabrics for the upholstery to bring in a sense of elegance that is still functional.
"It's durable yet very pretty," she says. In the kitchen, marsh-green leather bar stools from Lee Industries tuck beneath an island illuminated with brass and bronze clear globe pendants. Exposed natural beams and leathered Taj Mahal quartzite countertops from Cottage Supply in a summer linen hue connect to the colors in the step-down living room. There, a pair of Verellen sofas and matching moss- green club chairs from Lee Industries are punctuated with lake-themed and forest green accents: custom pillows, glazed ceramic lamps, framed fishing lures, and an abstact with brush strokes of deep blues and greens. A pair of coffee tables pushed together serves as storage for blankets, games, and "things that come with kids and lake life," Jessica says.
"All projects are better with collaboration. I don't want it to feel like I swooped in with only my design ideas. I want my client to contribute to the spaces so that it feels like home to them."

Jessica Prier
Opting for more sophisticated furniture pieces over assemble-it-yourself brands, Jessica stresses the importance of investing in quality. "With most of these more expensive lines, you get pieces that last," she says. "It's worth spending the extra money. The key is figuring out where to splurge and where you can scale back."
Downstairs, a girls' room showcases pops of color on the queen bed with a turquoise print bolster. A multi-hued abstract painting hung above the fabric- covered headboard seems to mimic the pillow's pattern.
The master suite welcomes an abundance of light with walls of windows. Motorized window treatments of linen with a faint ticking stripe offer easy access to privacy once the sun sets. Linen bedding paired with a custom decorative pillow in Schumacher fabric highlights the modern four-poster bed from Oly Studio. Glossy white lamps from Visual Comfort emulate stacked stones, while Bernhardt bedside tables reflect the streamlined symmetry of the space.
In a windowed corner of the room, a hearthside upholstered chair is positioned by a petrified-wood table, inviting the sojourner to sit and read in a moment of solitude. "I love including a cozy chair in the corner of a master bedroom so you can just slow down and have a minute," says Jessica.
Upstairs, a kids' den with full-size bunk beds and a sectional sofa provides plenty of space for relaxing and sleeping after a lively evening punctuated with the sparkle of fireflies and fireside s'mores. "When you're designing for a family with lots of kids and friends, it's important to maximize living space," Jessica says. "But you need to look at how to do that without creating a house that feels too big with spaces that are rarely used," Jessica says. "This home can sleep 24 people, which shows you don't have to have an eight-bedroom home. You just have to be sure everything flows well."
---
GET TO KNOW JESSICA PRIER
Growing up on the Mississippi coast, Jessica Prier of Birmingham Design House was surrounded by historic homes in her hometown and in nearby New Orleans. She has always been intrigued by the innovation that goes into buildings to help them stand the test of time aesthetically and structurally.
In college, Jessica began studying architecture but soon found it a little too literal for her taste, so she transitioned to interior design. Upon graduation from Mississippi State, she went straight to work for the firm that was then called Dungan Nequette Architects. There, she implemented her skills in the coastal community of Rosemary Beach.
Jessica took off seven years to be with her three young children but kept in touch with Louis Nequette while she was at home, bouncing around ideas for various projects. She later went back to work for Nequette before starting her own boutique business.
With insight into both architecture and design, Jessica takes a dual approach when looking at must-haves for lakeside living. Here are her tips for a successful design.
Create spaces that are livable, easy-to-clean, and fun. "Don't forget about performance fabrics," she says.
Include places for storage. "No one wants to see clutter, so you must have a place for all your gear," Jessica says." That includes storage for paper products and food, as well as plenty of hooks for towels and swimsuits."
Create spaces both indoors and out for people to gather and share conversations. "These are places to create memories that will last a lifetime," says Jessica.
---
Kennebec's Grand Plan Preserves Natural Appeal
Kennebec, a planned, gated community on Lake Martin, focuses on the natural beauty of what many say is the state's most pristine lake. Located next to a 74-acre wildlife reserve, the 41-lot community has much to offer with its views of the south area of the lake. Nequette Architecture and Design is one of only a few firms approved to design homes for the community.
"We follow very specific guidelines for the exterior of each house," says Travis Burke, an architect with the firm. "We emphasize natural products like stone, wood siding, and shingles with a few exceptions such as metal roofing."
Travis says keeping the surrounding woods intact as much as possible is a critical aspect of the community's design. "We want the homes to feel like they have been there for a long time, so the connection to the lake and to the land is crucial. We pay attention to what is already there and respond to it in a beautiful way."
---
RESOURCES:
Architect: Louis Nequette and Travis Burke, Nequette Architecture and Design
Interior Design: Jessica Prier, Birmingham Design House
Builder: Doug Fuhrman, Southern Traditions Construction