Architectural designers Richard and Lynielle Long create a new home in Auburn that references European traditions and brims with antiques. When a custom home builder and his wife decided to...
Luxurious appointments, high-tech innovation, classic looks, and fresh color and pattern. Check out these dreamy baths that have all this and more to inspire your own indulgent retreat.
Allie Nielsen of Vine and Branch creates one-of-a-kind arrangements designed to enhance any home—no maintenance required!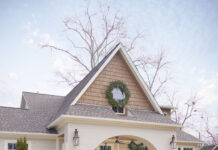 Last Christmas was extra merry for Katty Worley, her husband Hunter, and their children—it marked their very first Christmas in their Homewood home and the start of new traditions.
Inspired by Louisiana architecture, a Mountain Brook couple builds a new home with a deep southern accent.
Architect Michael O'Kelley and designer Jo Anna Cassady join with talented local artisans to give a Cotswold-inspired home old-world charm filled with bespoke finishes, beautiful antiques, and custom details.
In this Vestavia Hills home, everyone in the family gets holiday decorations tailored to their age and taste: Restrained elegance for the adults and memory-building exuberance for the kids.
When it comes to Christmas traditions, family, of course, comes to mind. But for Katty Worley and her daughter, friends are just as important.
Family and friends enjoy the beauty of undisturbed surroundings in a year-round Lake Martin retreat that blends indoor and outdoor living.
A balance of form and function gives this Mountain Brook build a masterful mix of laid-back living and classic style.