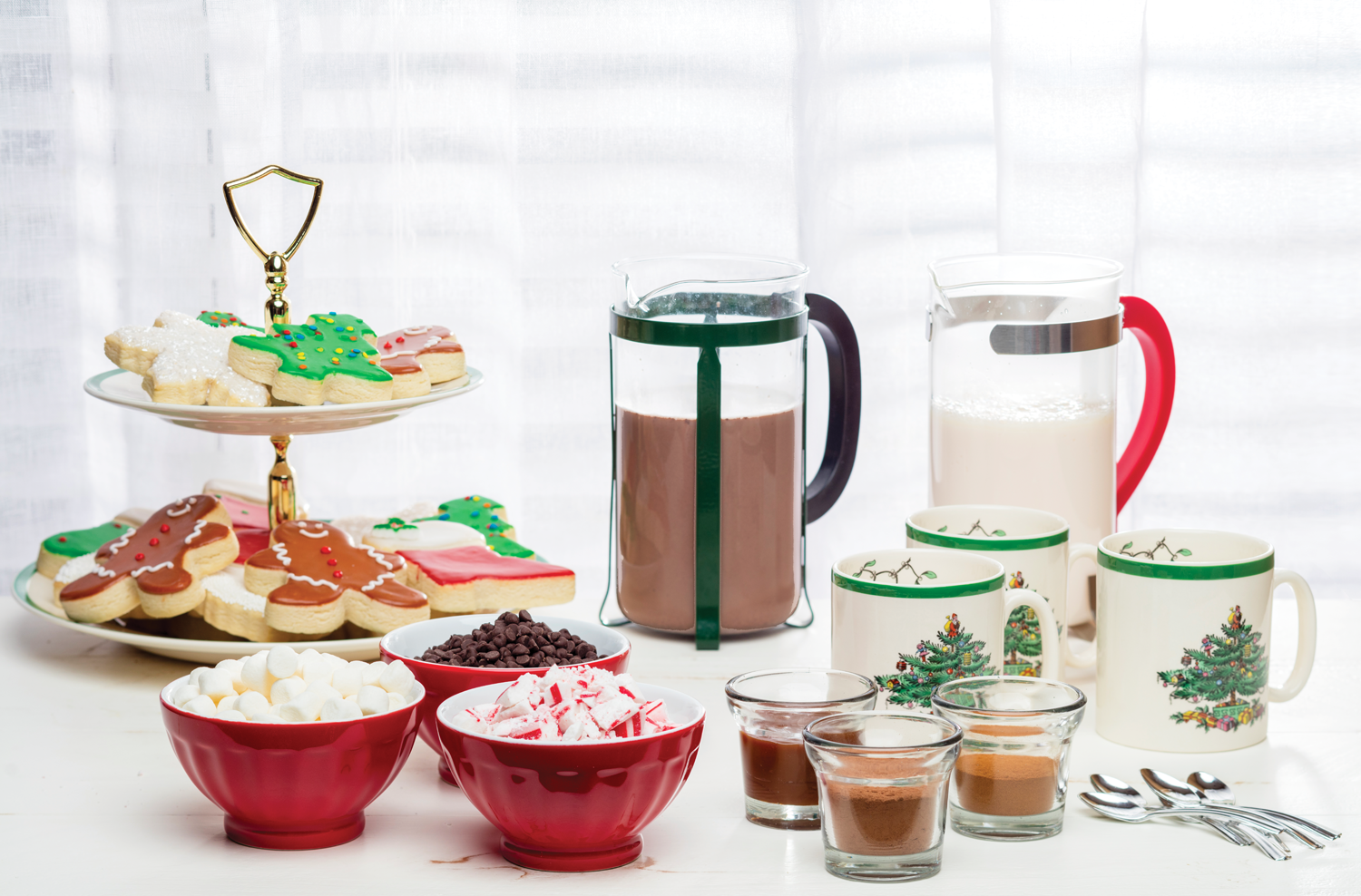 Easy Hot Chocolate for a Crowd
Make this two-ingredient hot chocolate in a slow cooker and serve with a variety of festive toppings.
2 (1½-quart) containers chocolate ice cream
6 cups milk
Mini marshmallows (optional)
Cocoa powder (optional)
Shaved chocolate (optional)
Crushed peppermint candy (optional)
Spoon ice cream into a 3-quart slow cooker. Add milk. Cover and cook on LOW for 2 hours or until thoroughly heated, stirring occasionally.  Ladle hot chocolate into mugs, and top with marshmallows, cocoa powder, shaved chocolate, and peppermint as desired. Yields 18 servings.
Hot Chocolate Toppers
Whipped cream // Mini marshmallows // Crushed gingersnaps // Mini chocolate chips // Shaved dark or white chocolate // Peppermint sticks // Peppermint candies // Caramel topping // Caramel syrup // Hazelnut syrup // Cocoa powder // Ground cinnamon
Spiked Holiday Coffee
In addition to the hot chocolate, add an "adults-only" coffee to the menu.
6 cups brewed Christmas blend coffee
3/4 cup coffee-flavored liqueur (such as Kahlua)
1 cup heavy whipping cream
2 tablespoons granulated sugar
1/2 teaspoon vanilla
Shaved chocolate (optional)
Prepare coffee in desired coffee maker.  Add liqueur, and stir.  Pour whipping cream, sugar, and vanilla into a large chilled bowl.  Beat with a hand-held electric mixer using the whisk attachment until cream thickens and soft peaks form. Pour coffee into mugs, and top with whipped cream. Sprinkle with shaved chocolate, if desired. Yields 6 servings.
Peppermint White Hot Chocolate
For a different take on traditional hot chocolate, use white chocolate chips and add festive holiday flavor with peppermint candy.
8 cups milk
14 hard peppermint candies, crushed
1 cup white chocolate chips
1 teaspoon peppermint extract
Whipped cream (optional)
Crushed peppermint (optional)
Place milk in a heavy saucepan, and cook over medium heat until warm (do not boil). Add crushed peppermint, stirring until candies dissolve.  Add white chocolate chips, stirring with a whisk until chocolate melts. Cook until bubbles form around the edge of pan (do not boil), stirring constantly with a whisk. Remove from heat, and stir in extract. Ladle into mugs, and top with whipped cream and crushed peppermint, if desired. Yields 12 servings.
Note: Cookies were purchased from Icing on the Cookie in Homewood, 2907 Central Avenue, 205.871.9852, icingonthecookie.net.
---
Photography by Art Meripol