Shake-and-Bake Parsley Potatoes
Do your prepping in the comfort of your own home, and place in bags ready to go. When you arrive at your destination, simply quarter the potatoes, toss, and bake. This simple, crowd-pleasing dish tastes delicious with steak and also pairs well with shrimp and chicken.
3 pounds red potatoes
1 (1-gallon) ziplock bag
1 (snack-size) ziplock bag
2 tablespoons garlic cloves, minced (about 4 to 5)
2 tablespoons parsley, finely chopped
1 teaspoon kosher salt
1 teaspoon black pepper
1/4 cup olive oil
Preheat oven to 400 degrees. Wash red potatoes, pat dry, and put in 1-gallon ziplock bag. Refrigerate potatoes until ready to bake. In snack-size ziplock bag, combine minced garlic and next 3 ingredients. Remove potatoes from bag, cut into quarters, and return to the bag. Add seasonings and ¼ cup olive oil to bag. Seal and shake until thoroughly coated. Preheat baking sheet for 5 minutes. Remove from the oven, and pour potato mixture out of bag onto the hot baking sheet. Bake 40 to 45 minutes or until golden brown, stopping halfway through to flip potatoes. Serve immediately. Serves 8.
Grilled Flank Steak with Chimichurri Sauce
It's one less step when the marinade and sauce are the same. You can easily transport the flank steak in a ziplock  bag. If there is any leftover chimichurri sauce, pour it over grilled chicken or pasta for another meal.
6 garlic cloves
2 large shallots
1 jalapeño pepper
3/4 cup red wine vinegar
1 1/2 teaspoon salt (or to taste)
3 cups fresh cilantro
1 1/2 cups parsley
3/4 cup oregano
1 1/4 cups olive oil
1 (2-pound) flank steak
Garnish with cilantro and grilled mini sweet peppers
Roughly chop the garlic, shallots, and jalapeño, and place into the bowl of a food processor. Add vinegar and salt; pulse 3 to 4 times (max) until evenly chopped. With a knife, roughly chop next 3 ingredients, and add to food processor. Add oil, and pulse 2 times; stop and stir mixture to ensure even chopping. Pulse 2 to 3 more times until coarsely and evenly chopped. In a large ziplock bag, evenly coat flank steak with 1 cup of the chimichurri sauce. Refrigerate at least 8 hours or overnight. Remove flank steak from marinade, and pat dry. Grill at medium-high for 8 to 10 minutes on each side or until desired doneness. Allow to rest 5 minutes before slicing. Serve with remaining 2 cups chimichurri sauce. Serves 6.
Learn from Leslie: Grill the mini sweet peppers for 10 minutes while grilling the steak.
Wild Rice Chicken Salad
For this recipe, I like to poach the chicken in water with a dash of salt and a drizzle of olive oil instead of baking it. This method helps it stay moist and white. This recipe makes an easy supper or a quick lunch. I often use the dressing on a green salad too. It's that good!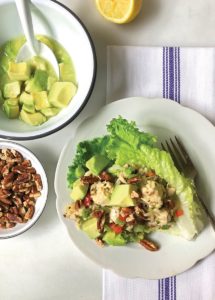 1 (6-ounce) box Uncle Ben's Long Grain & Wild Rice
4 chicken breast halves, cooked and diced
1 bunch green onions, chopped
1 red bell pepper, diced
Juice of 1 lemon
2 medium avocados
1 cup pecans, toasted
Dressing:
2 cloves garlic, minced
1 tablespoon Dijon mustard
1/2 teaspoon salt
1/4 teaspoon sugar
1/4 teaspoon black pepper
1/3 cup seasoned rice wine vinegar
1/3 cup vegetable oil
Mix all salad ingredients, except avocados and pecans, in a large bowl. Set aside. Combine all dressing ingredients in a jar, and shake until combined. Toss salad mixture with dressing. Serve on a bed of leaf lettuce, and garnish with chopped avocado and toasted pecans. (The salad will keep several days once tossed.) Serves 5 – 6.
Make-Ahead Hot Artichoke Dip
The lemon juice brightens up the canned artichokes to give them a fresher taste. This dip can be made up to 48 hours in advance and stored in an airtight container. For a smaller crowd, bake half at a time, keeping the remainder in the refrigerator until needed.
1 (14-ounce) can artichoke hearts, chopped
1 (4-ounce) jar sun-dried tomatoes in oil, drained
8 ounces good-quality feta cheese, crumbled
1 cup light mayo
2 to 3 garlic cloves, minced
Juice of half lemon
¼ teaspoon black pepper
Garnish with basil (optional)
Assorted crackers
In a medium-size bowl combine first 7 ingredients. Refrigerate until ready to bake. (This can be done up to 48 hours in advance.) Place in a lightly greased 1½-quart baking dish. Bake at 375 degrees for 15 to 20 minutes until hot and bubbly. Garnish, if desired. Serve with crackers. Makes 4 cups.
Refreshing Lemonade Tea
I always have these ingredients on hand to whip this up the night or two before a trip. It's a nice alternative to soft drinks. In the summer, I like to drink this with breakfast!
10 regular-size tea bags
8 cups boiling water
1 cup sugar
1 (12-ounce) can lemonade concentrate
Lemon wedges for garnish (optional)
Place tea bags in a 2-quart measuring cup or heat-proof bowl. Pour boiling water over tea bags, and allow to steep for 30 minutes. Remove tea bags, and pour tea into a 1-gallon container. Add sugar, and stir until dissolved. Add lemonade concentrate and water to fill container. Stir to combine. Chill and serve over ice with lemon wedges, if desired. Makes 1 gallon.
Packing List
When going to the lake or beach, especially if you are in a rental, don't forget to pack these essentials:
1. Music source (Bluetooth portable device)
2. Scented candle
3. Paper products, tissues, soap, detergents
4. Condiments
5. Fresh flowers
6. Garbage bags,  ziplocks, plastic wrap
7. Cocktail provisions—napkins, wine,  alcohol, lemons, and limes
8. Puzzle and cards for a rainy day
9. Matches or a lighter
10. Your pillow