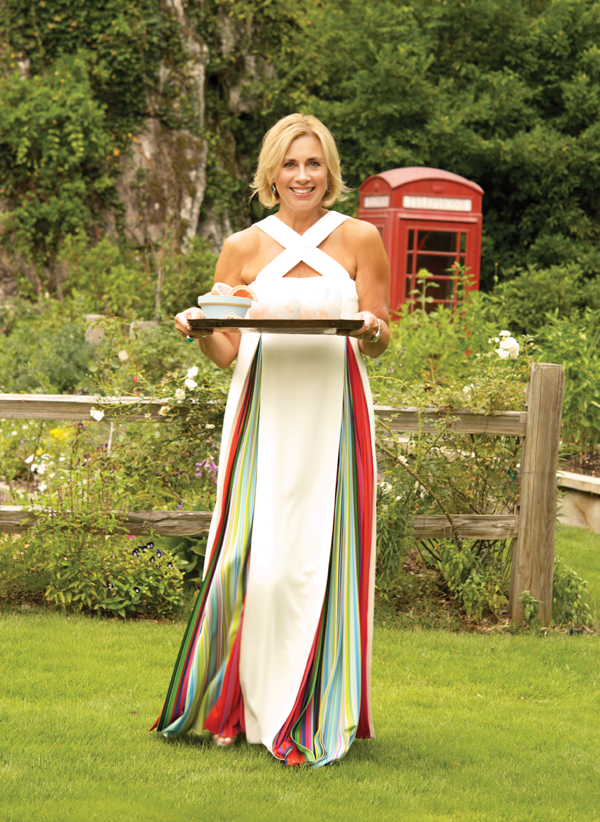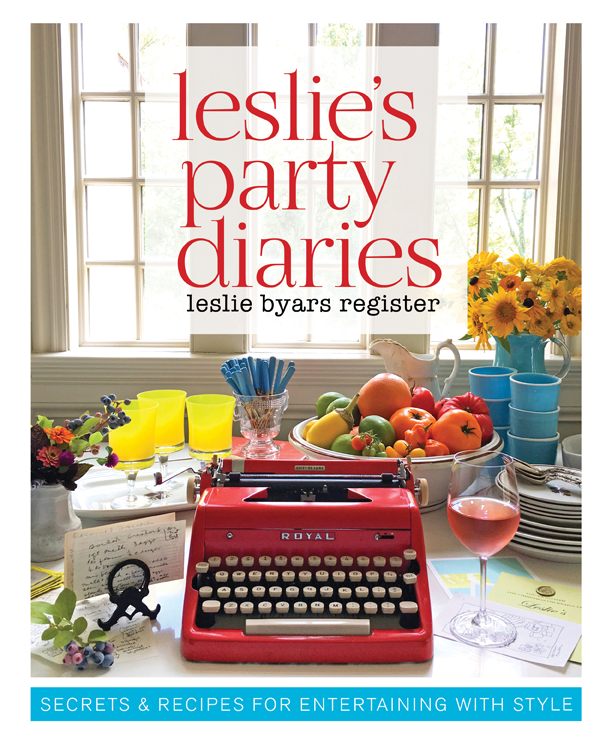 Leslie developed, tested, and styled every single recipe and also photographed the entire book on her iPhone. In essence, this passion project was a one-man show inspired by her own life—and the influence of the talents she has worked with over the years.
Photo by Virginia Houston
A former stylist for Southern Living magazine and other national publications, Leslie Byars Register reveals the secrets and tips she has learned from more than 30 years of experience. In a delightful, witty manner, Leslie holds your hand through planning and hosting an entire dinner party from start to finish. She includes 85 of her most loved, crowd-pleasing recipes that are doable by anyone, and more than 30 inventive party themes for all ages. Here, we share a few favorite recipes to get you started.
Smokin' Hot Chili
When you are craving chili, Leslie's version is the one. It's a traditional recipe with an added kick of flavor. Serve with toppings for a casual, easy supper.
1½ lb. ground beef
2 Tbsp. olive oil
1 large onion, chopped
2 garlic cloves, minced
2 tsp. salt
½ tsp. red pepper
½ tsp. ground cumin
½ tsp. dried oregano
2 Tbsp. chili powder
2 (10-oz.) cans diced tomatoes and green chiles,  undrained
1 (8-oz.) can tomato sauce
1 (16-oz.) can pinto beans, undrained
1 (16-oz.) can red kidney beans, undrained
Toppings: shredded Cheddar cheese, sour cream, chopped red onion, sliced green onions, cilantro leaves
Tortilla chips or crackers
1. Cook ground beef in hot oil in a Dutch oven over medium-high heat, stirring often, until meat crumbles and is no longer pink. Remove
beef from skillet with a slotted spoon to paper towels to drain; reserve 1 Tbsp. drippings in Dutch oven.
2. Add onion and garlic to Dutch oven; cook over medium heat, stirring often, until translucent. Stir in salt and next 8 ingredients; bring to a boil.
3. Reduce heat, and simmer 30 minutes, uncovered. Cover and simmer 1½ hours. Top each serving with cheese, sour cream, red onion, green onions, and cilantro leaves. Serve with tortilla chips or crackers. Serves 6 – 8.
Leslie's Tried-and-True Cornbread
"I can make this recipe with my eyes closed." — Leslie
3 to 4 Tbsp. vegetable oil
2 eggs, beaten
2 cups nonfat buttermilk
2 cups white self-rising cornmeal mix (Leslie likes Martha White)
A pinch of baking soda
A pinch of baking powder
1 tsp. salt
1. Preheat oven to 450°. Pour vegetable oil in a 10-inch cast-iron skillet; place in hot oven for 4 minutes.
2. Whisk together eggs and buttermilk in a small bowl. Combine cornmeal mix, baking soda, baking powder, and salt in a medium bowl. Add egg mixture to dry ingredients, stirring just until dry ingredients are moistened. Carefully remove skillet from hot oven; pour all but 1 Tbsp. hot oil into mixture. It should sizzle. Stir quickly and pour contents into hot skillet. Bake for 25 minutes or until golden. Serves 8.
Mexican cornbread: Before hot oil is added, stir in kernels of 2 ears of fresh corn, 1 seeded and chopped jalapeño pepper, and 1 cup shredded sharp Cheddar cheese. 
Hot Spinach Dip
The combination of spinach and cheese never disappoints. This is a perfect appetizer for a football party or other casual gathering.
1 cup chopped onion
2 Tbsp. olive oil
3 medium tomatoes, chopped and divided
2 to 4 Tbsp. seeded and chopped jalapeño peppers
1 (10-oz.) package frozen chopped spinach, thawed
2½ cups (10 oz.) shredded Monterey Jack cheese, divided
1 (8-oz.) package cream cheese, cut into ½-inch pieces
1 cup half-and-half
1 (2.25-oz.) can sliced ripe olives, drained
1 Tbsp. red wine vinegar
Salt and pepper to taste
​Jalapeño pepper slices, optional
Tortilla chips
Preheat oven to 400°. Sauté onion in hot oil over medium heat until tender. Stir in two-thirds of the tomatoes and all of the chopped peppers. Cook 5 minutes, stirring occasionally. Transfer mixture to a large bowl. Stir in spinach, 2 cups Monterey Jack cheese, cream cheese, half-and-half, olives, vinegar, salt, and pepper.  Spoon mixture into a greased 2-qt. baking dish; bake 30 to 35 minutes or until bubbly. Top with remaining cheese, chopped tomatoes, and jalapeño slices, if desired. Serve with tortilla chips. Serves 10 – 12.
Freezer Pizza Crusts
6 (¼-oz.) envelopes active dry yeast
2 tsp. sugar
1½ cups warm water (100° to 110°)
6 cups all-purpose flour
2 tsp. salt
1 cup warm water
⅓ cup olive oil
Vegetable cooking spray
1. Combine first 3 ingredients in a small bowl. Let stand for 5 minutes.
2. Combine yeast mixture, 6 cups flour, and next 3 ingredients in a large bowl, stirring until blended.
3. Turn dough out onto a lightly floured surface, and knead for 5 minutes. Place dough in a bowl coated with olive oil, turning to coat top. Cover and let rise in a warm place (85°), free from drafts, 30 minutes or doubled in bulk.
4. Punch down dough; knead lightly 4 to 5 times. Divide into 12 equal portions; roll each portion into an 8-inch circle.
5. Cook each round on 1 side in a lightly greased nonstick skillet over medium heat about 2 minutes or until lightly browned. Cool on a wire rack. Freeze in 2-gallon plastic zip-lock freezer bags or an airtight tin with wax paper between each crust.
6. When ready to use, pull out of freezer and immediately top with your favorite pizza sauce and toppings while crust is firm and frozen.
7. Bake directly on the oven rack at 425° for 12 to 15 minutes or until edges are lightly browned and cheese is melted. Makes 12 (8-inch) crusts.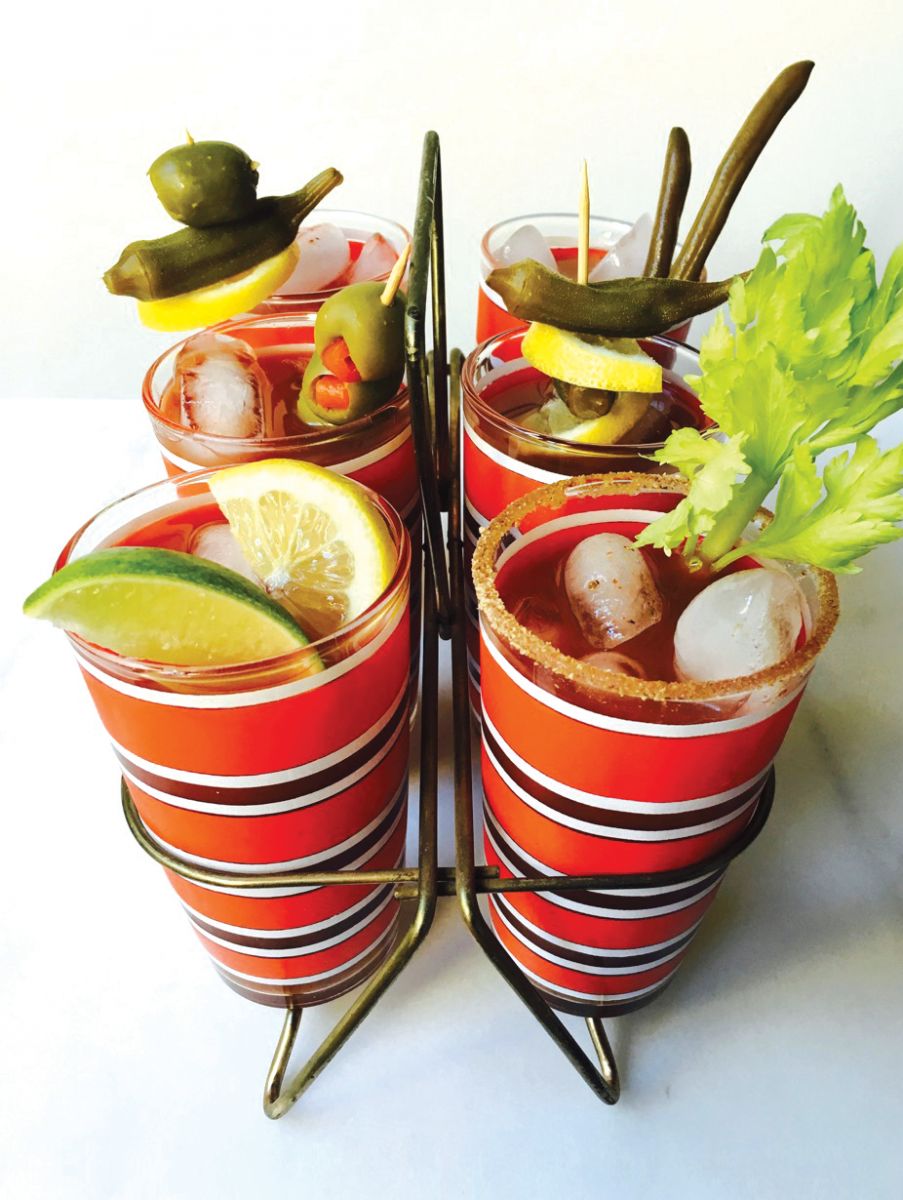 Bloody Leslie's
"I love to set out a Bloody Mary bar on Thanksgiving Day with all the fixings, " says Leslie. "Add a shrimp or two and a slice of salami, and it's almost a meal!
Lemon and lime wedges
Ice cubes
3 Tbsp. Tito's vodka
¾ cup Bloody Mary mix (Leslie likes Zing Zang)
Beau Monde Seasoning
Garnishes: olives, dill green beans, celery, pickled okra, boiled shrimp, salami slices, lemons, and limes
Squeeze juice from lemon or lime wedge onto rim of glass; add ice, vodka, Bloody Mary mix, and a pinch of Beau Monde seasoning. Garnish as desired. Serves 1.