Five golf courses, one dreamy spa, a variety of restaurants, endless water sports, and an infinity pool that seemingly disappears into Lake Oconee—and that's just part of the Ritz-Carlton Lodge at Reynolds Plantation. Spend a long weekend luxuriating in the hotel's concierge service, a well-appointed room or cottage, and beautiful natural surroundings and it's easy to see why so many choose this spot in Georgia for their vacation wonderland. The good news is, you don't have to check out should you wish to extend your stay. Reynolds Plantation is much more than a hotel. It's a lakefront and golf course community filled with varying price points of resort-style homes that come with club membership options. Think of the lodge as a teaser to the greater property and discover all that Reynolds Plantation has to offer.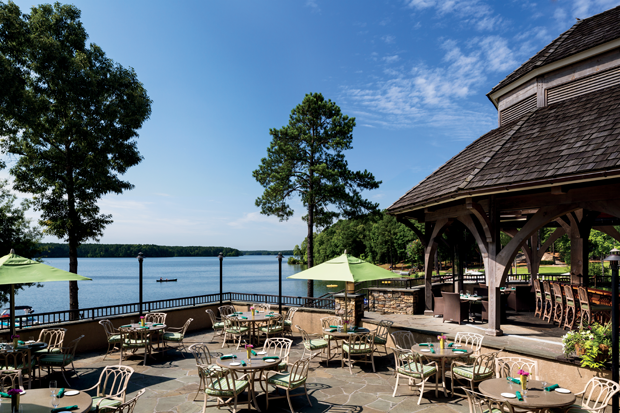 5 Reasons to Visit
1. Superb service Ritz-Carlton properties are top-notch when it comes to gracious hospitality and amazing amenities. Everything is fine-tuned to perfection—down to the extra touches such as turn-down towel service poolside. An at-the-ready concierge happily accommodates your wishes. A private dinner in your room or lakeside by a fire? Done. Golf or tennis lessons? Pros are at the ready. Kids camp so you can spend the day at the spa? Yes, they have that too.
2. Location Beautiful anytime of year, the Lodge overlooks the waters of Lake Oconee. Don't have your own boat? The Lodge rents ski boats, jet skis, pontoons, and more. And they will happily stock your boat with skis, boards, and water toys. Not into speed? Enjoy an afternoon in one of the property's rockers or hammocks and watch the boats cruise by.
3. The Spa Newly renovated, the spa and its indulgent offerings will spoil anyone for an hour—or the day. Be sure to try a Personalized Facial customized for your skin. Need (want) a massage? Go ahead and splurge for 80 minutes of  Heaven as your therapist blends a mix of essential oils chosen just for you.
4. Golf The resort actually boasts six golf courses (one is members only) designed by greats including Cupp, Nicklaus, Fazio, Jones, and Engh. Named the "Best of the Best" golf community by Robb Report, Reynolds Plantation offers 117 holes to challenge your swing and your temperament. Want to up your game? Visit the TaylorMade Kingdom for swing analysis and personal club fitting. Just one of two TaylorMade Kingdoms in the U.S., this one's a favorite for visitors, members, and PGA Tour professionals.
5. Fabulous Cuisine From casual lunches to date-night dinners, onsite restaurants offer a wide range of tantalizing dining choices. Enjoy the perfect mix of white tablecloth service and casual dining overlooking the lake at Georgia's Bistro. Sip one of their signature cocktails while waiting for the shrimp and grits appetizer. Don't miss an evening at Linger Longer Steakhouse. Choose your cut, pile on enhancements such as Lump Crab, Grilled White Gulf Shrimp, or Seared Foie Gras, and opt for sauces such as Béarnaise, Brandy Peppercorn, and Bacon and Mushroom Bordelaise sauce to create your steak masterpiece.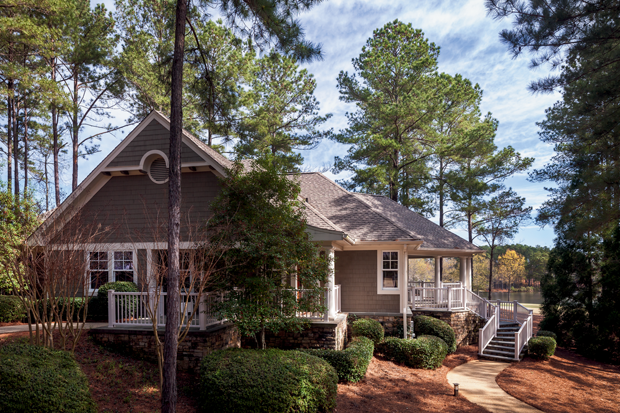 More Reasons to Stay
Reynolds Plantation is a 10, 000-acre playground with homes beginning in the mid 200s. Property owners have the option of five levels of club memberships ranging from an initiation fee of $10K to $60K with a minimal annual fee. Depending on the level of membership, club members enjoy golf and tennis access, guest cottage rental discounts, and private club amenities including a state-of-the-art fitness center and indoor and outdoor pools.
What began as a hunting retreat dubbed Linger Longer in the 1920s was carefully guarded as a natural getaway place for family and friends until the Reynolds family developed it as a resort and community in 1985. Placing top priority on the natural environment and upscale living, Reynolds Plantation is a place for friends and family, rest and rejuvenation. reynoldsplantation.com