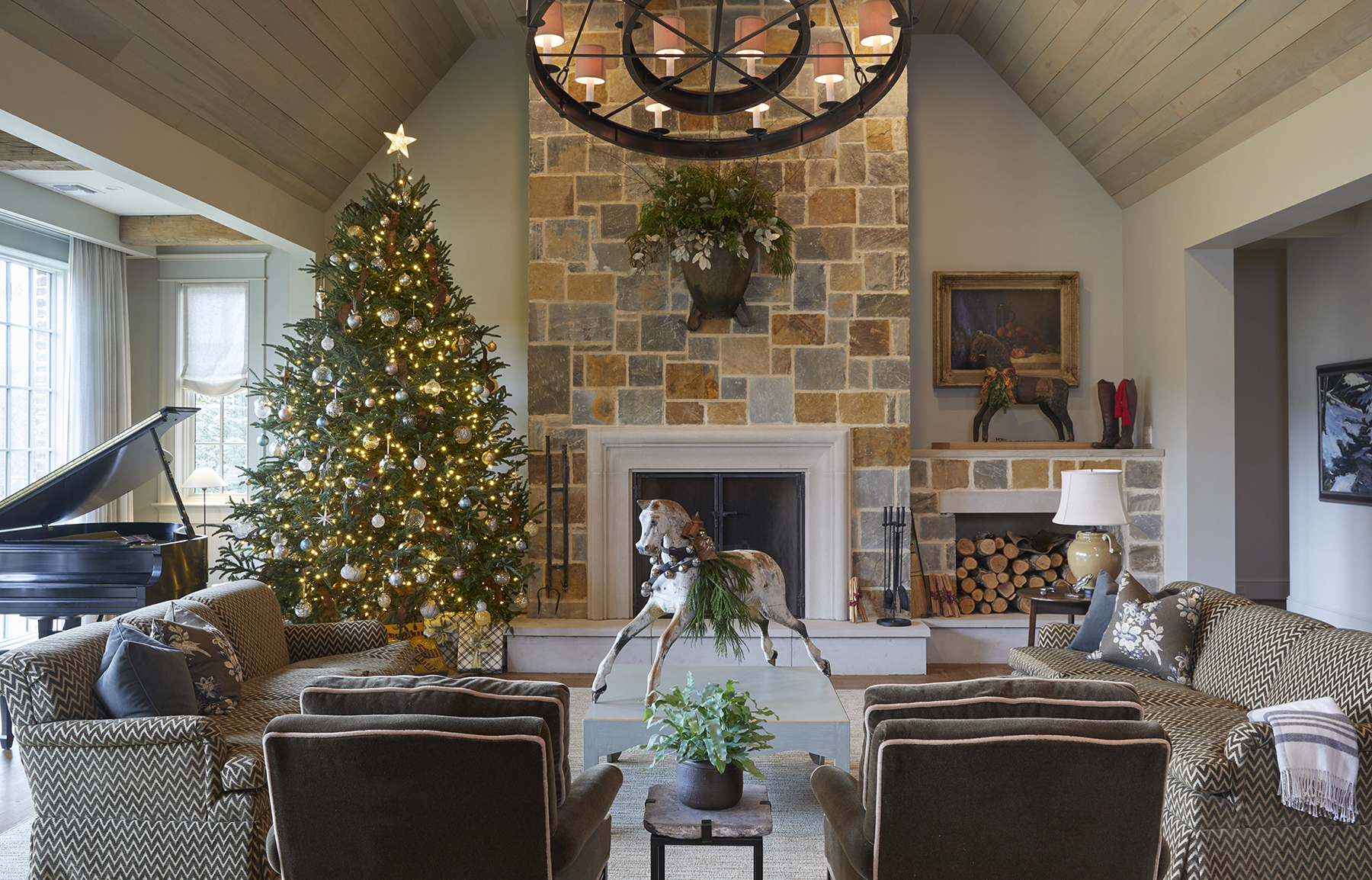 Building a new home allows the opportunity to realize one's dream floor plan, but not everyone views the process as a way to also tell a personal story. Merrill Stewart's home in the Abingdon neighborhood of Mountain Brook does just that. References to projects Merrill's firm, Stewart Perry, worked on in downtown Birmingham, as well as to his favorite restaurants and travel destinations, fill the stately home. "The copper light fixtures my daughter and I designed are based on ones at Herbsaint in New Orleans, a favorite place of ours," says Merrill. "Two of the iron chandeliers were inspired by Hall's winery in Napa Valley and interpreted by artisan Justin Cordes. And the front door bronze threshold came from the original Thomas Jefferson Hotel in downtown Birmingham, which was no longer needed after the renovation." Merrill adds that when his firm was restoring the landmarked Lyric Theater, he met a plaster artist from New York who introduced him to the design of the dining room ceiling. And almost all the antiques came through Merrill's sister, Judy Hill, one of the original owners of Henhouse Antiques in English Village.
Modeled after the Cotswold style, the house features hand-thrown brick in a custom blend of colors, a slate roof, and tall grasses in the landscape. The architecture, designed by Michael O'Kelley, has its own story to tell.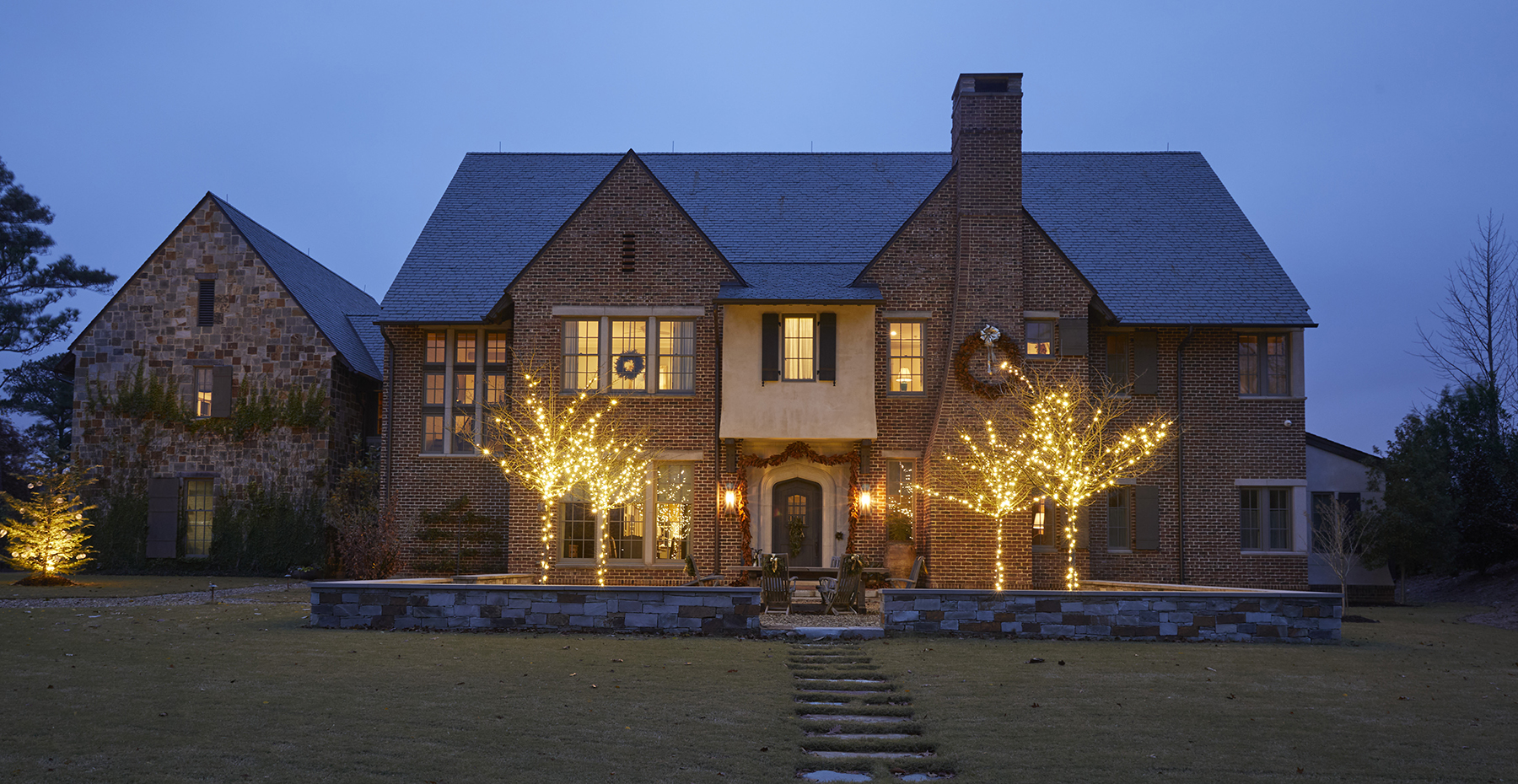 "Merrill loves history and wanted it to feel like a historic house with additions over the years rather than a home that was built all at one time," says Michael. To achieve this look, the garage and carriage house are made of stone instead of brick, and the main bedroom suite at the right side is finished in stucco and repeats the exterior brick on an inside wall to give the impression that it was added at a later date. These materials, along with many others, add a welcome age to the home. "We call them 'character grade flaws'—wood that shows lots of knots and other imperfections; weathered, reclaimed oak beams; and copper gutters that develop a beautiful patina over time," says Michael.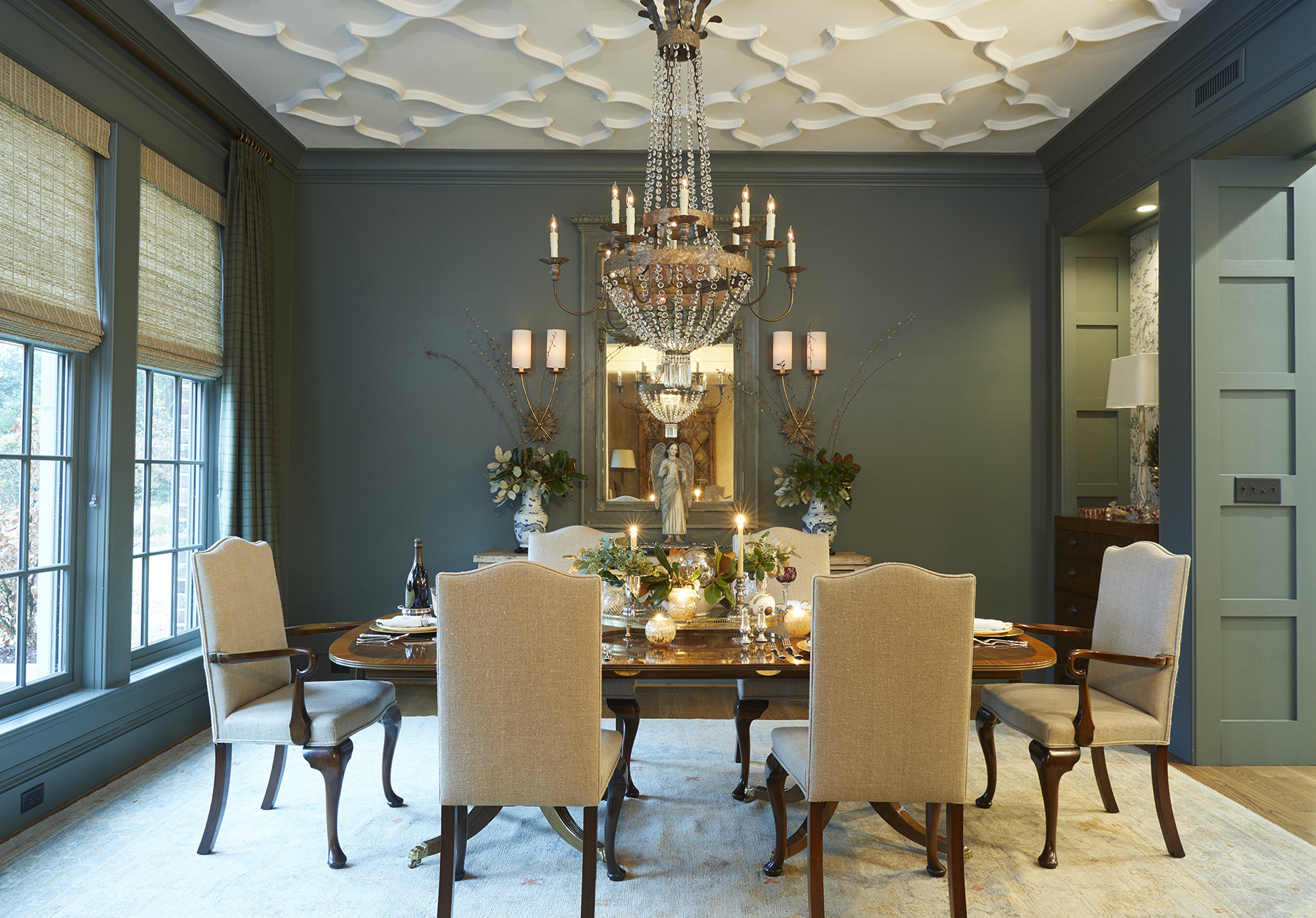 For the buttoned-up interiors, designer Jo Anna Cassady took a cue from the architecture itself. "The style of this house felt very masculine to me, and I thought that needed to continue on the inside as well," Jo Anna says. To achieve that look, she used menswear plaid, velvet, and other nubby textures. However, there are a few feminine notes, such as the elaborate chandelier, the graceful wall sconces, and the antique French Trumeau mirror with a gilded swag in the dining room. "The chandelier took a little convincing for Merrill," says Jo Anna. "I suggested that he imagine that it had been his mother's or grandmother's."
Tickets are available starting November 1st online at ipc-usa.org/holiday-house.html
The designer was able to reupholster and rework many of Merrill's pieces from his prior residence, and she incorporated his beautiful antiques, such as an antique bed that was reworked into a larger size by artisan Charles Wade. "It was a delight taking the disparate pieces and reimaging them or putting them in different areas and mixing it all up," says Jo Anna. And to fill in the gaps, she turned to Judy and Henhouse Antiques for the perfect finds, such as the Georgian bookcase in the study and the primitive sideboard in the dining room. "Merrill didn't want a crowded feel, so the pieces needed to stand on their own and have some gravitas," says Jo Anna. The edited rooms with rustic and refined moments allow the unique pieces to be appreciated, all set off by a calm palette of blues, greens, and neutrals. Every thoughtful element of the home, combined with the pieces by commissioned artisans, came to fruition to create a home built for the ages.
"The thought was to make it look as if the main house was built using these handmade bricks and then years later, the owner decided to add the garage and the carriage house.'"

Michael O'Kelley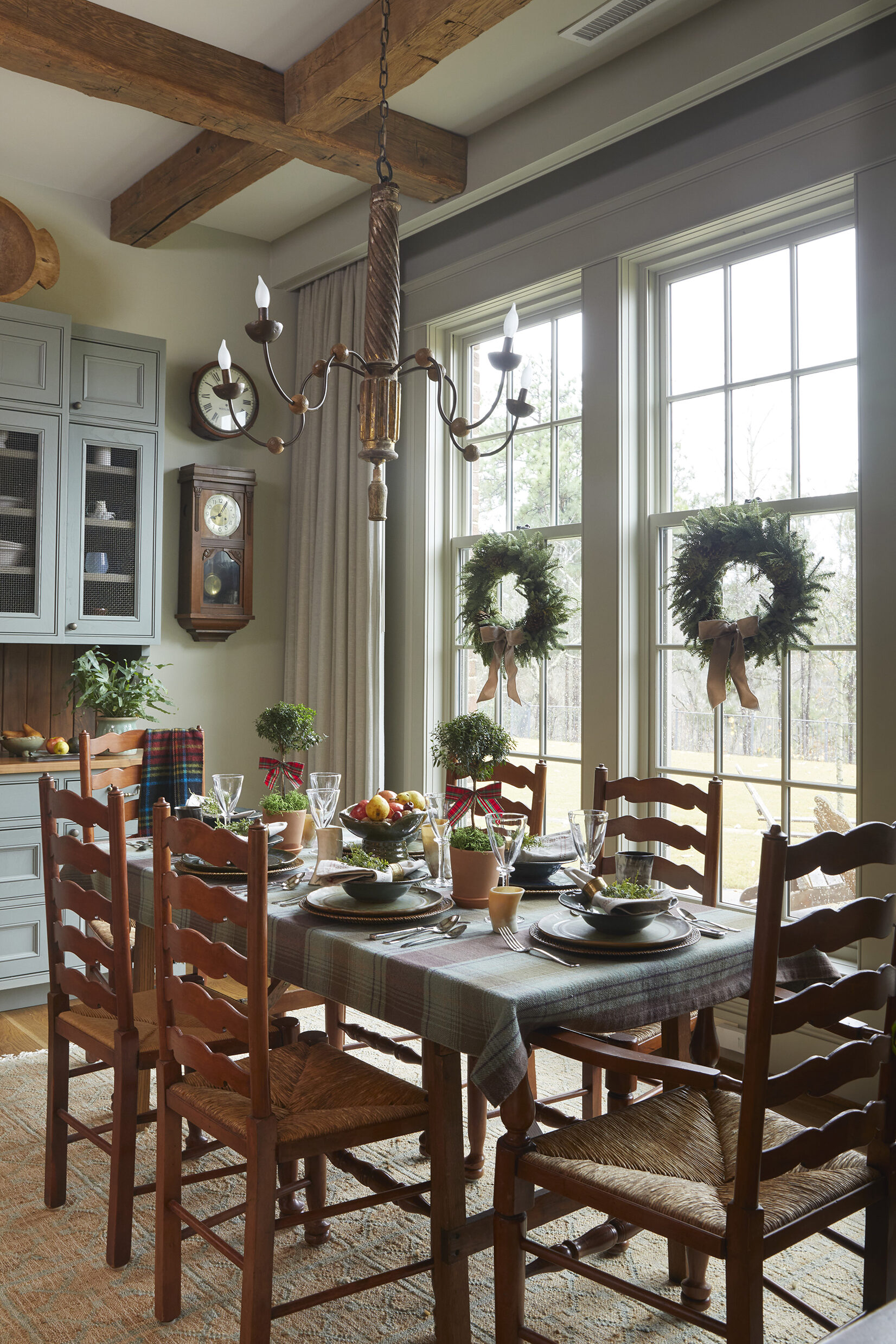 ---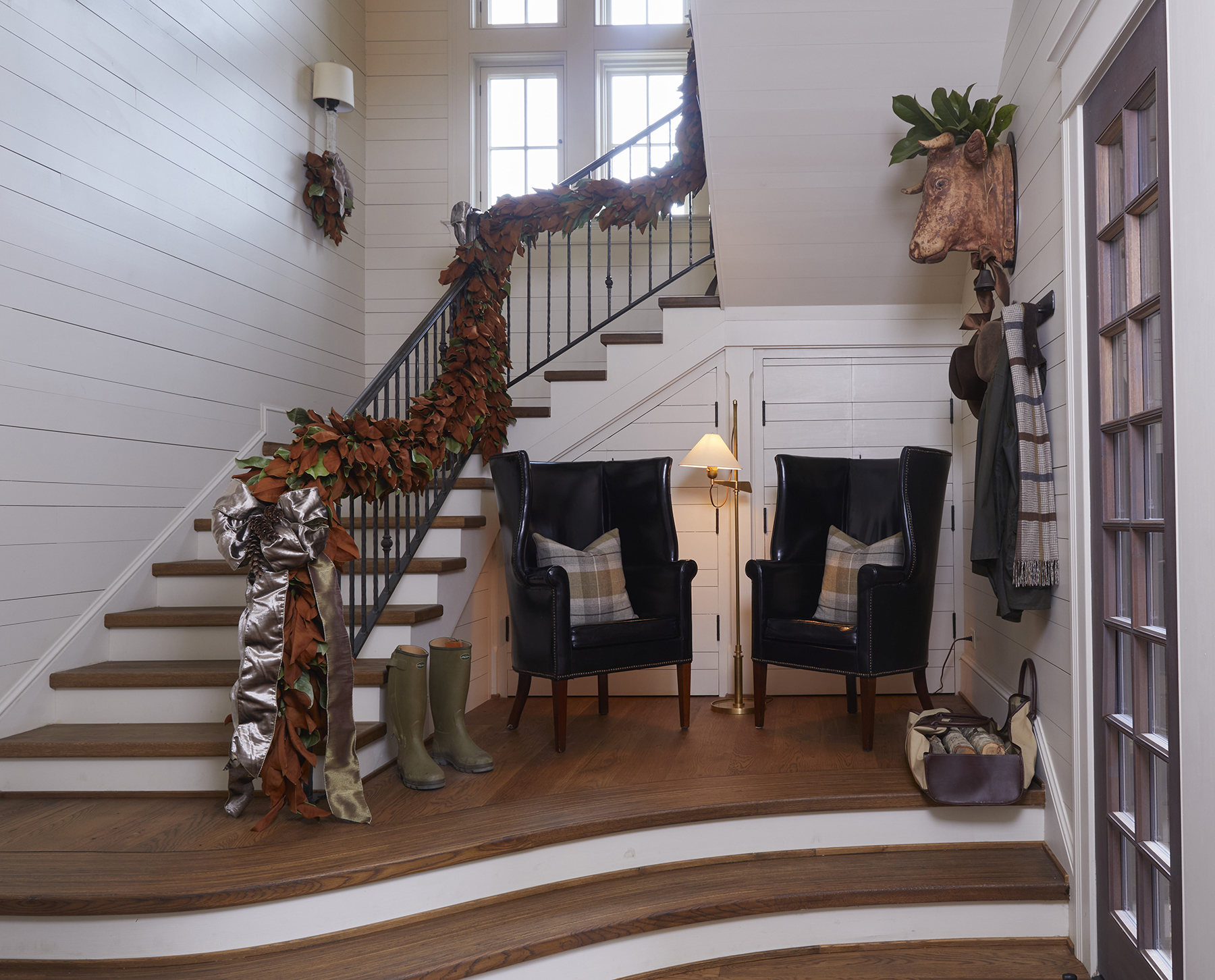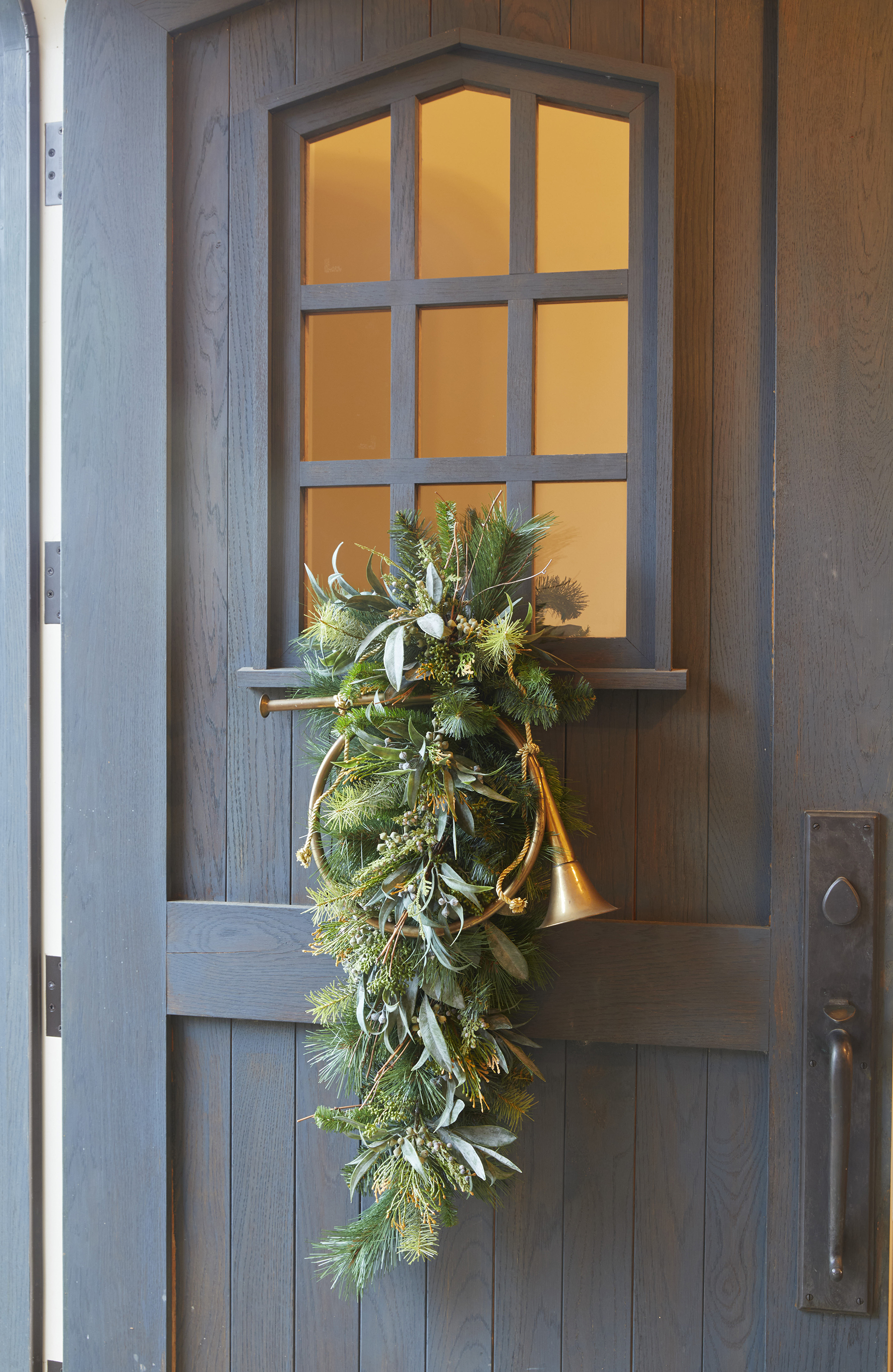 Create Character
Offer architectural accents.
Use a mix of treatments on the ceilings that look like they may have been added over the years like wood beams and plaster detailing. Shiplap is also a great choice for walls in certain areas given its inherent rough quality. Here, it's used in the side entry vestibule and the carriage house.
Use a mix of materials.
The exterior employs brick, stucco, and stone—all materials that play well together and are indicative of an old home.
Add patina.
If you can't source reclaimed wood, give doors and cabinets an aged look with artistic finishes by painting, sanding, or staining surfaces.
Vary style and color.
Some kitchen cabinets are stained while others are painted. The glass-fronted cabinet section in the kitchen is painted a complementary shade and looks like it could have been put in at a later time. It also has a distinct counter surface apart from the rest of the kitchen.
Include antique and vintage rugs.
These pieces bring instant age and look like they've been in the family for generations—No one needs to know you just bought them.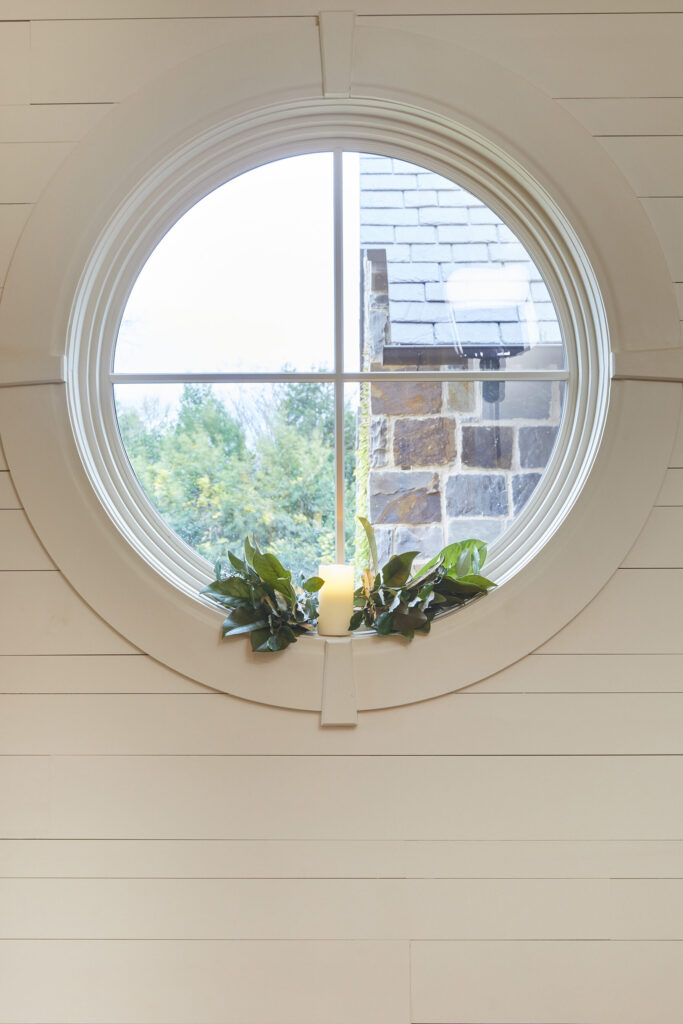 "My home recharges my soul with its peacefulness. I enjoy looking out the back because I feel like I'm in the mountains. In Abingdon, you are surrounded by woods but still close to everything Birmingham has to offer."

Merrill Stewart