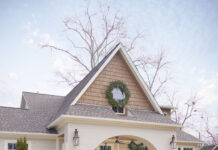 Last Christmas was extra merry for Katty Worley, her husband Hunter, and their children—it marked their very first Christmas in their Homewood home and the start of new traditions.
Inspired by Louisiana architecture, a Mountain Brook couple builds a new home with a deep southern accent.
Architect Michael O'Kelley and designer Jo Anna Cassady join with talented local artisans to give a Cotswold-inspired home old-world charm filled with bespoke finishes, beautiful antiques, and custom details.
In this Vestavia Hills home, everyone in the family gets holiday decorations tailored to their age and taste: Restrained elegance for the adults and memory-building exuberance for the kids.
Leslie Byars Register and other Birmingham Dames share their favorite elevated holiday recipes and a simple tick for stylish party favors.
When it comes to Christmas traditions, family, of course, comes to mind. But for Katty Worley and her daughter, friends are just as important.
Local floral designers: Sybil Sylvester, Charlotte Wessel, Buffy Hargett, and Lisa Bailey share their tips for decorating during the holidays
A void in the marketplace led Jennifer Hunt's creation of Dogwood Hill, a semi-custom stationery and wedding papers firm she founded in 2015.
A Vestavia Hills cottage receives a second renovation by interior designer Meredith Sherrill just in time to celebrate the season.
Add even more to your festive décor with the vibrant colors of these seasonal plants. Gardening expert John Floyd shares his advice for ensuring these blooms stay beautiful and fresh throughout the holidays.