The Friends of Birmingham Botanical Gardens is pleased to celebrate the 16th Antiques at the Gardens (AATG) this fall. Presented by First Horizon Bank and featuring textile sponsor Sister Parish Design, Birmingham's premier antiques show will include talks by nationally and internationally acclaimed interior designers, floral designers, architects, landscape architects, and furniture designers.
The show kicks off on September 29th with Gala in the Gardens, sponsored by Cooper Construction. Enter the show through the special garden entrance created by Millhouse Howell, and visit 22 celebrated dealers offering furniture, fine art, vintage and fine jewelry, silver, rugs and textiles, home décor, and garden accessories.
September 29–October 2, 2022
---
For tickets, show schedule, speaker bios, and dealer information, visit bbgardens.org/antiques. Follow show announcements and reveals on Facebook and Instagram @antiquesgardensbham.
---
2022 Show Ambassador
Richard Keith Langham
Alabama-born and Manhattan- based, Richard Keith Langham has been a force in the decorating world for more than 30 years. After graduating from the Fashion Institute of Technology in New York and attending the Center for the History of Fine and Decorative Arts in London, Langham apprenticed with design legend Mark Hampton. He then spent 10 years with Irvine & Fleming before founding his own firm in 1990. Langham's keen eye and ebullient talent serve well in assembling his signature rooms—those that speak to the past in a fresh way and are brimming with luscious color, pattern, and couture detailing. Perhaps no one summed up his aesthetics better than Jacqueline Kennedy Onassis, who once proclaimed him to have "a sorcerer's eye."
---
Friday, September 30
Red Diamond Lecture Series
Sponsored by Red Diamond, Inc.
KEN FULK
For over 30 years, interior designer Ken Fulk has crafted some of the most enchanting spaces around the globe. The designer—who has been named to the Architectural Digest AD100 and Elle Decor A-List and has been twice nominated for a James Beard Award for his hospitality projects—is known for his signature blend of cinematic flair and layered spaces. He is the author of The Movie in My Mind in which Fulk takes readers behind the scenes of some of his most extravagant endeavors. In 2018, he founded Saint Joseph's Arts Foundation, a nonprofit dedicated to supporting local artists at revitalized historic landmarks in San Francisco and Provincetown.
Followed by book signing.
LEWIS MILLER
Creator of the viral Flower Flash, Lewis Miller was born and raised in California farm country, where he developed a respect for nature at a very young age. Miller is the founder of LMD New York, Lewis Miller Design, one of the premier floral design houses in New York City, with a new second office in West Palm Beach, Florida. He is the author of Styling Nature: A Masterful Approach to Floral Arrangement and FLOWER FLASH. Miller's Flower Flashes are street art floral installations repurposed from events to create pop-up street installations. He has expanded these from New York to Los Angeles, Miami, Charlottesville, and Nashville. Miller's goal is to continue this work and bring joy and surprise to urban neighborhoods and city dwellers.
Followed by book signing.
---
Saturday, October 1
VERANDA PANEL
Presented by Veranda magazine
MODERATOR: Steele Marcoux, Editor in Chief, Veranda
Followed by book signings.
BRANDON INGRAM
Georgia native Brandon Ingram's eponymous firm, C. Brandon Ingram Design, is an Atlanta-based residential design firm with
major concentration on custom homes, historic renovations, and architectural interiors. Drawing inspiration from classic and traditional architecture of the past, the firm artistically crafts homes that are not only rooted in history but also unique and of their time. A sense of charm, character, and familiarity created through subtle, honest details has become a hallmark of the CBI portfolio. A Georgia Tech alumnus and four-time winner of the prestigious Philip Trammell Shutze Award for excellence in Classical Design from the Institute of Classical Architecture and Art, Ingram has designed classic, traditional homes across the country.
JANICE PARKER
Janice Parker studied at Parsons School of Design and then with John Brookes at the Clock House School of Garden Design in England. Her firm, Janice Parker Landscape Architects, has conceptualized and directed innovative landscape architecture for private and public clients globally. Under Parker's guidance, Janice Parker Landscape Architects has been honored with multiple awards, including the Stanford White Award for Garden Design, the Professional Merit Award from the Connecticut Chapter of the American Society of Landscape Architects, Interior Design's Best of Year Award for Residential Landscape in 2020, and the Veranda Best in Outdoor Living Awards in 2020 and 2022. Parker was inducted into the New England Design Hall of Fame in 2017.
STEPHEN SILLS
Stephen Sills is renowned for his ability not only to design innovative and beautiful rooms but also to establish a pervasive atmosphere
of luxury and calm. With a fresh approach to classicism, Sills brings together furnishings that span four centuries, as well as innovative choices of surfaces, textures, and colors. Architectural Digest described his work as "a lucid synthesis of opulence, rigor, and surprise." Sills is a member of the Architectural Digest AD100 and is one of its "30 Deans of American Design." His Bedford residence is included in Dominic Bradbury's American Designers at Home and HGTV's "Top 10 Most Beautiful Homes." Elle Decor named Sills a "titan of design," and he routinely appears on its annual "A List." Sills' third monograph, Stephen Sills—A Vision for Design, will be available this fall.
SUMMER THORNTON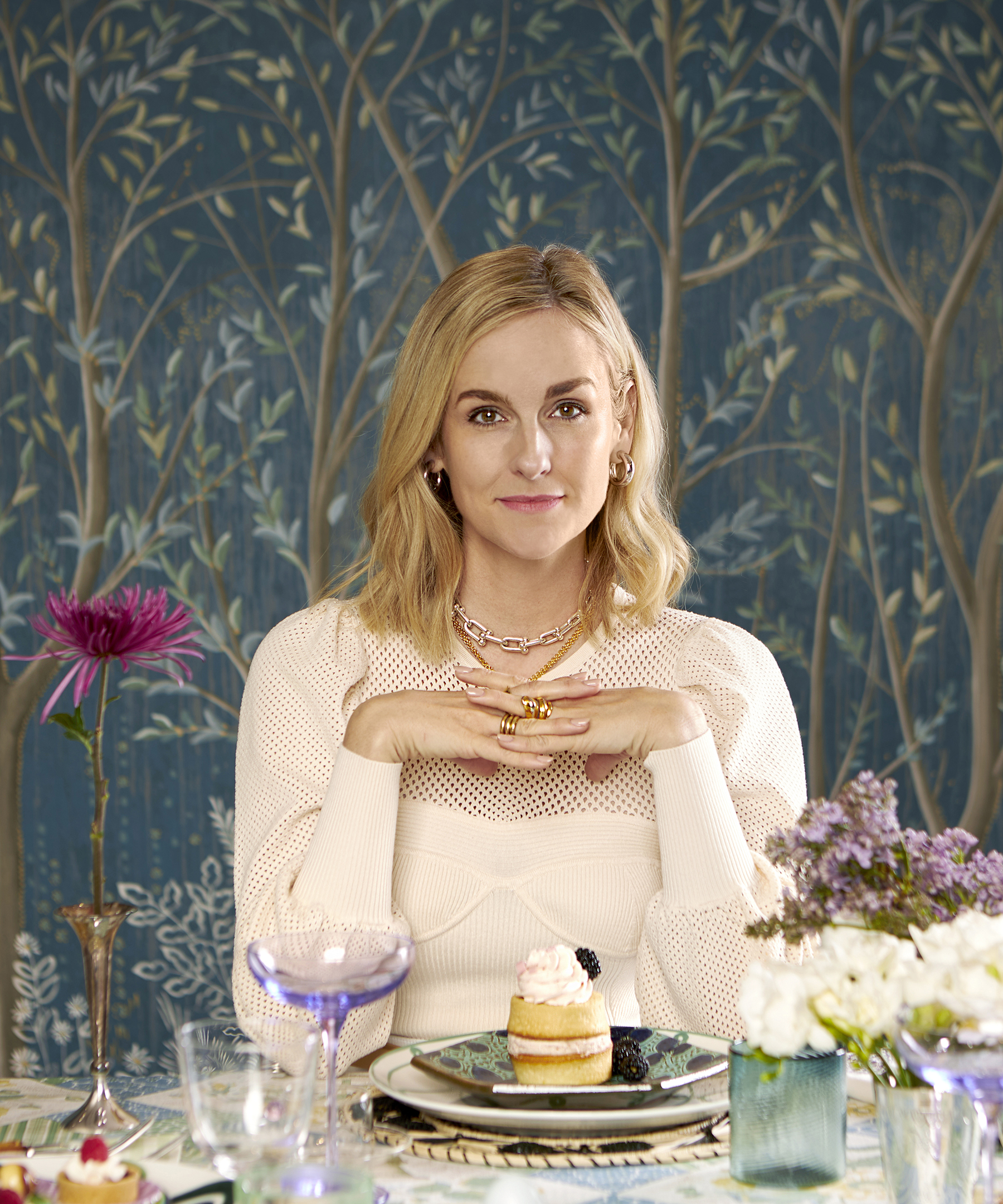 Summer Thornton is known for decorating with the wildest abandon to create fearlessly bold and colorful interiors that give homes life. Her first book, Wonderland: Adventures in Decorating, debuted in March and was an immediate No. 1 new release and best seller. Thornton's work has been featured in Architectural Digest, Veranda, Elle Décor, House Beautiful, The Wall Street Journal, The New York Times, and more. She is regularly named to exclusive lists of the top designers in the world, including the "1stDibs 50" list and Sotheby's list of the "Top 20 Designers to Watch." Thornton's style inspires 100K+ followers on Instagram and is often imitated but never replicated. Headquartered in Chicago, her firm works on projects throughout North America.
---
Saturday, October 1
Alex Papachristidis
Presented by FLOWER magazine
The work of interior decorator Alex Papachristidis has been described as thoughtful, sophisticated, and eclectic. Papachristidis has inspired editors, designers, and clients to use the word "fresh" to define his elegant approach, color palette, and the delightful details that make rooms sizzle with style. His work has been featured in Architectural Digest, Elle Decor, House Beautiful, House & Garden, InStyle, and The New York Times. He also is the author of The Age of Elegance: Interiors by Alex Papachristidis.
Followed by book signing.
---
Sunday, October 2
James Farmer, Sunday Host
James Farmer is a Southern author, interior designer, and speaker known for his ability to create beautifully familiar and welcoming homes. He is the author of The Wall Street Journal best-selling books A Time to Plant; Sip & Savor; Porch Living; Wreaths for All Seasons; A Time to Cook; Dinner on the Grounds; A Time to Celebrate; and A Place to Call Home. His most recent publication, Arriving Home, features projects from the farmlands of Georgia to the rolling countryside of Connecticut.
---
Sunday with Kreis Beall
Sponsored by The Travel Studio
Kreis Beall is co-founder of Blackberry Farm, an award-winning Relais & Chateaux resort in the Smoky Mountains. Beall has a passion for the art of living, a love of beauty, and a knack for transforming big dreams into real, uncontrived elegance. She is also author of The Great Blue Hills of God, based on the challenges she has faced, including the loss of her house, her health, and her husband.
Followed by book signing.
---
Sunday, October 2
HOUSE BEAUTIFUL DESIGN PANEL
Moderator: Carisha Swanson, Director of Editorial Special Projects, House Beautiful magazine
Followed by book signing.
BETSY BROWN
Betsy Brown's namesake firm, Betsy Brown Inc., specializes in comfortable, collected spaces where modernist sensibilities form the foundation and antiquities create exquisite tension and balance. Brown's body of work is filled with intelligent homes that genuinely reflect her clients' true nature. She has been honored with numerous awards, including Southeastern Designer of the Year by Veranda and the Atlanta Decorative Arts Center, as well as Top 125 Designers by House Beautiful.
JEFFREY DUNGAN
Jeffrey Dungan is principal of Alabama- based Jeffrey Dungan Architects. Recognized for his clean, modern approach to traditional vernaculars and classical architecture, Dungan has been honored with the 2017 Southeast Architect of the Year award by Veranda and the Atlanta Decorative Arts Center, as well as numerous awards from the American Institute of Architects. Dungan also is the author of The Nature of Home: Creating Timeless Houses.
GRANT TRICK
Furniture maker and artisan Grant Trick is the founder of his namesake furniture upholstery workroom in Birmingham. Trick began his career as a sportswear designer in New York, followed by creative stints as a showroom designer and propmaker for various fashion brands. Through his Alabama company, he hand-tailors, hand-tufts, and hand-sews custom pieces for the design industry. Trick's namesake furniture line, the Grant Trick Collection, is available through select trade showrooms.