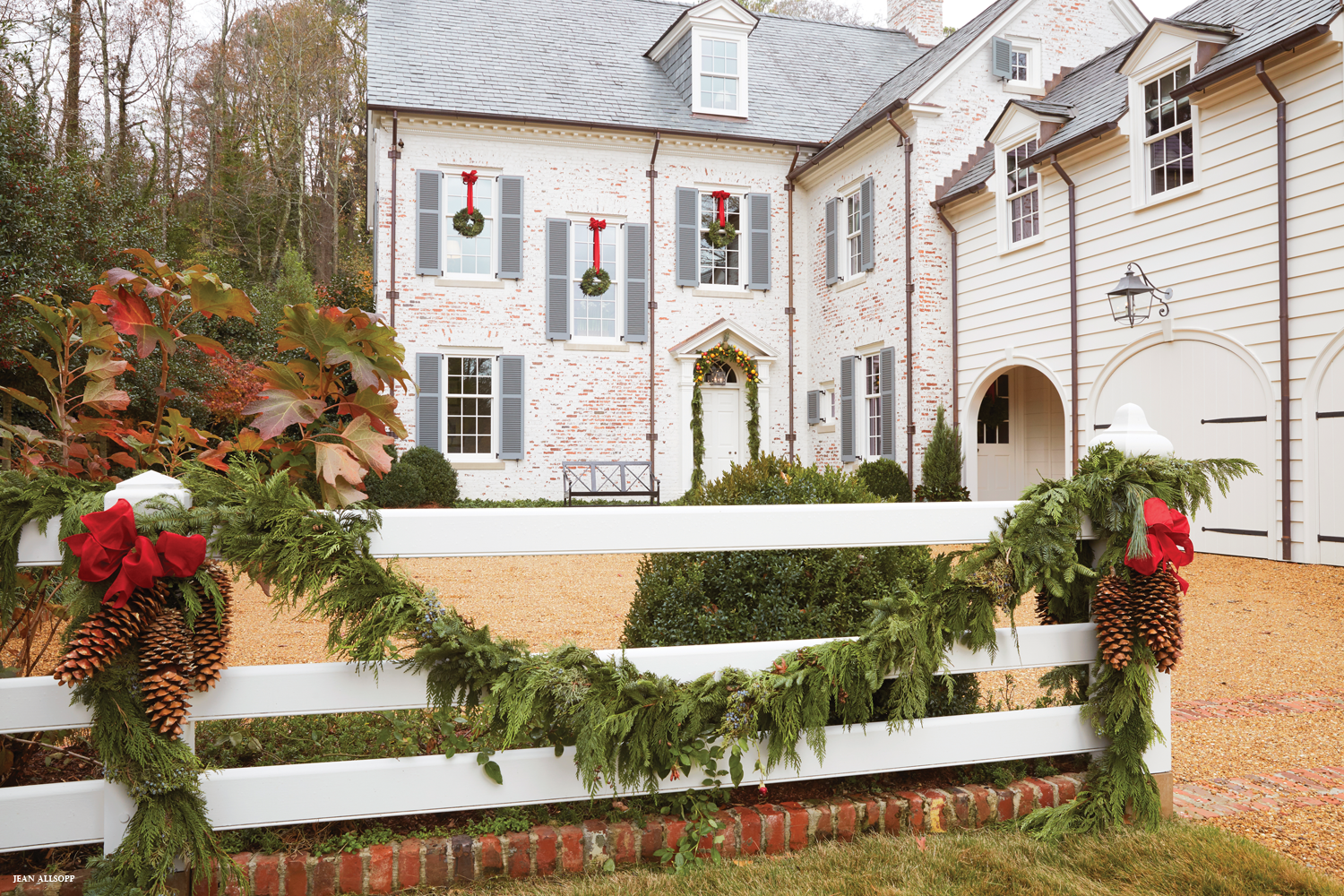 This is very much my nest, my fortress, " James Carter says of his Mountain Brook stunner of a home. After a storied 30-plus-year career as a visionary architect, he says, "This is the first time I have built a house for myself."
His house, a classically styled, three-level structure clad in white-washed antique brick and a slate roof, nestles into a hill far from the road on the property where James has lived since 2000 (he tore down the small home that came with the property). "I wanted a place that lives well, like an old-fashioned house, " he says. "This was an opportunity to do the things I think are important—natural light, a lot of detail, a house that lives big on a small floorplan—for myself."
But having himself as a client proved to be a bit of a challenge for this designer who specializes in giving other people a beautiful backdrop for their lives. "It was very difficult because I'm so used to taking cues from my clients. There was the pressure of having to decide what would work for me for the rest of my life, " he says. In the end, James landed on an American Georgian exterior with interior detailing that "pulled in a little of this and that from houses I've admired—things that spoke to me from the American South and East Coast and from Europe, " he says. "Much of the interior detailing is Virginian in style, with old-fashioned Southern touches thrown in."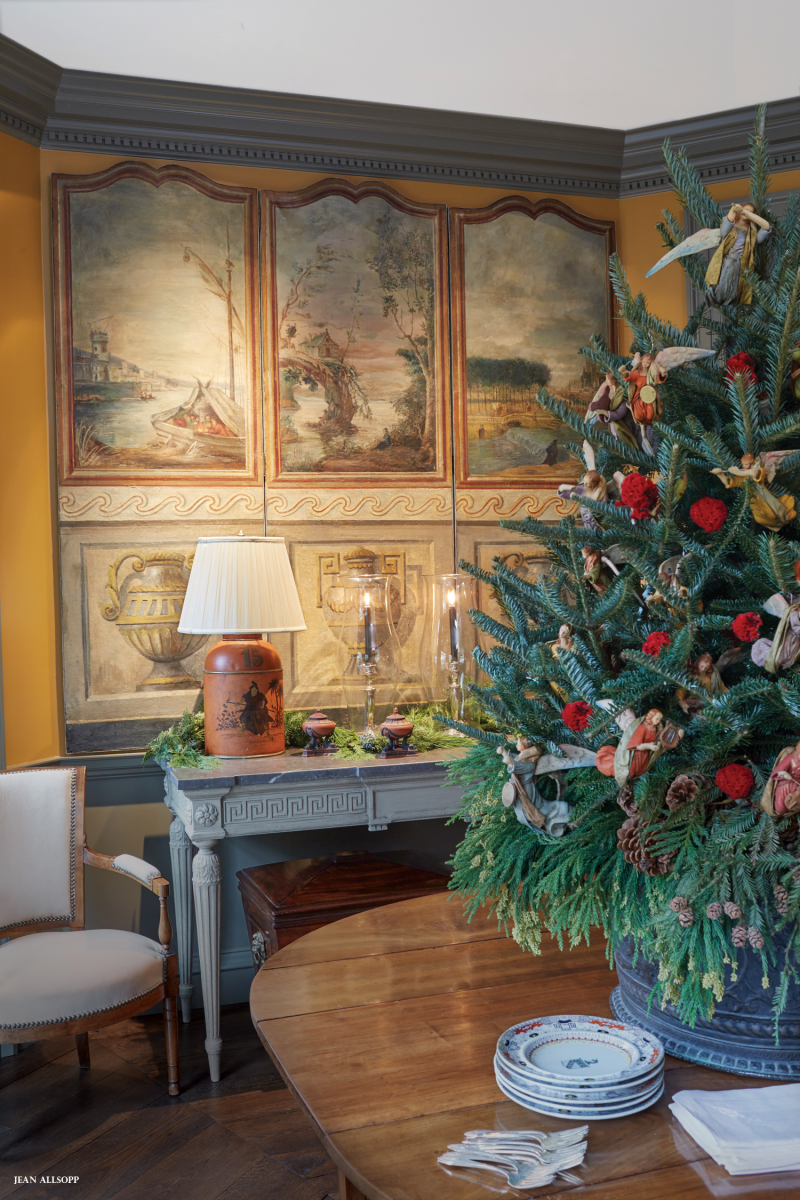 ABOVE James designed the dining room around the 19th-century Italian three-panel screen. His tabletop Christmas tree holds court on the Louis Phillipe dining table. "I couldn't find the fullness and shape I wanted in a small tree, " floral designer Carole Sullivan says. So she shopped for shape, bought a 5-foot tree and cut it to size. "We cut the boughs off the cut-off trunk and used them around the house, " she says. The tree stands in a Swedish copper planter and is decorated with red roses in water picks and a collection of Italian papier-mâché angels.
Inside and out, the architect's prevailing design direction was quiet luxury. "To me, it was all about something that felt low-key but was very elegant, " he explains. "I wanted a house that would wear well for years to come—I'm not trying to be cutting edge." However, as both architect and client, James says he needed an outsider to be a voice of reason. For that, he turned to his longtime friend and collaborator, interior designer Jane Hawkins Hoke. "She did tell me that less is better, and I have a great respect for her taste, " he says. Jane's advice helped him keep things in perspective. "I often did what she recommended because I knew she was probably right."
Furnishings in the home exude the same quiet elegance as the structure—one that does not come from a catalog or a retail store. "I inherited a good bit of furniture from my parents and grandparents, and for years I've been bringing home souvenirs—art or furniture or little things—from travels all over the world." In the home's wood-paneled library, James gathered his collected and inherited furnishings such as the portrait of King George IV's brother he bought in London, a lion sculpture from Florence, a table from Paris, a chair from Boston, a vase that belonged to his grandparents, and French and Italian art.
One way of embracing his furnishings and collections was to use reclaimed building materials in places such as the floors and the interior paneling that graces many of the rooms. "They are ecologically practical, and you get a quality of wood you can't find in new materials, " he says. "The feeling you get from each room is different than what you would get if the walls were all drywall. For example, the stained library walls immediately make the space feel aged and mellow."
By bringing together classical architectural details, collections of furnishings and art, aged building materials, and a particular attention to scale and proportion, James has created a home that is steeped in timeless beauty and grace—exactly what has made him such a success as an architect. "I'm used to doing a backdrop for other people, but you can forget how important that backdrop is for yourself, " he says. "I never appreciated how nice it can be to come home to something you love."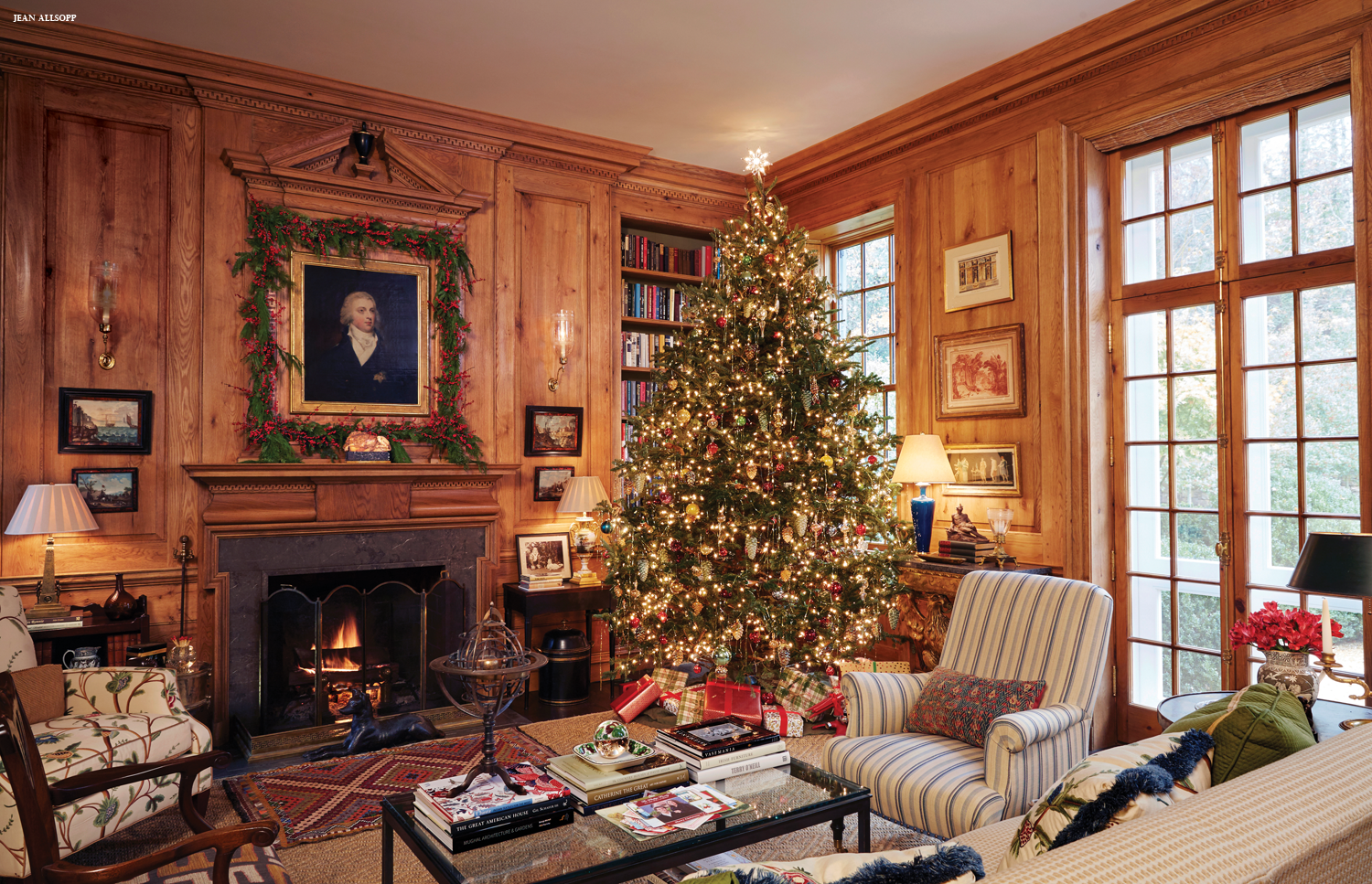 ABOVE "I really wanted a timeless Christmas feel with an old-fashioned tree covered in lights and tinsel and ornaments, " architect and homeowner James Carter says. "I wanted to create a Christmas that felt like the ones I grew up with, the same tree my grandparents had, my parents had. My house is the same way—you can look back at a long line of wonderful ideas."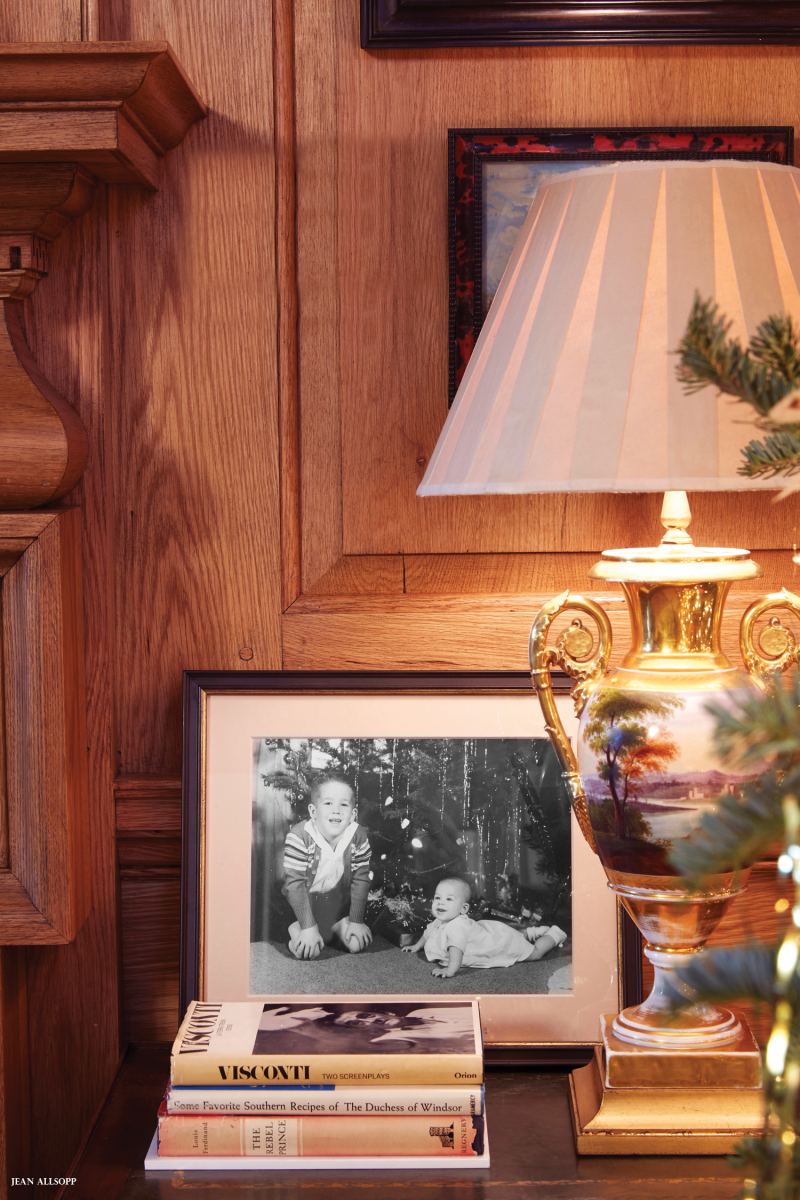 ABOVE LEFT A black-and-white photo of James and his older brother as children at Christmastime has earned a place of prominence in the holiday scene.
ABOVE RIGHT Floral designer Carole Sullivan of Mountain Brook's Lagniappe Designs adorned the home's windows with mixed-green wreaths and classic red ribbons. A container of forced paperwhite bulbs adds to the holiday vignette in the stairwell.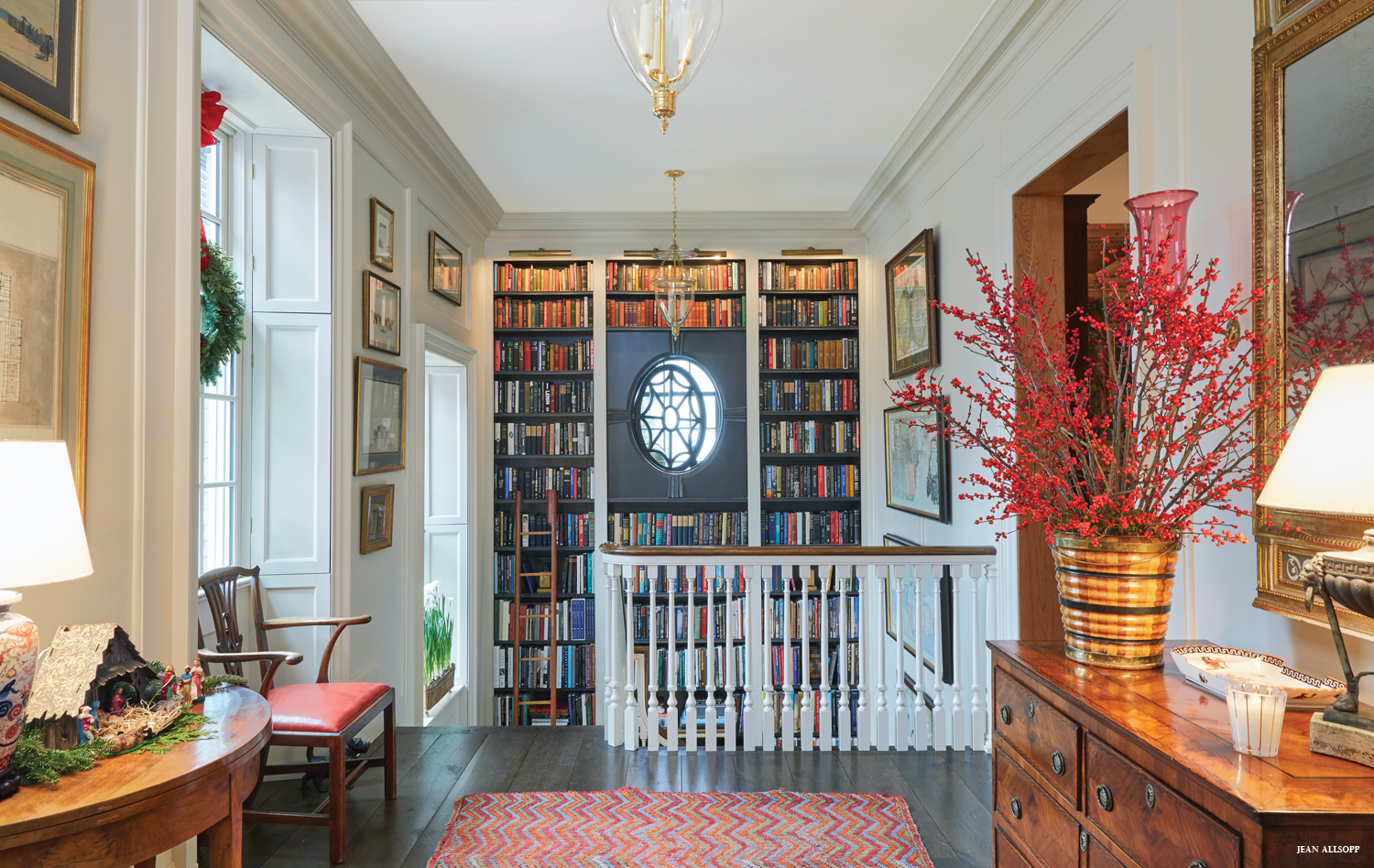 ABOVE The architect's eye for detail really shines in the stair hall—the thoroughfare on the main level of his home. The paneling adds a rich backdrop for his collected furnishings and display of books that covers one entire wall.
RESOURCES
Architect: James F. Carter Architect, Inc. • 205.871.7873 jamesfcarter.com Designer (in collaboration with James Carter): Jane Hawkins hoke/Hawkins-Israel Company • 205.879.3406 Floral Design: Carole Sullivan/Lagniappe Designs • 205.870.5061 Landscape architect: Norman Kent Johnson • 205.960.8902 Christmas decor/floral design (in collaboration with James and Jane) and installation: Lagniappe Designs • 205.870.5061 lagniappe-designs.com Paint colors: stair hall: Alaskan Skies 972, Benjamin Moore benjaminmoore.com Front door & trim: Glacier White OC-37, Benjamin Moore
---
Floral Design by Carole Sullivan