Discussing style inspiration, design mottos and more with two designers working on the 2019 BHG Inspiration Home
Discussing style inspiration with Hannah Benak of Black Benak and Looks and Merit.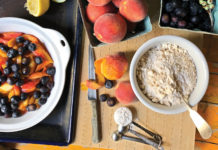 Recipes that are sure to be a welcome addition to any Fourth of July picnic or potluck spread
Summer is the perfect time for a good road trip! Here are seven beautiful gardens to visit and enjoy Alabama's bounty of flora and nature.
Jon Culver of Sweet Peas Garden Shop in Homewood offers his expert advice on creating a beat-the-heat summer garden that will look beautiful all season long.
The American Institute of Architects (AIA) Birmingham Chapter's primary goal is to promote good design and quality in the practice of architecture. The AIA has a long tradition of...
Stephanie shares some design insights, favorite resources and an update on her 2019 Inspiration Home plans.
Lucky enough to be at Lake Martin for Memorial Day weekend? Here's what's happening this weekend. Plus, a cocktail recipe from Springhouse Restaurant to kick off summer and get...
Sponsored by McGowin-King Mortgage
Photographer Beth Hontzas offers tips for getting the best portraits to hang in your home.