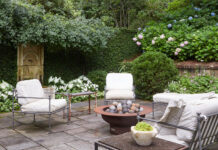 Garden designer Troy Rhone transformed a hillside in a Mountain Brook backyard with terraced spaces planted with Southern garden favorites.
Sweltering summer heat doesn't have to mean the demise of a beautiful garden. Follow these planting tips from resident garden expert John Floyd to ensure an abundance of blooms all season long.
Under the hands of some of the area's best designers, a 32-year old garden in Shook Hill is now enjoying one of its brightest chapters under the watchful eye of landscape architect John Golightly Wilson.