After 15 years in a Mountain Brook Tudor, the Scott family had a long list of things they wanted in their next house. Instead, that list became goals for a long-time-coming renovation of their beloved home.
A historic cottage in Highlands, North Carolina, offers a Birmingham family the solitude of a mountain retreat right in the middle of town.
When Lucy and Henry Smith acquired a long-admired architectural gem in Anniston, Alabama, they dedicated themselves to polishing the home's dulled shine.
How does designer Chris Hutchens decorate for the holidays? Take a peek inside his Bessemer Tudor for a look at the traditional, nature-inspired décor he's drawn to—peppered with seasonal sparkle, of course.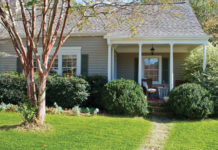 Designer Virginia Cheek infused a small Edgewood cottage with big style by using her sister's savvy fashion sense as her guide.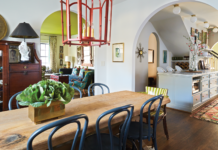 When Sara Walker, design assistant to local interior decorator Fran Keenan, and her husband, Chris, bought their Edgewood three-bedroom, one-bath home, ...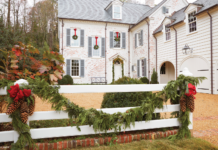 Renowned architect James Carter designed and built a home for himself that takes its interior and architectural cues from days gone by. During the holidays, timeless decorating echoes his love of Southern traditions.
A respectful renovation brings loads of personality and a new family to a 1950s Mountain Brook rancher.
   ABOVE The level lot allows for easy access from the house to the pier. Renovations almost doubled the size of the cabin (from 1, 141 square feet to...
Interior designer Tammy Connor custom tailors a Homewood house to fit her long-time friend's young family to a tee.