…a creative collaboration between four like-minded friends. What started as an interior design studio for Kat Bailey turned into a nook of a shop in Edgewood that brims with...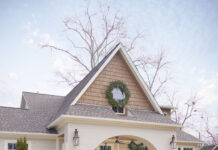 Last Christmas was extra merry for Katty Worley, her husband Hunter, and their children—it marked their very first Christmas in their Homewood home and the start of new traditions.
Designer Fran Keenan takes a 1950s Hollywood rancher from simple and small to functional and fabulous with a French edge.
The classic architecture of the Inspiration Home blends perfectly with the cottages of Homewood yet is updated for modern living.