Garden designer Peter Falkner pulled out all the stops in this garden by creating a series of outdoor rooms for backyard bliss at every turn.
Architect Jeffrey Dungan and interior designer Beth Webb worked collective magic to imbue a new home with a lasting impression.
With the help of architect Michael O'Kelley, Lauren and Chuck Welden tweak the traditional Southern dogtrot for modern-day living at their farm in Coosa County.
Circa Interiors & Antiques opens its doors each year to reveal a magical holiday atmosphere overflowing with unique ideas for decking the halls, topping the table, filling the stockings, and so much more.
Interior designer Danielle Balanis saw a diamond in the rough in her Mountain Brook home and took it from dated to dazzling with unexpected and stylish ideas that work for her young family.
Designer Beth McMillan helps her client up the style quotient in her home by mixing her enviable collection of antiques with more modern pieces and helping solve some decorating challenges along the way.
Lisa Flake infused her client's home with pretty colors and sophisticated décor while Leah Hazzard added in flocked garlands and shiny accents for the blended family's first holiday together.
Sybil Sylvester brought the wow factor to her friends' antiques-filled condo by decorating it in unexpected colors and filling it with fresh flowers and lots of lush greenery.
The circa-1906 Jordan House offers a shining example of homeowners honoring history while bringing a fresh attitude throughout the expansive rooms.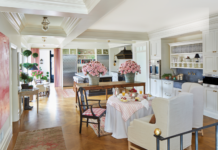 Decorator Stephanie Lynton creates striking spaces that make escaping at home an everyday experience.